A twist on traditional Salsa. Bright, fresh and with a surprise kick! You have got to try this Fresh Mango salsa. It's healthy, sweet and colorful Summer Salsa. Tastes great with chips or grilled protein of your choice.
Food too pretty to eat. ??!! :P
Hi everyone!! how are you all doing?? I am so happy finally the sunny days are here again ... Bye bye cold, gloomy, snowy dull days !! Nothing can beat celebrating the warm weather with colorful salsa ?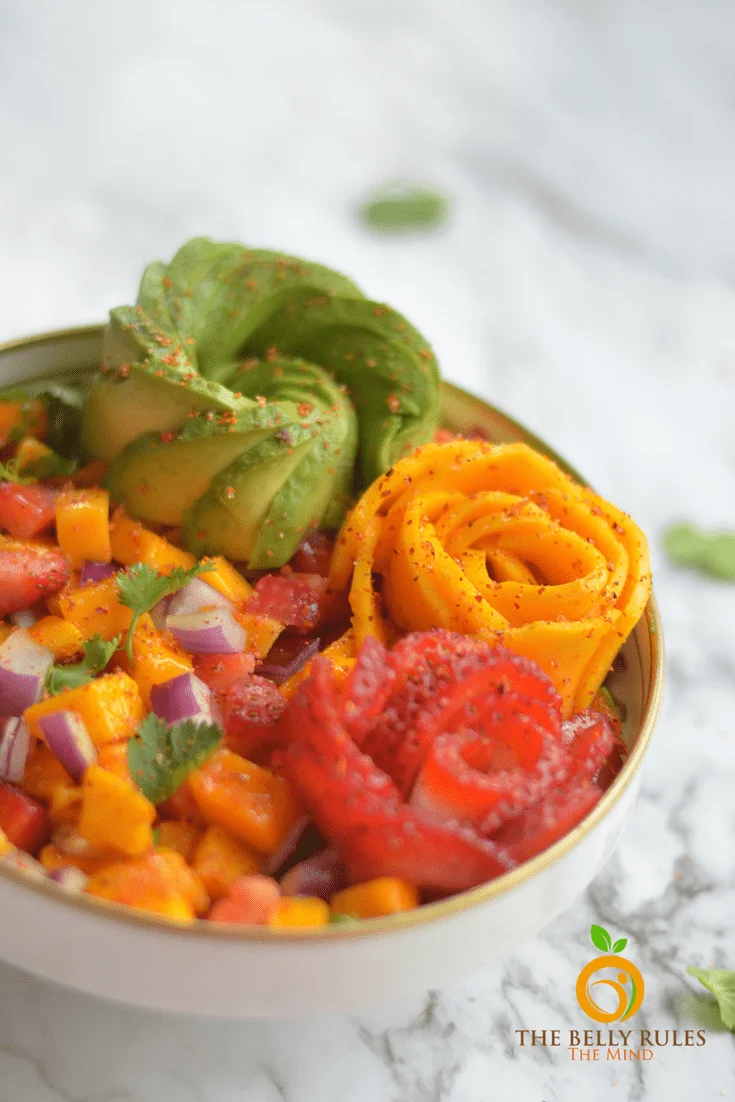 An Easy Fresh Mango salsa that's spiced up! I toss my favorites – Mango (Of course), Strawberry, Avocado, Cilantro, and Jalapeno! This is the perfect refreshing and healthy treat for all your summer gatherings! Not just salsa, but a side dish, a snack, or an appetizer. A healthy, vegetarian, gluten-free, and vegan recipe full of fresh tropical fruit.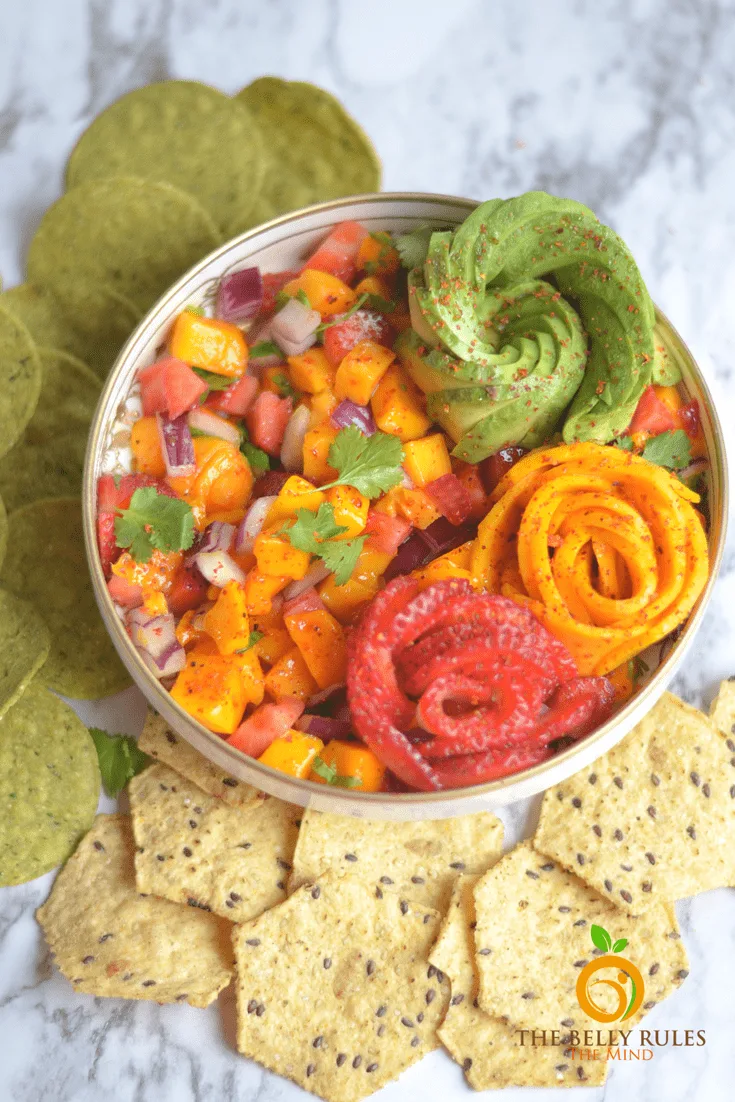 May marks the beginning of family time, get-togethers and grilling season. It starts with a bang with first Cinco de Mayo, followed by Mothers day and ends with Memorial Day. As they say, April showers bring May flowers and I cannot wait to start using colorful foods for spring and summer.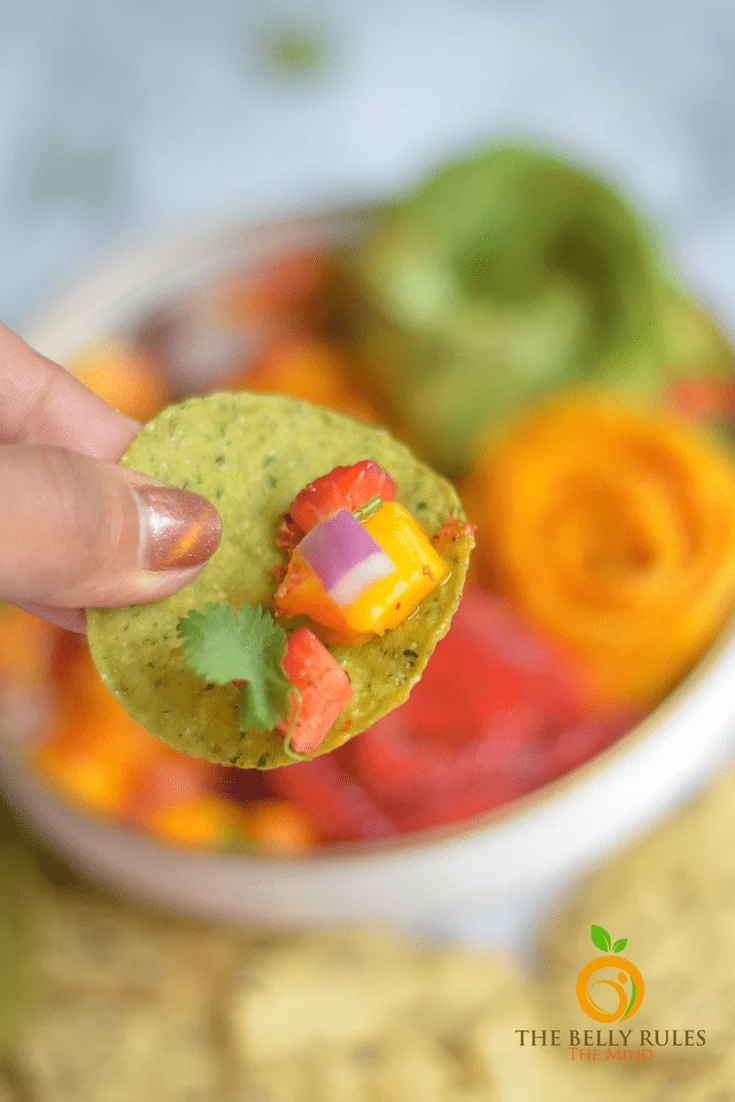 Once in a while, I get these crazy ideas to toss in things like avocados, Strawberry or even pineapple into this fresh Mango salsa, because, why not? We have more enticing salsa recipe ideas trying to cater to everyone's taste buds.
For more Different Salsa recipe :
Pineapple Guacamole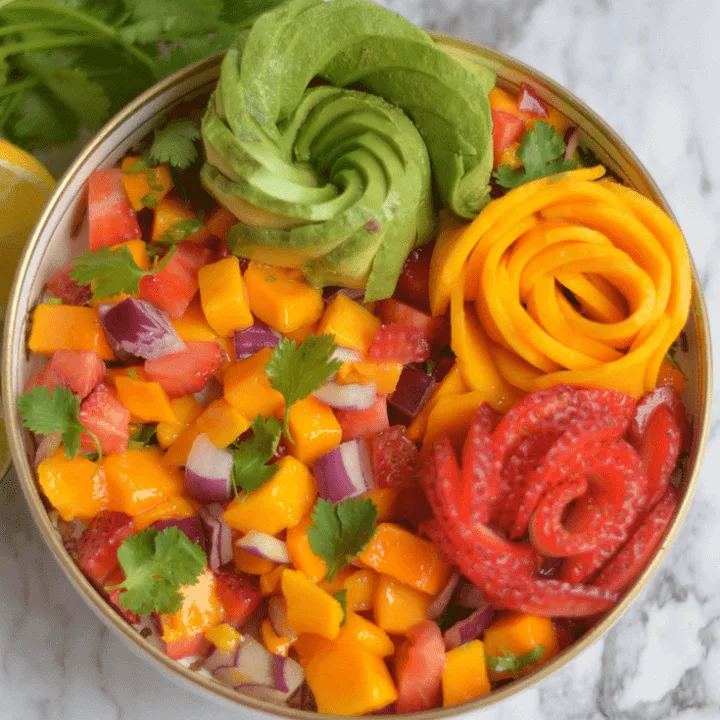 Fresh Mango salsa
Ingredients
1 cup mango, cut into a medium dice
1 cup strawberries, cut into a large dice
1/2 cup avocado, cut into a medium dice
1/2 cup red onion, chopped
1/ teaspoon garlic powder/ optional
1 jalapeño/seeded/ minced
chopped cilantro
1 tablespoon lime juice
1/2 teaspoon roasted cumin powder
1/2 teaspoon paprika
salt to taste
Instructions
Chop the mangos, avocados, jalapeños ,onion and strawberries
Chop the cilantro
Combine all the ingredients into a bowl, toss to coat and mix.