The Vegan Hara Bhara Falafel Kabab are healthy, easy to make and delicious! You'll love this vegan Fusion recipe and it has a crispy texture with the perfect blend of flavors! They're rich in proteins too!
What is Harabhara Falafel Kabab?
I am sure you must be confused with the name of this recipe. Why is it called Vegan Hara Bhara Falafel Recipe? So what happens when Hara Bhara kabab meets Falafel ??? MAGIC! These Amazingly delicious Vegan Hara Bhara Falafel Kababs are so tasty that you will never be able to settle with just one or two or even three. A perfect crowd-pleasing appetizer perfect for a snack option for an evening party. All the good greens like spinach, broccoli, edamame, peas, bell peppers make this healthy and the chickpeas make this tasty and taking it to a whole different level. Golden crunchy on the outside, these are almost bites that would melt in your mouth which no one can ignore including your kids.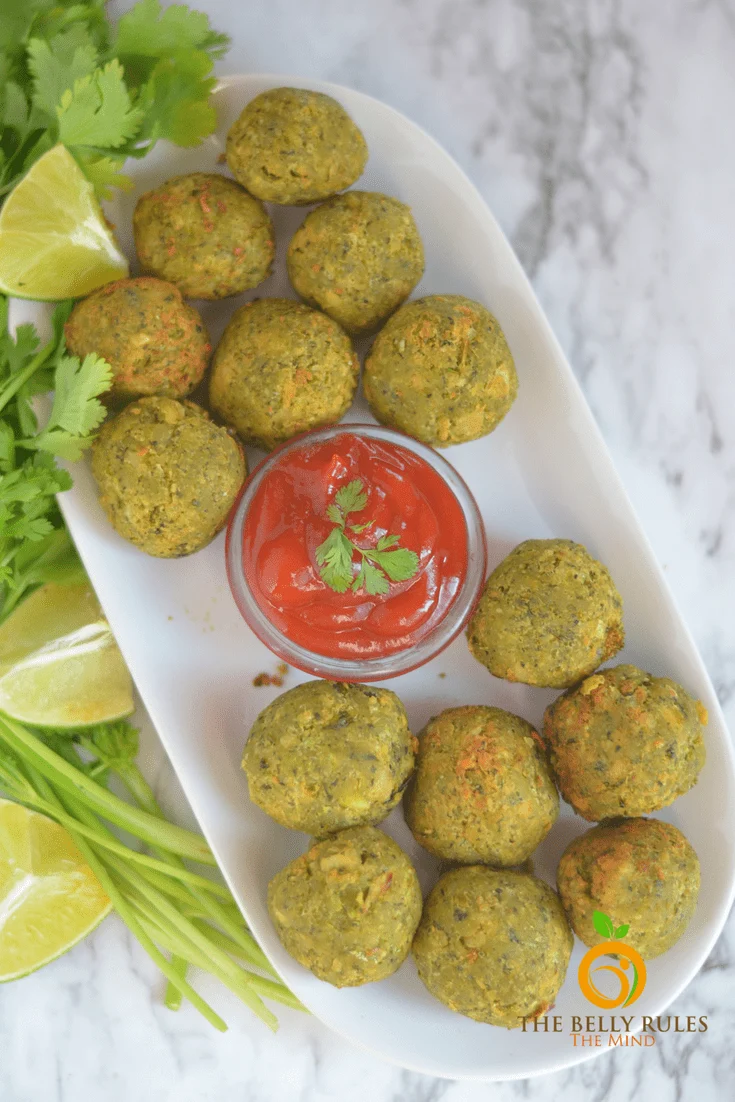 Yes, Its a No FRY Harabhara Kabab / Falafel Recipe!
I am sharing one of my successful experiment with you all today. A few days back I was all set to make falafel and I wanted to finish off the greens that I had left in my refrigerator. So that's how these Hara Bhara Falafel Kababs were BORN and it turned out wonderful. I made these poppers in the Ableskiver pan instead of deep frying the kabab with just 1 tablespoon oil in low flame.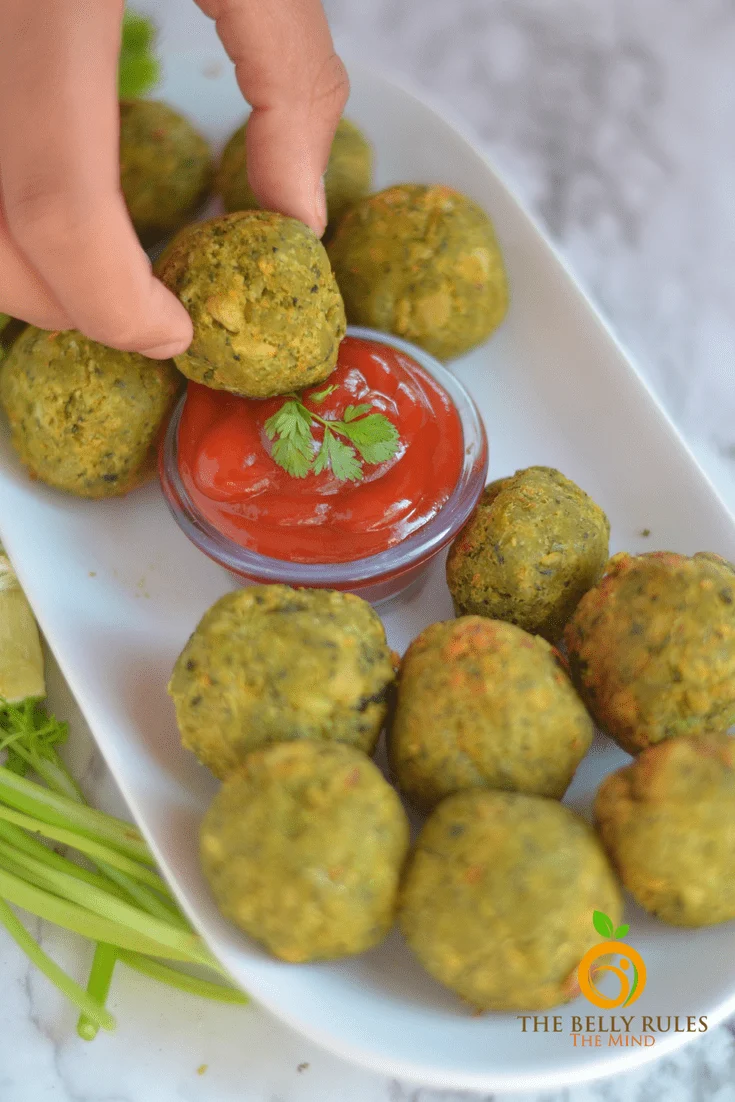 One Harabhara Kabab, multiple options to make them
This Vegan Hara Bhara falafel Kababs are so easy to make that it can be made in
Ableskiver pan / Appe pan
Air fryer ( The temperature and air fryer time given in the recipe instructions )
Bake them(The temperature and baking time is in the recipe instructions)
Shallow fry them
Make them in an air fryer(instructions given in notes)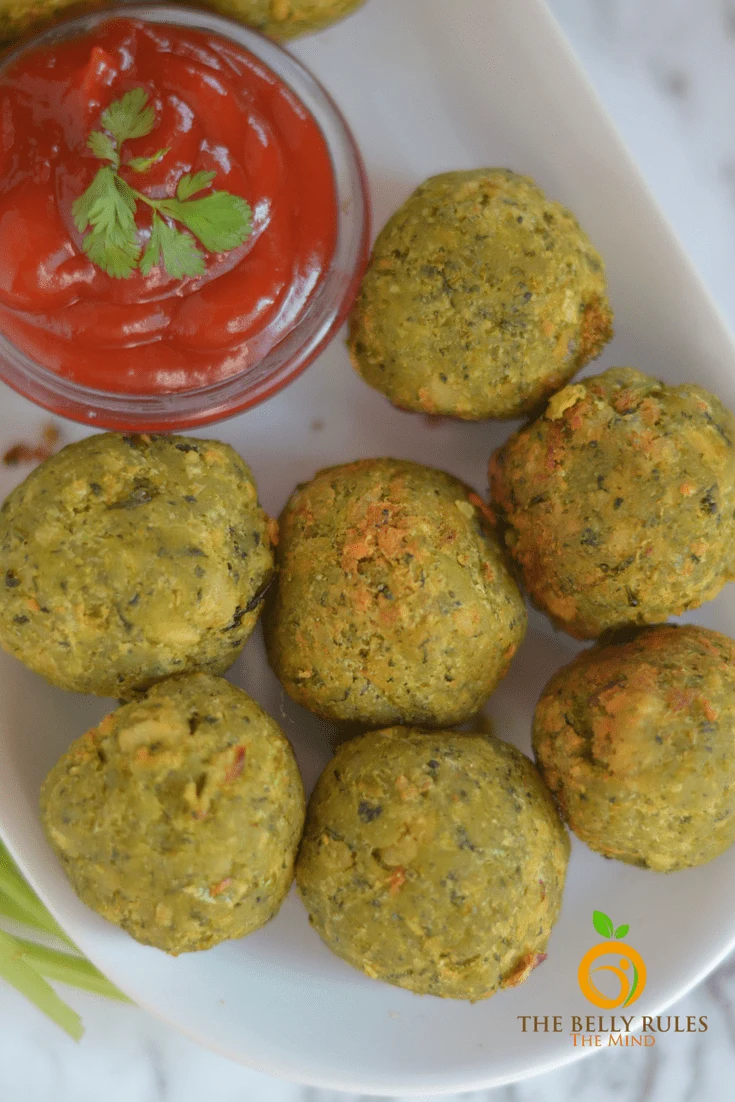 Make it a Harabhara Falafel Kabab burger!
They go great in a burger bun (make them little larger), but most of the time I add them to a bowl full of vegetables and drizzle with our avocado dressing ( and that's my lunch) and the kids enjoy it with ketchup as a mid-afternoon snack or pack this in their lunch boxes. The dough comes together quickly in the food processor. These kababs are naturally vegan and gluten-free. You can make a large batch of the dough that you can freeze for later.
If you have all the ingredients handy, these Kababs will take you less than 30 minutes to make and serve, if you're looking to cook a protein-rich meal, this is one recipe you should consider saving.
If you like this recipe, here are a few more snack recipes to try our
1 Quinoa Bites ( Vegan + Gluten-free)
2 Farali Pattice ( potato ball stuffed with coconut)
*The original recipe was published on Jul 13 2018 and has been updated with relevant text and content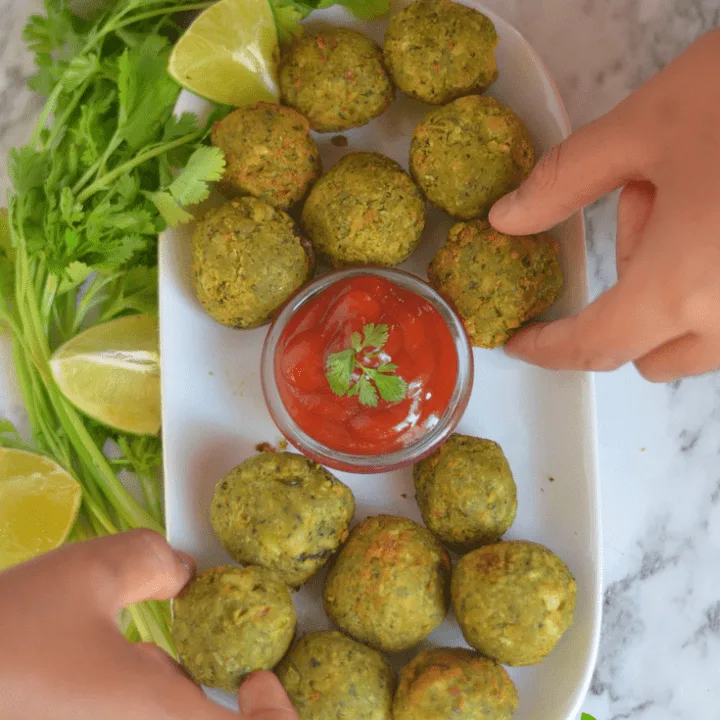 Vegan Hara Bhara Falafel Kabab
Ingredients
1 cup Spinach
1 cup Broccoli
1/2 cup green bell pepper
1/2 cup Peas
1/2 cup Edamame
1 /2 cup Onion
3 cups or 2 8oz can Organic Garbanzo Beans.( You could even soak the garbanzo beans overnight and pressure cook it )
1/4 cup cilantro
4 Garlic cloves
2 green chillies
1 tablespoon sesame seeds
1 tablespoon cumin powder
1-2 tablespoon olive oil
salt to taste
Instructions
Boil the greens for few mins .Drain the water and shock with with cold water.so it retains the bright green color.
Add all the ingredients into a food processor, except oil and pulse until coarse.
Taste and adjust seasonings as required.
Scoop a tbsp. of the mixture and make round balls.
Pour a few drop of oil in each cavity of the appe pan and heat it. If you don't have an appe pan, you can use the panfrying technique to make them healthy.
Add the uncooked balls and cook them on each side for about 3-4 minutes on medium gas. Make sure you consistently turn the balls.
Notes
For baking them : Preheat oven to 400 degrees F.
Take around a tablespoon of falafel mixture into balls and then flatten into discs and place on baking sheet .
Bake in preheated oven for 20 minutes, flip and bake on second side for 10-15 minutes (until golden brown)
Air-fryer instructions
Shape the falafel mixture into small balls (about 1.5" in diameter). Arrange about 9 falafel balls in a single layer in your air fryer basket and air-fry for about 15 minutes at 380° F.The falafel is done when it's golden brown and crisp.