Soft and chewy Vegan Oatmeal breakfast Cookies are a hit with the kids! The perfect healthy snack for the lunchbox, or as an on-the-go breakfast! A healthy and easy way to get your oatmeal fix breakfast cookies with Dates and Walnuts.
Hi Everyone!! So hows Summer going? 3 weeks till school year starts !! Have you started shopping for school supplies yet? Well, I have :D Both my boys (R3 going to 7th grade and R3 who will start his 1st year in public school 1st grade) are excited to go to elementary school and of course buying their school supplies. Kids grow up so fast right?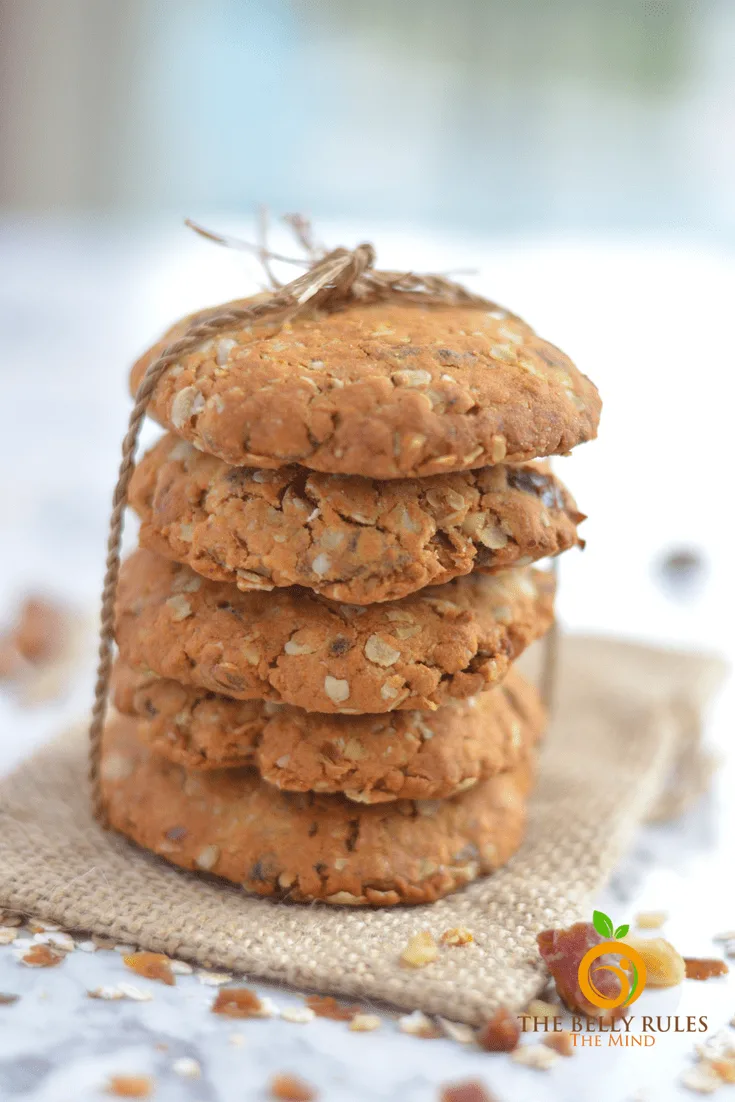 Q- Can I make this without eggs, no refined sugar and No Eggs?
A- Yes you can read more below to find out how.
I've mentioned before that I am constantly on the lookout for snacks for my kids. Lunches, after school, swim practices on the run…they are constantly hungry. That is where these Healthy, high-protein Oatmeal breakfast Cookies are made with all-natural ingredients for the perfect on-the-go breakfast come in. Whole grain, gluten-free, vegan. No refined sugar, no butter, No egg. 100% clean-eating.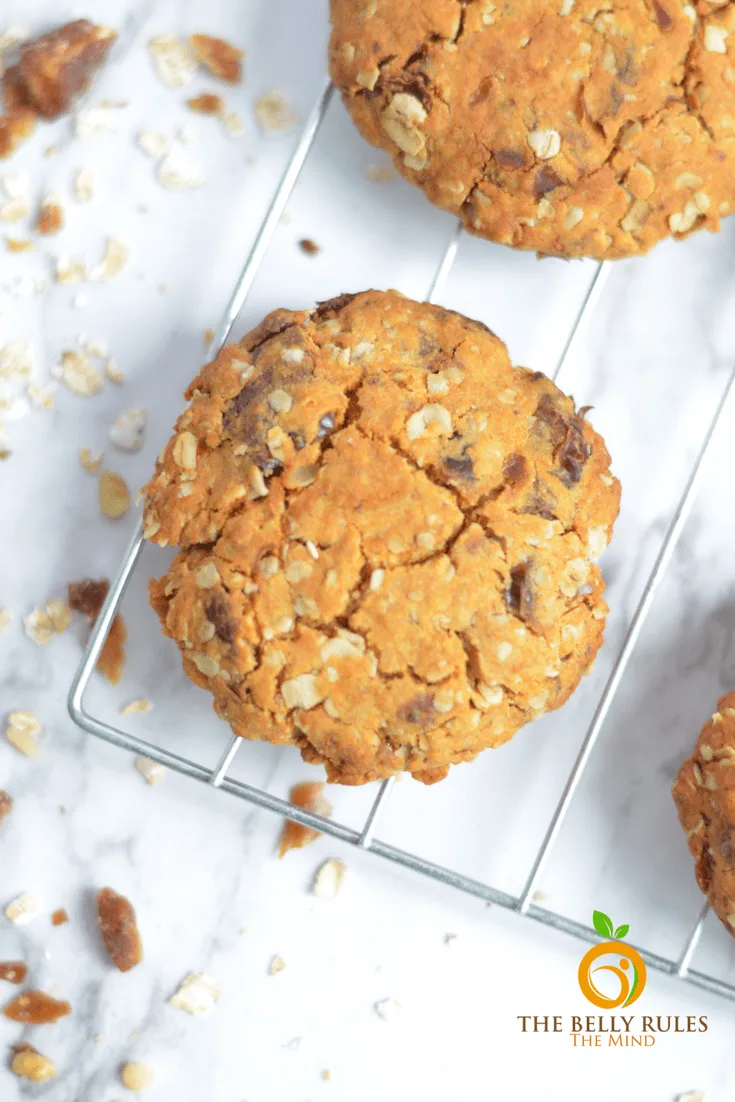 I eat clean breakfasts during the week so I can splurge on the weekends. Life's all about balance, right?! Tasty, hearty, healthy, full of goodness – these breakfast cookies are the perfect snack to throw in the kid's lunch boxes or to grab as we run out the door. They absolutely loved them and begged for more.
I also love these Vegan Oatmeal Breakfast cookies as a post-workout snack. I typically work out right after I drop off my son at school in the morning. Once I'm done, I'm so hungry but don't want to ruin all the work I just put in at the gym. This breakfast cookie is a perfect choice! Not only is it filling, but since there is no refined sugar and has lots of protein, it's a great option that will help me refuel. Me and my hubby R1 crumble these cookies and add it on greek yogurt with some fresh fruits ;)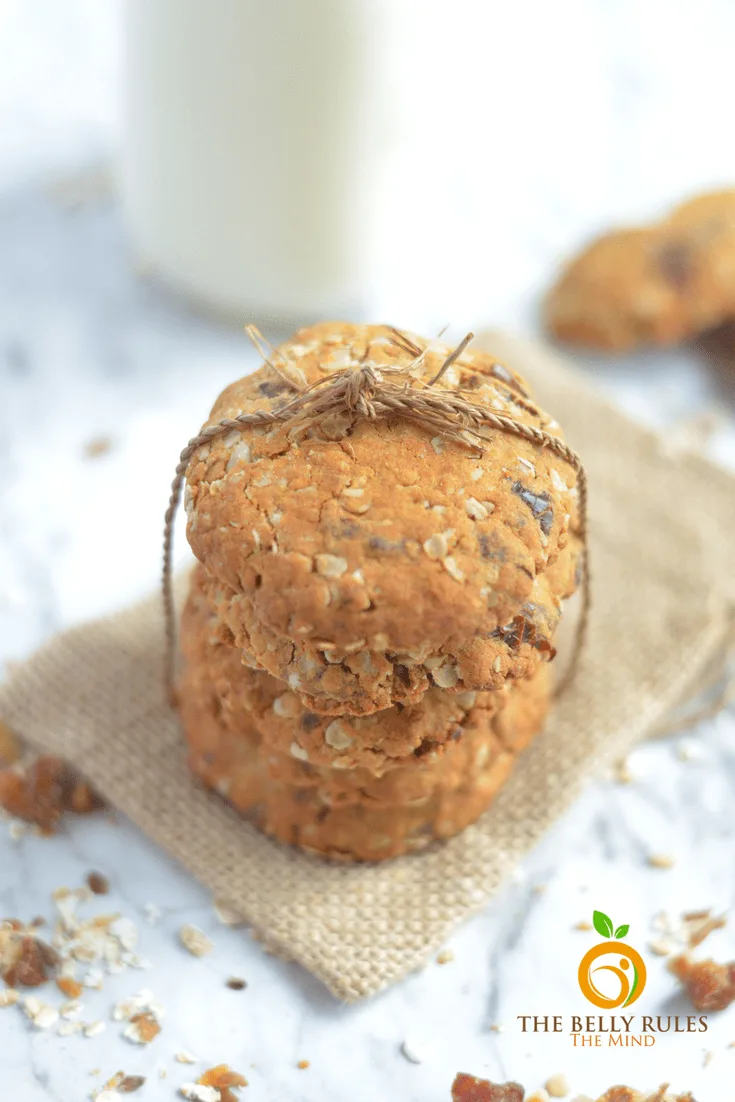 How much time does it take to make these?
These yummy delicious cookies can be made in around 15 minutes
These Vegan Oatmeal Breakfast cookies are so easy to throw together. All you need is 1 bowl, 15 minutes, and a few healthy ingredients that are highly interchangeable based on what you like. Start with your base ingredient: oats. Use quick-cooking oats in this cookie recipe. The quick cooking Oats is more "powdery" than whole oats and will give the cookies more structure. I have tried the cookies using whole oats and while they tasted the same, they were falling apart. Use quick oats. And make sure they are certified gluten free if you are gluten intolerant.
Once these cookies come out of the oven, they are pretty much ready to devour! Let cool for a few minutes, and then enjoy right away, or transfer to a cooling rack and let cool completely. It's such a convenient breakfast option, especially when you're short on time, but want to make a healthy choice.
More Healthy Cookie Recipes :
1 Vegan Cranberry Cookies
2 Crunchy Coconut cookies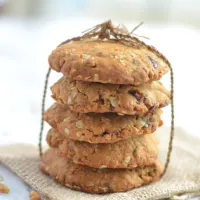 Vegan Breakfast Oatmeal Cookies
Ingredients
1 cup quick oats
3/4 cup oat flour
2 teaspoons baking powder
1 teaspoon baking soda
1/4 teaspoon salt
1/3 cup maple syrup
1/3 cup coconut oil, in liquid state
1 teaspoon vanilla
1/4 cup chopped Medjool dates ( make sure they are juicy and not dry)
1/4 cup finely chopped walnuts/omit if you want it but free
Instructions
Preheat oven to 350° F.
In a large bowl, combine the dry ingredients — oatmeal, oat flour, sugar(Read notes), baking powder, baking soda and salt.
In another bowl combine the wet ingredients — maple syrup, coconut oil and vanilla.
Add the wet ingredients into the bowl with the dry ingredients and stir to combine. Gently stir in the chopped dates and walnuts.
Drop rounded tablespoons onto a baking sheet lined with parchment paper or a baking stone. Make sure you space the cookies out because they tend to spread quite a bit. Bake for 10-12 minutes or until cookies are golden brown.
Allow cookies to cool on the pan for 1-2 minutes then gently move to a wire rack and cool completely before eating or transferring to a storage container for later.
Notes
Use certified gluten-free oats if you want the cookies to be 100% gluten-free.
You can buy oat flour or make your own by blending regular oats in a blender or food processor until they create a fine flour..
You can you honey instead of maple syrup BUT it wont be vegan.
If the dates are not juicy or sweet you can add 2-3 tablespoon of raw coconut sugar. Or just increase maple syrup