These copycat Taco Bell Chalupa Supremes are incredibly easy to make and taste even more delicious than the restaurant version. Crispy and soft, these shells are a perfect mixture of textures. And best of all, you can stuff them with lots of different toppings so that everyone can make their own perfect chalupa without leaving the table.
It's the perfect recipe to make to satisfy the family's takeout cravings anytime!
Come JOIN US on our FACEBOOK group and be a part of our community and discuss various recipes, tips and tricks.
LET'S BE FRIENDS ON PINTEREST! WE'RE ALWAYS PINNING TASTY RECIPES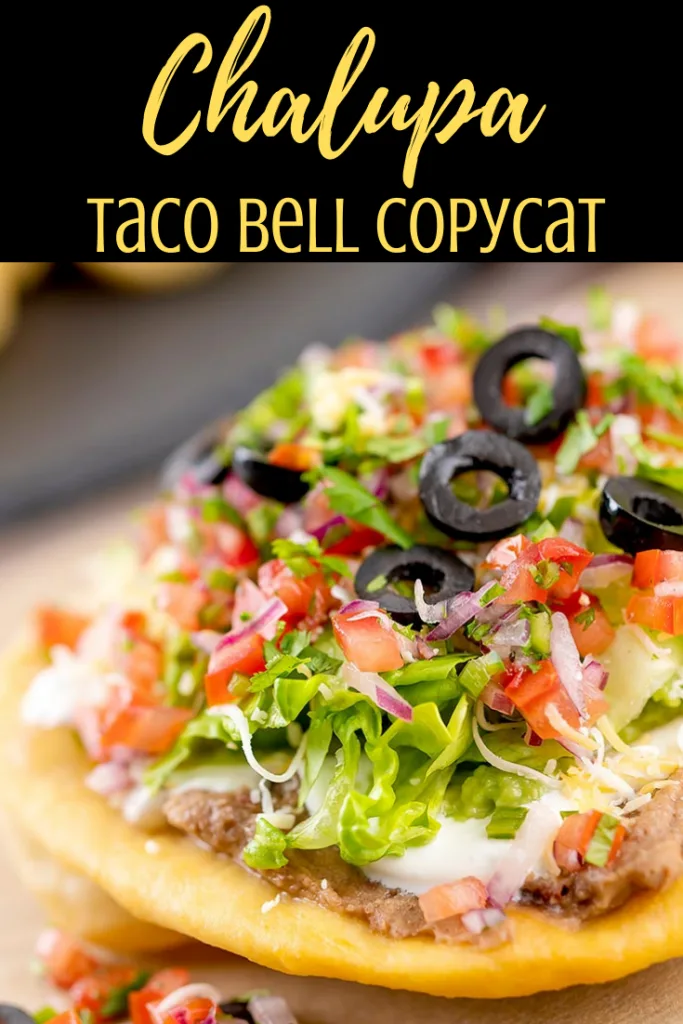 Jump to:
What is a Chalupa?
Chalupas are traditional fried, boat shaped bread from central and southern Mexico. The chalupa bread is then typically topped with cheese, salsa, and lettuce. Chalupas are thick and about the size of a flour or corn tortilla shell. They are crispy on the outside and soft on the inside.
Taco Bell serves chalupas as part of their regular menu. Their chalupa shells are often crispier than homemade and contain options for toppings such as tomatoes, refried beans, or even with our Copycat chipotle sofritas lettuce, cheese sauces, and sour cream.
Our homemade chalupas are a tasty alternative to Taco Bell's famous recipe. Additionally, they are super easy to make, and you don't even have to leave home to eat them.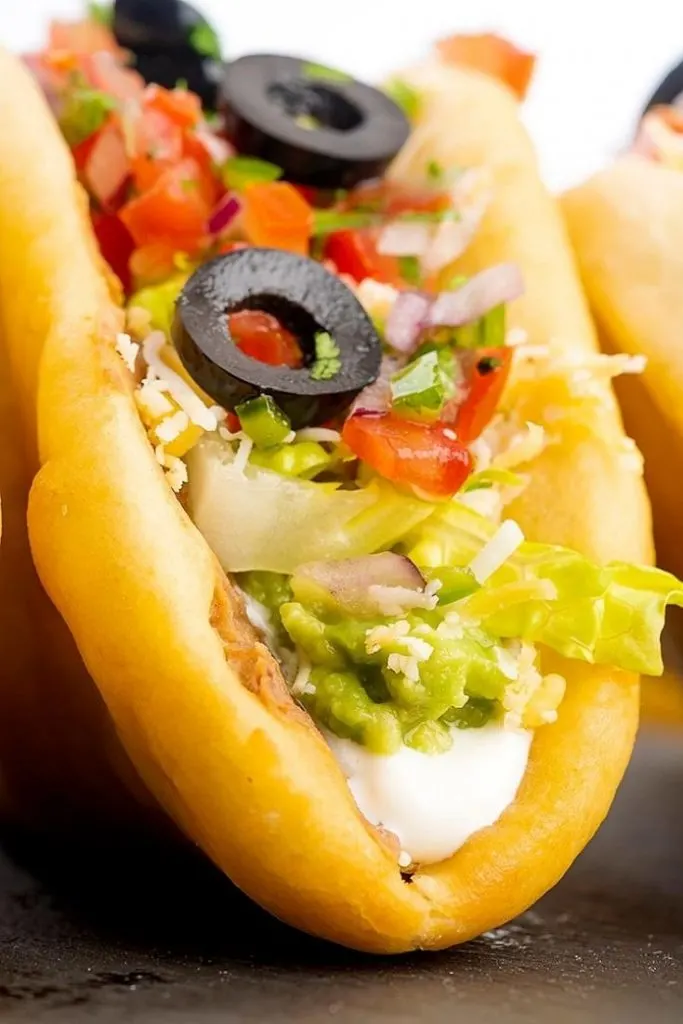 Chalupa Recipe Ingredients
You're going to need two sets of ingredients for the chalupas. First set is for the dough and chalupa shell itself. The second set is for topping the chalupas. Then, you can pick and choose what toppings you like, if you prefer, or serve fully loaded chalupas to your family.
For the dough, you'll need:
All-purpose flour
Baking powder
Salt (to taste)
Oil – for the dough itself and enough to have about 2 inches of oil on the bottom of your skillet
Milk
For the toppings, you'll want the following ingredients on hand:
Lettuce
Cilantro
Sour cream
Refried beans or Chipotle Sofritas– you can get store bought or follow this easy Instant Pot recipe for homemade refried beans
Guacamole
Chopped black olives
Cheese- tex mex blend or you could use a Mexican or cheddar cheese blend too
Pico de Gallo
You can also add extra toppings too! If you love roasted veggies, feel free to add them as part of the chalupa.
How To Make Taco Bell Homemade Chalupa Supreme
To make the best tasting chalupa shells at home: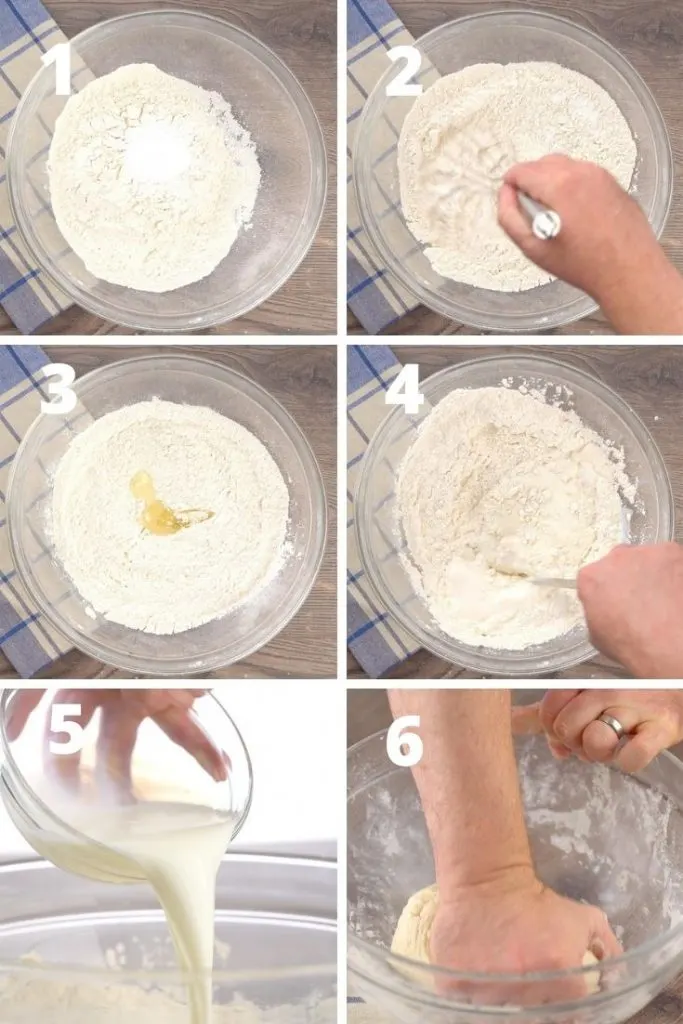 First, start by making the dough. Mix the flour, baking powder, and salt together. When they are combined, mix in the 2 tablespoons of oil.
Next, add in 3/4 a cup of milk and knead the dough. If the dough is tough and dry, add the remaining 1/4 cup of milk. If it is still too tough or dry, add a little water until you can knead the dough and it has a soft feel to it.
Once the dough is ready, cut it into eight (8) equal parts. Then roll each into a ball using your hands.
Now place them on a floured surface and roll them with a rolling pin until they are about 7 to 8 inches in diameter. Then punch a few holes in the dough with a fork to help air release from the dough.
After that, heat about 2 inches of oil in a thick bottom skillet or pot over medium heat. When the oil is hot, carefully slide one disc into the oil.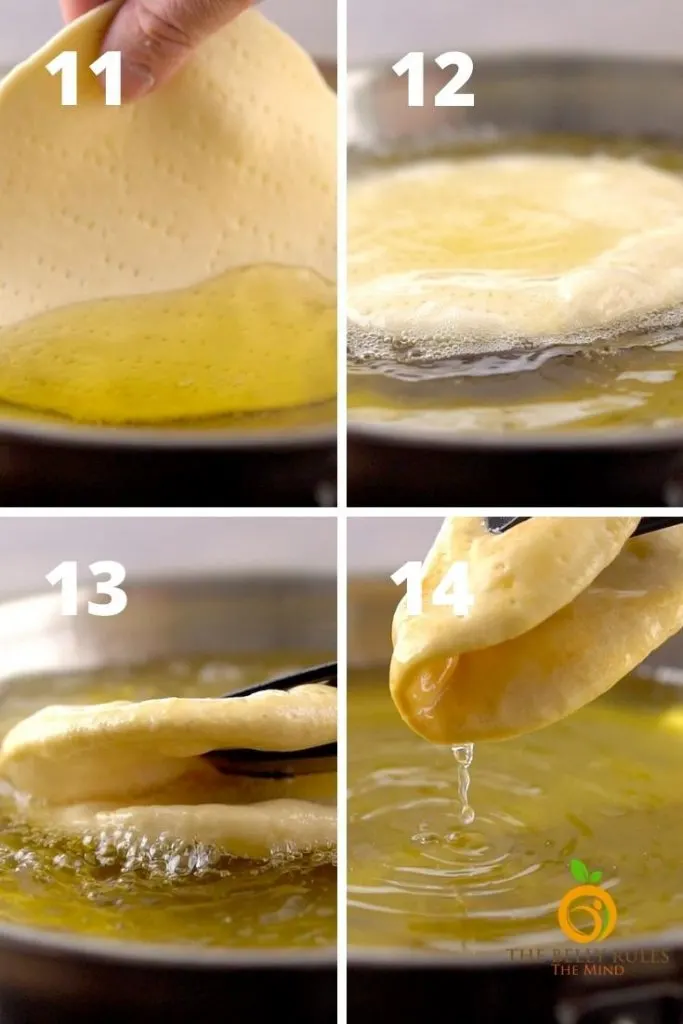 The disc will float a bit on top of the oil and puff up slightly. Once it does, use tongs to carefully flip the disc. Then immediately pinch up a side of the disc with tongs and gently fold it in half. It should look similar to a taco shell.
Cook the first half for 30 seconds and then flip and cook the other half for another minute or until both sides are golden and crunchy.
Next, repeat the same process with the remaining shells. Place the finished shells on paper towels to allow some extra oil to drain off.
Finally, when all the shells are made, spread refried beans on top. Fill with desired toppings.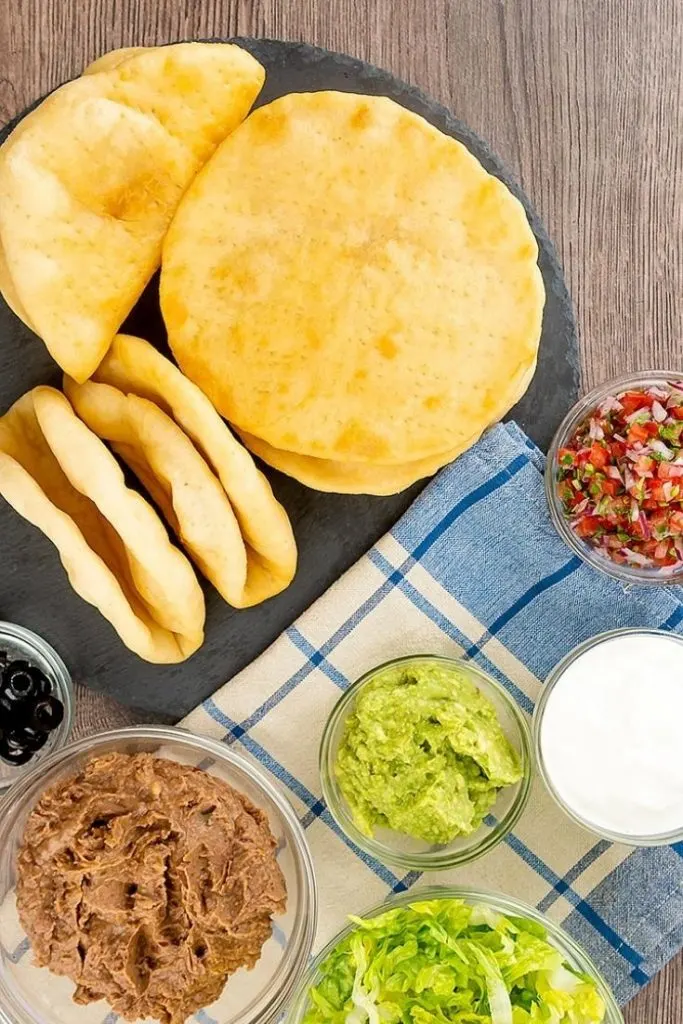 Pro tips and tricks
If you want to make the best chalupa shells possible, follow these tips and tricks. They will help ensure you get perfect results each time.
If you prefer, you can keep the shells flat. Then just pile the toppings on top of the flat shell
Don't overwork the dough! It can become tough and chewy if you knead it for longer than it takes to bring it altogether.
Don't skip the baking powder, it is essential to allow it to rise and give you the soft texture on the inside.
Serve when the chalupas are still warm.
If you have self rising flour, you can use it. However you should take out the baking powder, salt, and regular flour
Use only medium heat, too much hotter and they will burn.
Only fry one at a time, they can over crowd the oil and not cook properly.
What is the difference between Chalupa and Indian Bread/Navajo Bread?
Chalupas and Navajo fried bread are very similar to each other. They have slight differences in ingredients and Navajo bread is served flat without folding. They are both fried and require very little effort to prepare and enjoy!
Is this recipe vegan?
This recipe uses milk, which makes it vegetarian but not vegan. If you like, you could try using a non-dairy milk that is not flavored or sweetened, such as soy or almond milk. However, we did not test it with these ingredients, so you may need to adjust the amount of milk you use.
Also, omit using cheese and sour cream as toppings to make it vegan.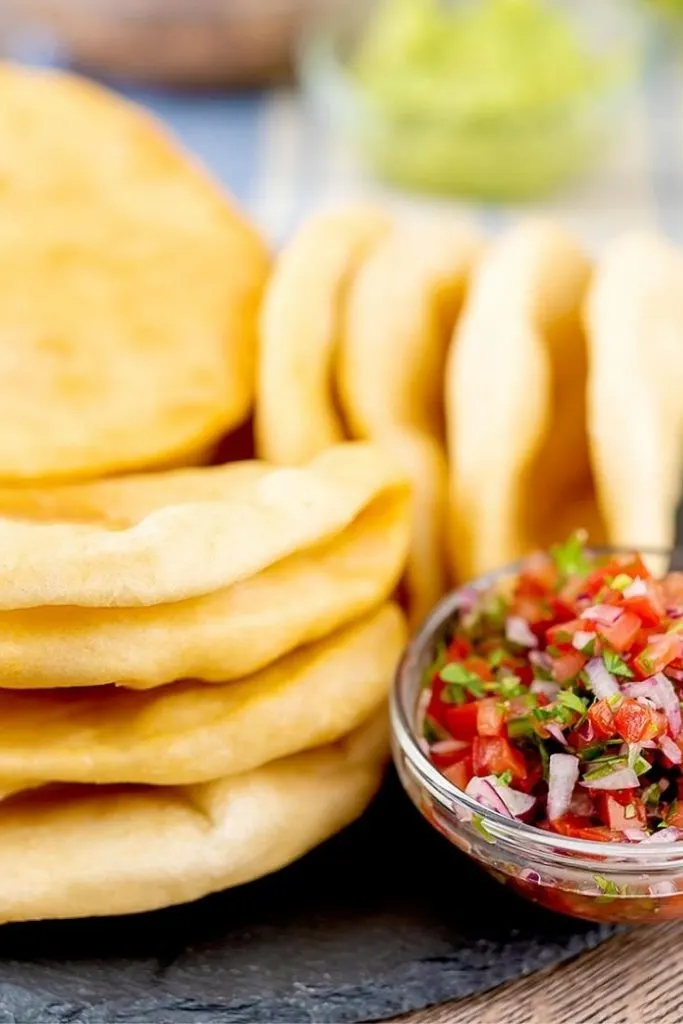 Can I make it gluten free?
You could try using a gluten free, all-purpose flour. However, this will likely change the texture some and may require more or less liquid.
How to store Chalupa Shells?
You can easily store the shells in the fridge for about 5 to 7 days. Just store them in a airtight container or bag. When you are ready to serve them, place them in the oven at 200 degrees for about 5 minutes or until they are warmed through
Can I make the Chalupa Shell dough ahead of time?
Yes! You can make the dough and refrigerate it for up to 1 week. Wrap it tightly in plastic wrap or place in a sealed bag or container. Then, let it to come up to room temperature before rolling out and frying.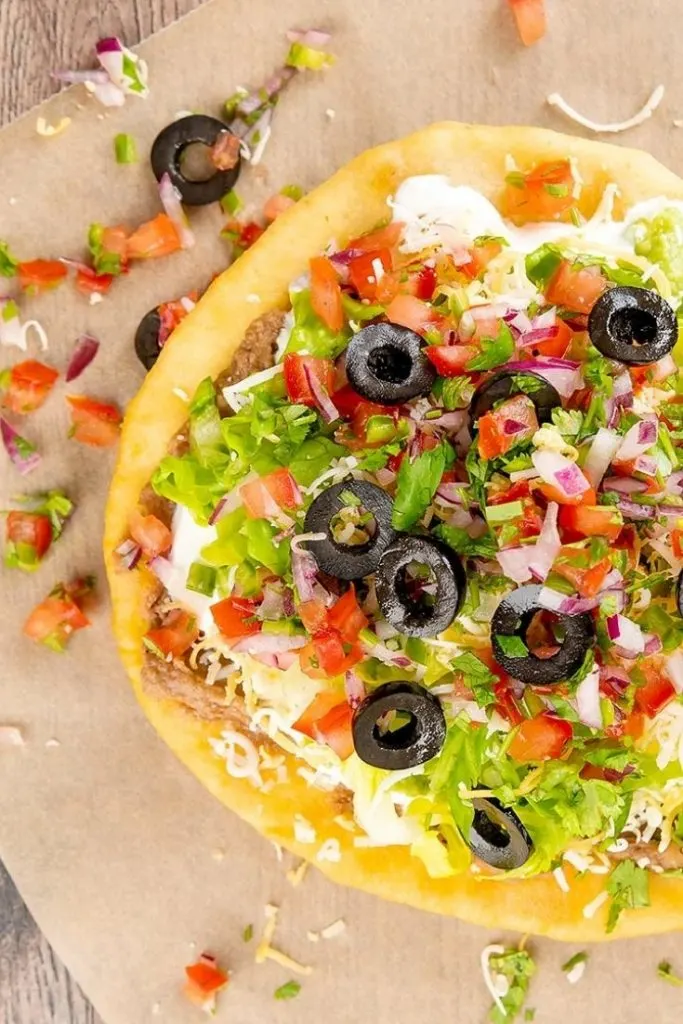 What is the difference between a taco and a chalupa?
Chalupa has a fried shell that is delicious, fluffy and crispy. Taco is usually made with a cooked tortilla. Eventually Both of them are filled with toppings.
Is a chalupa hard or soft?
Chalupa is crisp on the outside and soft inside. Its puffier more "bread" like shell that when fried gets chewy, crispy, light, and airy.
How do you eat a chalupa?
Chalupa is usually topped with the following toppings, refried beans, guacamole, pica de Gallo , chopped lettuce , cheese , olives and sour cream or any other desired toppings. If you need it to be more filling, you can add your choice of protein
What to serve in or with a Chalupa?
We like to add refried beans, guacamole, pica de Gallo , chopped lettuce , cheese , olives and sour cream to our chalupas.
More Mexican inspired recipes
Tag us!
Did you try these chalupas? Don't forget to come back and leave your feedback and star rating. We would be THRILLED if you would take a pic and tag us on Instagram @dbellyrulesdmind or Facebook @thebellyrulesthemind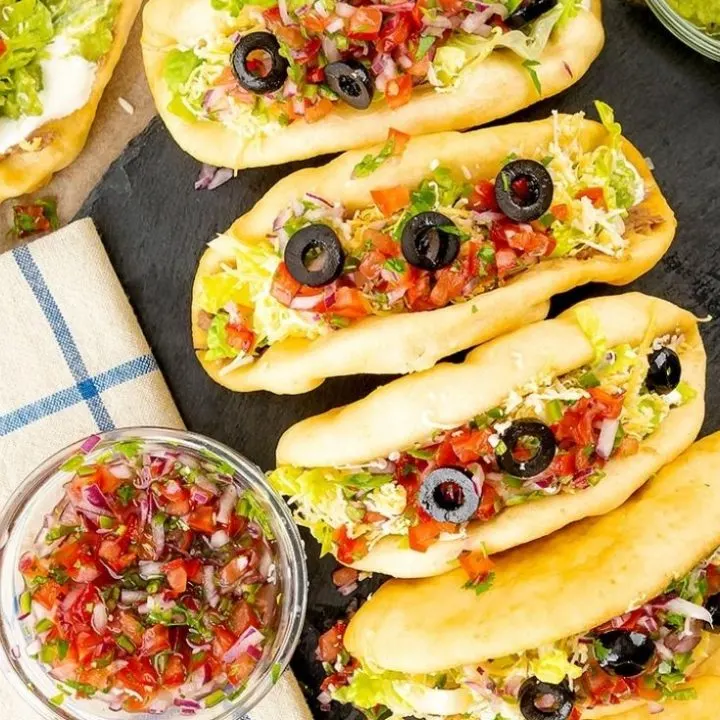 Chalupa Supreme Recipe (Taco Bell Copycat)
Additional Time:
2 minutes
Crispy and soft, these shells are a perfect mixture of textures. And best of all, you can stuff them with lots of different toppings so that everyone can make their own perfect chalupa without leaving the table.
Ingredients
2 cups all-purpose flour
1 tbsp. baking powder
Salt to taste
1 tbsp. oil
1 cup milk
Oil for frying
For Garnish
chopped Lettuce
chopped cilantro
sour cream
refried beans
guacamole
chopped black olives
cheese tex mix blend
Pico de Gallo
Instructions
Making Chalupa Dough
First mix all the dry ingredients (flour, baking powder and salt) together.
Then Add in oil and mix it in the dough.
Knead the dough using milk. Add 3/4 cup milk at one go. Add the remaining 1/4 cup as required.
If you need a little more liquid to knead the dough, you can use water.
Keep kneading till it all comes together and dough feels soft

Making chalupa Shells or disc
Cut it into 8 equal parts.
Then roll each part between both palms to make a ball. Roll out each ball using a rolling pin into a 7-8 inch (diameter) disc.
Punch some holes with fork. This will ensure that the chalupa does not puff a lot while frying.
Oil should not be more than 2 inches deep. Heat oil over medium flame.
When the oil is ready, slowly slide the rolled-out disc in the oil.
The disc will rise up on the oil and will puff up slightly.
With a pair of tongs, pick up the disc and flip it to the other side.
Immediately, pinch up a side of the disc with tongs and gently fold it in half. Cook this half side for 30 seconds .
Flip and cook the other half for another 1 minute till both sides are golden and crunchy.

Serving
To serve chalupas place a piece of fried bread on a plate and top with
the refried beans, guacamole, pica de Gallo , chopped lettuce , cheese , olives and sour cream or any other desired toppings.
Eat and enjoy!
Recommended Products
As an Amazon Associate and member of other affiliate programs, I earn from qualifying purchases.
Nutrition Information
Yield

8
Serving Size

1
Amount Per Serving
Calories

216
Total Fat

7g
Saturated Fat

2g
Trans Fat

0g
Unsaturated Fat

5g
Cholesterol

7mg
Sodium

276mg
Carbohydrates

24g
Fiber

3g
Sugar

1g
Protein

7g
All information and tools presented and written within this site are intended for informational purposes only. We are not a certified nutritionist and any nutritional information on TheBellyRulesTheMind.net should only be used as a general guideline. This information is provided as a courtesy and there is no guarantee that the information will be completely accurate. Even though we try to provide accurate nutritional information to the best of our ability, these figures should still be considered estimates.
Hello, I am Soniya, the cofounder of The Belly Rules The Mind. Originally from Mumbai, India, I am settled in Virginia US with my husband.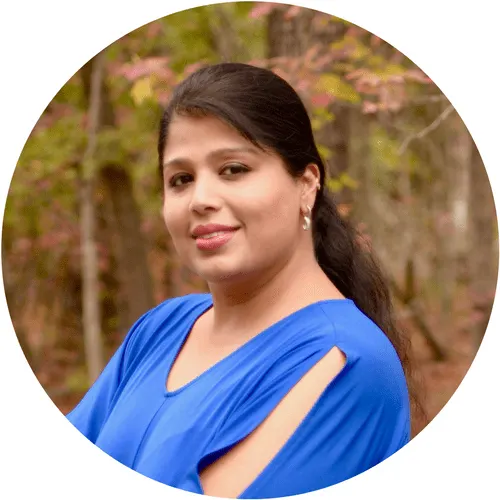 I am a mother of 2 energetic boys, referred to as R2 (15-year-old) and R3 (10-year-old) on the blog. In case you are wondering who is R1, well that is my husband.
My hubby and I were born in Mumbai, India, where we were spoiled by the wealth of food choices available to us. We could enjoy everything from yummy street food to multi-cuisine restaurants and we became very picky about what we like and what we don't. Read more