Instant Pot Spaghetti Squash is such a wonderful and versatile vegetable. Spaghetti squash requires its own preparation to keep its signature strands of noodle-like squash intact. So let's learn how to cook it in four ways: in the electric pressure cooker, in the oven, Air fryer and in the microwave. Here are all of our best tips for how to cut and cook perfect!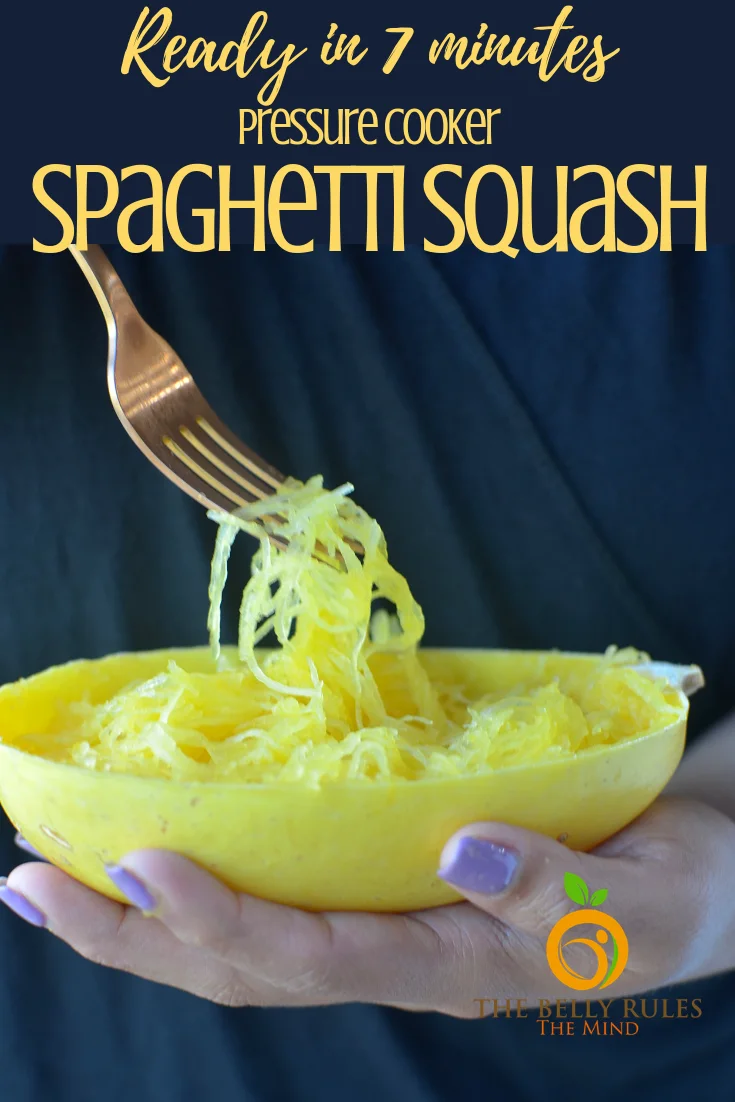 Hey there everyone! I can't believe its last day of the school year out here in Virginia. Summer is one of my favorite times of the year and I bet it is yours too. ?‍♀ No alarm clocks, late nights, ice cream and popsicles. It's just fun! But having to think about what to cook for lunch every day is not so much fun ..Right?
Mealtimes are rarely fun when you have a fussy child to deal with. Some kids are picky eaters while others are plain stubborn and refuse to eat anything except their favorite burger or pasta. But junk food for a meal is not an option, is it? So we at
THE BELLY RULES THE MIND
, understand your dilemma. We want our kids to eat healthy food without complaining. We bring recipes to make
healthy meals
for kids, something they will enjoy eating for lunch, dinner, and even breakfast!
So coming back to our recipe. If you have spaghetti squash and you were thinking about cooking in your Electric pressure cooker / Instant Pot / Mealthy Multi Pot. Great! This post covers the different ways one could approach cooking spaghetti squash noodle. Keep an open mind and you can turn these bland vegetable strands into amazing flavorful dishes! All that just by cooking it and adding so many flavors and texture. The possibilities are ENDLESS.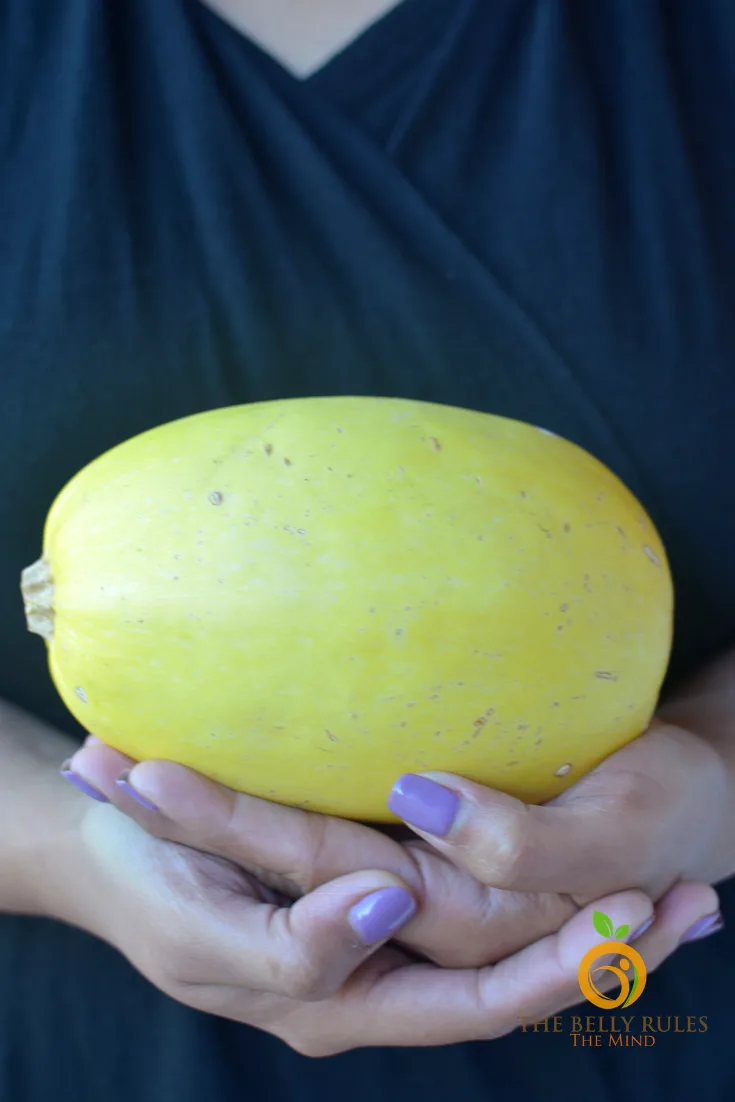 What is Spaghetti Squash?
Spaghetti squash is a vegetable from the squash family. When cooked the meat of the fruit turns into angel hair-like strands hence the name spaghetti squash noodle. Spaghetti Squash comes in a variety of shapes, sizes, and colors, including ivory, yellow and orange, with yellowish and orange having the highest amount of carotene. Its center contains many large seeds and when raw, the flesh is solid and similar to other raw squash. When cooked, the meat of the fruit falls away from the flesh in ribbons or strands that look like spaghetti/ noodles. Spaghetti Squash can be stored at room temperature for about a month. After cutting, wrap in plastic wrap and refrigerate up to 2 days. This type of squash also freezes well.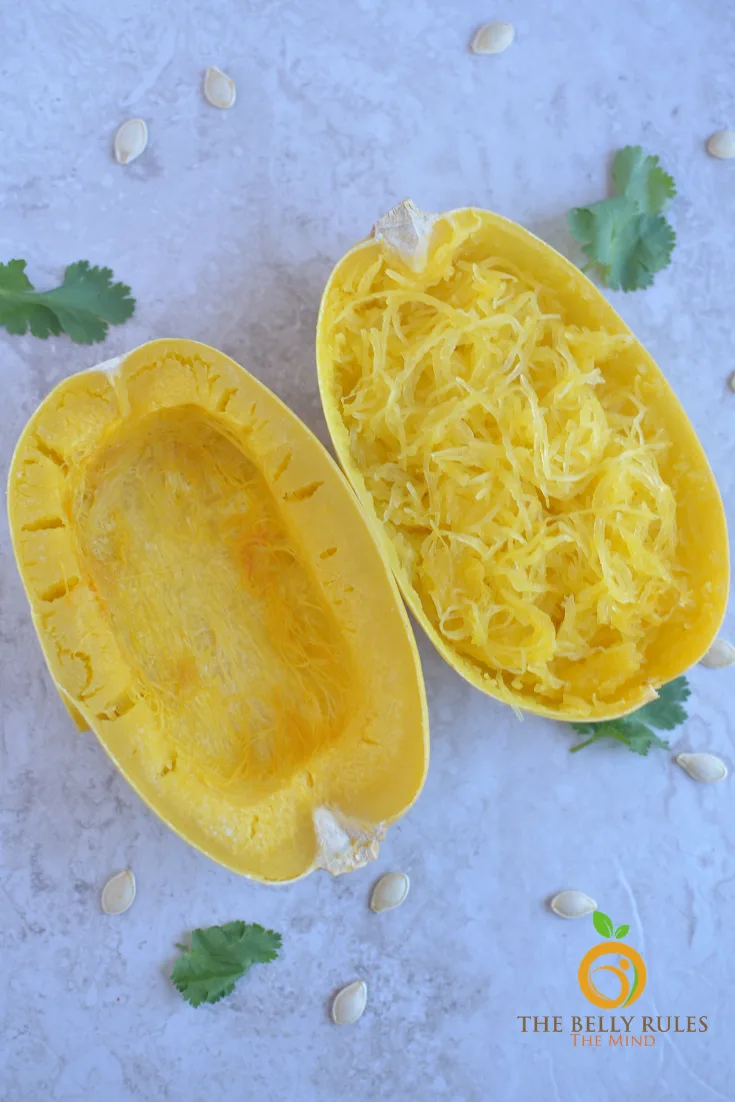 It is a low carb replacement
When giving up carbs, things like Rice, Pasta, and Noodles can be one of the most difficult parts. There are many great dishes that call for rice, noodles, and pasta and you might be wondering how you would make them without being able to use them. That is where low carb spaghetti squash comes in.
How to Cook in a Microwave
The oven and microwave are two tried-and-true cooking options for spaghetti squash, but last fall I discovered I could cook it in my electric pressure cooker, seriously ! and I will never cook a spaghetti squash the same way again.
Use one medium-size Spaghetti Squash. Use a sharp knife to pierce the squash (all the way to center) in a few places to allow steam out when cooking.
Microwave for 5 minutes on high 100% setting; rotate 180 degrees and microwave for another 5 minutes until squash shell is soft to the touch. Carefully remove from microwave and let rest for 5 minutes to allow squash to finish cooking inside.
Using a sharp knife, cut each end off of the squash. Next cut the squash in half lengthwise. Allow the squash to cool for a couple of minutes. Use a spoon to scoop out the seeds. Discard the seeds.
Instant Pot simplifies the process of making Spaghetti Squash Noodle. Check out the options in the recipe card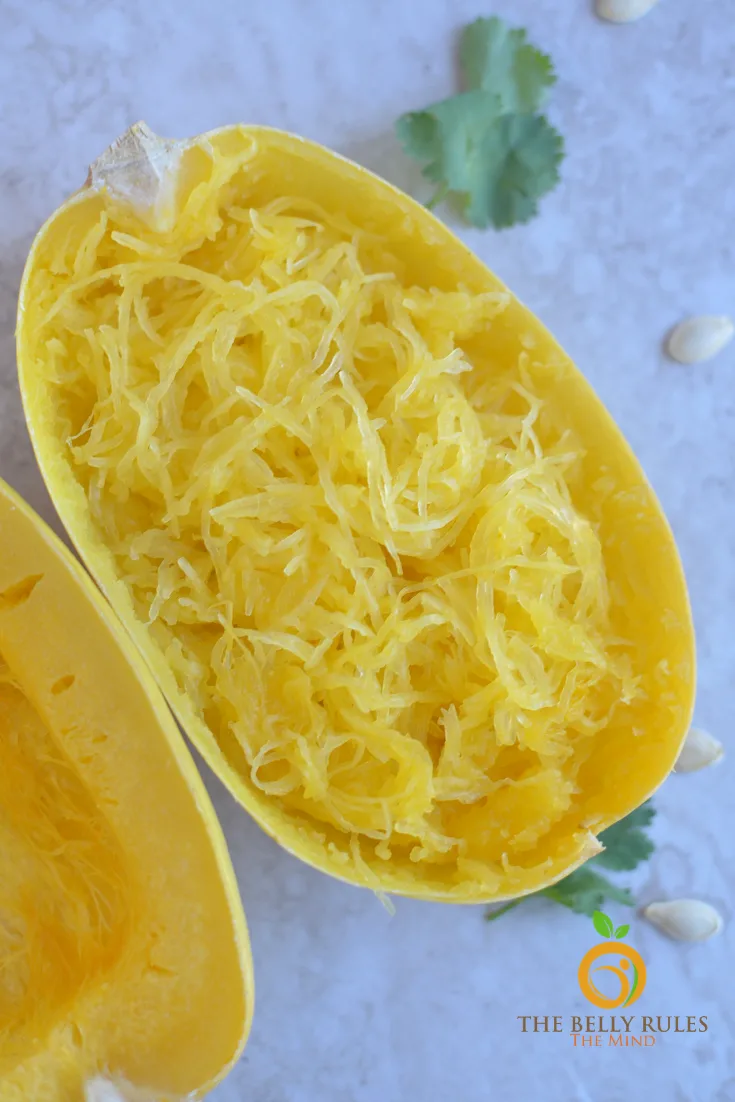 How to cook in an Oven
Start by cutting the squash in half lengthwise. The outer flesh is pretty hard, so you'll need a large, sharp knife.
Scoop the seeds and stringy pulp out of the center.
Now, brush olive oil all over the inside of each half.
Then place the spaghetti squash on a foil-lined baking sheet cut-side down.
Place in an oven at 400° and bake for 30-45 minutes. The cooking time will vary based on the size of the squash and the thickness of the flesh. You'll know yours is done when the squash pulls easily away from the skin.
Instant Pot simplifies the process of making Spaghetti Squash Noodle. Check out the options in the recipe card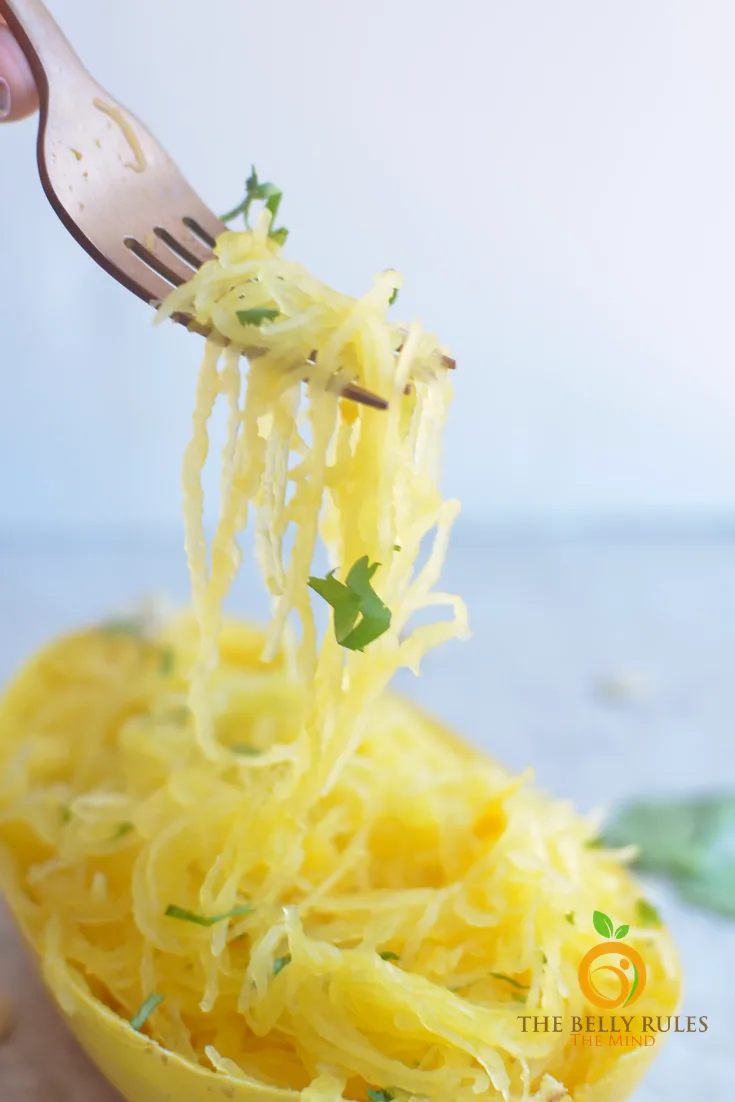 Pro Tips
Cut into halves and cleaned out – This option is the quickest and easiest! Spaghetti squash cooks in halves and lets you scoop the spaghetti strands out super easily.
Get Longer Spaghetti Squash Strands
By cutting the squash in half across its width (rather than length), you can get long strands of the squash, better for mimicking our favorite pasta staple.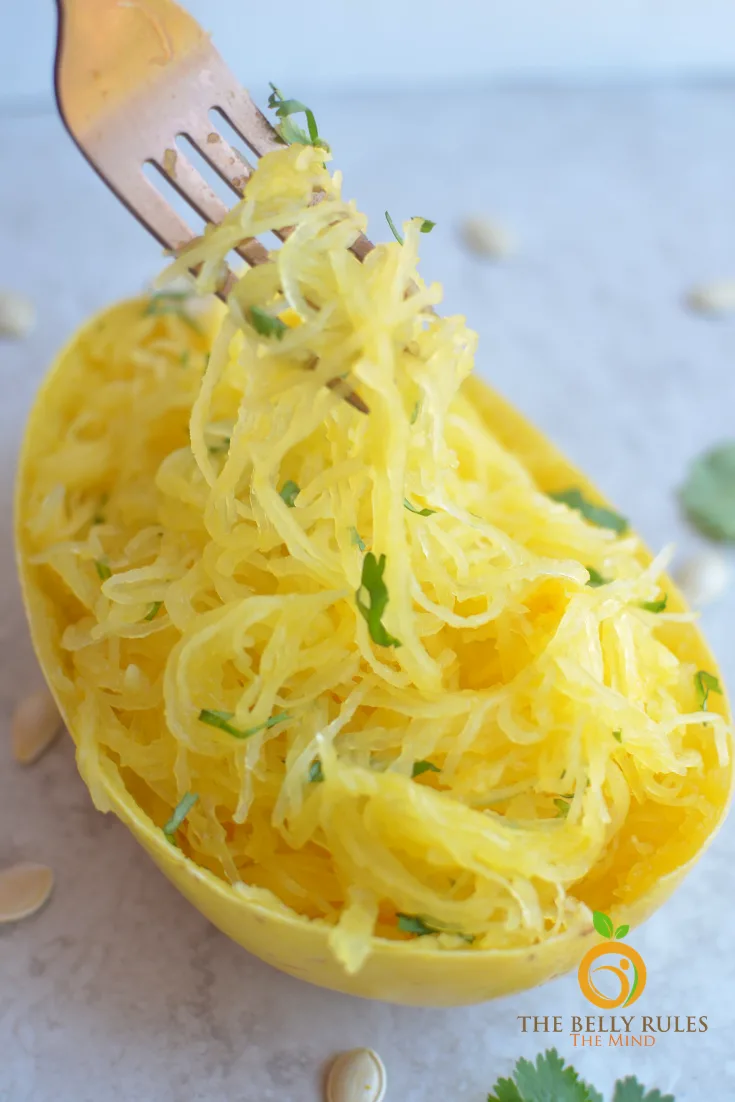 How does it taste?
If you close your eyes, you'll think you're eating angel hair pasta. .It doesn't have a ton of flavor, which actually is a great thing when it comes to feeding kids! There's no veggie flavor masking here – you can truly make it taste however you wish.
Here are some ways to serve this Instant Pot spaghetti squash
Spaghetti squash noodles work well together in
Keto, Low Carb, and Weight Watchers Approved
Another great thing about using spaghetti squash in your dinner recipes is that it is approved on most diets. If you are eating a low carb or keto diet, these low carb spaghetti squash noodles are 5.5 net carbs per cup. If you are on Weight Watchers, spaghetti squash is on the 0 point list.
Let me know in the comments how you will be serving your spaghetti squash. Have a happy and healthy Summer!
Recipe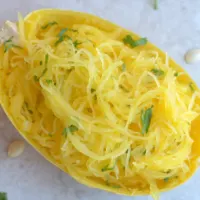 Spaghetti Squash Noodle (Pressure Cooker + Oven + Microwave oven)
Ingredients
1 Medium size Spaghetti squash( 2lb or 3lb)
1 cup water
Sharp knife
Cutting board
Electric pressure cooker
Instructions
How to Cook Spaghetti Squash in Instant Pot
Start by cutting the squash in half lengthwise. Please be careful, when you cut open your squash. It has a very tough skin.
Scoop the seeds and stringy pulp out of the center.
Pour a cup of water in the Instant Pot.
Place the trivet on top.
Then place the spaghetti squash in the instant pot cut side up or down it doesn't matter.
Pressure cook for 7 Minutes .
Release the pressure immediately QR .
Open the lid and carefully remove the trivet out of the pressure cooker.
hold the spaghetti squash with a oven mittens and use a fork to scrape the inside to create squash strands.
Store in an air tight container in the fridge for up to 4-6 days.

Air fryer method
Cut ends of the squash then cut down the middle, lengthwise.
Scoop out and discard the seeds. Drizzle oil over the spaghetti squash and the season with salt and pepper.
Place the 2 halves in the air fryer and cook at 370 degrees F for 12 minutes. Check the squash and continue cooking another 4-6 minutes depending on the size of the squash.
Remove from air fryer basket and using a fork, scrape the inside of the squash to form strands
Notes
Storage
Store in an air tight container in the fridge for up to 4-6 days.
Notes
2 lbs spaghetti squash yielded roughly 6 cups of cooked squash; 3 lbs generated roughly 8 cups
Recommended Products
As an Amazon Associate and member of other affiliate programs, I earn from qualifying purchases.