So today I have another interesting recipe to share with you ...No Fry Moong Dal Vada / Fritters . I love to make these vadas often as I have two growing boys and moong dal has a lot of health benefits. This is in continuation of my previous post the Kothimbir Vadi / Cilantro Fritters that you appreciated and loved. It's always great to see people trying your recipes, asking question, giving feedback and posting pictures on Facebook. Thanks a lot, I appreciate it.
It is not only packed with the proteins but also a good source of dietary fiber.
It is easy to digest unlike a lot of other pulses
It is low in fat and rich in potassium, calcium and B-complex vitamins.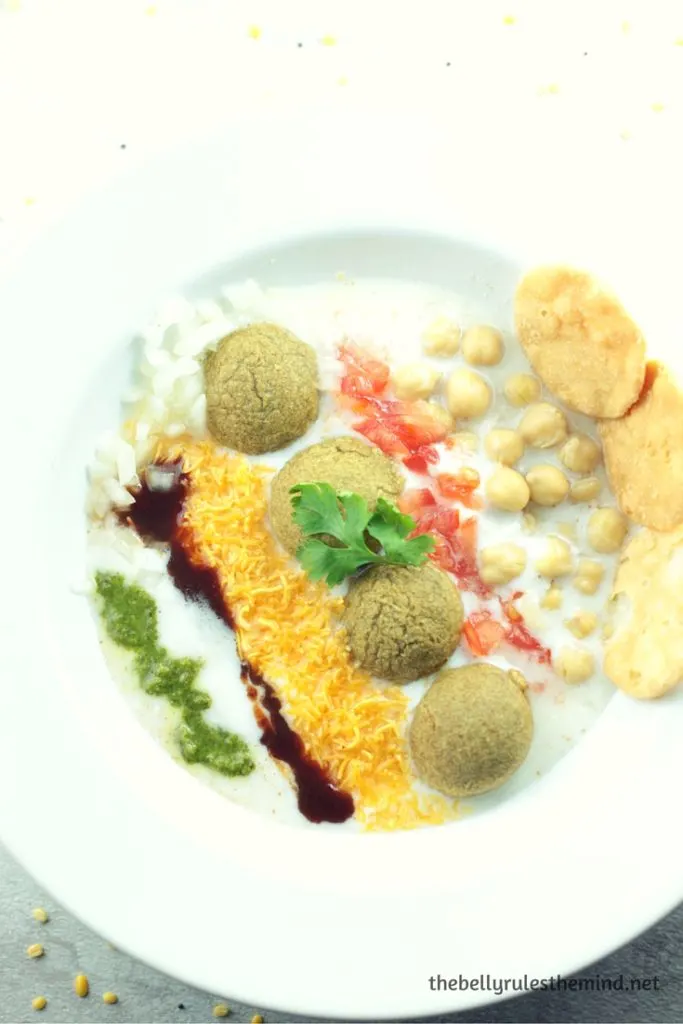 In our household, we consume them either as is with chutneys or ketchup or sometimes we like to treat ourselves with moong dal vada / fritters chaat.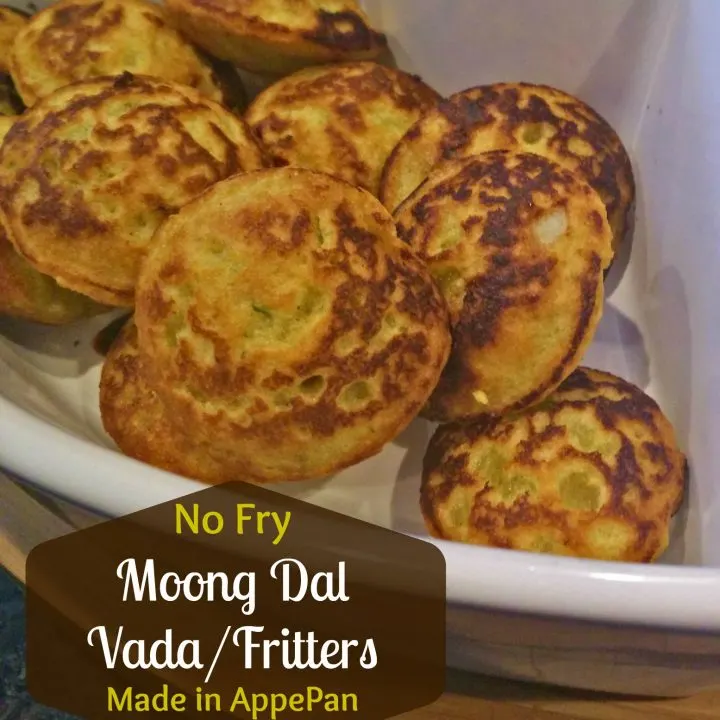 No Fry Moong Dal Vada / Firtters made in appe pan
Ingredients
For Moong Dal Vadas / Fritters
1 cup split yellow moong dal, thoroughly washed
2 tablespoon cilantro / coriander/ dhaniya, finely chopped
2 teaspoon onion, chopped
1 teaspoon ginger, chopped
1 teaspoon cumin / zeera
1/8 teaspoon asafoetida / hing
1/2 teaspoon red chilly powder
1/2 teaspoon coriander / dhaniya powder
1/4 teaspoon turmeric / haldi
Salt to taste
2 tablespoon oil
For Chaat
1 cup sweetened yogurt / curd
1/2 cup sev
1/2 cup papadi
1 onion chopped
i potato, boiled & chopped
1 tomato chopped.
1 cup chickpeas / chana/ garbanzo, boiled (can be substituted for your choice of sprouted legumes)
Meethi chutney to taste
Instructions
Soak a cup of Moong Dal for 2 to 4 hours.
Drain the water, add cilantro and grind it to a paste, while slowly adding water.
In a mixing bowl, pour the paste and t it add the dry masala - cumin, chilly powder, asafoetida, turmeric & salt.
Add onion & ginger to the paste and and mix well.
Heat the appe pan with a few drops of oil.
Drop the paste into each section of the pan.
Cook on slow-medium flame for about 3-4 minutes on each side, until golden brown.
They are ready to be served as a perfect snack, either as is or with some ketchup or your favorite green, tamarind or mint chutney or my favorite chaat.