Dahi Vada - Dahi Bhalla chaat are absolutely melt in mouth delicious fritters served by street vendors throughout India. This tasty handheld fried lentil fritter are protein packed and gluten free that will delight your taste-buds with its combination of flavors.
LET'S BE FRIENDS ON PINTEREST! WE'RE ALWAYS PINNING TASTY RECIPES!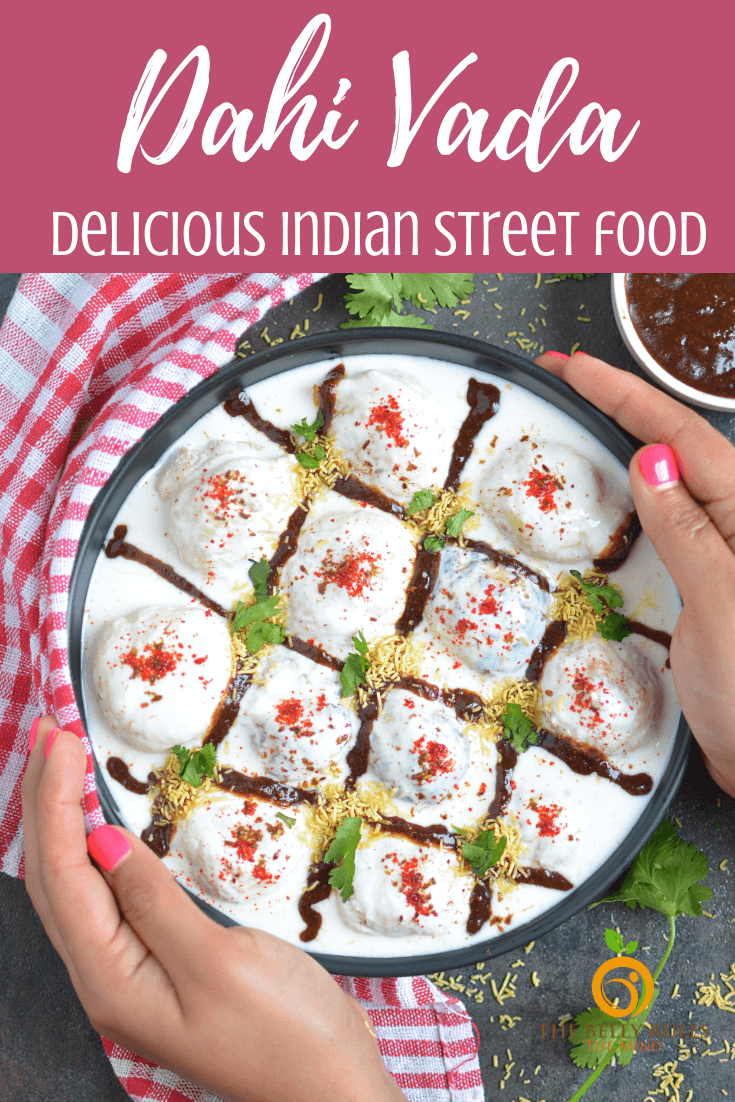 This post was originally posted in 2016 and has been updated with video and instructions
Jump to:
What is Dahi Vada?
Dahi is the Indian word for "yogurt." Vada are deep fried lentil fritters. So this recipe is fried lentil fritters with a refreshing yogurt sauce. The fritters melt in your mouth delicious. They are topped with a sweet and spicy combination that adds a lot of flavor to the fritters.
Dahi Bhalla is an excellent street food in North India
Dahi vada is a popular Indian recipe found throughout the country and subcontinent. If you visit India, you can find dahi vada sold at many street vendors. If you plan a trip to India, you should definitely make sure to try them. But in the meantime, you can make these delicious fritters in your own kitchen with very little effort.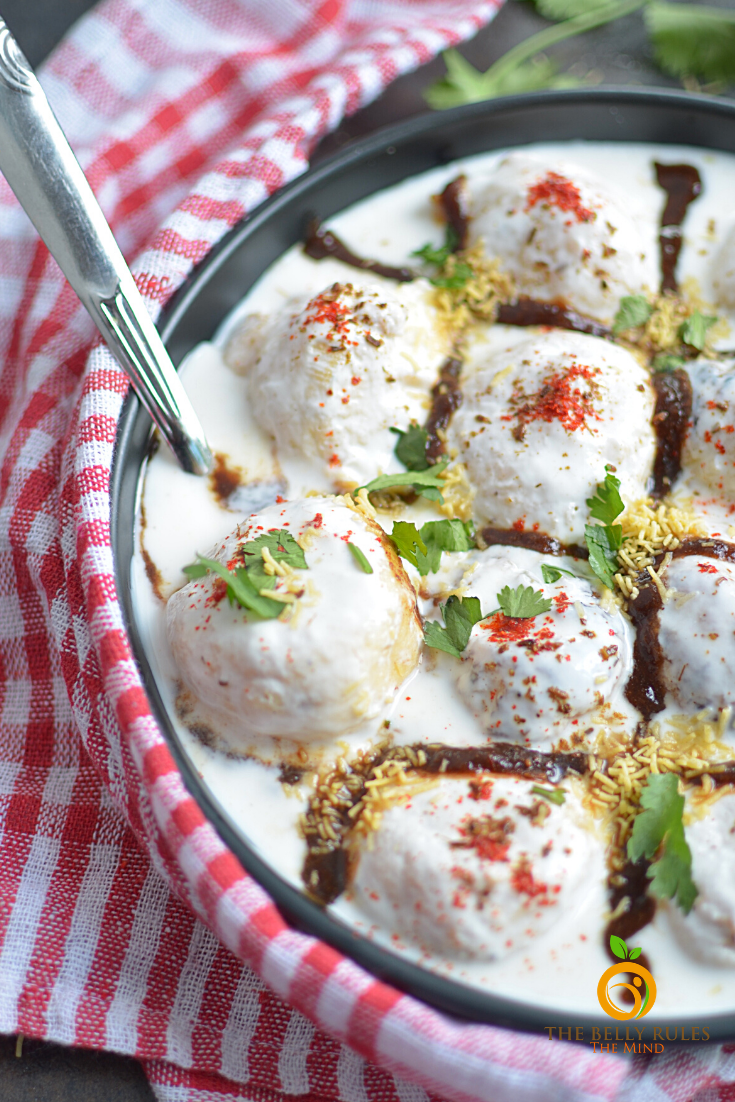 How to make Dahi Vada Video Recipe
How to make Dahi Vada
To start, you need to soak the urad vada (known as black lentils in English) for a minimum of 4 hours. I prefer to soak them overnight to help get them extra soft.
Once the urad vada has soaked, drain the water from the bowl. Dumpt the lentils into your blender and grind them to form a batter. When you grind the lentils, leave the lid off the blender. This helps make the batter extra fluffy and adds nice air pockets when cooked.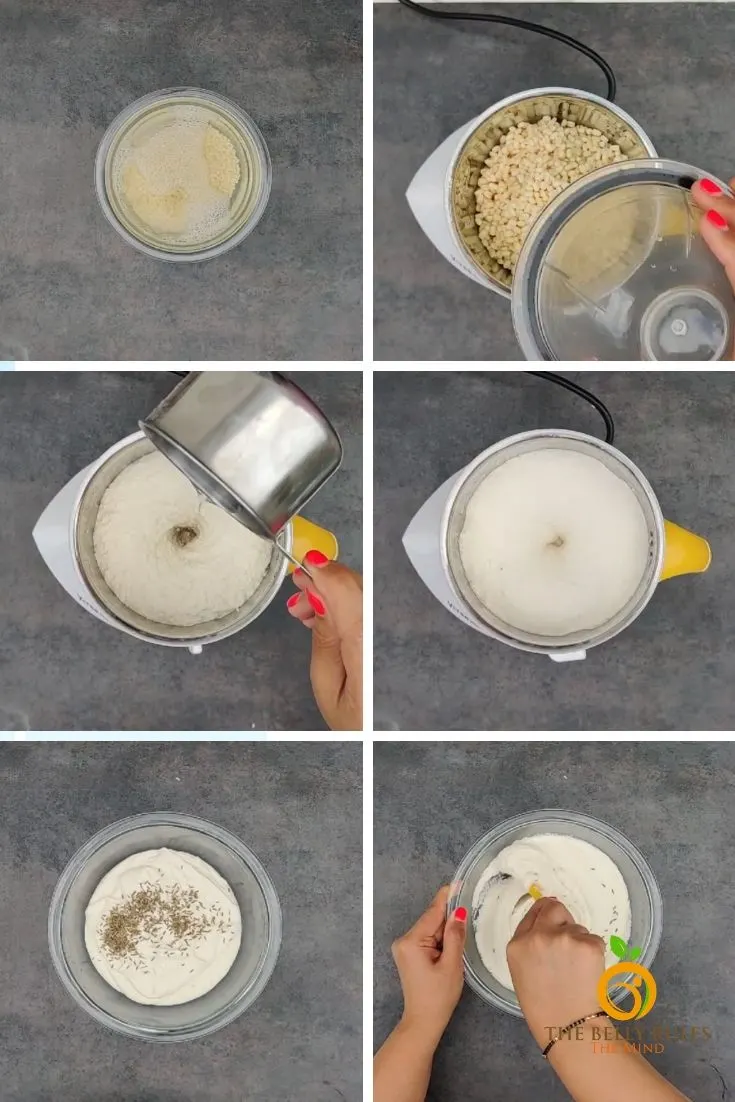 If the batter is too thick, you can try adding small amounts of water and blending again. Only add a half cup or less of water to avoid adding too much. The batter should be thick.
When the batter is thick, transfer it to a large bowl. Add in the cumin seeds and salt and beat for 5 to 6 minutes using a hand mixer or by hand if you prefer.
Next, heat a panniyaram pan / appe pan /Aeblesikver pan over high heat. Add a small amount of oil to each cavity in the pan and reduce the heat to low to medium heat.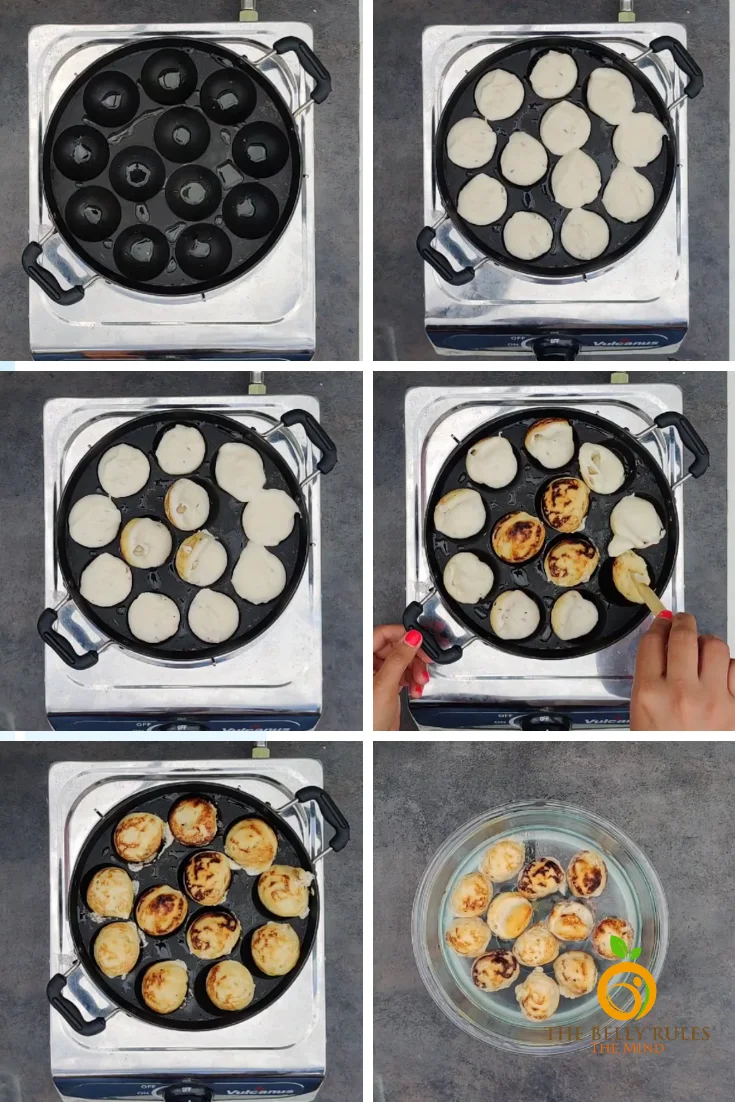 Then add the batter to each hot pan using either a spoon to fill the cavities or by piping it into each cavity.
To pipe the batter, fold a seal-able bag over a cup so one sealed corner is pointed down towards the bottom of the cup. Then scoop the batter into the bag, seal the bag and snip the bottom corner off. Gently squeeze enough batter out over the divet to fill it.
Once you've filled each cavity, turn the heat up to medium-high heat. The batter will puffs up as it cooks. When it's puffed up, use a wooden stick to flip them. Cook them for another few minutes until the bottom is golden brown.
How to assemble Dahi Vada
When the batter has cooked into fritters, remove them from the heat. Set them aside for a minute while you fill a small bowl with lukewarm water and salt. Add the fritters to the bowl of salted water and soak them for 5 minutes. Remove them and squeeze them gently to remove the water from them. Place the squeezed fritters on a plate.
While the fritters soak, make the yogurt sauce. In a small bowl, whisk together the yogurt, sugar, and rock salt. Once the vada are on the plate, pour the yogurt over them.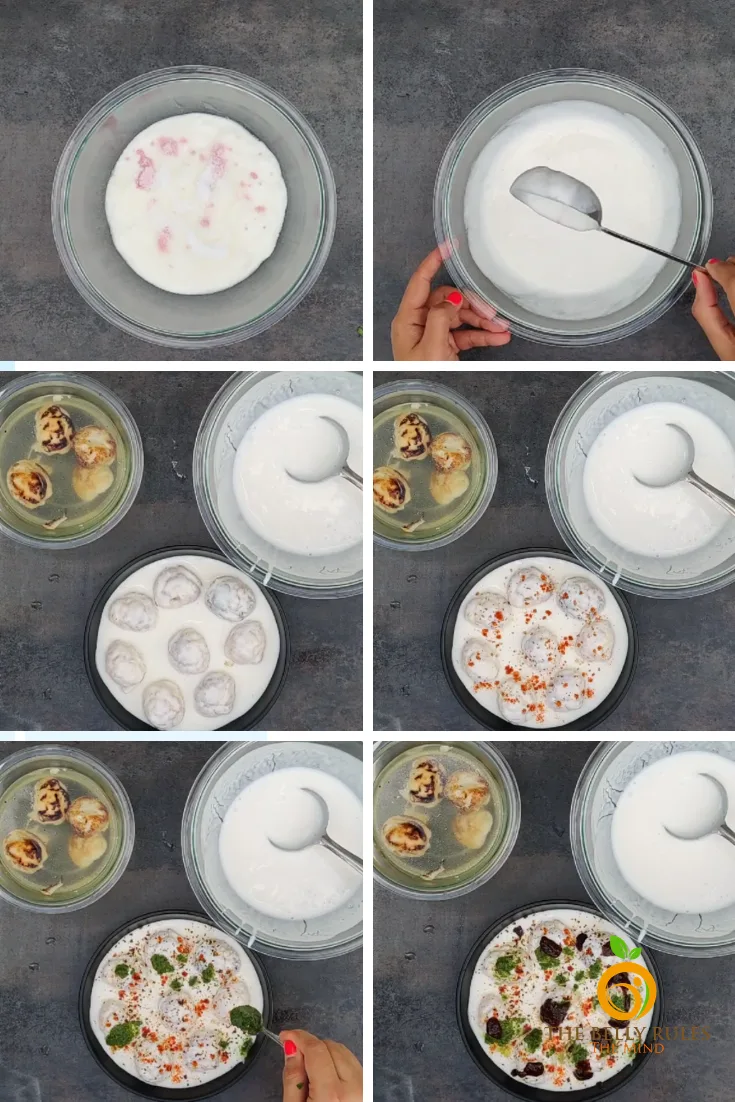 To garnish, sprinkle some roasted cumin powder and red chili powder on top. Next drizzle on some tamarind chutney (for sweet and sour flavor) and green chutney (for some added spiciness). Finally, add some chopped cilantro and sev. If you want to, you can also add pomegranate too.
Serve the fritters warm and fresh for the best flavor.
What is the difference between Dahi Vada and Dahi Bhalla
There is a slight difference in how dahi vada is made versus dahi bhalla. To make dahi vada, you typically only use black lentils or urad dal. When you make dahi bhalla, you typically add in moong lentils. They both use sweet, sour, and hot chutneys as a topping, which is unique to these two types of fried fritters.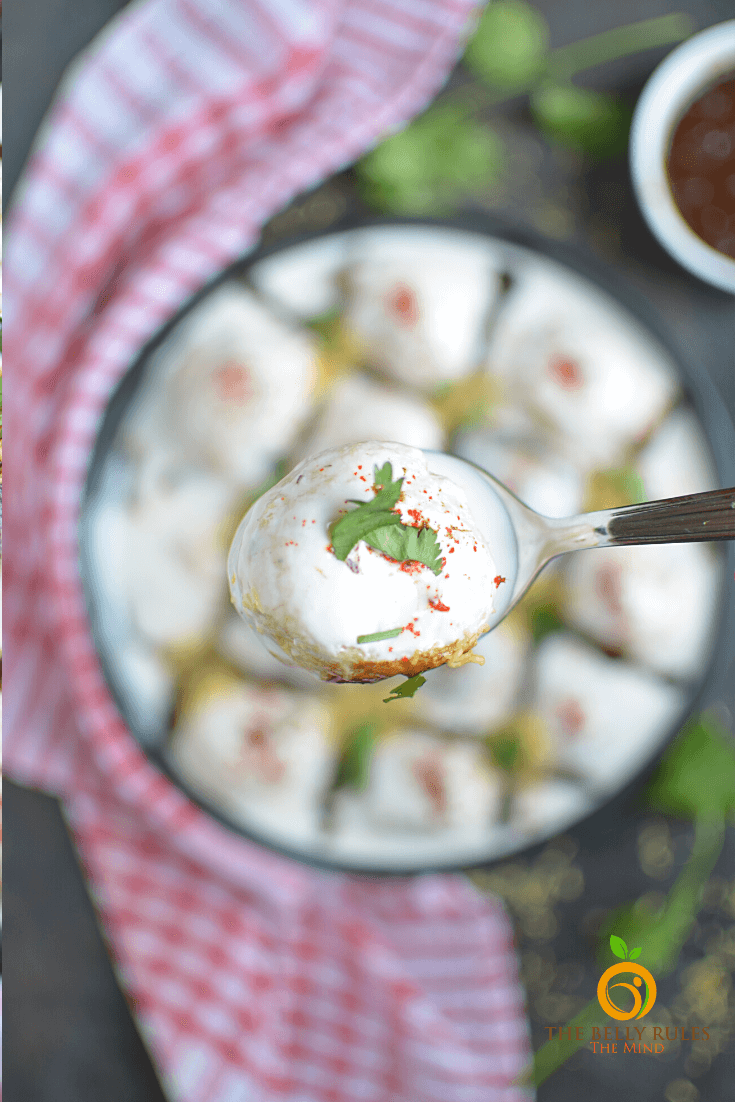 Pro tips and tricks
To make the fluffiest and best dahi vada, follow these tips and tricks:
Cook the vada at a high temperature to help air expand rapidly and give the fritters extra fluffiness
Make sure to soak the lentils for at least 4 hours to make them very soft. This also helps with making the batter a bit more consistent throughout.
When using a blender, make sure you only use cool water to help prevent the blender from adding heat to the batter.
Don't skip beating the batter in a separate bowl after grinding the lentils. Beating the batter adds extra air into the batter.
Use a ziplog bag with a snipped off corner to make pouring the batter into your hot pan easier. For extra ease, fill the bag using a large cup and draping the bag over the lips of the cup and then spooning the batter into the bag.
For even better flavor, try making a homemade yogurt like my homemade Instant Pot Yogurt
You want to use cold chilled yogurt here.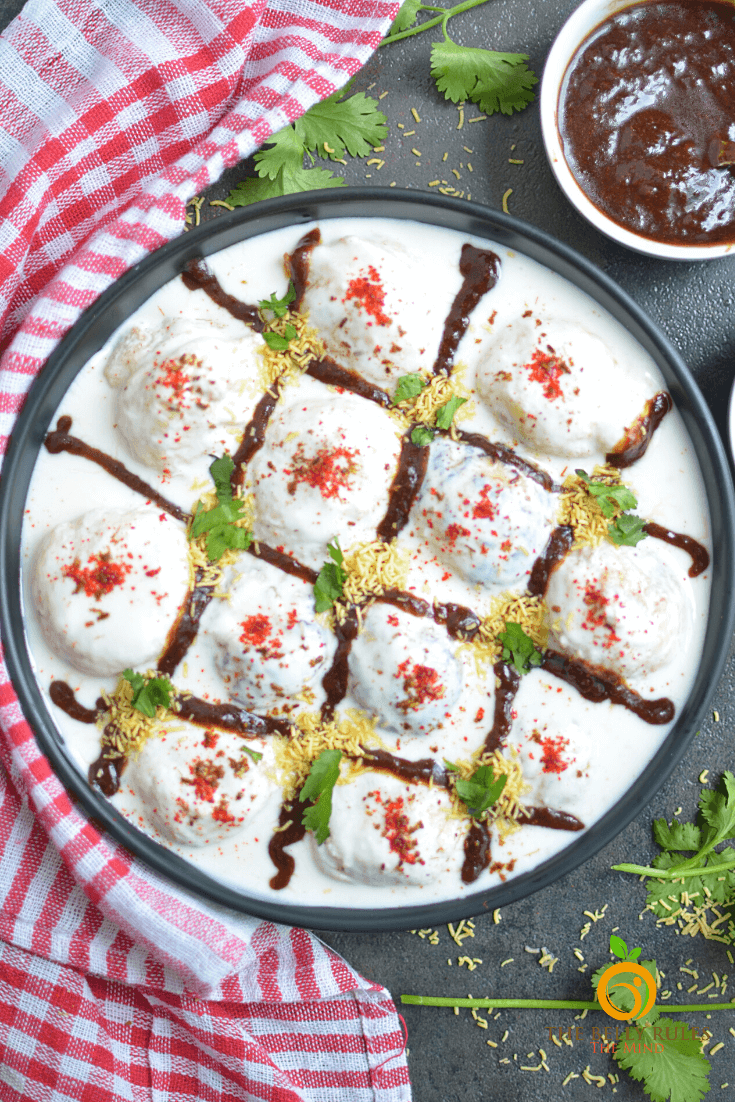 How to store Dahi Vada
If you want to make the fritters ahead of time you can. Before storing them, prepare the recipe up until the point where you are ready to add the yogurt over the fritters. Place the fritters on a tray or plate. Use cling wrap to seal them on the plate or tray. You can then store them in the refrigerator for a few days.
When you are ready to use them, take them out of the fridge. Let them come up to room temperature for a few hours before adding the yogurt and chutneys.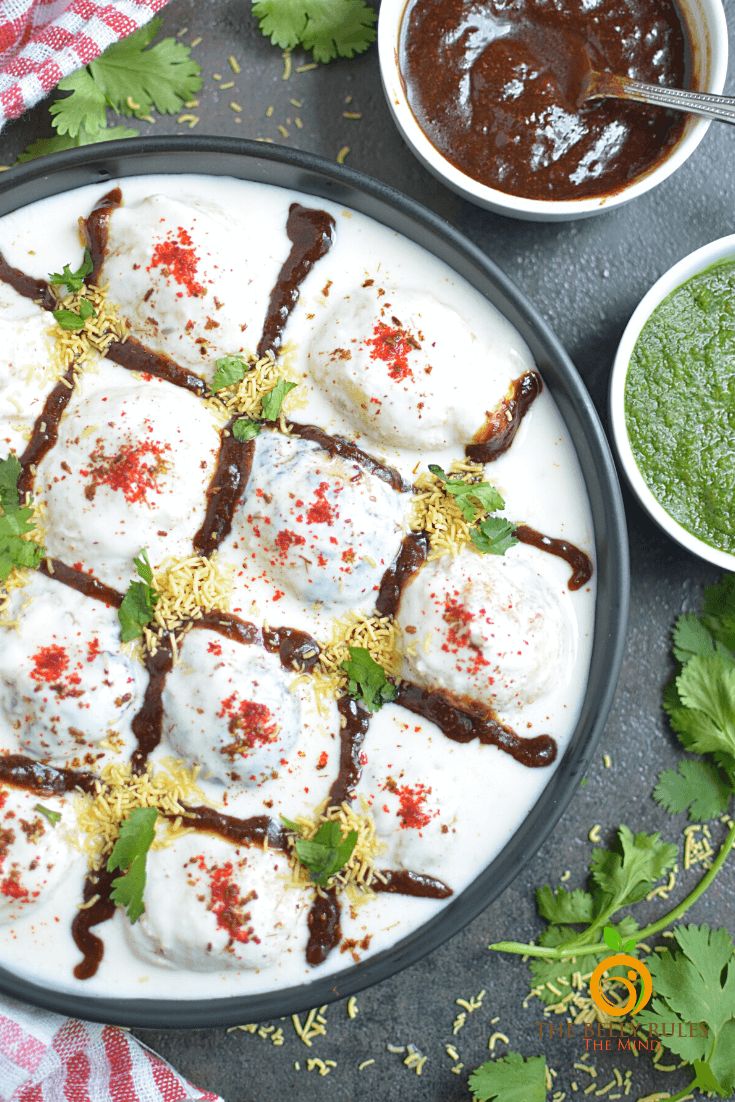 Can you freeze Dahi Vada?
Yes, you can freeze the vadas for about 6 weeks. To this, first let the fritters cool off completely. Next, add paper towels to either a freezer safe container or freezer bags. Add the fritters to the container or bag. Seal the container or bags removing as much air as you can.
To prepare the frozen vadas, bring a pot of water to a boil. Careful place the frozen fritters in the pot and cook for about 25 to 35 minutes or until the fritter puff up again. Gently remove the fritters from the boiling water and shake and squeeze the extra water off. Place them on a plate and add the yogurt and chutneys as you would with fresh fritters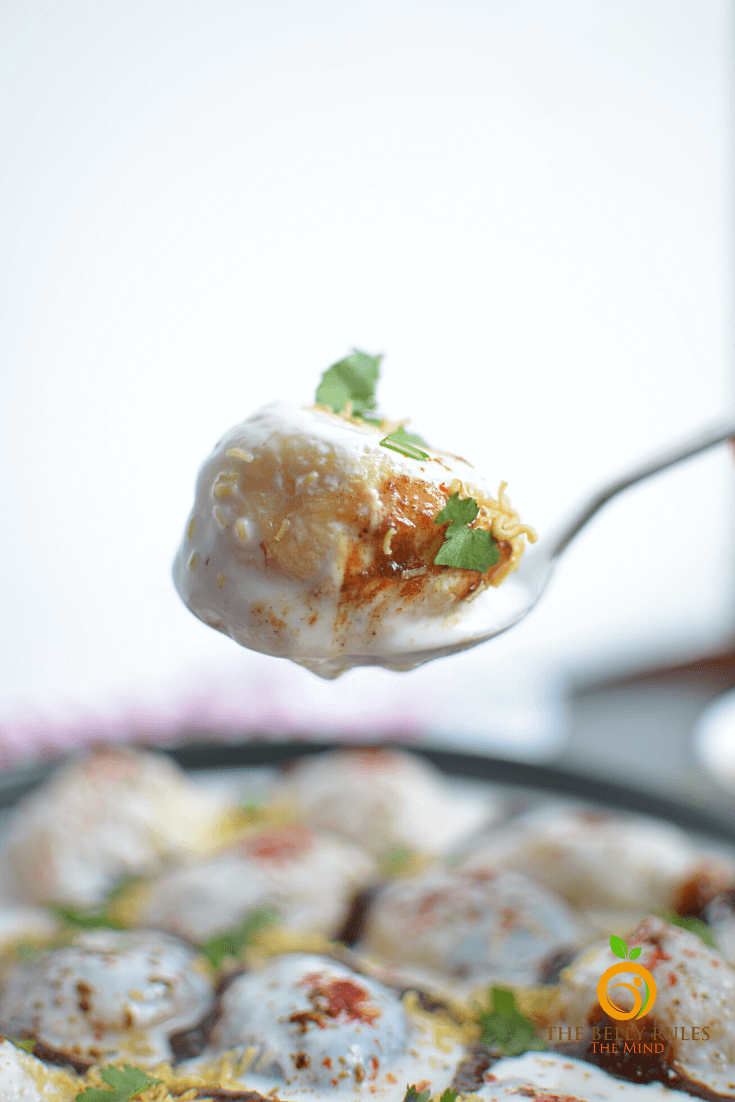 Can I add raisins in the batter?
You can add raisins to the center of the batter. To do this, add the batter to the hot pan. Next, carefully push a few raisins into the batter until they are about in the center. I don't recommend adding them into the batter while beating. Adding them at this stage allows less air to get into the batter and causes the fritters to not be as fluffy.
What type of Dal is used for making dahi vada batter?
You use urad dal to make dahi vada batter. In some cases, a recipe may use both urad dal and moong dal lentils. If you use both, the recipe is now dahi bhalla, which uses the same yogurt and chutneys for added flavor.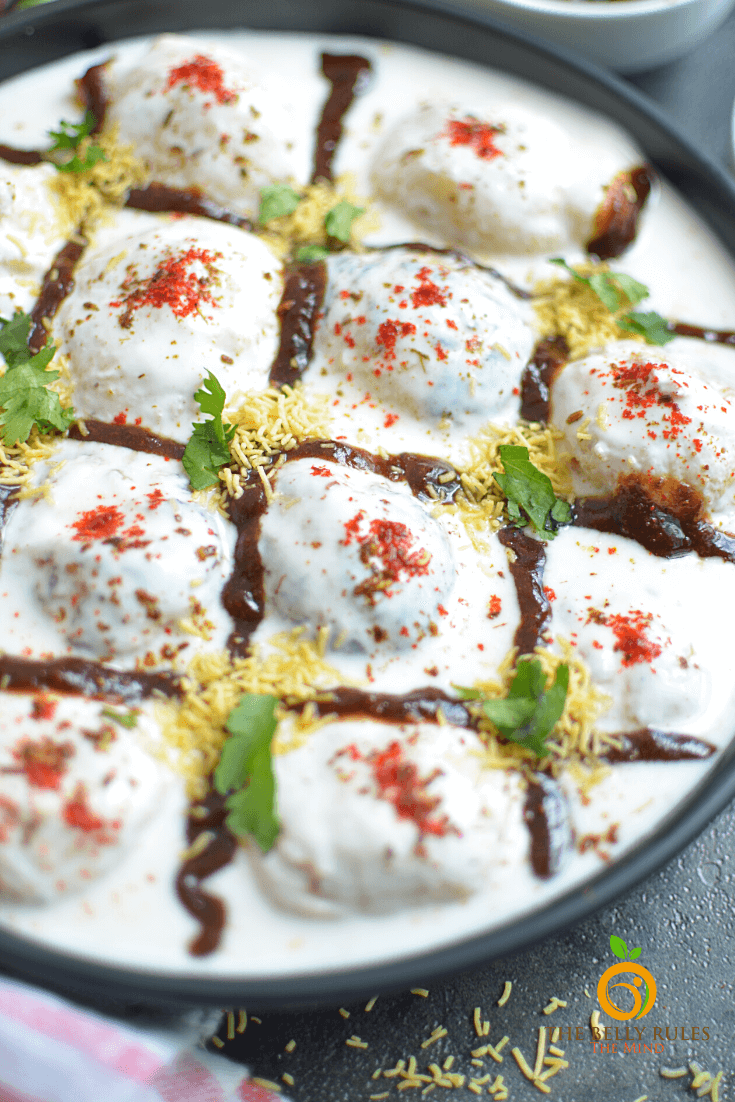 If you make this Super soft no fry dahi vada – dahi bhalla chaat recipe, don't forget to come back and leave your feedback and star rating. We would be THRILLED if you would take a pic and tag us on Instagram @dbellyrulesdmind or Facebook @thebellyrulesthemind
Soft Dahi Bhalla / Dahi Vada Recipe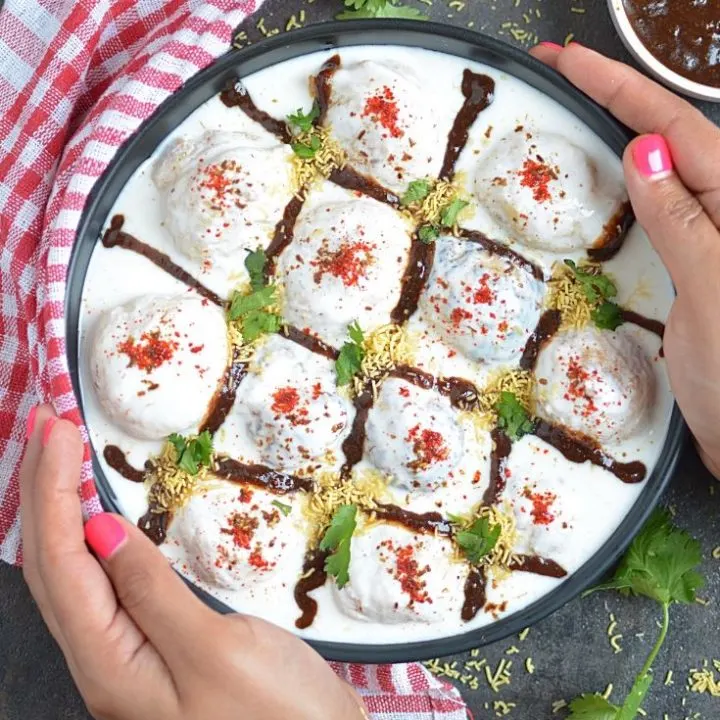 Dahi Vada/ Dahi Bhalle Recipe
Additional Time:
15 minutes
Total Time:
4 hours
25 minutes
Dahi Vada - Dahi Bhalla chaat are absolutely melt in mouth delicious fritters served by street vendors throughout India. This tasty handheld fried lentil fritter are protein packed and gluten free that will delight your taste-buds with its combination of flavors.
Ingredients
For the Vada
Urad Dal -1 cup
Water - ½ cup
Salt to taste
Cumin seeds - 1 tablespoon
Oil - 2 tbsp
For making Dhahi Bhalla Chaat :
Thick curd - 3 cups
Sugar - 4 tablespoon
Green chutney - 1/2 cup
Tamarind chutney - 1/2 cup
Roasted cumin powder - 1 tablespoon
Chopped coriander - 1/2 cup
Red chili powder - 1 teaspoon
Rock salt/kala namak - 1 Tsp
Instructions
Wash and soak urad dal overnight or minimum 4 hours.
Drain the water and grind dal into a thick batter. If you find dal to be too thick, add half cup of water (little at a time ) to make it grind easily.
Transfer the batter into a large bowl and salt and cumin seeds. Beat the batter for 5-6 minutes in a bowl.
Heat a panniyaram pan / appe pan /Aeblesikver pan and add few drops of oil in each cavity of the pan.
When the pan is hot lower the flame on low to med .Take a spoon and pour the batter in each cavities or you can pour all the batter or pour the batter in a zip-lock bag ,seal it and snip from one corner & pour the batter into each section of the pan.
Turn the heat to med to high.
When the batter puffs up, turn them with the help of a wooden stick. When cooked remove it from the pan.
In a separate bowl, add lukewarm water and salt . Soak the vada in saltwater for 5 minutes Press the vada and remove the water and transfer onto a plate.
Add sugar and rock salt in the yogurt and whisk it.
Pour yogurt on top of the vada. Sprinkle the roasted cumin powder , red chill powder , Drizzle tamarind chutney ,green chutney and some chopped cilantro and sev.
Ready to Enjoy!


How to fry the vada

Heat oil in a pan for deep frying on high. Test oil temperature by drooping a small drop of the batter into the oil. It should rise to the top immediately that means the oil is ready for frying. If the oil is not hot, the vadas will soak oil making them greasy.

With a help of spoon add the batter in the hot oil. Turn the temperature to medium. Fry on medium heat till the vada has become golden brown.


when they are done .Drain and remove them on absorbent paper to soak the excess oil . follow the instructions from 8 mentioned above
Notes
If you have a mixer / blender in which you can remove your lid Avoid putting the lid on the blender (air is formed) By doing so the batter will rise well and you will get nice and fluffy Vada /Fritters with beautiful air pockets.
Nutrition Information
Yield

10
Serving Size

1
Amount Per Serving
Calories

145
Total Fat

7g
Saturated Fat

2g
Trans Fat

0g
Unsaturated Fat

5g
Cholesterol

7mg
Sodium

450mg
Carbohydrates

19g
Fiber

4g
Sugar

12g
Protein

5g
All information and tools presented and written within this site are intended for informational purposes only. We are not a certified nutritionist and any nutritional information on TheBellyRulesTheMind.net should only be used as a general guideline. This information is provided as a courtesy and there is no guarantee that the information will be completely accurate. Even though we try to provide accurate nutritional information to the best of our ability, these figures should still be considered estimates.