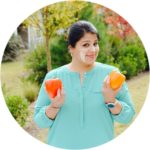 You will be probably think I am really crazy, but now you know why am I known as the crazy appe lady. I cannot just stop thinking of the things I can make in an appe pan. So here is another street food from Mumbai, that I have always relished, No Fry Ragda Patties. These No Fry Ragda Patties are made with green pea stuffing inside of a potato crust. They are serve with Ragda or can be even served with Chole / Chickpeas, accompanied with chutneys, yogurt and sev.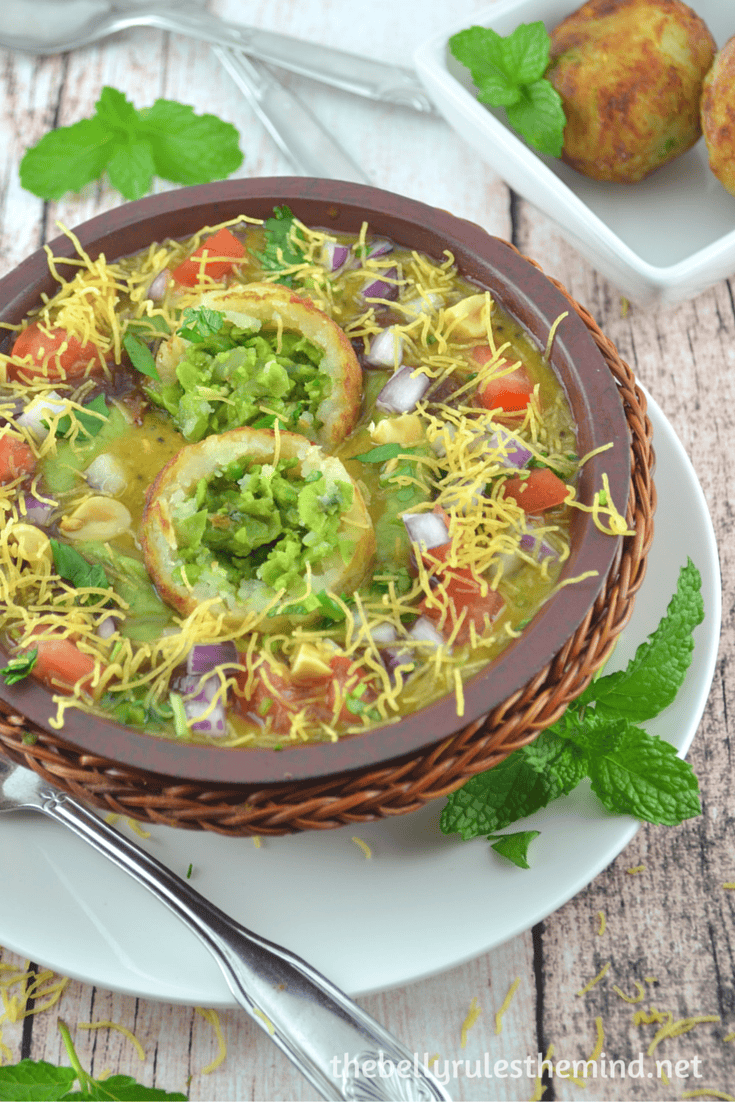 This No Fry Ragda Patties actually makes a complete meal and one that takes very little cooking, especially if you have planned ahead and soaked the peas a day before. You can use a filling of your choice for the patties like peas, french beans, paneer, corn etc. I also like to eat just the ragda topped with the onion and chutneys with pav instead of the patties.
Ingredients
5 medium sized potatoes (boiled, peeled and mashed)
1/4 tsp red chili powder
1/4 tsp cumin/ zeera
Green Stuffing for Patties
1 cup green peas (boiled and coarsely mashed)

1/4 cup fresh cilantro / dhaniya, chopped

2 green chilies

1 tsp ginger

salt as per taste
For Ragda
3 cups white peas / safed vatana, soaked overnight
1 chopped onion
1 chopped tomato
1 tsp cumin / zeera
1/4 tsp turmeric / haldi
1 tsp cumin-coriander power / dhaniya-zeera powder
1/4 tsp amchur
salt to taste
Garnishing
1 onion, finely chopped
1/2 cup sev, thin / nylon sev
2 tsp spiced green chutney
2 tsp imli chutney
1/4 cup fresh cilantro / dhaniya, chopped
1 tsp chat masala
1 cup sweetened yogurt
Instructions
For the Patties

Mash the boiled potatoes.
Add, cumin, red chilly powder and salt to taste. Mix it thoroughly. If the potatoes are hot, put them in the freezer for approx. 10 mins to cool them down. It will be easier to make the patties.
Chop green chilly, ginger and green peas in a chopper. Make sure you don't make a paste but grind it coarse. Add salt as per taste.
Take equal portion of the mashed potato and make balls.
Flatten the ball.
Take a spoonful of the green pea and place it between the flattened ball.
Bring the edges together and close the ball. Make sure the ball has no open edges as there is no binding agent being used in the recipe.
Heat the appe pan with a few drops of oil in each section and cook the patties for approx. 15 minutes on medium to high flame, turning sides. Make sure they are evenly colored.

For Ragda

Soak the whitepeas overnight. Cook them in a pressure cooker with 7 cups of water or until completely soft.
Along with the whitepeas, add onion and tomatoes, salt to taste, turmeric, cumin coriander powder and red chilly powder
Heat some oil in a saucepan / wok.
Temper it cumin. Add turmeric, cumin -coriander powder, amchur and cilantro .
To this add the cooked whitepeas / ragda and bring it to boil. If the water thickens, add some water. It is ready to be served warm or hot.
Garnishing.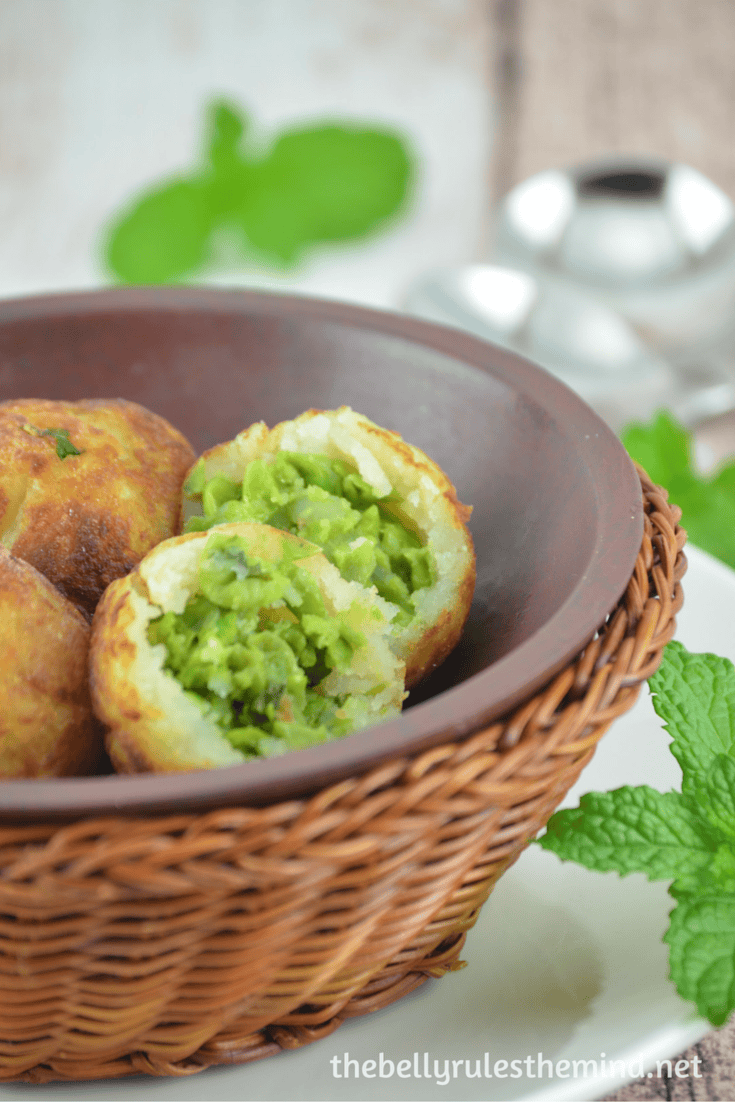 Most people already have their won style of making this. I usually place a patty on the plate, pour some ragda on it. Garnish it with onion, tomatoes, sev, chutney's of your choice or even sweetened yogurt.
Ragda Patties made in Appe pan

Ingredients

Ingredients
5 medium sized potatoes (boiled, peeled and mashed)
1/4 tsp red chili powder
1/4 tsp cumin/ zeera
Green Stuffing for Patties
1 cup green peas (boiled and coarsely mashed)
1/4 cup fresh cilantro / dhaniya, chopped
2 green chilies
1 tsp ginger
salt as per taste
For Ragda
3 cups white peas / safed vatana, soaked overnight
1 chopped onion
1 chopped tomato
1 tsp cumin / zeera
1/4 tsp turmeric / haldi
1 tsp cumin-coriander power / dhaniya-zeera powder
1/4 tsp amchur
salt to taste
Garnishing
1 onion, finely chopped
1/2 cup sev, thin / nylon sev
2 tsp spiced green chutney
2 tsp imli chutney
1/4 cup fresh cilantro / dhaniya, chopped
1 tsp chat masala
1 cup sweetened yogurt

Instructions

For the Patties
Mash the boiled potatoes.
Add, cumin, red chilly powder and salt to taste. Mix it thoroughly. If the potatoes are hot, put them in the freezer for approx. 10 mins to cool them down. It will be easier to make the patties.
Chop green chilly, ginger and green peas in a chopper. Make sure you don;t make a paste but grind it coarse. Add salt as per taste.
Take equal portion of the mashed potato and make balls.
Flatten the ball. Take a spoonful of the green pea and place it between the flattened ball.
Bring the edges together and close the ball. Make sure the ball has no open edges as there is no binding agent being used in the recipe.
Heat the appe pan with a few drops of oil in each section and cook the patties for approx. 15 minutes on medium to high flame, turning sides. Make sure they are evenly colored.
For Ragda
Soak the whitepeas overnight. Cook them in a pressure cooker with 7 cups of water or until completely soft. Along with the whitepeas, add onion and tomatoes, salt to taste ,turmeric, cumin coriander powder and red chilly powder
Heat some oil in a saucepan / wok.
Temper it cumin. Add turmeric, cumin -coriander powder, amchur and cilantro .
To this add the cooked whitepeas / ragda and bring it to boil. If the water thinckens, add some water. It is ready to be served warm or hot.
Garnishing.
Most people already have their won style of making this. I usually place a patty on the plate, pour some ragda on it. Garnish it with onion, tomatoes, sev, chutney's of your choice or even sweetened yogurt.

https://thebellyrulesthemind.net/ragda-peas-stuffed-patties/