What happens when "The Crazy Appe lady" gets her hand on her favorite pan ?? :).. She ends up preparing one of her favorite dishes in a healthy no-fry way. Today we are preparing No Fry Taro-root Croquettes. Arbi or Taro-root is one root vegetable that we often make at home and we don't get bored or tired of eating it.
Here I am presenting a twist to the traditional way of preparing Taro-root. This is a no-fry healthy version of Taro-root croquettes. Its simple, easy and quick to cook. If you do not have an Appe Pan(Aebeleskiver Pan) you could flatten the taro-root mix that you will prepare and shallow fry them in a pan. You can add multiple ingredients like peas, corn, roaster peanuts and so on according to your taste and liking. They taste wonderful and can be served as "Appe"tizers for a sure shot compliment from the guests :-)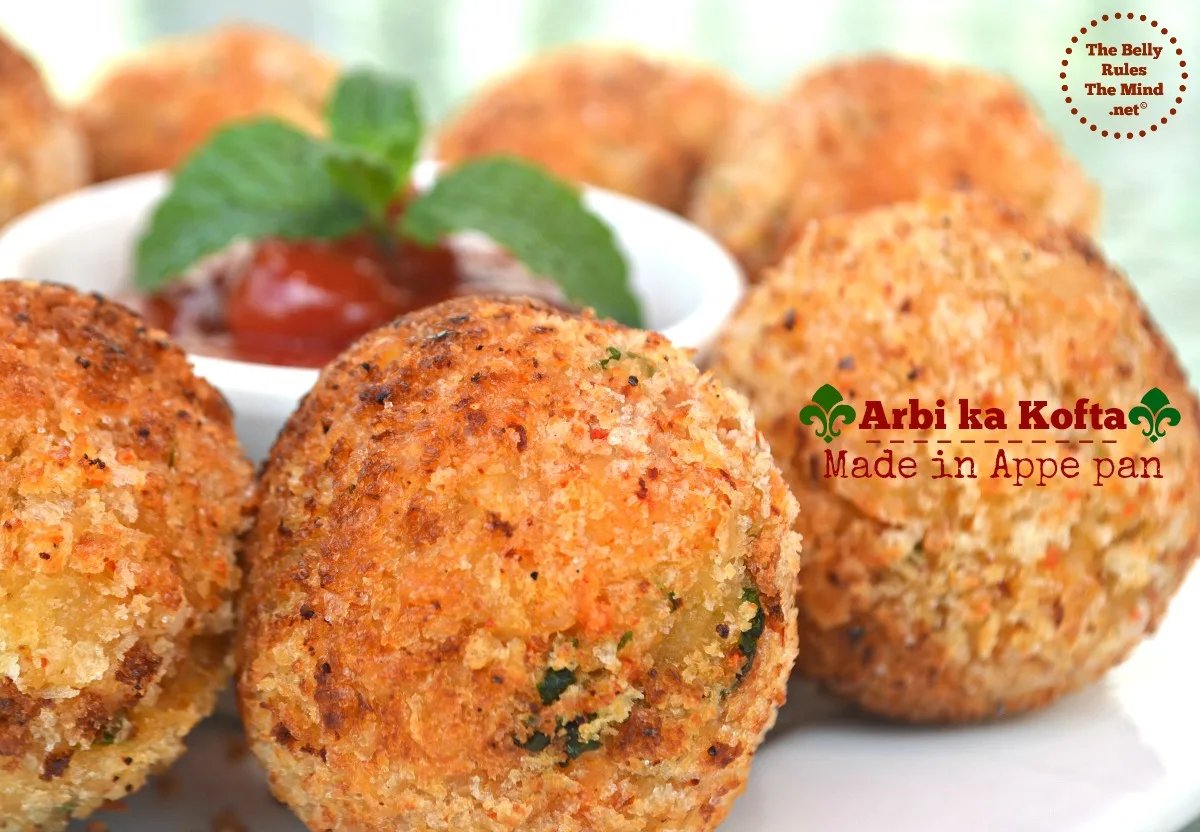 Ingredients
6-8 arbi /Taro roots
salt to taste
1 teaspoon red chilli powder
1 teaspoon roasted cumin powder
1 teaspoon chaat masala
1 teaspoon Grated Ginger
1 teaspoon lemon juice
1/2 cup frozen peas
panko bread crumbs/bread crumbs
2 tablespoon corn starch
cilantro leaves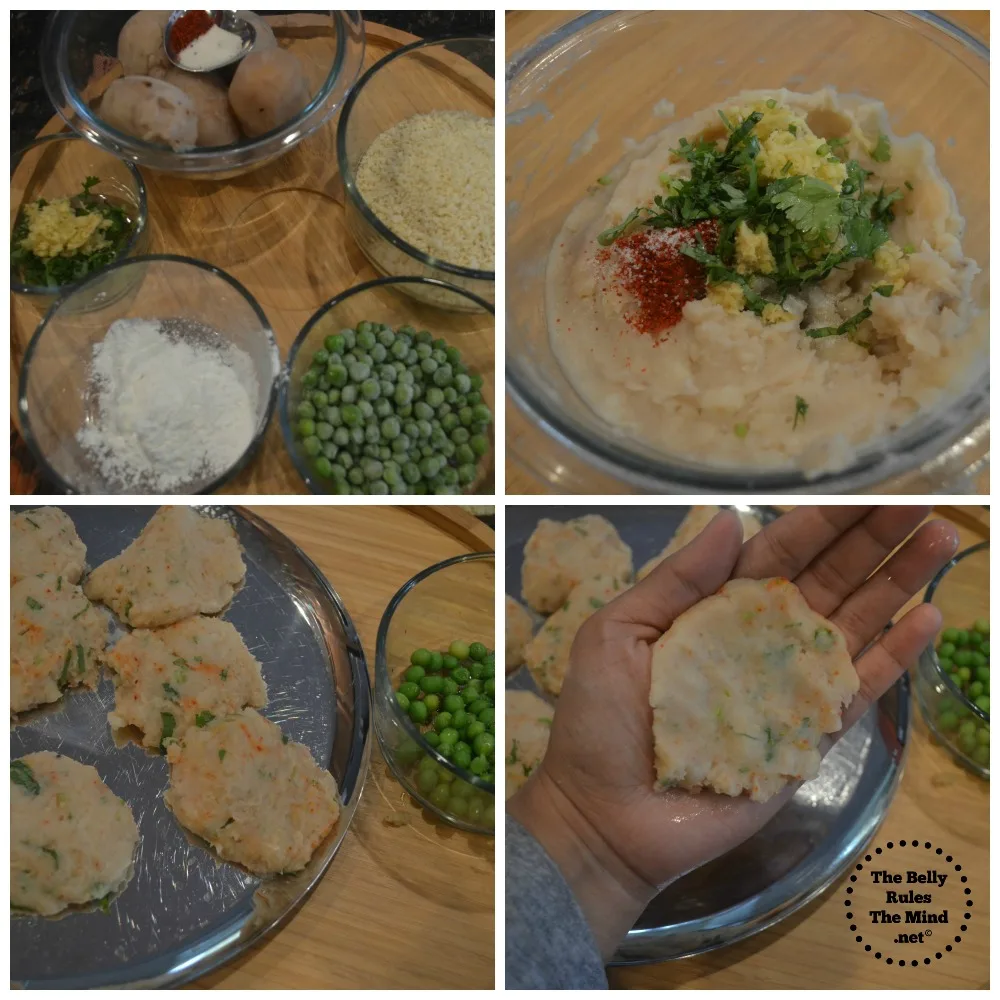 Peel the arbi,then boil it in a pan or pressure cooker with some salt & water till they are completely cooked.
When warm or cool, mash it
Add in all the dry spice powders and mix them.
Now take each piece and flatten it in between your palms.add in the peas(boiled the peas in some water for 2 minutes in the microwave oven).Season the peas with some salt .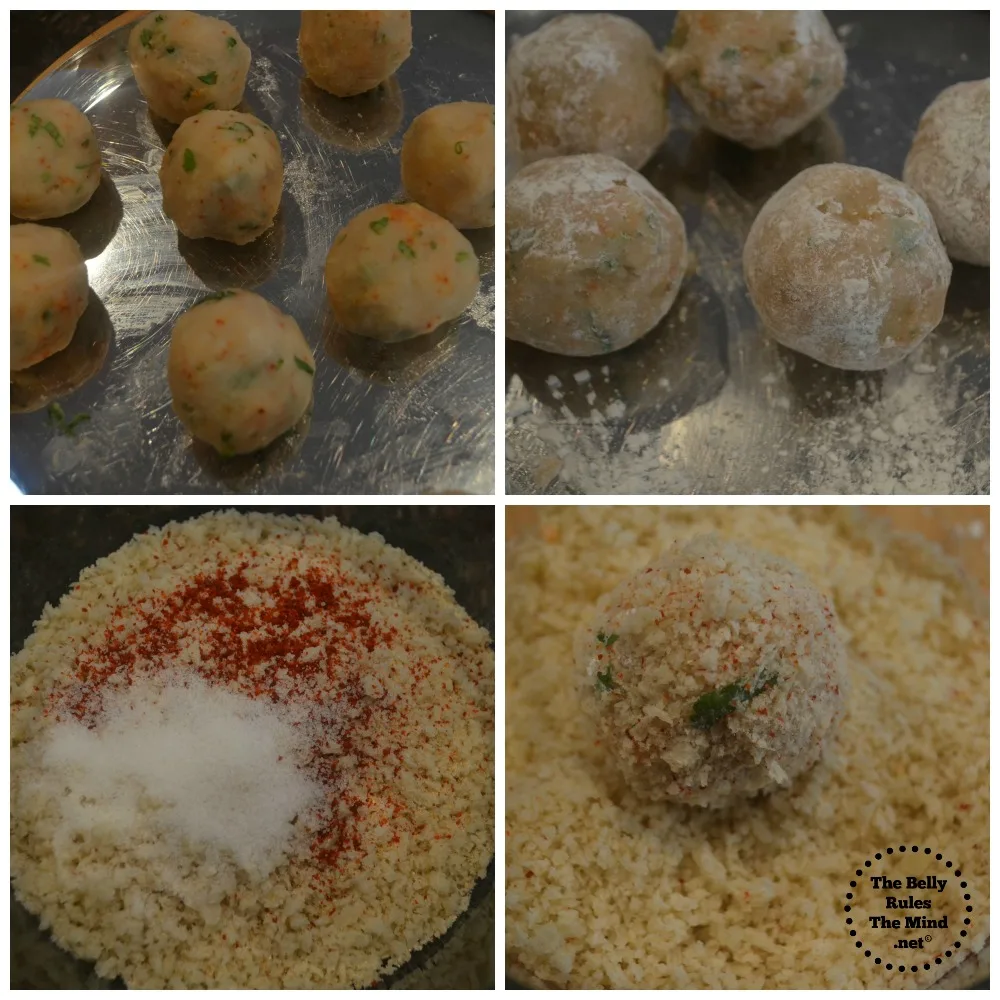 Make a small ball and roll it in the corn starch .Add salt, red chillie powder in the Panko bread crumbs
now roll all the ball in the panko.
Heat the appe pan , add few drops of oil in each cavity .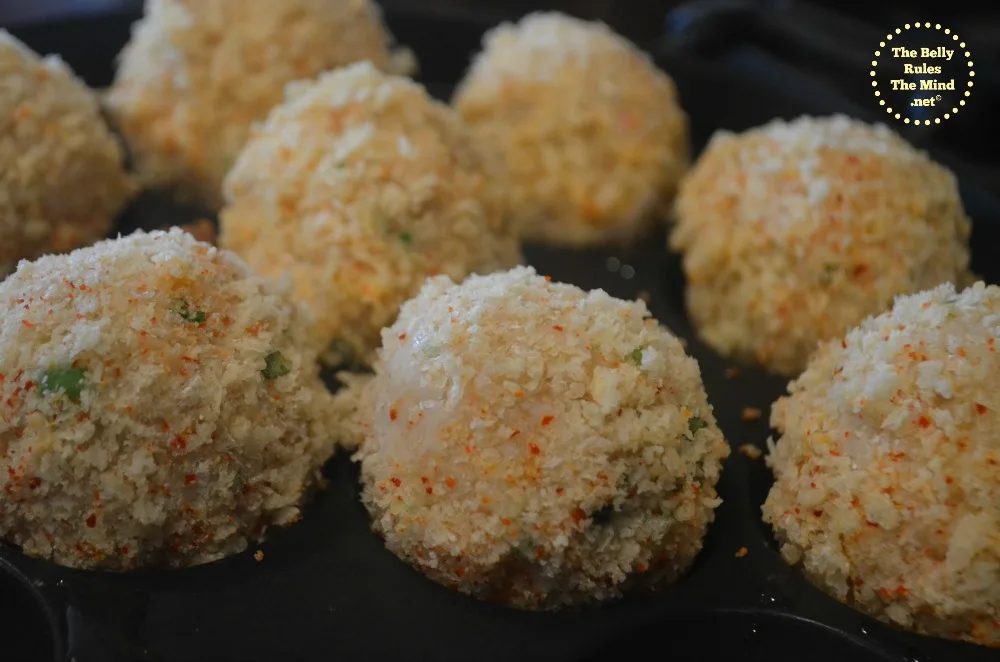 Add them in each cavity on medium heat for 6 - 10 minutes.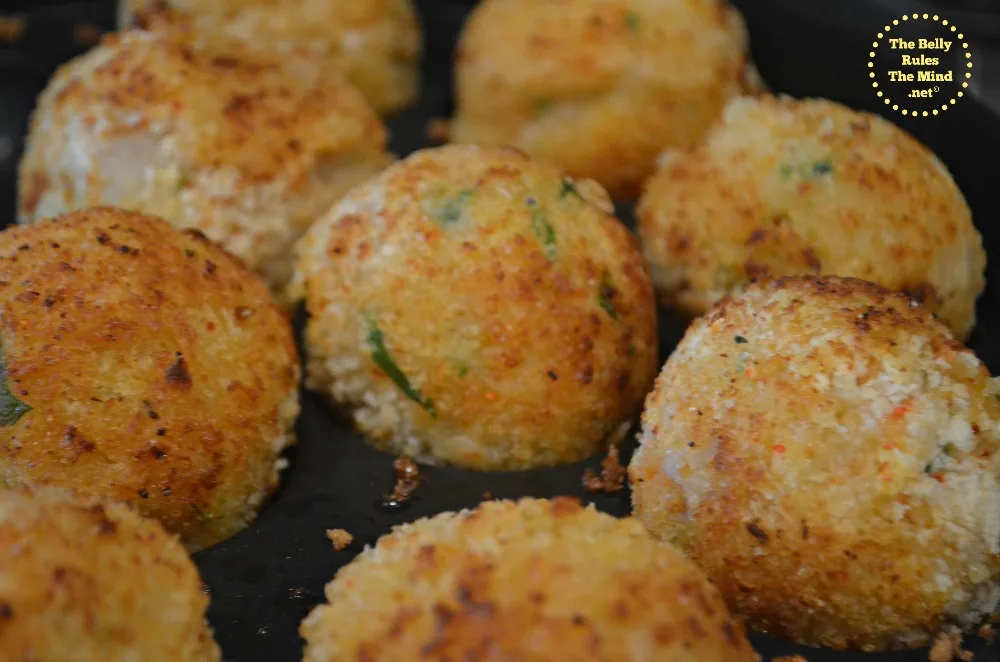 cook the arbi till golden brown and crisp on both sides.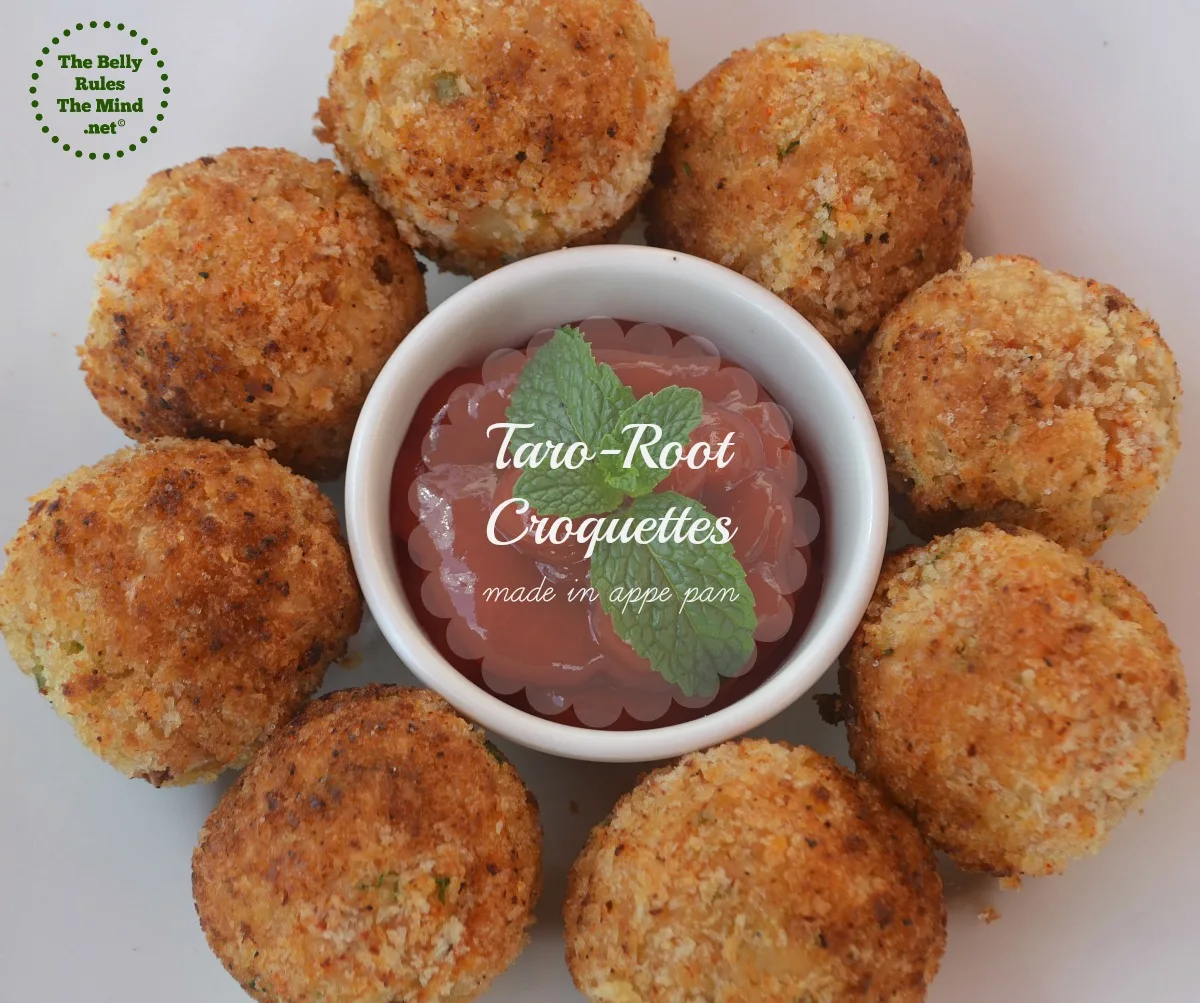 Serve No Fry Taro-root Croquettes hot or warm with coriander chutney / sweet chutney/Tomato ketchup.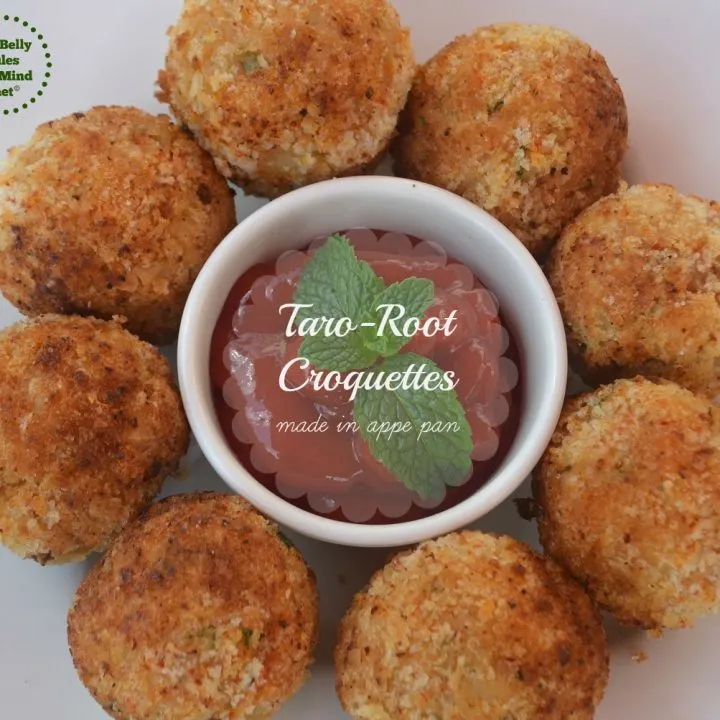 Taro- root Croquettes
Ingredients
6-8 arbi /Taro roots
salt to taste
1 teaspoon red chilli powder
1 teaspoon roasted cumin powder
1 teaspoon chaat masala
1 teaspoon Grated Ginger
1/2 cup frozen peas
1 teaspoon lemon juice
panko bread crumbs
corn starch
cilantro leaves
Instructions
Peel the arbi,then boil it in a pan or pressure cooker with some salt & water till they are completely cooked.
When warm or cool, mash it
Add in all the dry spice powders and mix them.
Now take each piece and flatten it in between your palms.add in the peas,(boiled the peas in some water for 2 mins in the microwave oven).
Make a small ball roll it in corn starch add salt, red chillie powder in the Panko bread crumbs
Now roll all the ball in the panko
Heat the appe pan , add few drops of oil in each cavity .
Add them in each cavity on medium heat for 6 - 10 minutes
Cook the arbi till golden brown and crisp on both sides.
Serve Taro-root corquettes hot or warm with coriander chutney / sweet chutney/Tomato ketchup