Homemade vegan maki sushi is easier than you think to make at home. It's a great family activity to do when you want to enjoy some time together. This Vegan sushi recipe uses fresh veggies and tofu to provide a well-balanced and delicious meal you can serve any time of day. Make it ahead to have an easy lunch, dinner, or snack any time you want!
[avatar user="Anvita" size="thumbnail" align="right" link="https://thebellyrulesthemind.net/about-us/" target="_blank"]Anvita[/avatar]
LET'S BE FRIENDS ON PINTEREST! WE'RE ALWAYS PINNING TASTY RECIPES!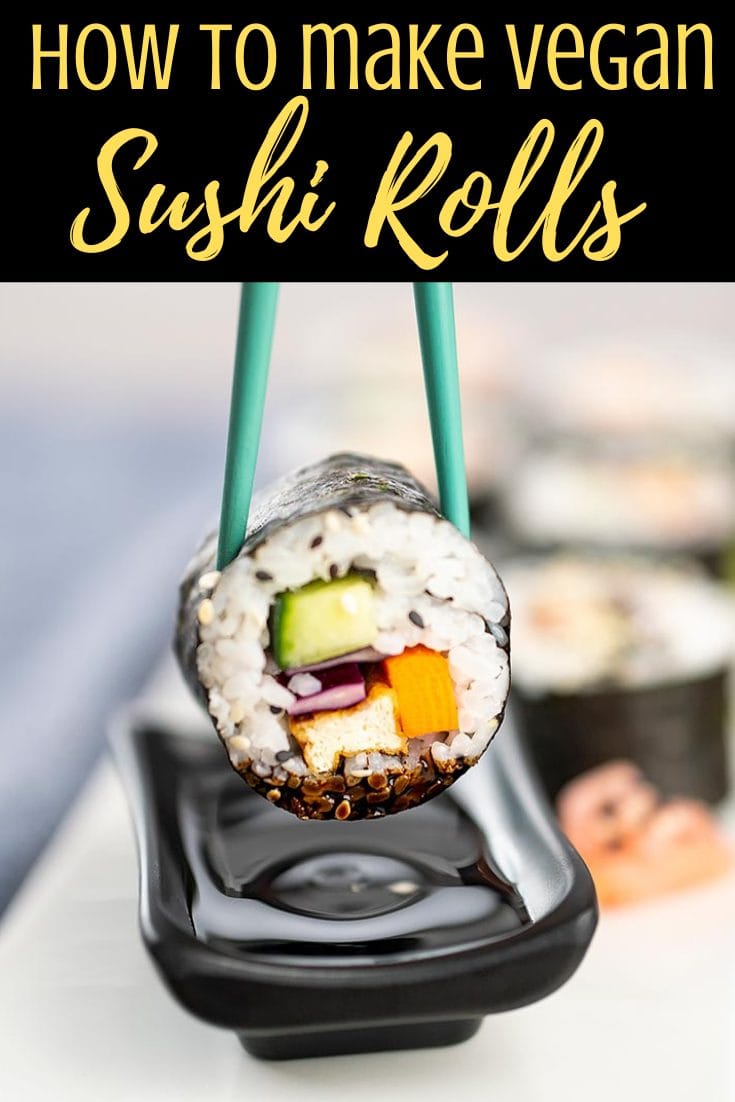 This Recipe's Index
What is vegan sushi?
Vegan maki sushi uses only plant based ingredients to create delicious rolls. Unlike some sushi recipes, which use raw tuna, vegan sushi only includes veggies like cucumbers and cabbage, and tofu. Tofu is a soy based protein that provides the protein in our vegan tofu.
Is sushi healthy?
Sushi is packed full of fresh veggies and rice. You use a small amount of sugar to flavor the rice, but the benefits from the vegetables outweigh the amount of sugar in the recipe. All the veggies are packed with vitamins and minerals, which makes sushi a good meal to get your daily needs met.
Our sushi also uses tofu. Tofu provides protein from soy.
The dipping sauce contains ginger. Ginger provides great flavor and also several nutrients. It is also great for digestive health.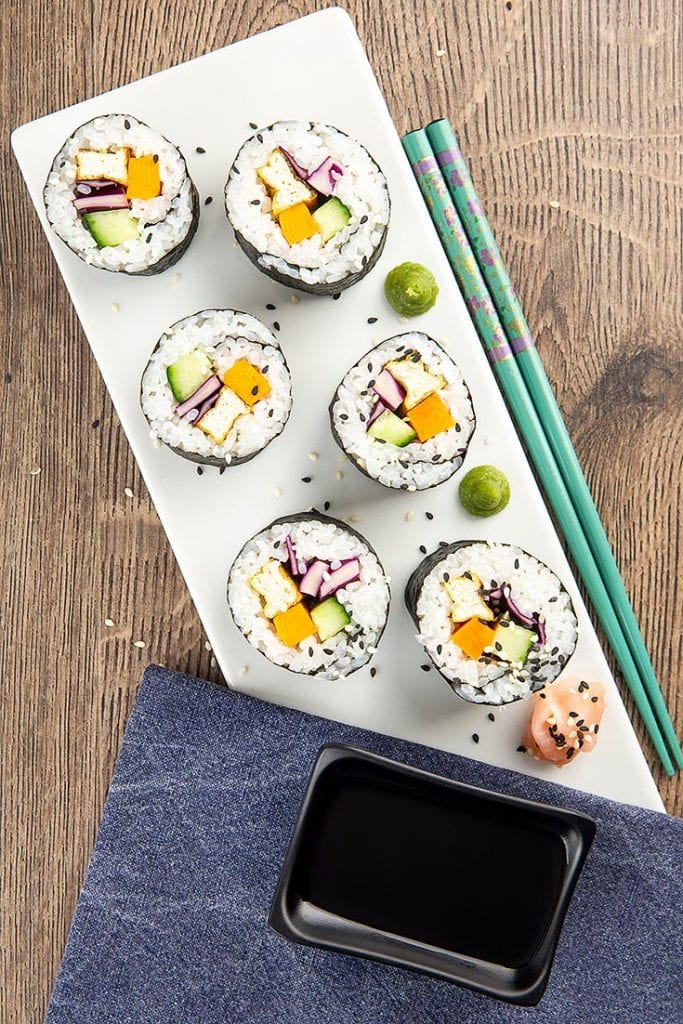 Why you will love this Homemade Vegan Sushi
Our sushi recipe is a plant-based meal that is easy to make at home. You can make the sushi as a family as a fun and budget friendly activity nearly any time of year.
You can also easily make it ahead and pack it for lunch. Or you could serve it for dinner on a busy night or enjoy as a quick snack when you are busy working.
And, of course, it is delicious!
Maki Sushi Ingredients
The ingredients for a vegan sushi recipe include fresh veggies, tofu, and kitchen staples you probably have at home already. Here is what you'll need to make this great tasting meal.
For the sushi rice:
For the sushi rice seasoning:
sushi vinegar or rice vinegar

sugar

salt
For the vegan sushi
nori sheets

cucumber

carrots

tofu

red cabbage

roasted black sesame seeds
For the dipping sauce
soy sauce or tamari

wasabi

pickled ginger (Gari)
To make your life a bit easier, you'll want to have to have these tools on hand:
bamboo rolling mat

small bowl
How to make Maki Sushi
Make Sushi Rice
Start by making the sushi rice. We use the Instant Pot to make the sushi rice. Start by rinsing your rice thoroughly. Then place it and water in the inner pot, close the lid, and pressure cook for 6 minutes. Allow it to naturally release all of the pressure.
As the rice is cooking, make the seasoning in a glass bowl. Stir the salt and sugar in the sushi vinegar or rice vinegar until it is dissolved. For more tips, check out our sushi rice post here.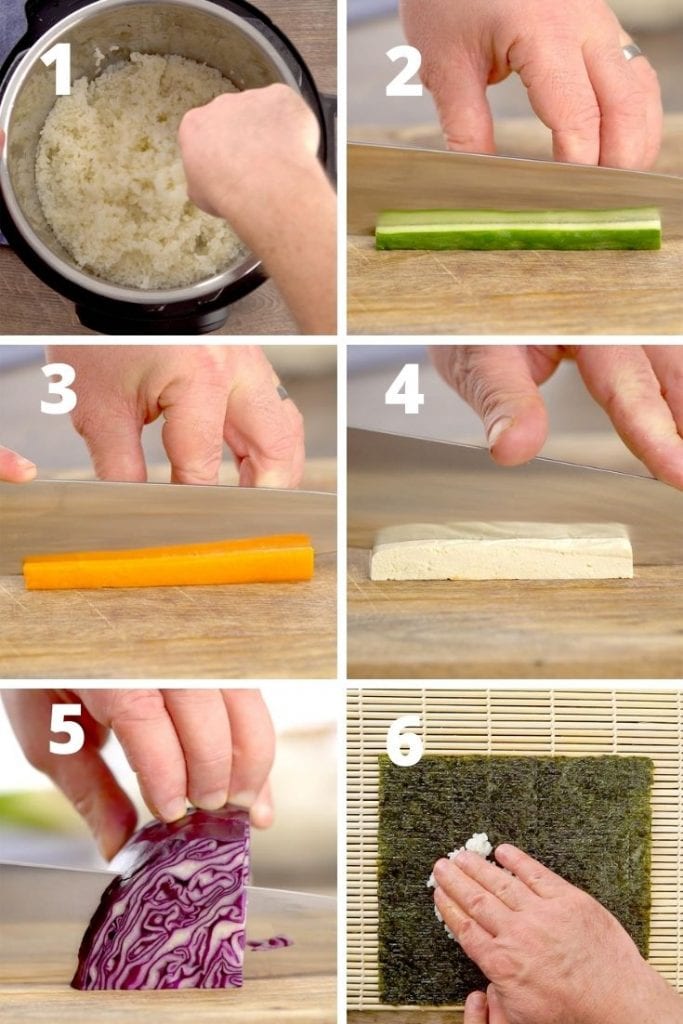 Prepare Sushi Filling
As your rice cooks, you can cut the veggies into long strips.
Then, slice the tofu into 1 cm strips and lightly fry it until it's light golden brown.
How to Roll a Maki Sushi
Once your ingredients are ready and cool, place the bamboo mat on your countertop or table so that the cotton strings are away from you. Next, place the nori sheet on the mat with the shiny side facing down.
Next place a cup of rice in the center of the nori sheet. Using wet hands, spread the rice evenly onto the nori sheet. Leave 3/4 inch of the sheet empty towards the cotton threads.
Press the rice and make sure it's evenly spread across the sheet.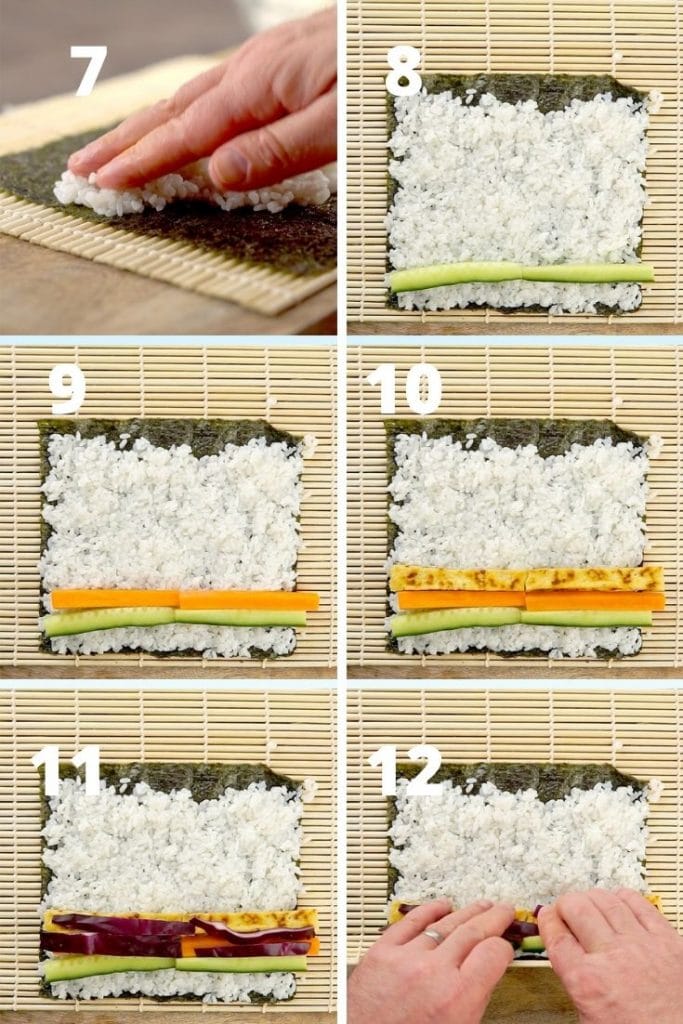 Place 1 to 2 cucumber strips, 1 to 2 carrot strips, 1 to 2 tofu strips, and some red cabbage on the lower side of the sheet closest to you. Connect the short strips making sure the strips reach both the ends of the nori sheet.
Tuck your thumbs under the mat and hold the ingredients with your fingers. Roll the mat away from you. As you roll, make sure the nori sheet is ​overlapping with the side that doesn't have the rice.
Then, place the sushi roll on a cutting board and carefully cut the sushi rolls into six pieces. It works best to use a wet knife to help avoid the rice sticking to the knife.
Sprinkle the sushi rolls with roasted black sesame seeds and serve it with soy sauce, tamari, wasabi, and pickled ginger.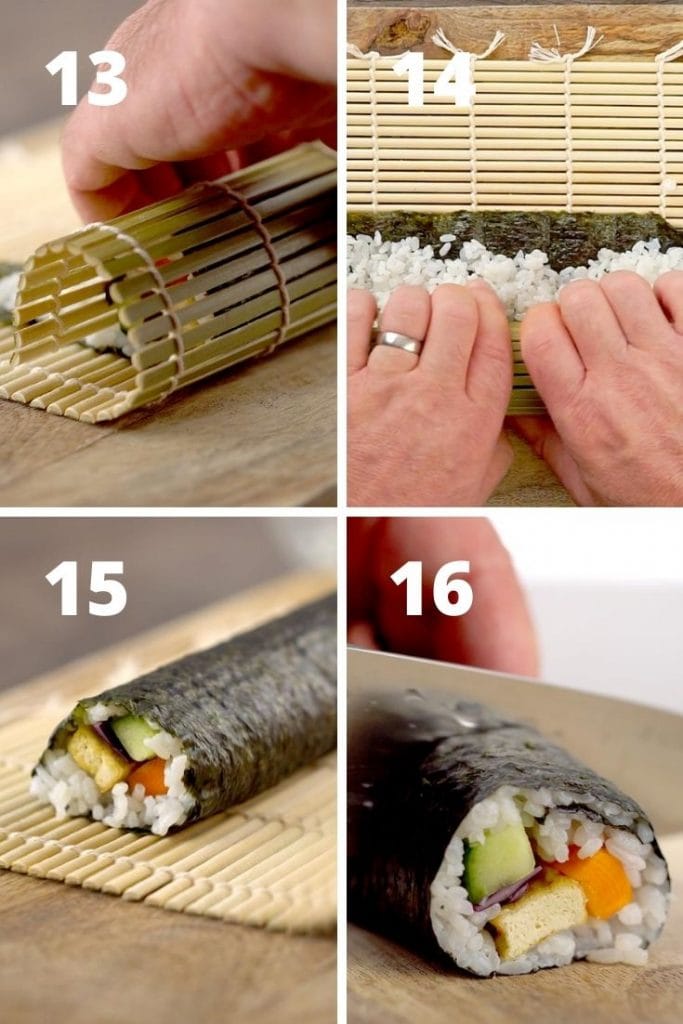 Pro tips and tricks to make the best Maki Sushi
Here are some tips for making the best homemade vegan sushi.
Make sure you cut the veggies into thin, roughly uniform strips.

Use sushi rice instead of

basmati rice

,

brown rice

, or

jasmine rice

for the most authentic flavor.

Don't over stuff the rolls, a thin layer of rice and a few strips of veggies are all you need when rolling.

Use wet hands and knife when working with the rolls, this helps prevent sticking.

If you use the Instant Pot to make the rice, follow these tips to avoid the

Burn Notice

on the Instant Pot.

Though not traditional, you could try stuffing the sushi with either our

Teriyaki Fried Rice

or our

Instant Pot Fried Rice

recipe for some bold flavors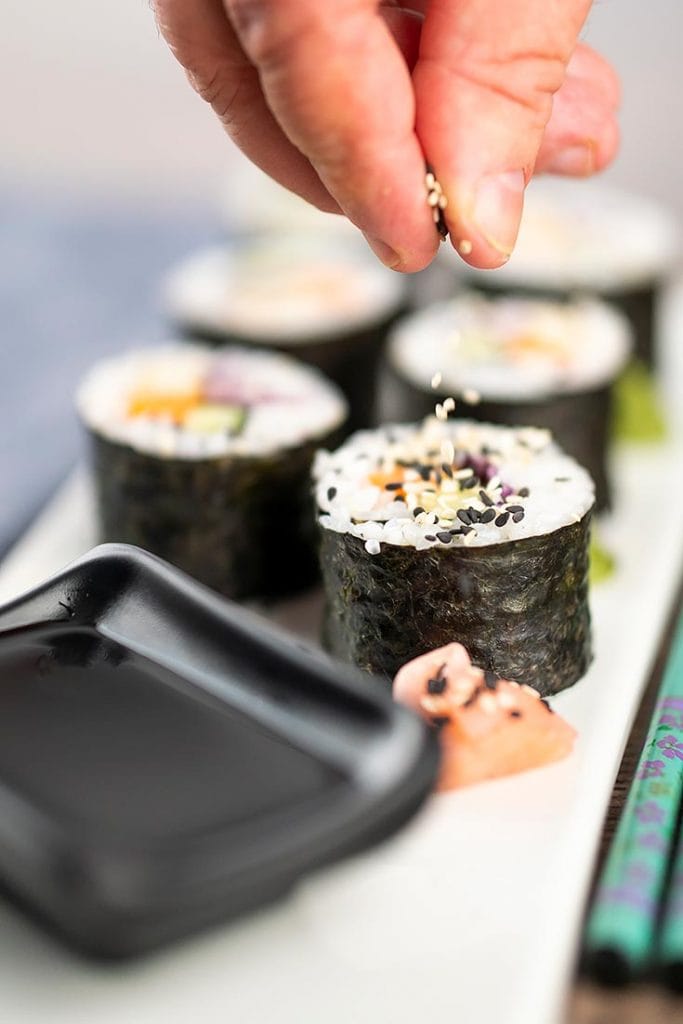 Vegan Sushi Filling Ideas
Want to add even more variety to your sushi? Here are some other vegan friendly stuffing ideas for you to try:
Thinly sliced shiitake mushrooms

Avocado

Green or yellow squash

Eggplant

Asparagus - steam it lightly and leave whole

Bell peppers

Pickled plums - seeds removed
You need to cut each into 1 cm strips to help keep the sushi the right size and texture.
You could also make only veggie and rice sushi. Just skip the tofu strips.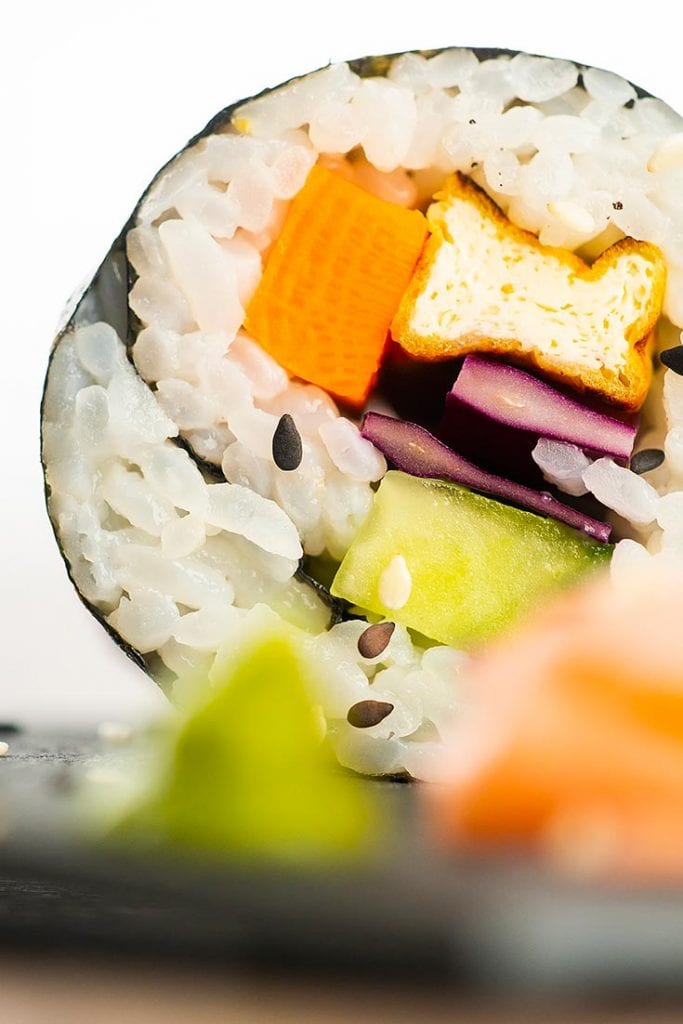 How to cut vegetables for homemade vegan maki sushi
Sushi veggies need to be cut into long thin strips. It doesn't really matter what veggies you use, they need to be cut into about 1 cm thick strips. The best way to cut them is lengthwise.
For a bell pepper, cut from top to bottom to form the strips. You can use any color you prefer.
For carrots, peel and wash them. Then cut lengthwise forming strips. Cutting them in half first can help make even cuts.
If you want to use asparagus, boil a small pot of water and then steam the asparagus just long enough for them to become a bit tender. You can leave thinner stalks whole but may want to cut larger ones into halves or quarters.
For avocado and eggplant, you can make strips that are roughly 1 cm thick cutting lengthwise.
Dips that go with Sushi
If you don't want to make your own sauce, you can use a lot of different premade sauces to dip your homemade vegan sushi in. Some popular options include:
Soy sauce - has a salty and slightly sweet flavor

Wasabi - a spicy dip for those that like a little heat

Tamari sauce
Tips to make maki sushi with kids
Kids love making finger foods in the kitchen. It's often fun. And they get to eat what they make! What better way is there for them to spend some time with their parents?
If you are making sushi with your kids, you can follow these tips for a fun and enjoyable experience:
I recommend getting all the ingredients ready to assemble into rolls before involving younger kids. If you slice all the veggies first and do the prep work, they can help assemble the rolls quickly and avoid them cutting things. If they are older, they can definitely help with cutting the veggies and making the rice.

Don't stress about perfection! These rolls don't need to look perfect to taste great!

Use it as a teachable moment where they can learn about different cuisines from around the world, learn more about nutrition and cooking, and help them to start to learn how to cook.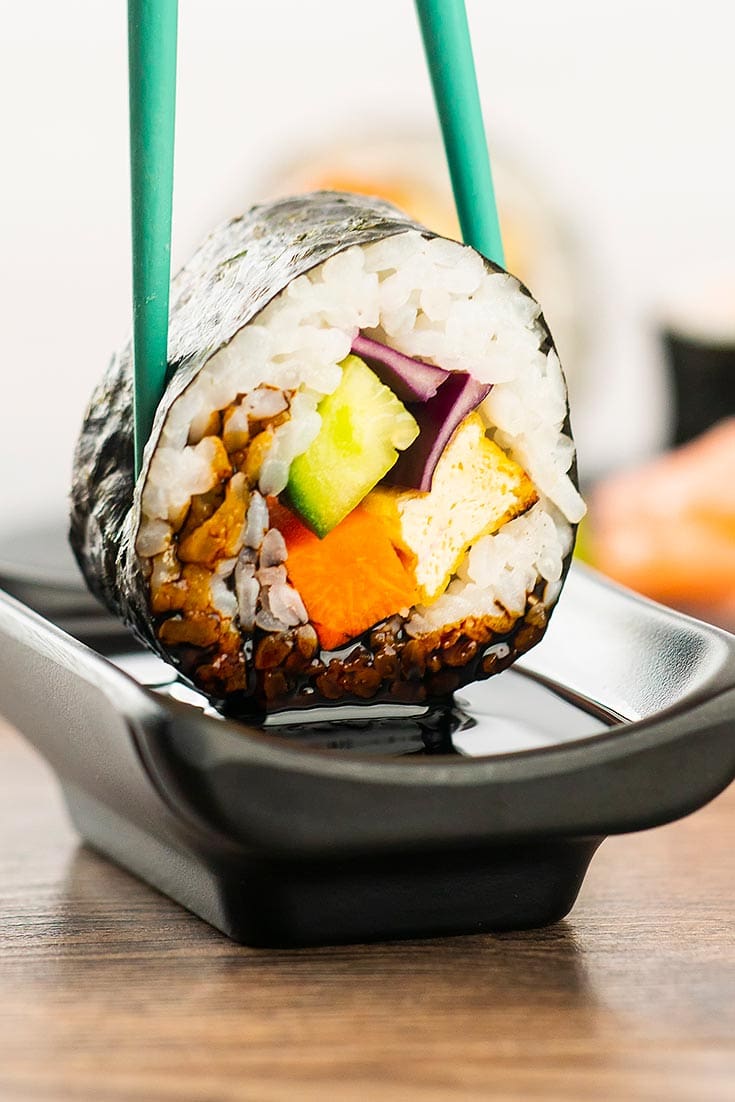 Can I make sushi rice on the stove top?
Yes you can make sushi rice on the stove top. Follow these steps to make sushi rice on the stove top.
Thoroughly rinse the rice. Add 2 cups of water to a small to medium sized saucepan. Bring the water to a boil and stir in 2 cups of rice. Once the rice is added, reduce to a simmer and cover the pot. Cook until the water has evaporated and the rice is fully cooked. Use a fork to fluff the rice.
In a small glass or wooden bowl, combine the salt, sugar, and vinegar with a fork or spoon. Transfer the rice into another glass or wooden bowl and mix in the vinegar mixture. Once combined, you can use the rice to make sushi rolls.
Made it, tag it!
Did you make this homemade vegan maki sushi recipe with your family? Take a pic and tag us on Instagram @dbellyrulesdmind!
Easy Homemade Vegan Maki Sushi Recipe and Video
Easy Homemade Vegan Sushi Recipe
Additional Time:
20 minutes
Easy vegan sushi is easier than you think to make at home. It's a great family activity to do when you want to enjoy some time together. This Vegan sushi recipe uses fresh veggies and tofu to provide a well-balanced and delicious meal you can serve any time of day. Make it ahead to have an easy lunch, dinner, or snack any time you want!