Mumbai Pav Bhaji is a lipsmackingly delicious mashup of spicy potatoes and mixed veggies served with dinner rolls. It is a very popular street food from Mumbai possibly after Vada Pav and is super easy to make. This Instant Pot Pav Bhaji Recipe tastes exactly like the one you get in Mumbai.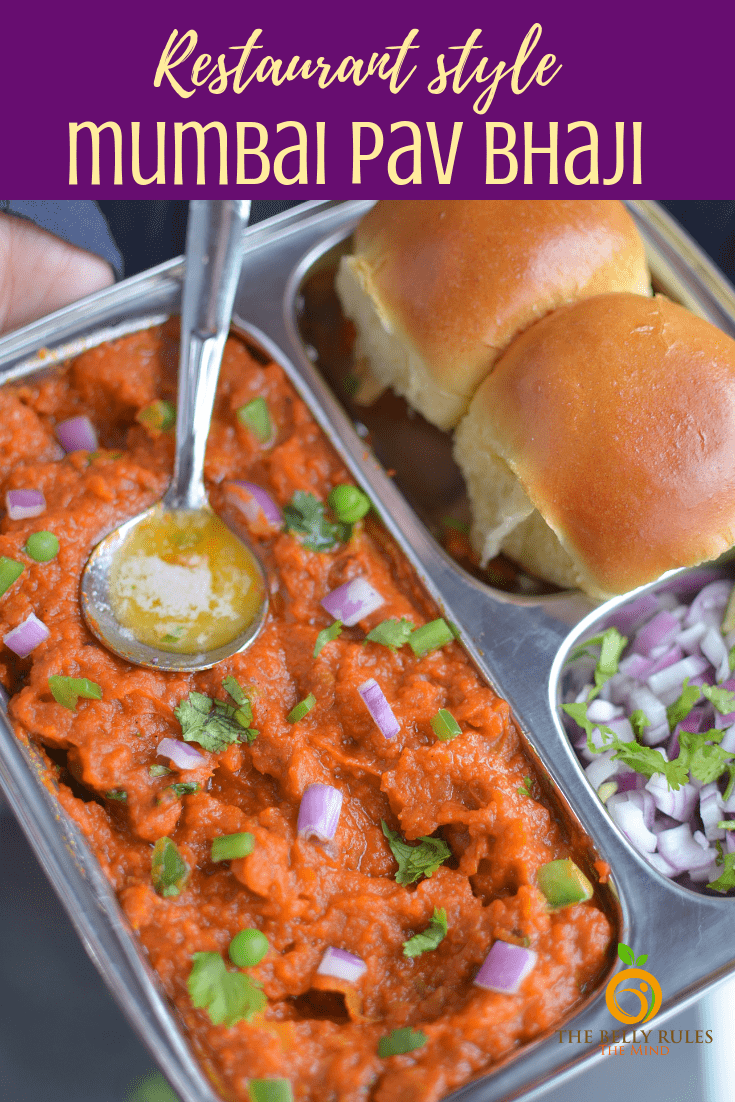 What is Pav Bhaji ?
Pav Bhaji is a very popular street food in India and more prominently in Mumbai. Pav is the bread or dinner rolls served with the Bhaji, which is a spicy mashup of lots of veggies and potatoes. This thick spicy curry of cooked veggies garnished with a dollop of butter, onions, cilantro, and lemon juice is served with Pav / Dinner Rolls. If you've never had it before, it's a must try and believe me you it's hard not to fall in love with it. It's super yum!
Although it's popular all across India, but you get the best Pav Bhaji in Mumbai. Growing up in Mumbai, I relished it all the time. So I often make it because it's yum , a family favorite and always a hit. Here are some reasons why I make Pav Bhaji often
When I am missing home (India).
It's loaded with the goodness of lots of veggies.
It's super easy to make Pav Bhaji and filling too.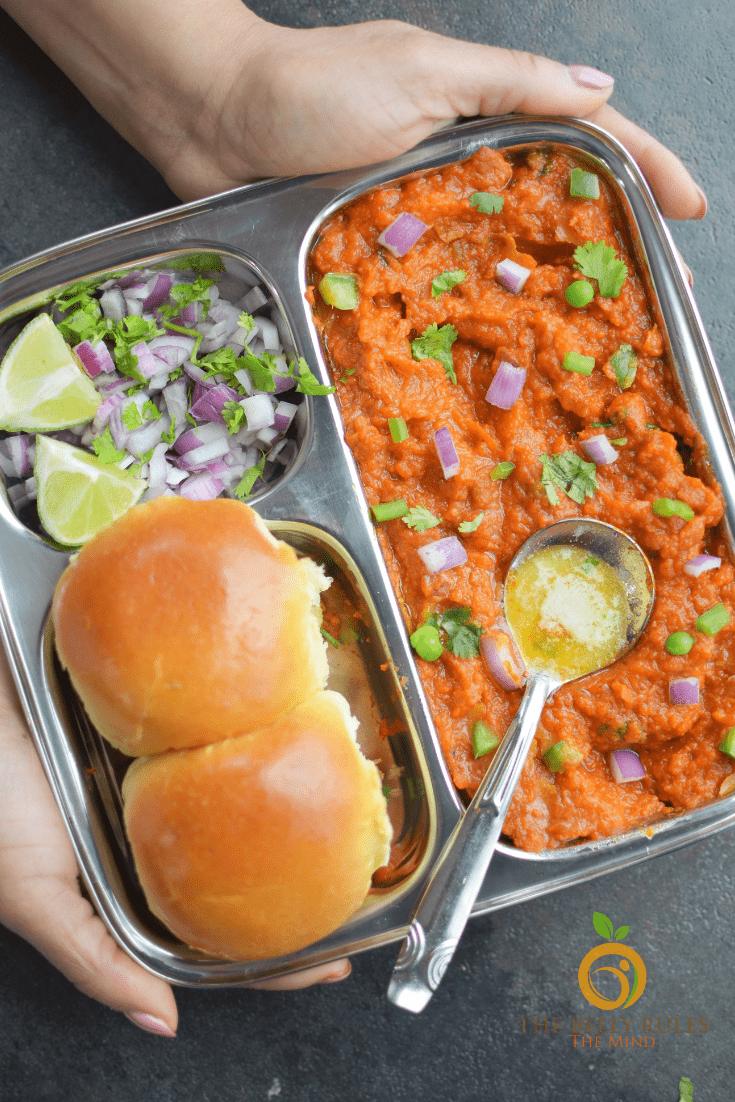 Pro Tips to make awesome Instant Pot Pav Bhaji
Use Pav Bhaji Masala to instead of mixing multiple spices yourself.
Use a generous amount of butter to take the Pav Bhaji to next level
Sprinkle raw onion on the top as it enhances the flavor
If you are a cheese fan, you can sprinkle cheese instead of butter
You can add vegetables that you like to the Bhaji. Empty your refrigerator!
Instant Pot Pav Bhaji Recipe – An Awesome Budget-Friendly Recipe for Parties.
The Pav Bhaji recipe is a budget friendly recipe and usually made in bulk. It can be prepared very quickly and you can never go wrong with this when serving at a party or a get together. This Instant Pot Pav Bhaji Recipe is literally a dump and stir affair. Its always a crowd pleaser and when there is Pav Bhaji at a party or potluck, its the show stopper. Also makes a great freezer meal. I do not want to brag here, however I just get asked to make Pav Bhaji for pot lucks and parties a lot because I do make good Pav Bhaji, just like the one you get in Mumbai. This Restaurant Style Mumbai Pav Bhaji Recipe tastes awesome and a sure hit at potlucks and parties.

What makes this Mumbai Pav Bhaji Recipe so special?
Bhaji, as you would have guessed it, is the star of this dish. It special and so versatile that it can be eaten with almost anything. You would not believe that special dishes are created to pair up with Bhaji in Mumbai. Pizzas, Dosas, and sandwiches, these are just a few things that are paired with this Bhaji. One thing is for sure, you cannot enjoy a good Pav Bhaji without good Bhaji. Bhaji is full of flavors, buttery, garlicky, and spicy. Of course you can always tone down the spice level based on your preference. The Bhaji gets it's strong flavors from garlic, Pav Bhaji masala, chillies and butter.
What is Pav Bhaji Masala made of?
Apart from the amazing flavors, another thing interesting about making Bhaji is it needs veggies. Lots and lots of them. It is a great way to empty your refrigerator. The main composition of the bhaji is typically potatoes along with other veggies like cauliflower, peas, bell peppers. Typically you saute the onions and tomatoes and spices in butter, while on the other hand you boil the above veggies and then add them to the saute along with some water and cook it. Making the recipe in an instant pot simplifies the overall process of making the bhaji as you do not have to separately boil the veggies.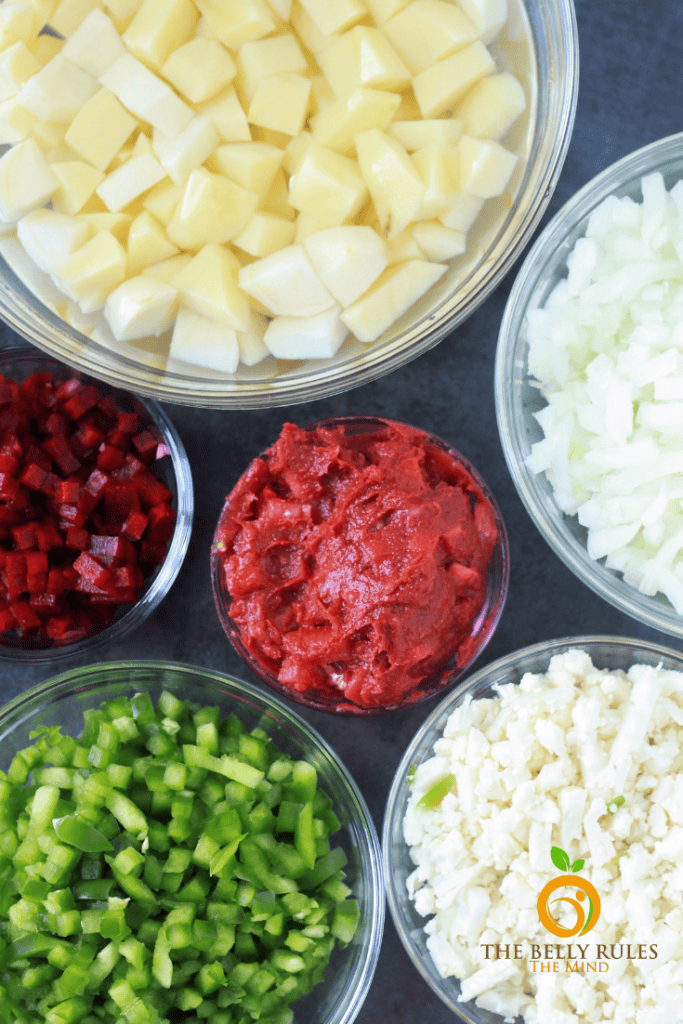 Secret Ingredients to get the perfect red color for this Mumbai Pav Bhaji
Although it is not necessary to get the red color, it does make it more enticing and inviting. I get asked all the time, my secret for the perfect red color like the way it's served in Mumbai. It's a combination of things. I add some diced beets and some tomato paste along fresh tomatoes. You can also use Byadagi chillies, that are not hot but are known for it's red color and dry grind these chilies in to a powder and add it to the Pav Bhaji Masala. Pav Bhaji is meant to be a little tangy thus using an organic, non-gmo tomato paste enhances the flavor too.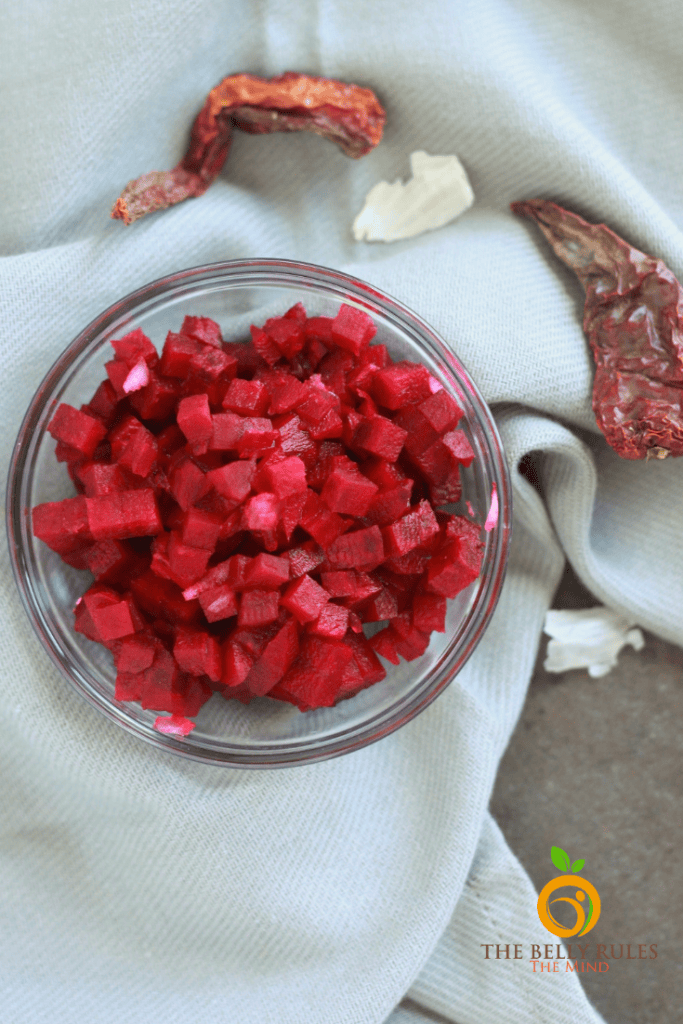 Can you make this Pav Bhaji Vegan?
Want to make it Vegan. No worries. Replace the butter with either vegan butter or oil. Although that might alter the taste a little but it will still be delicious.
Are there any other types of Pav Bhaji Recipes?
Although the classic Pav Bhaji is my favorite, there are lots of Pav Bhaji recipe variations too. It's a versatile dish and there is a lot you can do with it. You can certainly add veggies that you love and make it your own.
Khada Pav Bhaji – the veggies are not mashed
Jain Pav Bhaji – this is made with plantains instead of potatoes and without onions and garlic
Cheese Pav Bhaji – garnished with cheese
Paneer Pav Bhaji – adding the element of protein, Indian Cottage Cheese to Pav Bhaji
Katyawadi Pav Bhaji – addition of local spices from the Kathiyawar region and a glass of buttermilk
Punjabi Pav Bhaji – and addition of garam masala, extra butter and served with lassi.
Kolhapuri Pav Bhaji – with and extra scoop of spicy onion and garlic chutney
How do I serve this Bhaji ?
Like I mentioned above that there is so much more you can do it Pav Bhaji. Ever tried?
Traditional Pav Bhaji- Served with dinner rolls or Pav on the side.
Pav Bhaji Pizza – yup spread it on a Pizza base and sprinkle some cheese on it. My son loves it.
Pav Bhaji Dosa – next time you are making Indian style crepes, spread it on the Dosa. you will love it.
Pav Bhaji Frankie / Wrap – use it as a stuffing in your wrap. Already has all the flavors and veggies. Just pack it in a wrap and it will make a delicious lunch option.
Pav Bhaji Sandwich – layer it between those slices of bread, you could add some cheese or even toast it. It's yum. I've had it myself.
Pav Bhaji Sloppy Joes – if you looking for a vegetarian / vegan sloppy joe, try adding some Pav Bhaji to it and you will instantly fall in love with the flavors.
Masala Pav – a must have when you make Pav Bhaji. Picture below. Nothing fancy but merely the vegetable bhaji stuffed between the Pav / Dinner Rolls. Perfect when you want to pack Pav Bhaji for lunch or picnics.
If you know or can think of anymore ideas, please don't forget to comment below. We would love to update this list with you idea.
How to make Instant Pot Pav Bhaji Recipe Video?
So let's dive into the recipe and get started. when you try this recipe, please don't forget to take a picture and tag us on
Instagram
using the hashtag
#tbrtm
. Make sure you check out the recipe to make the
dinner rolls or pav
after this post.
Yield: 8 servings
Instant Pot Pav Bhaji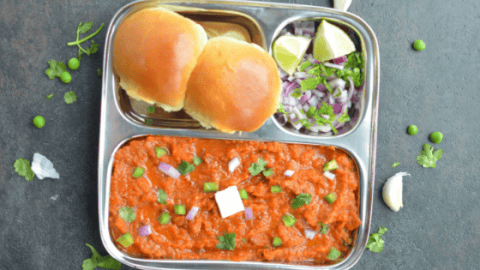 Mumbai style Pav Bhaji, a lipsmackingly delicious mashup of spicy potatoes and veggies served with dinner rolls. A quick fix loaded with lots of veggies and flavors.
Ingredients
For Bhaji
8 tbsp butter / oil
14 fresh garlic cloves, crushed
1 tbsp fresh ginger, grated
1 cup onions, diced
1/2 8 oz. can tomato paste
1/2 cup fresh tomatoes, chopped
1 cup potatoes, diced
1/4 cup bell peppers, diced
1/2 cup cauliflower, cut
1/8 cup beets. diced
2 cups water
3 byadagi chillies powder
Salt to taste
For Garnishing
1/4 cup onion, diced
1/2 cup cilantro, chopped
3 lemons, wedged
Instructions
Instant Pot Recipe
Prepare the veggies first by washing and chopping them.
Heat Instant Pot to "Saute." Add butter or oil and allow it to melt.
Once hot, add ginger & garlic and cook for a couple mins. Then add onions. Cook until onions are golden brown for about 7 minutes.
Then add tomato sauce and fresh tomatoes and cook until the butter / oil separates. This will take another 10 minutes.
Now add the Pav Bhaji Masala, and whatever veggies you are using like potatoes, bell peppers, beets, cauliflower, peas along with salt and water.
Set Instant Pot to high "Pressure" for 10 minutes. Turn valve to Seal. When the timer goes off, turn valve to Vent to Quick release the pressure.
Garnish the Bhaji with cilantro, onions and lemon and serve with Pav (coming up next on the blog)
Stove Top Recipe
Prepare the veggies by washing and chopping them.
Pressure cook / boil veggies. Potatoes, cauliflower, bell peppers, peas etc. Mash them.
Heat butter / oil in a wok and saute the ginger garlic for a couple mins. Add onions and cook until golden brown.
Add the tomato sauce and fresh tomatoes and cook until the butter / oil starts separating.
Now add Pav Bhaji Masala and boiled meshed veggies to this mixture. Pour int the water and cook until it comes to a boil.
Notes
I typically make a large batch and freeze half of it. Comes handy when time is crunched.
Reduce proportions by half if making it for 4 people.
Some like their Bhaji runny while other like it thick. Water proportion here is for in between consistency.
You could add either Byadagi or Kashmiri Chilli powder. Either one is fine.
You can completely skip canned tomato paste if you like, however this will affect the taste and colorof the Bhaji. If doing so make sure to substitute Tomato paste with fresh juicy tomatoes.
For Vegan alternatives, add vegan butter or oil.
Recommended Products
As an Amazon Associate and member of other affiliate programs, I earn from qualifying purchases.