Love the Chana Masala or Chickpeas served at the Indian restaurant? Save a trip to the restaurant and make your own. This restaurant style Instant Pot Channa Masala is super easy to make. No long list of spices, just one spice blend is enough for the bomb of flavors. It's healthy, vegan, gluten-free and packed with protein. Instant Pot , Traditional Pressure Cooker and Stove Top instructions. Video Recipe.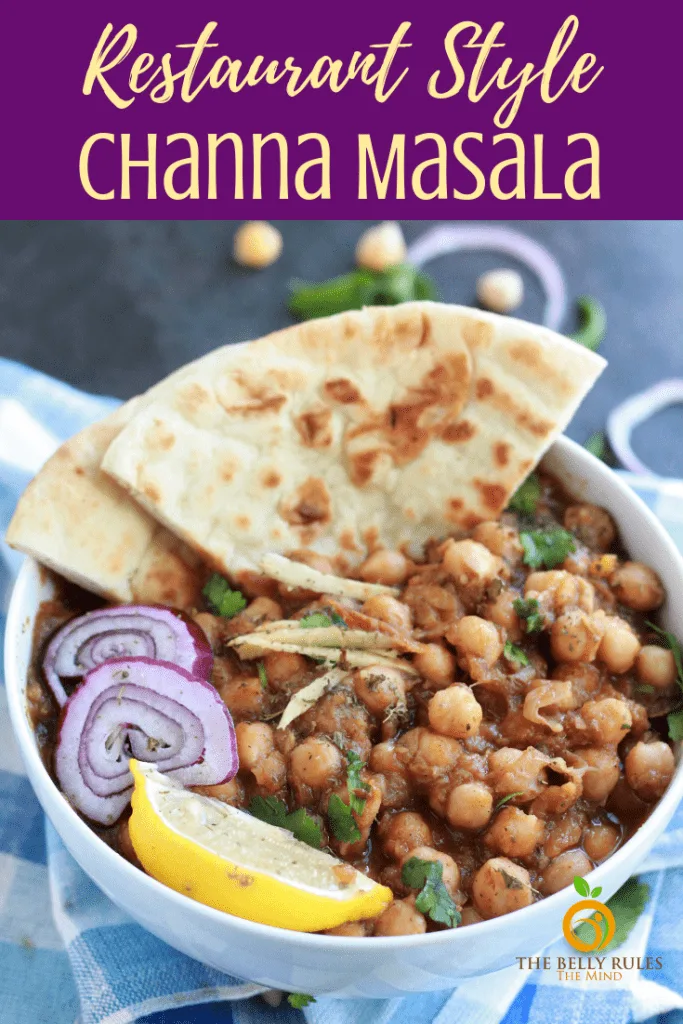 What is Chana Masala?
Chana Masala are curried chickpeas cooked in an onion-tomato gravy, with lots of flavors from the spice blends. Typically it's the chickpeas served at the Indian restaurants. Whether your new to Chana Masala or a Chana Masala lover, this recipe is a must try. What sets this recipe apart is that I make it easy for you. There is no long list of spices, just one spice blend and you get all the flavors of the restaurant at the comfort of your home. For me it's a warm comforting meal in bowl without any fuss.
I spent a lot of my summer holidays in Delhi with my extended family and was lucky enough to relish some really authentic Chana Masala flavors. Ofcourse there are always some variations and tweaks but the overall procedure of making Instant Pot Chana Masala is the same.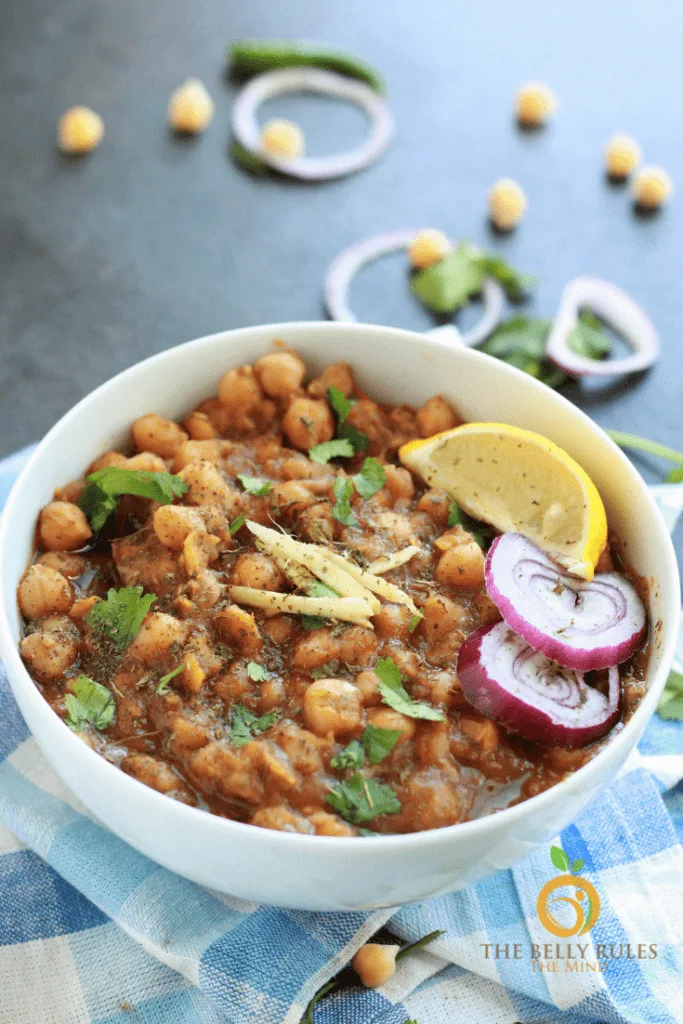 How is Chana Masala different from Chole?
Often times people ask whats the difference between Chana Masala and Chole, afterall they are both Indian recipes made with chickpeas. Often times people use these words interchangeably, however there is a difference.
Chana Masala is typically cooked in an onion-tomato based thick curry while Chole on the other hand is made by just using a dry spice blend without any onion-tomato based gravy. While Chana Masala is a little saucy while Chole is on the drier side, there is just enough oil for the spices to coat each chickpea. Check out our Chole recipe here.
Instant Pot Chana Masala
Until I didn't have my Instant Pot I used to prepare the Chana Masala either in a traditional pressure cooker or on the stovetop. Both recipes are given in the recipe card below. However ever since I got my Instant Pot, I prefer to make Instant Pot Chana Masala more. Purely because its convenient and one doesn't have to baby sit. If you don't have an Instant Pot here and still need some convincing if the Instant Pot is really worth it or why you should buy it, check this post here.
All you need to do is temper the bay leaf, cumin seeds, ginger, garlic. Then saute the onion & tomatoes. Add the secret ingredient, the chole masala available at any Indian grocery store (atleast the Fairfax, VA and Raleigh, NC Indian stores carry it) or the Amazon link is here. This masala is authentic straight from Delhi and cannot beat any other chole masala available in the market. Let me also add that I am not being compensated to promote this masala, infact for generations together my family has been using it. Once you add this and the chickpeas, let the Instant pot do the rest for you.
No keeping a track of the no of whistles or time, just set the timer and once the channa masala is ready even if you forget about the chickpeas for two hours, the IP will keep the chickpeas warm for you.If you haven't tried making channa masala in your IP yet, it's a must try.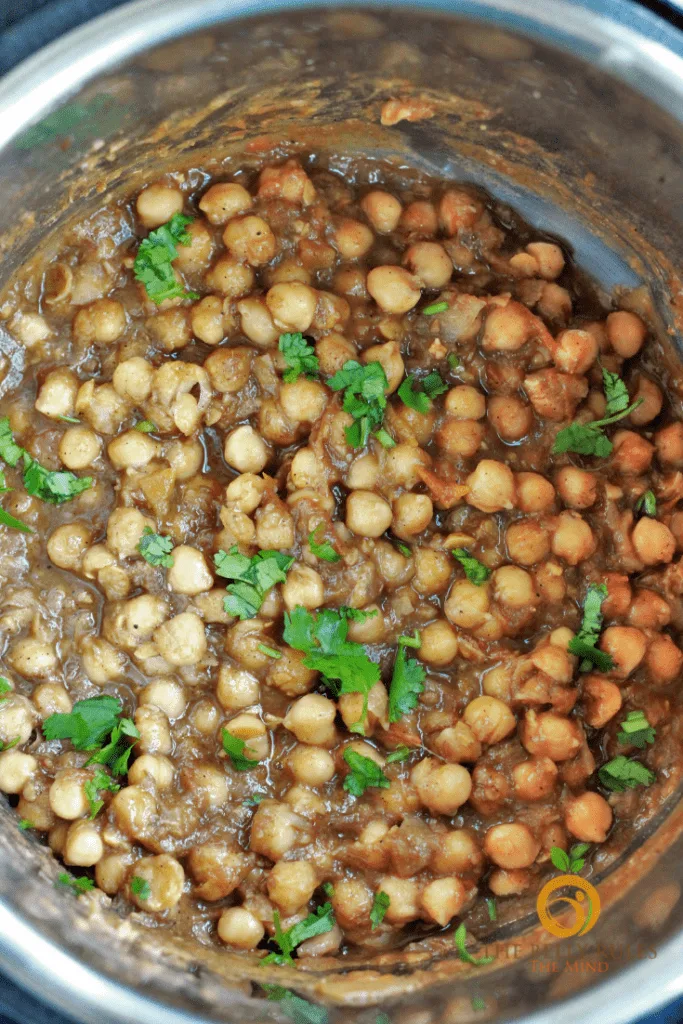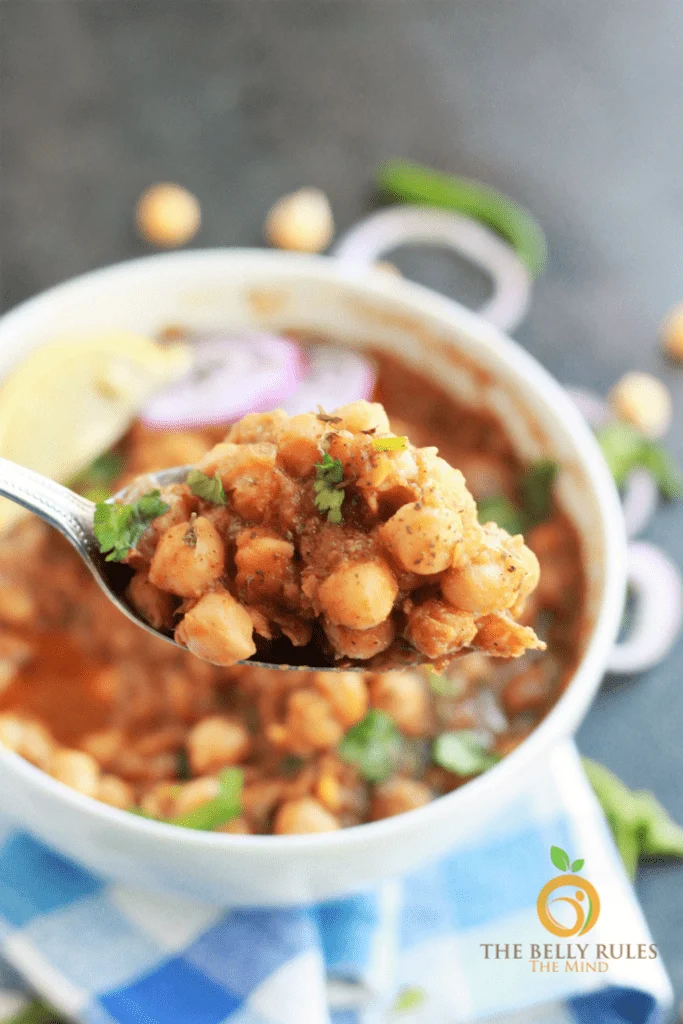 Dry beans, canned beans, cooked beans or soaked beans?
Believe me when I tell you you can use all of the above beans to make this chana masala. Having said that, I follow the best practice of soaking my dry beans overnight and then cooking them. Why? Well read more about it here. Ofcourse there have been times when I have forgotten to soak my chickpeas to I have either pressure cooked the chickpeas before adding them to my sauce, or I have thrown in dry chickpeas in the instant pot and finally following the steps below to get amazing Instant Pot chana masala. Obviously soaking dry beans is the best option and most economical too so try to tick to it is possible. Ever since I started cooking my dry beans like chickpeas, black beans, kidney beans in the IP, I have stopped buying canned beans. You can read all about it here.
What can I pair Chana Masala with?
OMG, there are so many options but I don't want to leave you confused so I will share my favorites. My favorite is perfectly cooked Cumin or Zeera Rice (again the restaurant style) in the Instant Pot and homemade Whole Wheat Kulcha. If you struggle with making the perfect rice in your IP then checkout how we make perfect white, brown, and jasmine rice everytime here. Can see each grain is separate.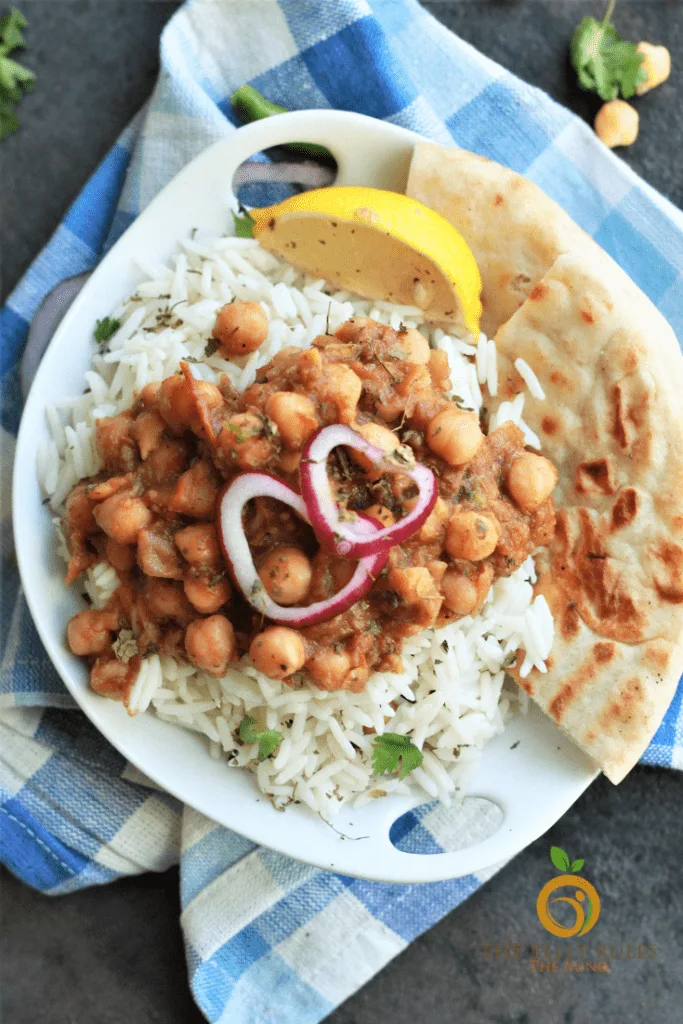 Freezer Meal or Meal Prep option?
Absolutely yes. When I make this Instant Pot Chana Masala, I make it for two times. I save some for later and freeze it either in my pyrex container or a freezer safe ziplock. It's stay good for upto a month. Just thaw it the night before heating it and consuming it. If you want to meal prep this, I just chop all the ingredients and throw them into my pyrex container. The day I want to consume Channa Masala, I just soak the beans overnight, toss in the chopped ingredients into the IP, saute it, throw in the spices and the soaked chickpeas and pressure cook it.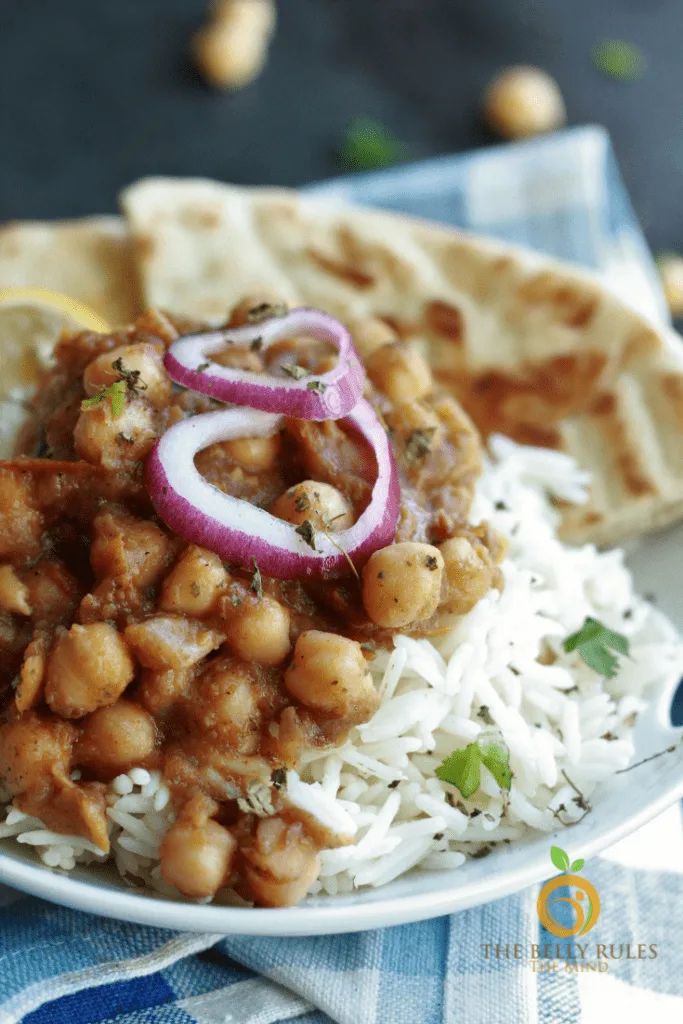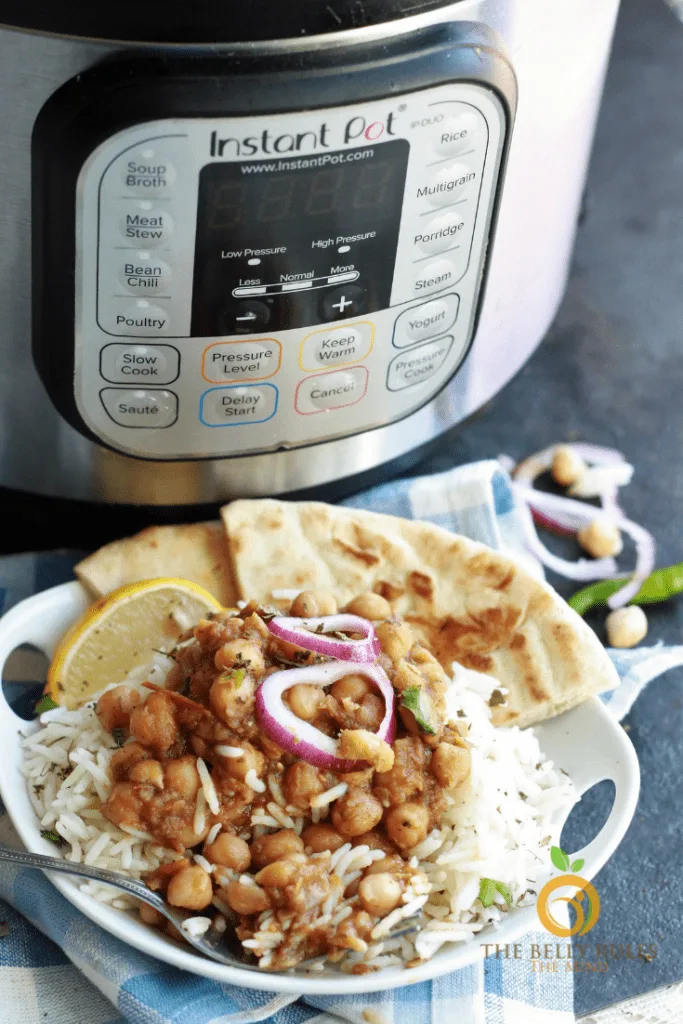 Instant Pot Chana Masala Video Recipe
I can't wait any longer so lets get started. Hope you consider trying this recipe. Don;t forget to take a picture and tag us @dbellyrulesdmind on Instagram. Or come back and leave us a comment with your feedback. Hope you enjoy this delicious recipe.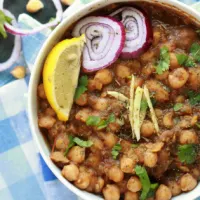 Chana Masala
Total Time:
8 hours
25 minutes
Save a trip to the Indian restaurant and enjoy the comfort and flavors of this chana masala at home. It's super easy to make. No long list of spices, just one spice blend is enough for the bomb of flavors. It's healthy, vegan, gluten-free and packed with protein. Instant Pot , Traditional Pressure Cooker and Stove Top instructions. Video Recipe.
Ingredients
Chickpeas - 1 cup
Onions chopped -1/2 cup
Tomatoes, chopped - 1/2 cup
Fresh ginger, grated - 1 tsp
Fresh garlic chopped - 1 tsp
Water -2 cups
Oil or ghee -2 tablespoon
salt to taste
Cilantro chopped -2-3 stems
Onion rings -2-3
Ginger shreds 5-6
Lemon -1 slice
Green chilies - 2 (optional)
Instructions
Instant Pot Chana Masala
Soak the chickpeas in water overnight.
Turn on the Saute mode and heat the oil in the Instant Pot. Once the oil is hot temper it with cumin seeds and a bay leaf.
Once the seeds start spluttering add ginger and garlic. If you want to add green chilies, add the green chilies or just use some for garnishing.
Give it a minute and then add onions. Saute the onions until golden brown and then add the tomatoes. Cover with a pan lid and cook the mixture until the oil starts separating.
Now add in the Chole Masala and the soaked chickpeas to the pot. Add in the salt and water.
Cover the lid, seal the went and now pressure on high for 15 minutes. If you are using canned pressure cook for 15 minutes too. If you are using dry unsoaked chickpeas then pressure cook on high for about 40 minutes.
Once the timer beeps, allow pressure to naturally release for perfectly cooked chickpeas.
If you want to thicker gravy saute until you get your desired consistency.
Garnish it with chilies, a slices of lemon, some red onions, ginger and dry fenugreek leaves.
Traditional Pressure Cooker Chana Masala
Use cooked or canned chickpeas for this. Recipe here.
Follow step 2 to 5 mentioned above in the traditional pressure cooker.
Cover the lid and pressure cook until 6 whistles or until the chickpeas are soft..
Garnish as per step 9 above
Stove Top Chana Masala
Use cooked or canned chickpeas for this. Recipe here.
Follow steps 2 to 5 on a stove top pan.
Now cover the pot and bring the curry to boil allowing the flavors to infuse. Do this for approximately 15 minutes.
Adjust the water consistency as desired.
Garnish as per step 9 above.
Notes
If using soaked or canned beans pressure cook on high for 15 minutes in the Instant Pot.
If using dry unsoaked chickpeas, then pressure cook on high for 40 minutes in the Instant Pot.
Always allow the pressure to naturally release for the perfectly cooked chickpeas.
All information and tools presented and written within this site are intended for informational purposes only. We are not a certified nutritionist and any nutritional information on TheBellyRulesTheMind.net should only be used as a general guideline. This information is provided as a courtesy and there is no guarantee that the information will be completely accurate. Even though we try to provide accurate nutritional information to the best of our ability, these figures should still be considered estimates.
Recommended Products
As an Amazon Associate and member of other affiliate programs, I earn from qualifying purchases.