This shop has been compensated by Collective Bias, Inc. and Conagra Brands. All opinions are mine alone. #YouPAMDoIt #PAMInControl #CollectiveBias
If you think Waffles can only be had for breakfast, let us change your mind. These delicious waffles are healthy, moist, crispy and savory. Loaded with the goodness of garbanzo beans, garlic, cilantro, and spices, these are a must try. So put on your apron to make these dinner waffles.Vegan. Gluten-Free.
Can you relate to me when I say that I often like to have breakfast foods for lunch or dinner? If you are like me, you know exactly what I am talking about. When you crave Waffles for dinner, you make Falafel Waffles. There you go, that's how I tweak the classic Waffle. These Falafel Waffles are savory, crispy-on-the-outside, soft-on-the-inside. Best of all they are not fried, so what a guilt-free way to enjoy Falafels and Waffles together, isn't it?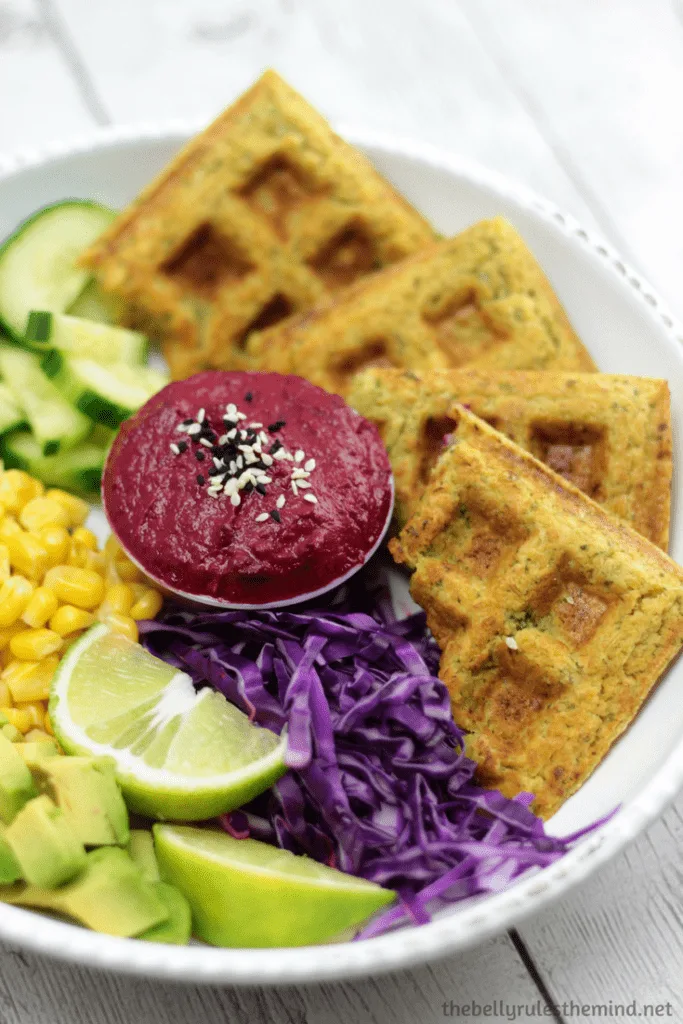 If you follow TBRTM regularly you will that with two energetic boys, I am always busy. R2 is 11 years old and has a lot of after-school activities and homework. R3 is 5 years old and is bubbly and filled with energy that I cannot even compare with his elder brother at his age. Weekdays are pretty crazy so I have to plan my meals. By the end of the week, I want to just relax and take it easy. Often times when kids are at home, they engage with me in the kitchen too. So with the number of times we have made waffles, R2 has become an expert waffle maker and guess what? He loves falafel too, so the weekend experiment of making Falafel Waffles turned into a big hit at our place.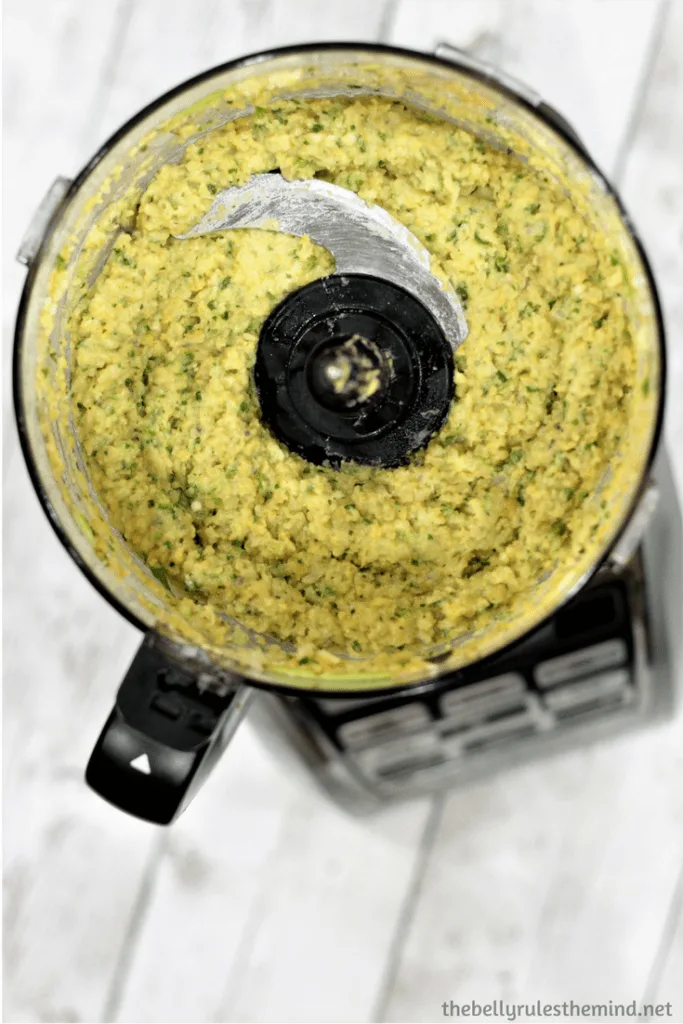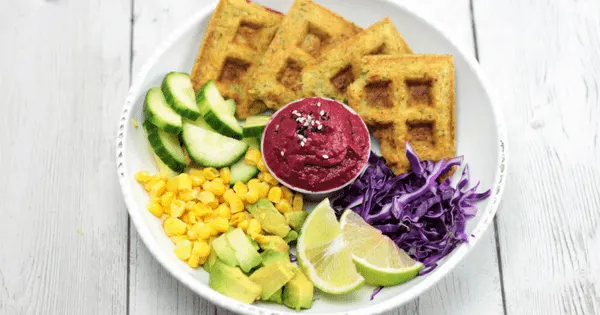 Gluten-free waffles are great for breakfast, snack and most definitely "right" for going into your kid's snack boxes. These Falafel Waffles are made with Garbanzo beans and spices and served with different hummus to satisfy the sight and the taste buds.
Note, if you are planning to make this ahead of time, we highly recommend to keep the Falafel Waffles warm in a low-temperature oven and eventually serve with hummus or chutney, corn, avocados, and cucumbers, whatever fresh produce you have. It's so easy to put this together, a perfect last-minute recipe when you have sudden guests.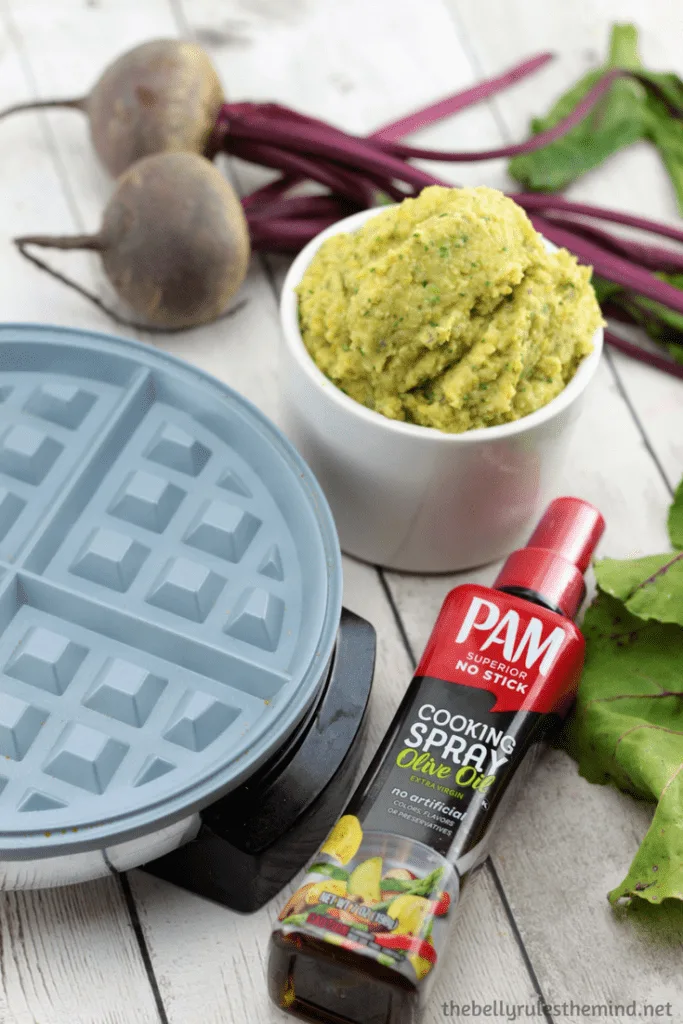 For this Falafel Waffle recipe, we have a new favorite sidekick NEW PAM® Spray Pump Olive Oil. Did you know that its non-aerosol & propellant-free? In simple words, this means that the spray leaves up to 99 percent less residue buildup than margarine or bargain-brand cooking sprays does. Crazy-awesome, right?
If you are looking to save your dishes from extra calories and fat from oil and butter try this new PAM Spray Pump Olive Oil. Trust me, you will not be disappointed. We used this sidekick to make the falafel waffles a much healthier alternative than the deep-fried version. It's healthier but still delicious and it was fun to make. Fun because we made a GIF for this recipe and I think we did a pretty awesome job at it. What do you think?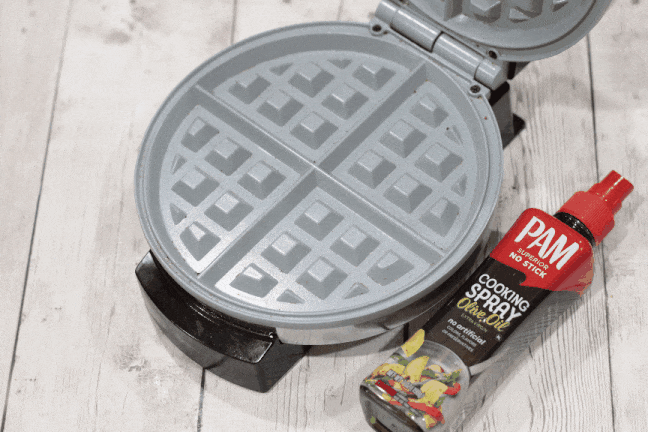 Why we love PAM Spray Pump Olive Oil?
Isn't cool it? So what I loved about using NEW PAM ® Spray Pumps is that there are no artificial colors, flavors or preservatives, you can make sure all your recipes are real easy and real tasty. Unlike aerosol based oil sprays, you can control how much you use to avoid overpour and manage those unintentionally added fat and calories. Let me clarify that this is NOT oil in a spray bottle, it is a cooking spray with superior performance. PAM is known for its no-stick cooking spray and you can expect the same performance and quality you love with the NEW PAM Spray Pumps. You can always find PAM in my kitchen, but when I spotted this PAM Spray Pump Olive Oil at our neighborhood Walmart, I was really excited to try it in my next recipe.
If you are interested in checking PAM Spray Pump Olive Oil or Canola Oil at your nearest Walmart, make sure you check out this Ibotta Offer - Earn $1 when you buy one (1) PAM Spray Pump Olive Oil or Canola Oil.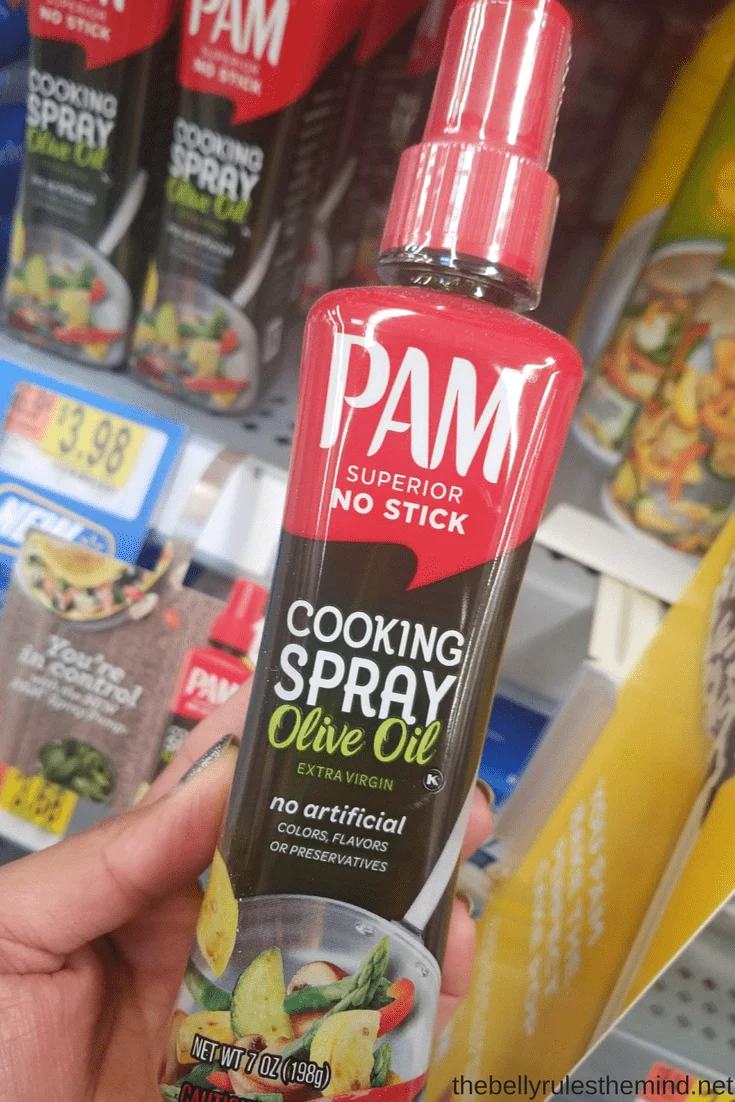 If you are all set to make your weeknight/weekend easy, go ahead make these Falafel Waffles that are ready in 10-15 minutes, that's all.
Tip - Your hands are often your best tools in the kitchen, but sometimes it turns into a sticky situation! You can make many hands-on tasks (like shaping burger patties) easier by coating your clean hands with a layer of cooking spray. No more sticking!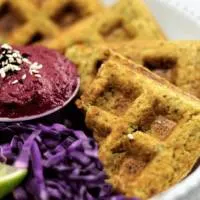 Waffled Falafel
Ingredients
3 cups cooked chickpeas/garbanzo beans, drained, about 2 15.5-ounce cans
NEW PAM® Spray Pump Olive Oil
1/4 cup chopped cilantro
1 small onion, chopped
3 garlic cloves
1/2 teaspoon ground coriander
1/2 teaspoon ground cumin powder
Salt to taste
1/3 garbanzo flour ,besan
1 teaspoon baking soda
Beetroot chutney
1 large beetroot
1 avocado
1 garlic clove, peeled
salt to taste
1/2 lime juice
Instructions
To make the falafel batter, use a food processor to blend chickpeas, cilantro, onions,coriander powder, cumin powder,lemon juice ,garlic and salt to taste until there are no large chunks (small chunks are fine, they give the falafel texture).
Add in the garbanzo bean flour/besan and baking powder
Transfer this mixture to a large bowl
While that sets up, make the beetroot chutney. Combine one large beetroot , one avocado, 1 garlic clove ,half lime juice and salt to taste in a food processor until you have a creamy texture.
Following the manufacturer's directions, preheat your waffle maker and spray it with NEW PAM® Spray Pump Olive Oil If you can choose a temperature, go with medium. Spoon about 1/3 cup of falafel mixture into each cavity and close the cover. Cook for 10 minutes, until the outside is crispy and lightly browned.
Arrange the falafel waffle in a bowl with chopped cucumber, corn kernels,chopped avocado, red cabbage or lettuce and serve it with creamy beetroot chutney