Its a weeknight and you don't want to spend too much time in the kitchen? Instant Pot Vegan Burrito bowl comes to the rescue. Its a versatile dish and you can add whatever veggies and proteins and toppings to meet your family taste. This homemade burrito bowl is way better than restaurant made as it is healthy, you control what goes in it and no preservatives ever! You can have this burrito bowl for lunch, dinner and anything in between. This homemade instant pot vegan burrito bowl version is amazing, its packed with veggies, beans, and salsa. This is about to become your new go-to meal for weeknights, weekends or any other day! All you need to do is arrange the ingredients in the Instant-pot and walk away.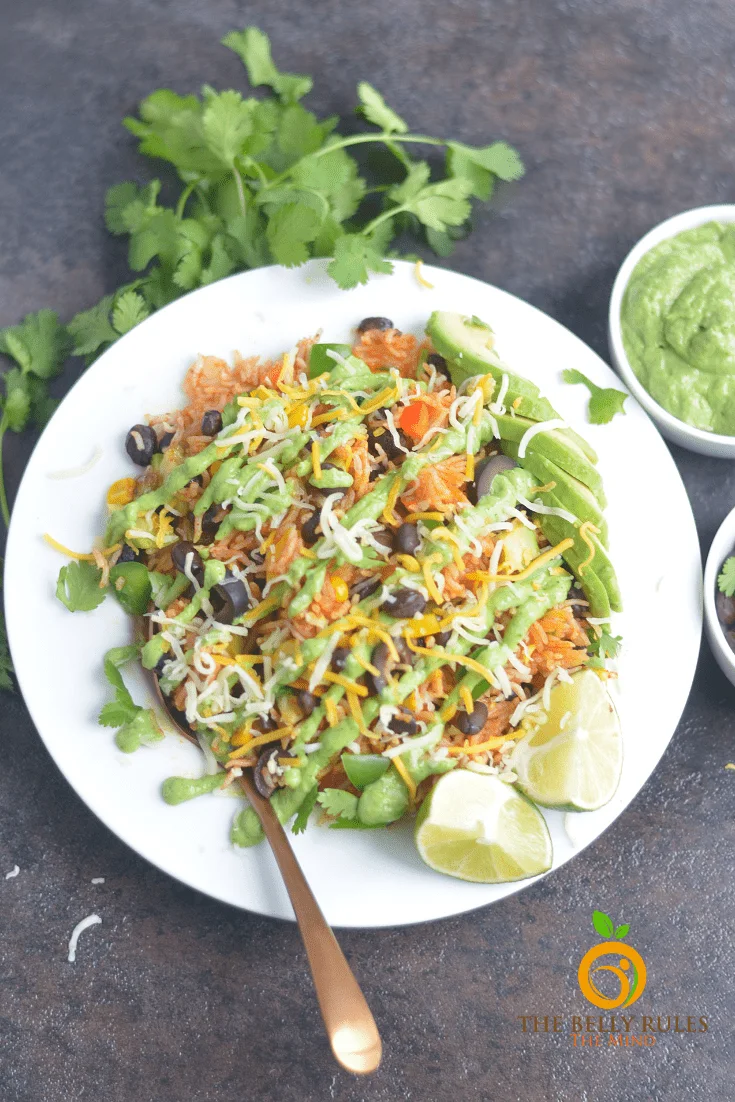 Ola everyone! If you love Mexican cuisine, the spicy flavors and meals served in a bowl, this healthy burrito bowl recipe is just the thing for you. It also means that we are now officially best friends ;) and guess what it also turns out much healthier and cost effective!!
I absolutely love one-bowl meals. It is the main dish and it is a side dish! Everything is already included in this one delicious burrito bowl! Eat it for lunch, eat it for dinner, or a send it in kids lunch box. Everyone loves the burrito bowl and eats it all up!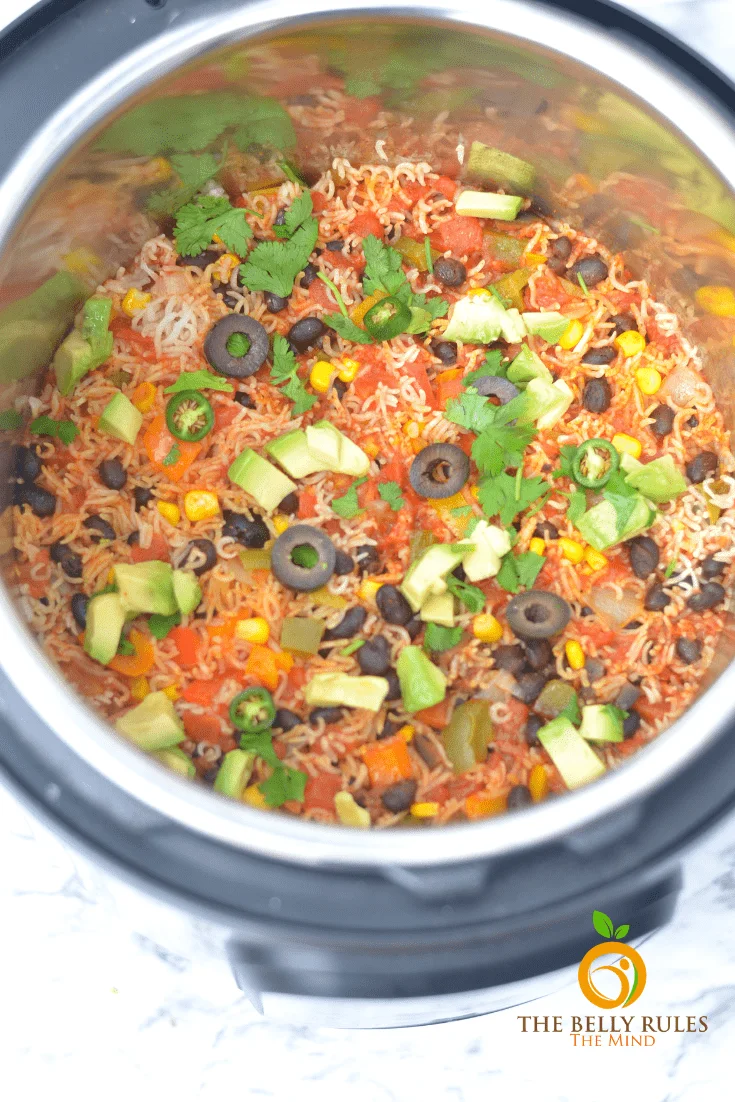 As you know, one of my favorite kitchen GADGET RIGHT NOW is my Instant Pot, and my favorite cuisine to cook in is Mexican, thus I am sharing one of my family favorites with you all today! What's more is that this burrito bowl recipe is one of those, 'set it and forget it' meals. You just dump all the ingredients in the Instant Pot, cover it, and forget about it till its time to eat.
How can I make Chipotle burrito bowl at home
When it comes to Mexican rice bowl aka burrito bowl, you can be super creative. Just like at Chipotle you select your favorite ingredients to go in a burrito bowl, you can do it here as well. Add the stuff you love, omit the stuff you don't –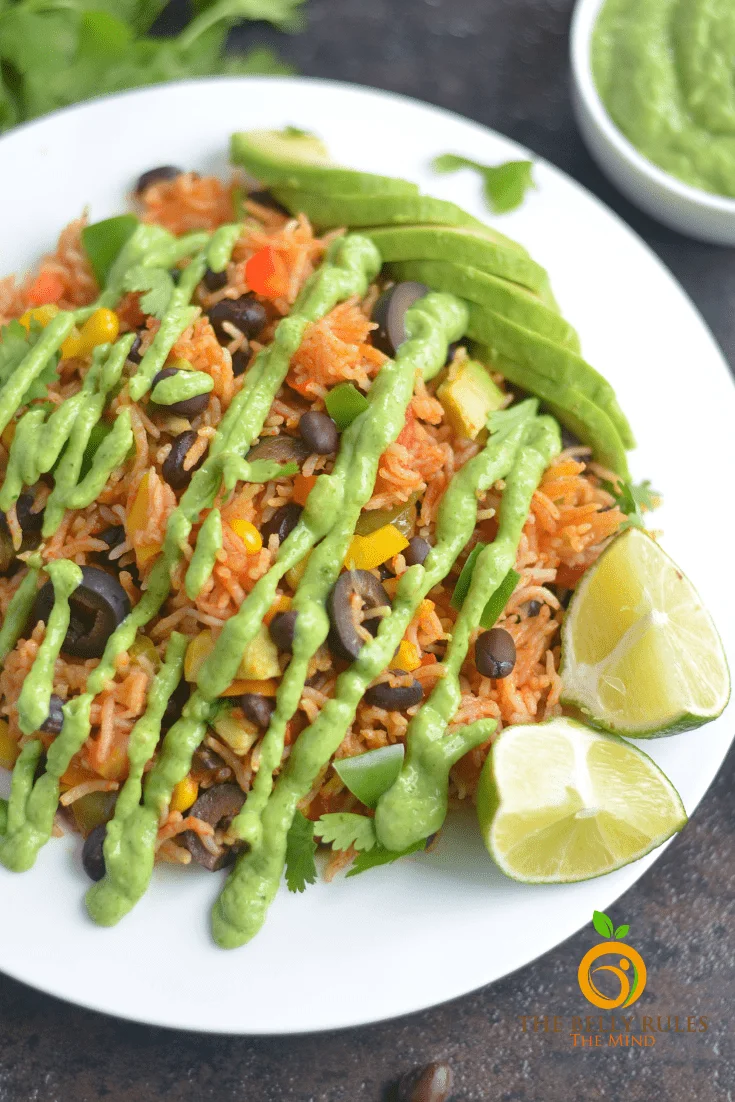 What ingredients can I add to the healthy Burrito Bowl?
For the salsa - I used my very own recipe. Feel free to use the canned salsa – any salsa works well with this burrito bowl!
Black beans - you can make them from scratch at home or use organic non-GMO black beans.
Rice - you can use any rice long grain or small.do not use sticky rice. You will be adding uncooked rice to the instant pot.Make sure you rinse the rice several times to remove the starch.
For the dressing skip the sour cream and try our 5-minute Avocado Cilantro Dressing, you will never go back to sour cream.
Vegetables - Add as many or as little veggies.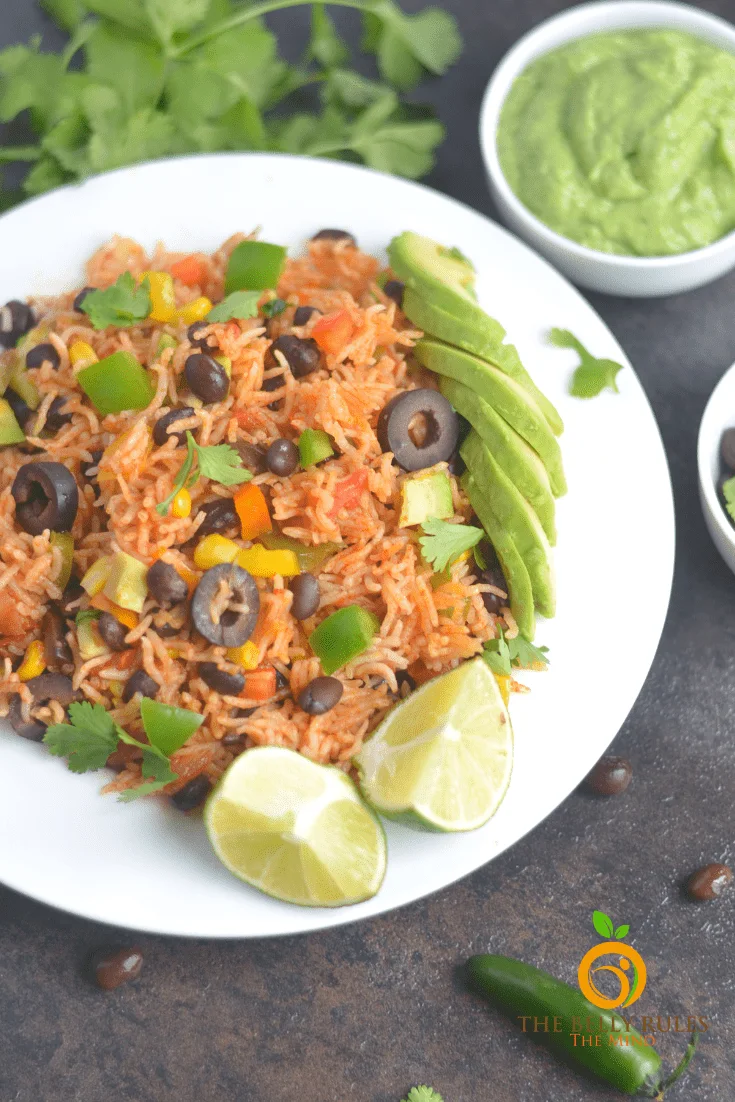 Don't have an Instant Pot?
Not to worry!! checkout Stove Top Directions in the NOTES below.
These amazing taco burrito bowls are super healthy too! All those natural unprocessed ingredients are so good for you! Yummy and healthy one-bowl meal – that's a winner that's worth making again and again and again! The best part of making these burrito bowls at home is that you can customize them as much as you want. We are all unique, after all. So why should eat someone else's burrito bowl?
Our Most Loved Mexican Recipes :
5 minutes Avocado cilantro dressing
Do check out the Instant Pot Vegan Burrito Bowl Recipe video below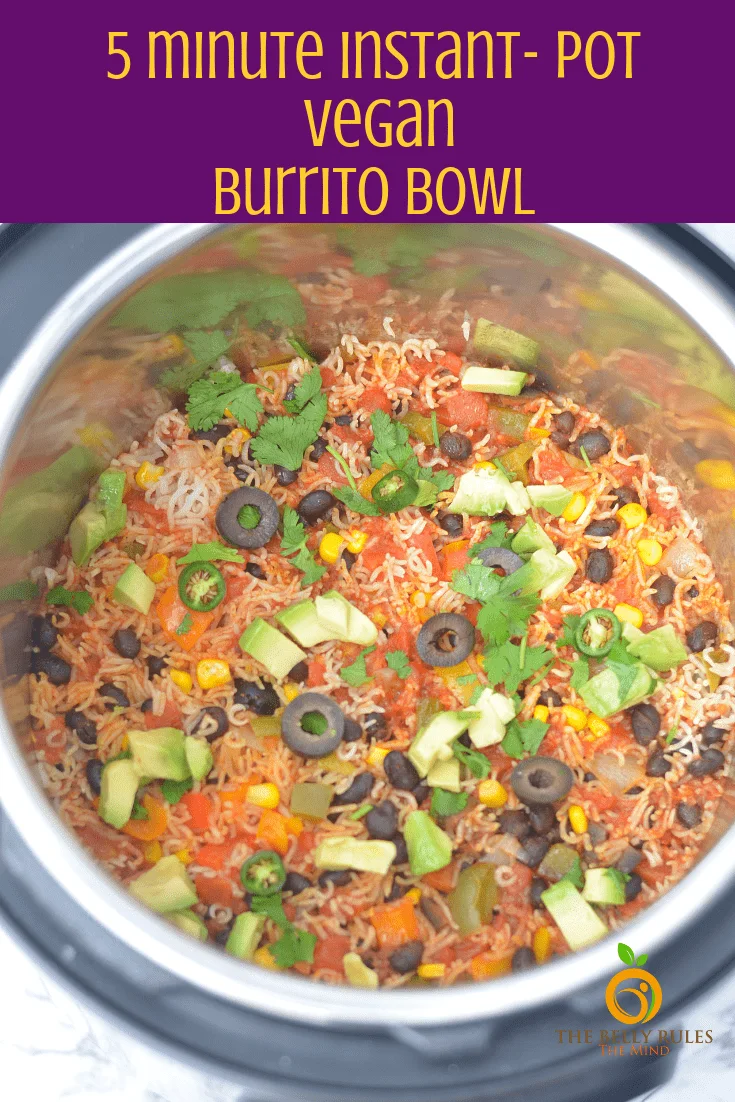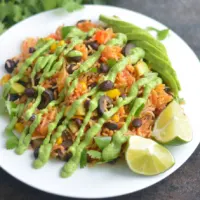 Instant pot Vegan burrito bowl
Its a weeknight and you don't want to spend too much time in the kitchen? Instant Pot Vegan Burrito bowl comes to the rescue. Its a versatile dish and you can add whatever veggies and proteins and toppings to meet your family taste
Ingredients
2 cup long grain white rice ( wash and rinse)
2 cups water
salt to taste
2-3 tablespoons cilantro, chopped
1 tablespoon olive oil
1 cup diced onion
3-4 cloves garlic, minced
2 jalepeno
2 cups diced bell peppers /colorful bell peppers
1 cup corn (fresh or frozen)
1 (14.5 ounce) can black beans, drained
1-1/2 cups Salsa
3 tablespoon taco seasoning
1 avocado, diced
few olives- optional
1 cup / optionalShredded vegan cheese
Instructions
Rinse the rice multiple times and keep it aside.
Heat the oil in the bottom of the Instant Pot, using the "saute" setting. Add in the garlic and jalapenos and give it a stir.
Add in the chopped Onions . Saute the onions until start to soften, about 3 to 5 minutes.
Add in the Bell peppers, corn ,black beans ,rice , salsa, salt to taste, taco seasoning and chopped Olives and give it a nice stir.
Add in the water, then seal the lid, making sure that the switch at the top is flipped from venting to sealing. Press the "rice" button, or manually cook at high pressure 5 minutes.
When DONE Let the pressure out.
Remove the lid, being careful to avoid any steam releasing from the pot, Serve warm, with any toppings you love, such as avocado, olives, cheese salsa, and shredded lettuce.
Notes
Stove Top Directions: You can heat everything in a covered pot over the stove. Instead of hitting the "rice" button using the directions above, simply bring everything to a boil in a large pot over high heat, then lower the heat and cover to steam until rice is cooked and the liquid is absorbed, about 15 minutes. Remove the lid and serving with your favorite topping.