Instant Pot two ingredient homemade yogurt is creamier and thicker than most store bought varieties. Free of preservatives, added flavors, and sugars, it is healthy for your whole family and makes a delicious breakfast or snack. One bite and you will never go back to eating store bought yogurt again!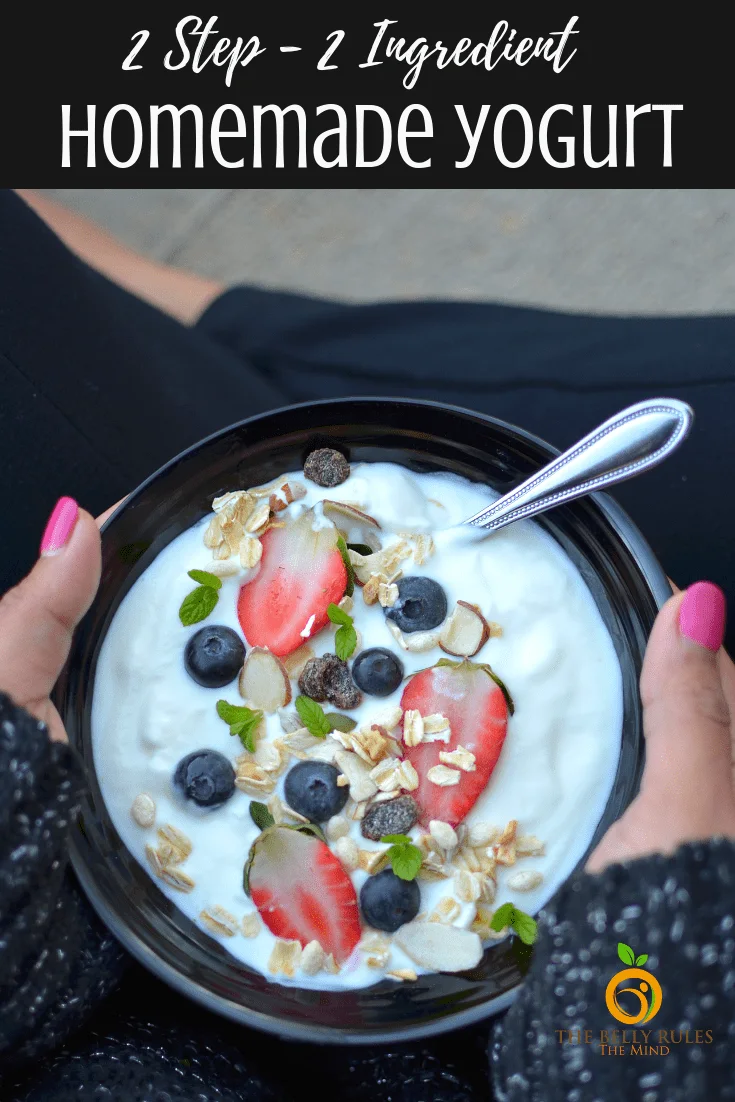 This recipe was originally published in Nov 2018. It has been updated with simplified instructions and process.
Video
Why make yogurt in Instant Pot?
I've been making yogurt at home for more than 20 years. I've tried just about every method you can think of including in a warm oven and various yogurt machines. Despite my best efforts to keep a constant temperature during the yogurt making process, I found that each method has yielded different, sometimes disappointing results.
But the Instant Pot has revolutionized the process of making homemade yogurt. It keeps the temperature perfect in the middle of the summer's heat and in the dead of winter.
The recipe I'm sharing with you is fool-proof. I tested multiple times and can tell you, if you follow the steps, you will have perfect yogurt every time!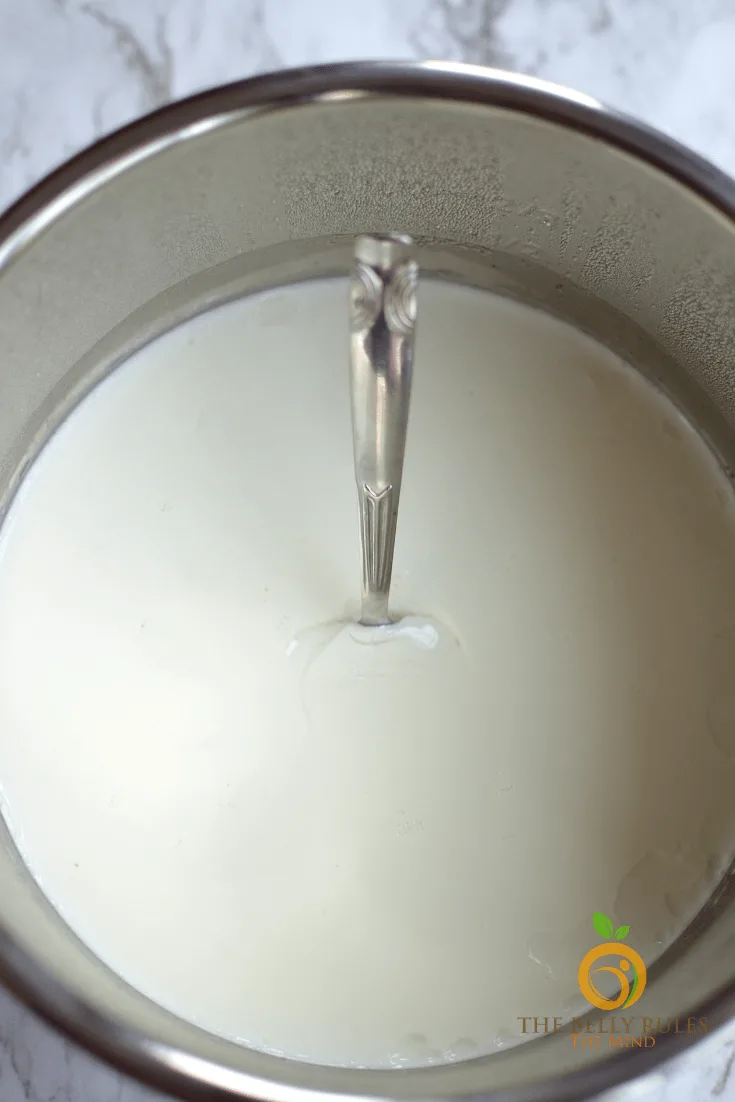 Why you'll love homemade more than store bought yogurt
Homemade yogurt has a lot of advantages over store bought. For starters, it is free of added sugar, artificial flavors, and other preservatives that both alter the taste and take away some of the healthy benefits of eating yogurt in the first place. And homemade yogurt is sweeter and creamier without the added junk.
It is also cheaper to make yogurt at home. When you compare the yield you can get from the milk and starter kit to how much store bought yogurt costs, you can see you'll save money in the long run.
Ingredients for homemade yogurt
Our yogurt only needs two ingredients to make quickly and easily at home. Of course, if you want to add some extra flavor, you can. But the base recipe is creamy, sweet, and perfect as a snack, breakfast, or as part of your favorite recipe.
Here's what you'll need:
Ultra-Filtered-Pasteurized Milk - You definitely want to find this type of milk because it has more protein, less sugar, and no lactose. The creamy consistency is part of what makes this milk perfect for yogurt.

Fresh Yogurt Starter - Not all grocery stores sell this, but you should be able to find it at an Indian market, Whole Foods, or other specialty grocery stores. You can also use a small amount of leftover fresh yogurt or a live culture to make the yogurt if you have made it before.
How to make yogurt in the Instant Pot with 2 ingredients
One of the nice things about making yogurt in the Instant Pot at home is that you don't need to worry about temperature regulation as it is made. And the steps are super simple to follow. Here's what you need to do.

Start by pouring the ultra pasteurized milk into the inner pot. Next, add in the starter, live culture, or fresh yogurt to the milk and whisk to combine.

Once it is combined, seal the lid on top and push the yogurt button. Next, set the time to 8 hours on "Normal."

When the yogurt cycle is finished, carefully open the lid. The inside will have condensation, so be careful to not let much of it drip into the inner pot.

Next, place paper towels on the top of the inner pot. Remove the inner pot from the Instant Pot and place a lid or plate on top. Finally, place the inner pot in the fridge to chill for about 1 to 2 hours.

Remove from the fridge and scoop into bowls to serve, transfer to another container for storage, or use in your favorite recipe.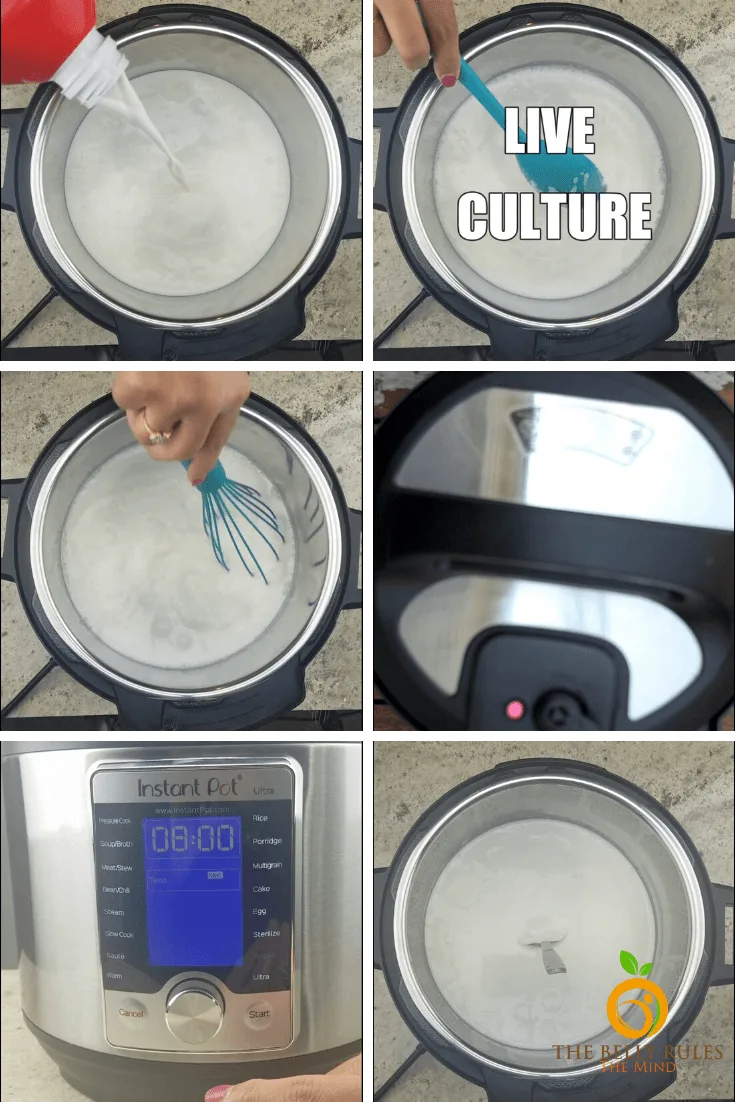 Pro tips and tricks
When you follow these tips and tricks, you'll get great tasting, creamy yogurt every time.
Use whole milk to create a thicker and creamy yogurt. Skim or lower fat milks will be runnier.

Make sure the culture that you use is not sour. If it is, it will make the yogurt sour too.

If it has been a while since you used your culture, it may be too old. The bacteria may have died so you may need to use a starter instead.

Once the yogurt is set, do not leave it in the open for a long time. Make sure you transfer to an airtight container and store in the fridge.

If you make it frequently, use the starter from the previous batch of yogurt to set the new batch. This way you don't need to get more start packs.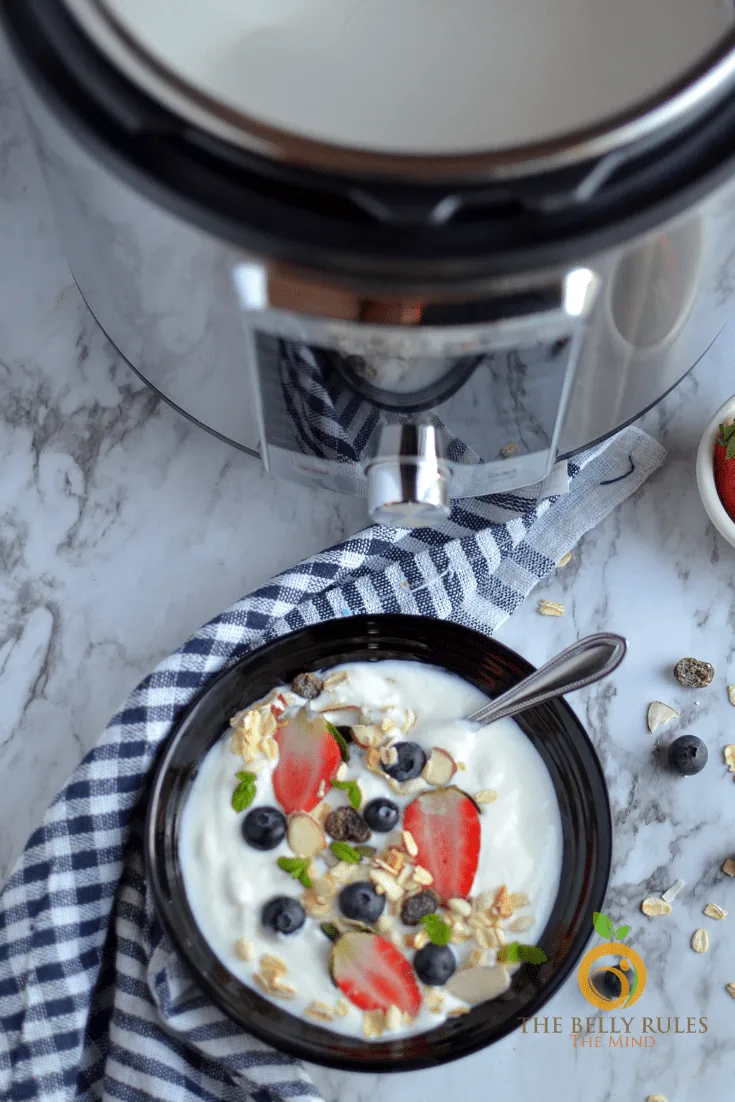 How to store?
Homemade yogurt can stay fresh for up to 2 weeks when refrigerated. Scoop the fresh yogurt into an airtight container or several smaller containers for individual servings.
As it ages, the yogurt's taste will start to change some. We often save a small amount of the culture from the first batch to make the next batch, so we don't need to constantly get new yogurt starters from the store.
To ensure success, you should use your culture within 2 weeks. If you don't plan to make more within that time, I recommend freezing 2 to 3 tablespoons in a freezer safe container for up to 3 months. Just make sure you thaw the culture before using it.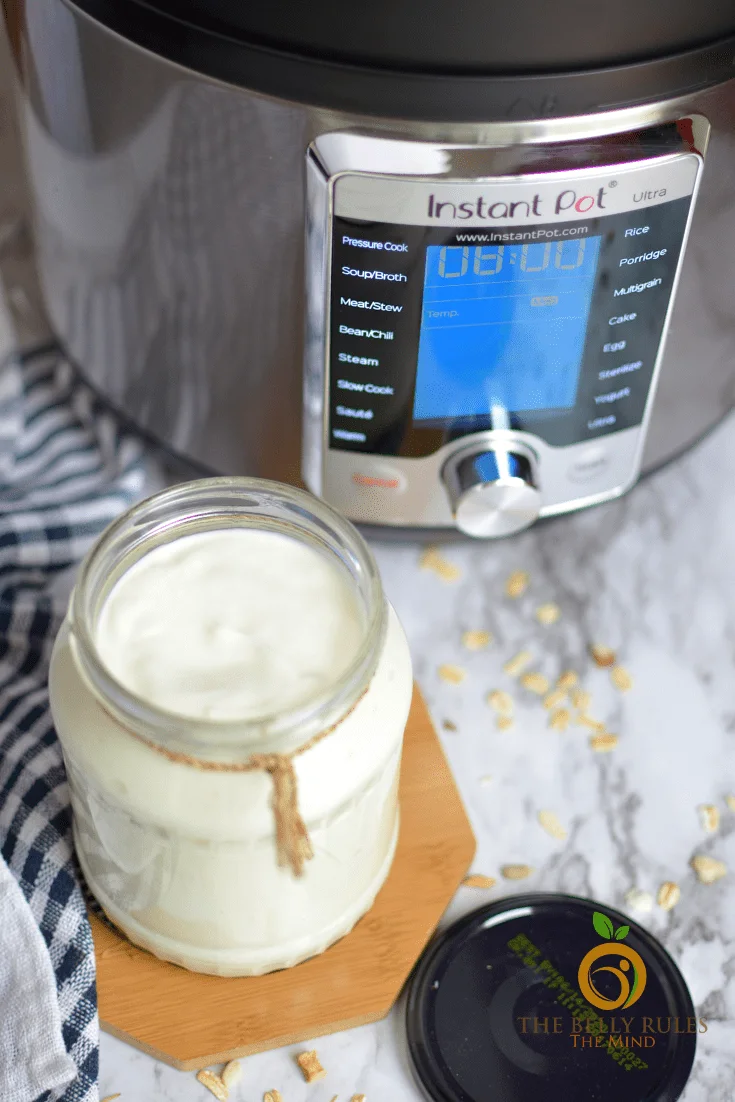 How to make Greek yogurt from homemade yogurt?
To make Greek yogurt, follow instructions to make homemade yogurt first.
When it is ready, you'll need to strain out the whey to make Greek yogurt. The process can take up to 6 to 8 hours depending on the consistency you want.
In some cases, you may have it fairly good to go in about 2 to 4 hours.
We'd recommend investing in a Greek Yogurt Strainer. They are super easy to use, store, and clean up. They are also reusable and create less mess than a cheesecloth strainer.
What can you use yogurt in?
Yogurt is an important, versatile ingredient in Indian cuisine. There are many recipes you can use it in from cooling drinks to savory dishes. Mango Lassi is such one awesome and refreshing drink.
Dahi is also used in many Indian curry recipes such as Punjabi Kadhi, Dahi Bhalle, Dhokla, savory steam cakes, Semolina savory muffins, and others.
You can also dress it up and serve with your favorite fruits or breakfast grains for a complete and healthy breakfast.
Is it cheaper to make your own yogurt?
Yes! Depending on the brand, a tub of yogurt can cost between $4 to $6 at the store.
You can buy a gallon of milk at a local store for slightly less, and it will make around the same amount of greek yogurt. So you are saving money by making it yourself.
Although it is super simple to make, it does take around 8 hours, but most of the time is just sitting there, so it's not labor intensive. You can mostly go about your day and come back when it is ready.
The other benefit to consider is that homemade yogurt will be free of preservatives, added sugar, and additives that alter the taste and make the yogurt less healthy. Making yogurt at home is much healthier and cheaper than most name brands.
Can this homemade yogurt recipe be made using the pot in pot method using the Instant Pot?
Yes, you can use the pot in pot method.

First, add 2 cups or less of water into the inner pot. Next, put the metal stand inside the inner pot and carefully place the bowl on the metal stand. Finally, close the instant pot with its lid on venting, select the yogurt button, and set to cook for 8 hours.

When it is done, cover with paper towels and a lid and place the inner bowl in the fridge for 2 to 4 hours.
Why do I get Runny Yogurt?
If you get runny yogurt or liquidy yogurt, this is usually due to the quality of culture used. When starting a fresh batch, use either natural, organic store bought culture or a small amount of yogurt from the first batch. This can help make sure the yogurt comes out creamy.
Also, make sure you do not skip adding paper towels to the top of the inner pot or bowl. The towels will absorb extra moisture and help the yogurt get creamier.
How can I make flavored Yogurt?
Adding additional flavors will make flavored yogurt. You can add fruit, vanilla extract, sweeteners, grains, or other flavors to make the yogurt to your liking.
Check out our post for homemade flavored yogurt for more inspiration. Some of our family's favorites are vanilla, mango, and strawberry. But there is a lot more you can add.
What happens when less yogurt culture is added to the milk?
Make sure you add the correct amount of yogurt culture. If you add too little it can change the taste of the yogurt. It also may not ferment and become a sticky mess.
What happens when you add more yogurt culture than required?
If you add too much culture, the yogurt will become sour. Too much culture often makes the yogurt inedible as a breakfast or snack.

If your yogurt is sour, don't worry! You can use it in several different dishes that use sour yogurt!
If you are a fan of healthy eating and have just purchased an instant pot, Try out our 90+Instant Pot Vegetarian Recipes. From Soups to Pasta and from Appetizers to Desserts and everything in between.
If you make this recipe, Don't forget to come back and leave your feedback and star rating. We would be THRILLED if you would take a pic and tag us on Instagram @dbellyrulesdmind or Facebook @thebellyrulesthemind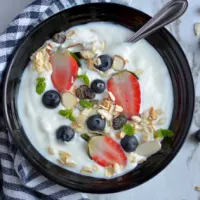 Instant Pot Homemade Yogurt
Save money by making Homemade yogurt at less than half the cost of store bought. It tastes amazing, fresh, and you will know exactly what is in yours - no more reading labels. All you need is Just 2 ingredients and just 2 steps! You can also try creating different flavors of yogurt once you master this instant pot homemade yogurt recipe. Instructions for homemade Greek yogurt are also included.
Ingredients
52 ounces Ultra-Filtered-Pasteurized Milk
2 tablespoon Fresh Yogurt Starter
Instructions
Pour the ultra pasteurized milk in your inner pot / glass bowl.
Add in the starter / live culture / fresh Yogurt to the milk.
Whisk it nicely and place the lid on.
Push the Yogurt button and use the +/- buttons to set time to 8 hours. the setting should be "Normal."
When Yogurt cycle is finished, open it gently due to water condensation in the inner side of the instant pot lid
.Place a bounty tissue on top of the pot / bowl and a lid and transfer to refrigerator to chill for 1-2 hours.
The tissue will soak all the additional water and make the yogurt creamy.
Notes
Use Ultra Pasteurized Milk. Tried and tested with Costco Kirkland organic whole milk
Make sure the culture that you use is not sour; otherwise it will make the yogurt sour too
Use live cultures or fresh yogurt preferably from the last batch however you can use Chobani , Fage, Oui, or Greek yogurt for the first time.
You can use pot in pot method to make yogurt in glass bowls.
Do not use raw or regular milk, as it contains bacteria and it needs to be boiled first.
Use fresh yogurt starter(it should contain live active cultures)
You can use 2%Ultra pasteurized milk too ( yogurt sets well)
Recommended Products
As an Amazon Associate and member of other affiliate programs, I earn from qualifying purchases.
Nutrition Information
Yield

14
Serving Size

1
Amount Per Serving
Calories

2
Total Fat

0g
Saturated Fat

0g
Trans Fat

0g
Unsaturated Fat

0g
Cholesterol

0mg
Sodium

2mg
Carbohydrates

0g
Fiber

0g
Sugar

0g
Protein

0g
All information and tools presented and written within this site are intended for informational purposes only. We are not a certified nutritionist and any nutritional information on TheBellyRulesTheMind.net should only be used as a general guideline. This information is provided as a courtesy and there is no guarantee that the information will be completely accurate. Even though we try to provide accurate nutritional information to the best of our ability, these figures should still be considered estimates.