Ready in just 5 minutes, this Asian Dressing is infused with bold flavors of ginger-garlic & can be used as a dressing over salads or to marinade proteins. You are sure to fall in love with this dressing.
Folks, welcome back to a brand new post on The Belly Rules The Mind, after a long hiatus. Oh, I missed you guys, I missed blogging. I spent the last few months in India with my family. It was by far one of the best holidays back home. Quality time with family, delicious food, all the pampering, shopping, and ofcourse none of us fell sick during the holidays except for some allergic cough. Uh!Life was good. You will see a lot of pictures in the upcoming posts. While I was away in India, Soniya was busy with her family too. R2 & R3 really kept her on her toes with all the classes and school activities while R1 had a lot of traveling to do. So the last few months have been really busy for us, but we are back in action. Refreshed, rejuvenated and with a lot of new exciting ideas and recipes. So make sure you stay tuned. Subscribe to our blog or if you are socially active, follow us on Facebook, Pinterest, Twitter or Instagram.
Now that I am back after relishing all the lipsmacking Indian food, it's time to detox. Time to get back to reality & shape up for summer. Yuhuuuu!!! Off late we are back to incorporating salads and juices into our diet. If you are a regular here (thanks for regularly reading the blog), remember my blog posts from last year on 5 Minute Asian Peanut Sauce & Thai Salad with Green Coconut Dressing. There is no doubt that I love Asian flavors. So the other day I tried a new dressing inspired by the Asian flavors and loved it so much that it's getting it's own post. Ofcourse when I say Asian dressing, it's a perfect medley of sweet, spicy, tangy & pungent flavors. Simple yet delectable. What I like about this recipe is that it's ready instantly without any fancy ingredients in just 5 minutes. This is a very simple and easy recipe with just two steps, gathering the ingredients and mixing them.How good is that isn't it? You will instantly fall in love with the aroma and for sure it will become one of the most-used salad dressings in your home soon.
This dressing is a great alternative to the typical olive oil vinaigrette, mustard & ranch. I am sticking to bold & high flavor ingredients like fresh ginger, garlic & lemon juice to keep the dressing light, refreshing and yet flavorful. This dressing can add an Asian flare to any salad or try marinating Tofu and you won't be disappointed.
So what are you waiting for, let's get started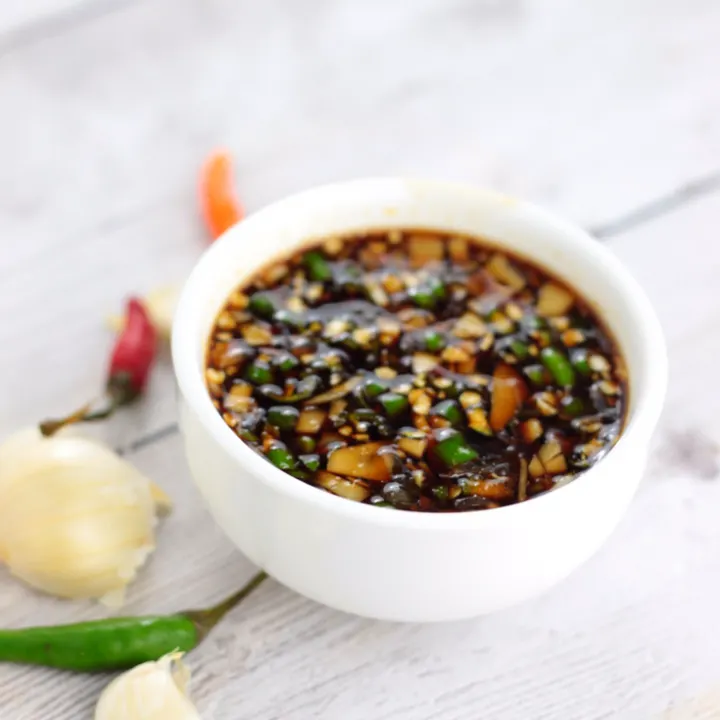 5 Minute Asian Garlic Dressing
Ingredients
1 lemon, zested & juiced
2 garlic cloves minced
1 tablespoon ginger chopped
1 teaspoon chillies, chopped
1 tablespoon green onions, chopped
Instructions
Mix all the ingredients together in a bowl. Allow the dressing to sit for atleast 5-10 minutes so the flavors can infuse. If using this to marinade protein, allow the protein to marinate for atleast 20 minutes.
Products Used