This Avocado Cilantro Dressing is super healthy and is full of deliciousness. Thick & creamy. Ready in 5 minutes. This is going to be your new favorite. Use it as a dip, slather it on a sandwich, or use it as a chutney. Trust me you are going to be hooked onto this!!!
Phew!!! Avocado Cilantro Dressing was long overdue. I have used it in so many recipes and so many different ways and it still remains my favorite dressing by far. I don't think I will ever get bored with this dressing. It's just too yum to ditch it. After pairing it with all possible foods like dosas, idlis, sandwiches, wraps, salads, pizzas, I am finally sharing the recipe on The Belly Rules The Mind today.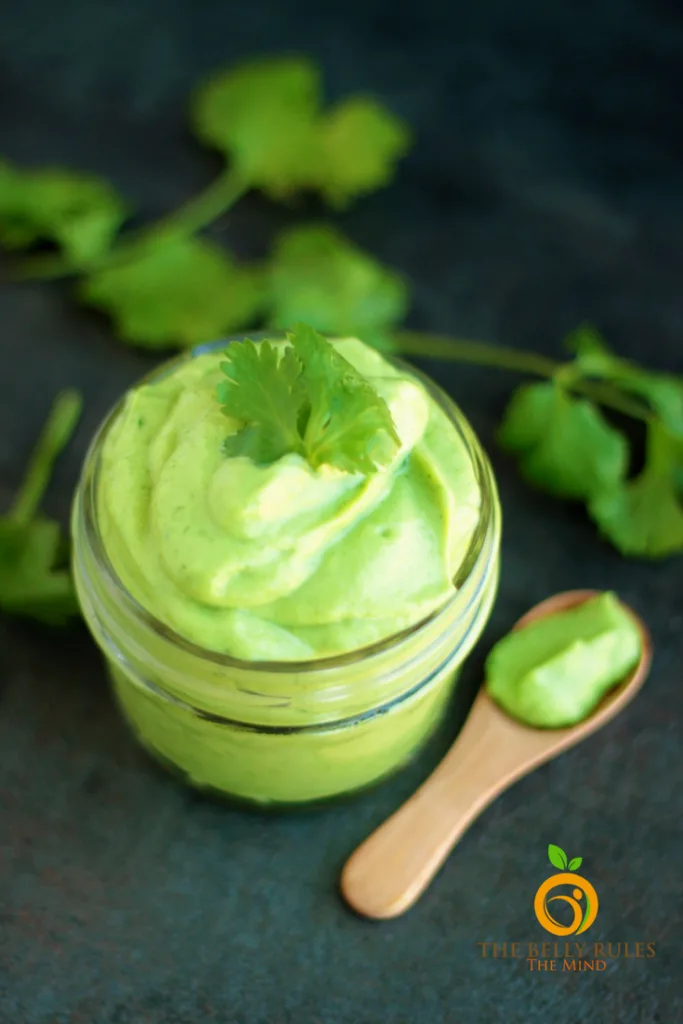 I am sure you know by now that I love Avocados. Why??? Well, if you haven't already read about it in our Avocado Tasting Party post, definitely check it out here, after this post. Not only are they full of nutrients but I love it's neutral taste and creamy texture. The reason this dressing is always my first choice is that it is made with some of my favorite ingredients like avocados, cilantro, yogurt, and garlic. Drizzle this on anything and can you imagine the burst of flavors in your mouth as you take the first bite. This thick and creamy dressing is full of refreshing flavors. Its ready in just 5 minutes from start to end. Just toss the ingredients in a blender until you get a smooth consistency. If you are using it as a spread, dip or chutney, enjoy it as is, thick and creamy. Sometimes I like my dressing thick, other times I water it down a little bit. Mind you this is a kid friendly version and I have added any green chillies and jalapenos to it. However, if you like a little bit of zing, it does taste delicious with the chilies too.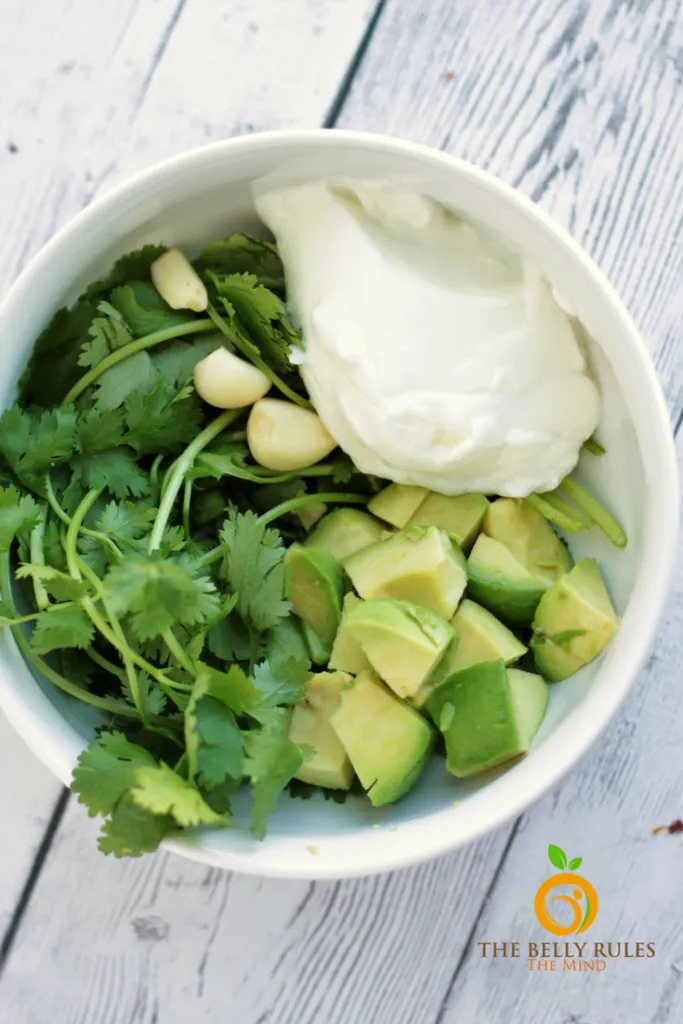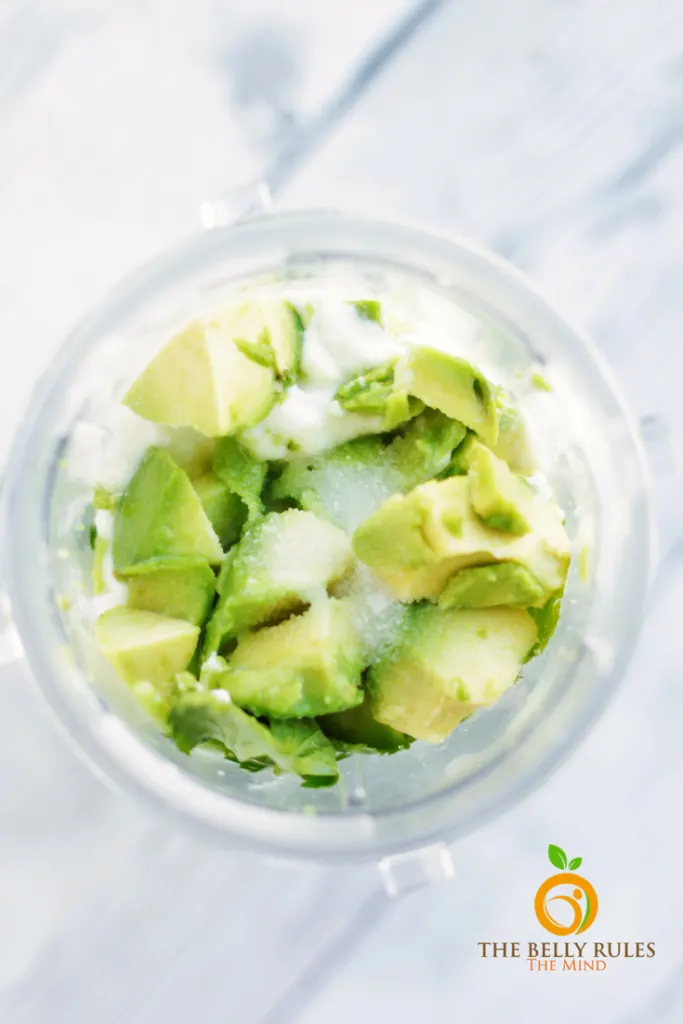 I became a fan of it when I first tried it on the CPK inspired Spicy Chipotle Pizza. I was in love with the flavors and texture. The aromas of cilantro, lemon and garlic were so relaxing to the brain waves, if you know what I mean. Also, I figured that given its thick texture this dressing would go so well with idlis and dosas and crepes too. The avocado gives it the right consistency and works as an awesome emulsifier too. Next, I tried this Southwest Chipotle Salad with the Avocado Cilantro Dressing. That was a hit too. Since then I have made it so many times, just never got around sharing this recipe earlier. Often times I have even I find myself scooping this dressing out of a jar and licking it. It's lipsmackingly delicious, no doubt about it. Try it yourself.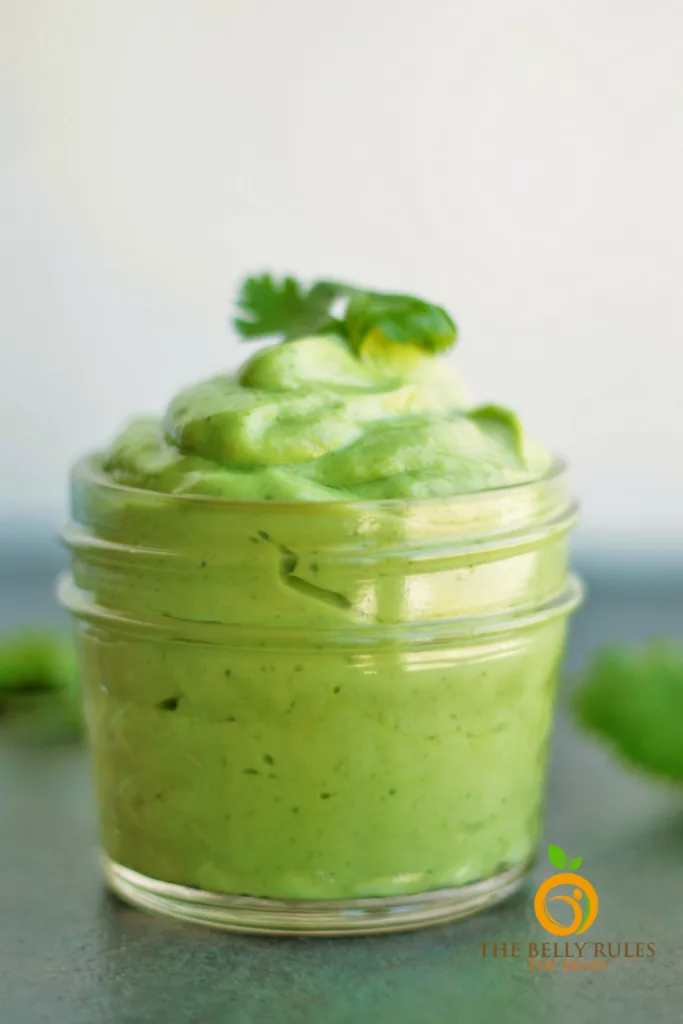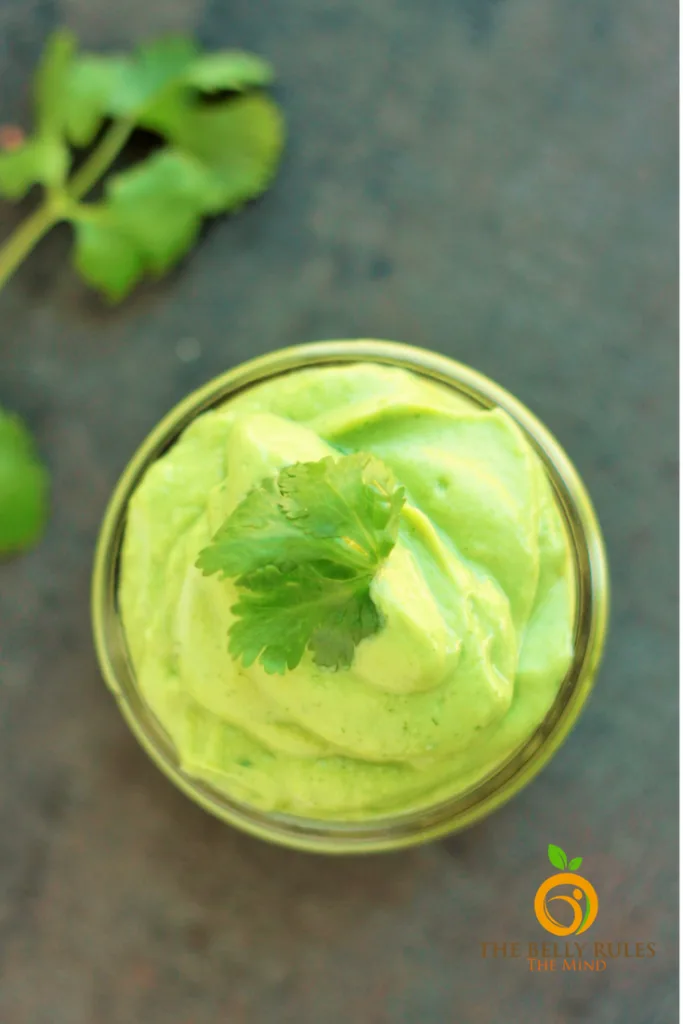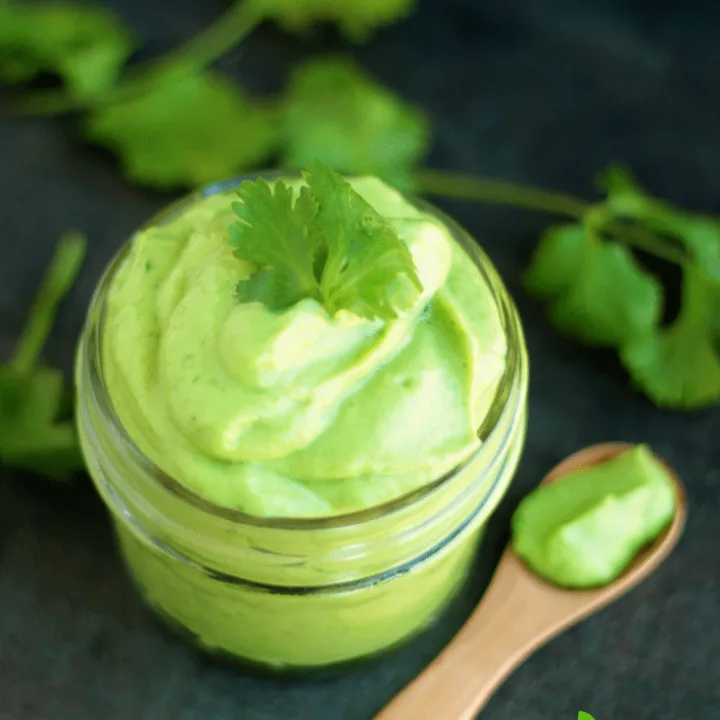 5 minute Avocado Cilantro Dressing
Ingredients
1 Avocado
1/4 cup cilantro
2 clove garlic
1 tablespoon lime or lemon juice, fresh
1/4 teaspoon salt
1-2 tablespoon water water
1/4 teaspoon black pepper powder (optional)
1/4 jalapeno or 1 green chilly (optional)
Instructions
Toss all the ingredients into a blender or food processor.
Blend until you get a smooth consistency.
If you need to scrap the sides and add water, do it gradually. If you want to enjoy it thick and creamy , use it as it or else add more water.
Store it in an airtight container for a week and it won't go brown.