Healthy snacks at snack time play an important role to refuel our bodies, keeps our bodies energized and boost nutrition. Snacking keeps our stomachs satisfied in between meals and keeps us from hunger pangs & overeating. The next time you are feeling sluggish, please do not miss your snack. Snacking has a typically had a bad image because of the junk food we eat. However healthy snacking isn't bad at all infact it is good for us. It's the junk we eat while we snack that is bad for us. For a lot of folks healthy snacks relates to boring stuff, but that's not true at all. Here is a list if some really delicious healthy snacks for you, so throw away those store bought chips, cookies, bars, candies cupcakes and get creative with these ideas.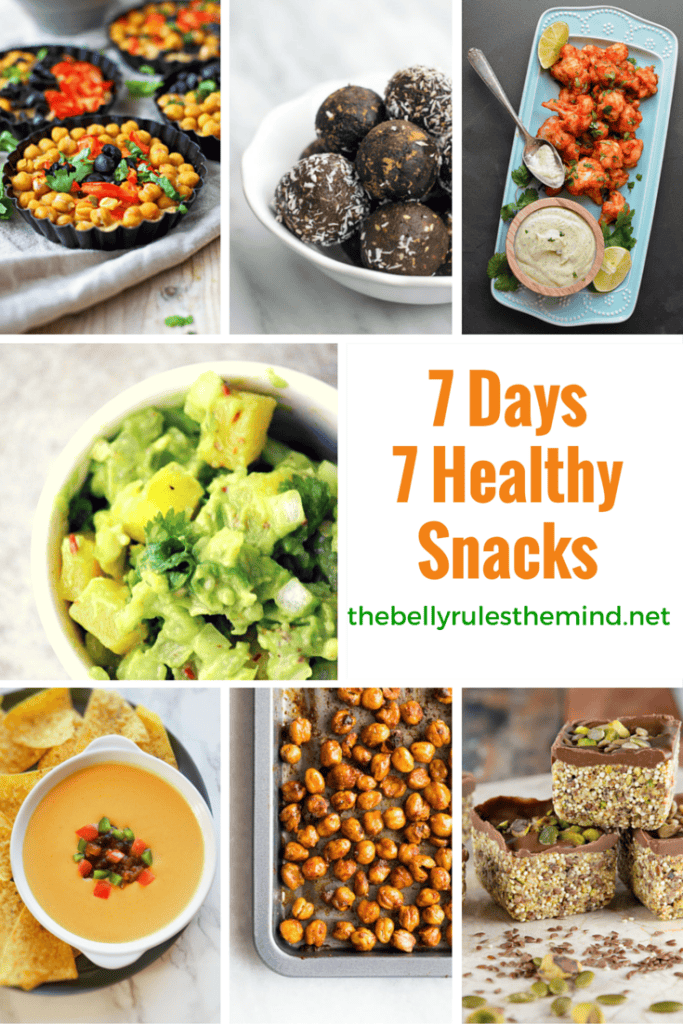 Superfood Protein Energy Bars - Enjoy the goodness of superfoods in these portion control, bit-size energy squares. These are loaded with protein and make a great snack on the go.
Sticky Chipotle Cauliflower Wings - Enjoy this healthy snack with all the flavors but without any guilt. These are lipsmacking delicious and will be devoured by both vegetarians and meat-eaters alike.
Healthy Nacho Cheese Sauce with Chips - If you like to sneak in veggies every opportunity you get, this dip is for you. Serve this dip with chips, veggies, crackers and breads and make it your healthy snack.
Crunchy Roasted Indian Masala Chickpeas - Craving that salty, crunchy snack but don't want to fill your body with unhealthy, processed food? Look no further! These crunchy roasted chickpeas are a perfect healthy snack for your and will satisfy any craving. If you land up with left overs, make these roasted chickpea gyros for lunch.
No Bake Honey Cocoa Energy Bites - You will be taken by surprise when you guess the secret ingredient of this healthy snack. Told Ya!!! Nope its not black beans. Grab and go. Pack and take. An awesome idea to snack healthy.

Hummus & Pita Tartlets - These vegan tartlets are so eye catching that by just the mere sight is going to make you want them. (Atleast that's what happened to me) Full of healthy ingredients and a great way to add protein and veggies into your diet. The crust comes together in a snap, and creamy hummus stands in for standard marinara sauce. Toss in whatever ingredients you have in the refrigerator, make your own healthy snack.
Pineapple Guacamole - Give your guacamole a tropical twist and enhance the medley of flavors. Creamy, sweet and spicy and very refreshing. Ready in under 10 minutes. Serve this with guiltless gourmet chipotle tortilla chips to make it a healthy snack.
So what is your typical snack routine like? Drop in your comments as we would love to hear from you. If you found this post useful, you might also like 7 Days 7 Breakfasts and 7 Days 7 Lunches.
For more healthy ideas and recipes subscribe to our email or follow us on Facebook to stay updated with all the healthy information we share. Check out our Pinterest boards for all the healthy eating inspiration you'll ever need. For an unending buffet of healthy photographed food, follow us on Instagram