Chia Oats Breakfast Parfait is a quick, easy, no-cook breakfast for those busy mornings. Loaded with the goodness of whole grains & proteins, it's super healthy and filling too. Make it ahead of time and just 'grab and go'. Made with just 6 ingredients & 1 for garnishing it's Vegan and Gluten Free too.
Would you like to wake up to a morning where breakfast is waiting for you? Ofcourse yes, who wouldn't eh? I would totally love that, and I am sure you would too. In the world of no-cook, make ahead breakfasts, overnight oats surely tops the list for me. Overnight oats make a perfect healthy breakfast. It's a perfect start to the day as it stabilizes blood sugar levels, lowers cholesterol and keeps you going until lunch. What I love about overnights oats is that are endlessly customization and one can just toss in a bunch of healthy ingredients in a bowl the night before and call it your breakfast the next morning. Since I am all about fresh flavors, this one is my summer favorite. Also Dr.Mystery made this simple breakfast look all fancy while I was sleeping in a little late one morning. His secret ingredient sets this parfait apart from any other breakfast parfait I have had.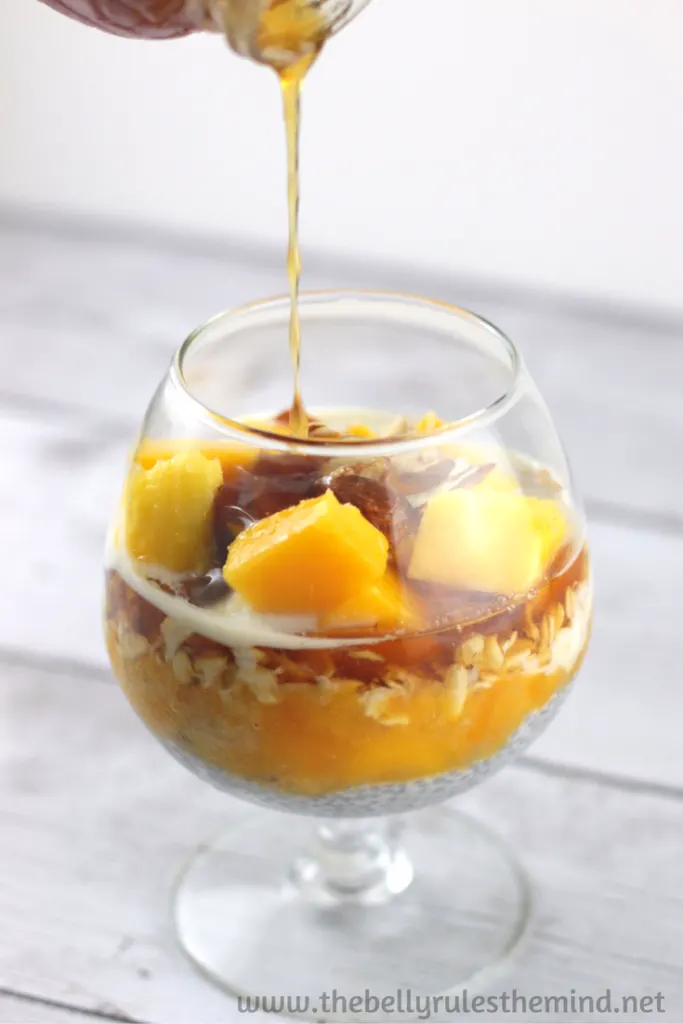 Health Benefits
Whole grains like oats are concentrated sources of fiber that help remove cholesterol from the digestive system that would otherwise end up in the bloodstream. Antioxidants found in oats reduce the risk of cardio vascular disease. Since consumption of whole grain products and dietary fiber has been shown to reduce the risk of high blood pressure and heart attack, oats promote cardio vascular health. Since Oats regulate blood sugar levels, it is great for lowering the risk of Type 2 Diabetes.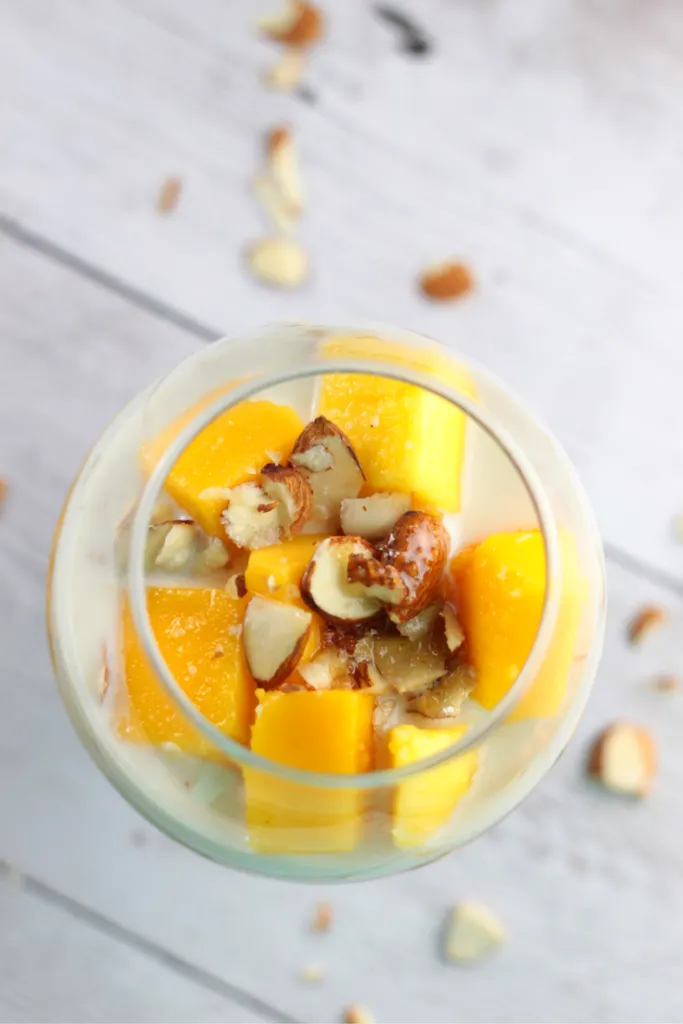 Chia seeds are great source of high quality protein (much higher than most plant foods), specially for Vegetarians and Vegans. Chia is low-carb and most of the carbs in Chia seeds are fiber. The fact that they absorb 10-12 times water and swell up, means it keeps you satiated and slows absorption of food. Fiber in Chia seeds also promote balance in gut bacteria. The fiber and protein found in Chia aids in weightloss (doesn't mean it makes if bad for those trying to gain some weight, count the protein). Chia seeds are known to contain more Omega3 than salmon. Chia seeds promote bone health as essential nutrients like calcium, magnesium, phosphorous and protein.
So can you imagine combining the goodness of whole grains like Oats and Chia seeds in just one meal. Better yet combine it with your favorite fruits and relish it. Off late I am enjoying the last few days of Mangoes before they are not seasonal anymore. However, fruits like berries, bananas, peaches, figs, go very well too. Healthy, delicious and minimalist and not so boring breakfast .
If you like this recipe, check out more of our breakfast recipes or recipes using Oats or Chia as an ingredient.
For more healthy ideas and recipes subscribe to our email or follow us on Facebook to stay updated with all the healthy information we share. Check out our Pinterest boards for all the healthy eating inspiration you'll ever need. For an unending buffet of healthy photographed food, follow us on Instagram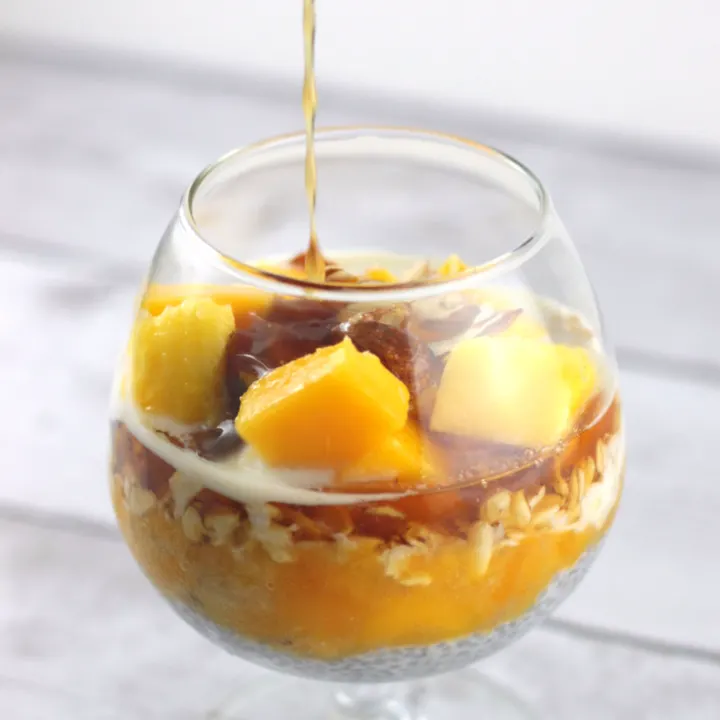 Chia Oats Breakfast Parfait
Ingredients
1/2 cup milk of your choice
2 mangoes
1 banana
Instructions
!Do ahead in time
In a jar, soak the [chia|http://amzn.to/2cFl7U9] seeds in 1/4 cup of milk. Refrigerate it overnight
In another jar soak the [oats|http://amzn.to/2clVQSt] with the remaining milk. Feel free to add more or less depending on the consistency you like. Refrigerate it overnight
Cut one mango into bite size chunks and freeze it along with a banana (with the skin)
!In the morning
Give the refrigerated [chia|http://amzn.to/2cFl7U9] seeds and [oats|http://amzn.to/2clVQSt] a stir. Add more milk if you would like.
Peel the banana and blend the frozen banana and mango chunks in a blender. Keep this nicecream aside.
!Layer the parfait
In a glass of your choice, first pour in the [chia|http://amzn.to/2cFl7U9]. Then pour in the nicecream. Add in the [oats|http://amzn.to/2clVQSt]. Add in fresh fruit chunks. Add in [agave|http://amzn.to/2cNvaFI]and garnish it with sliced [almonds|http://amzn.to/2cFmLp6] . It's ready to eat. Enjoy.

!Grab and go
In a jar, add chia seeds, oats and milk the previous night. In the morning add freshly cut banana and mango chunks. Pour some honey and garnish with almonds. Ready to go.
Products Used