Samosa, a popular 'Indian' snack is traditionally made with a potato based filling, wrapped and fried in a triangular pastry. This stuffing is the easiest ever Samosa stuffing recipe that is ready in 30 minutes and doesn't require hours of cooking and yet tastes delicious.
Did you know that the world renowned 'Indian' Samosa is not actually Indian.
History & Origin of Samosa
As I was researching for this post, I came to realize that it's origin is from the Middle East and Central Asia. It originates from the Persian word 'Sanbosag' When the Arab cooks came to India between 10th and 13th centuries, they bought it along with them in the form of 'Sanbusak'. It was considered as their snack on-the-go. It was convenient to make these mince-filled triangles during campfire during their night halts while travelling. They would pack them in their saddle bags as a snack. Amir Khusro a legendary scholar and court poet has even documented about Samosas being prepared from meat, ghee & onion. It's only after it's arrival in India that it was adapted as a vegetarian snack.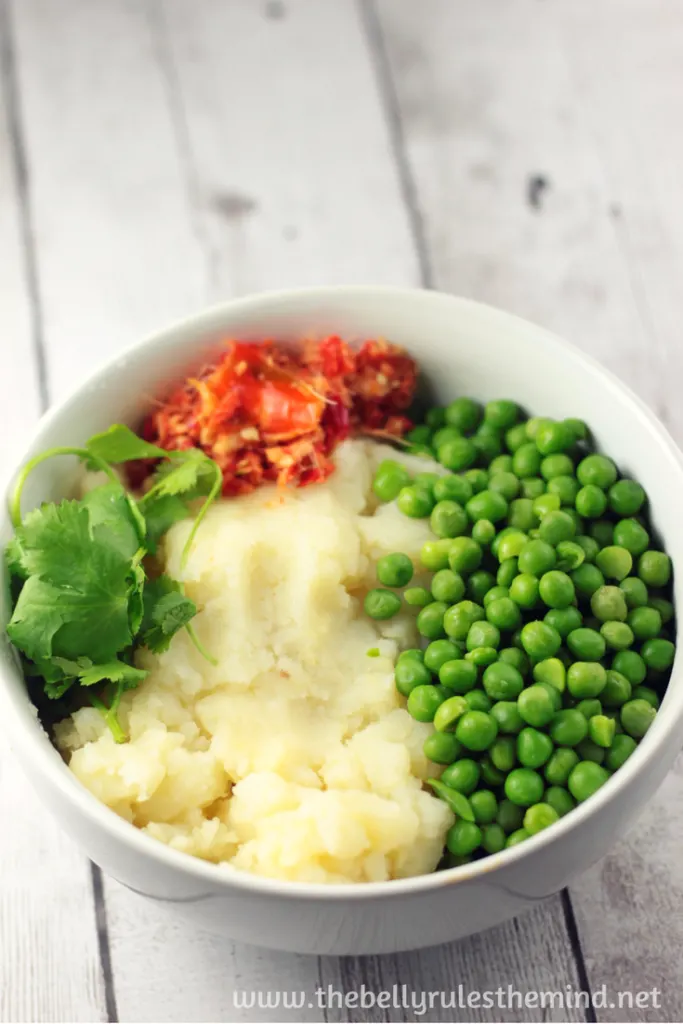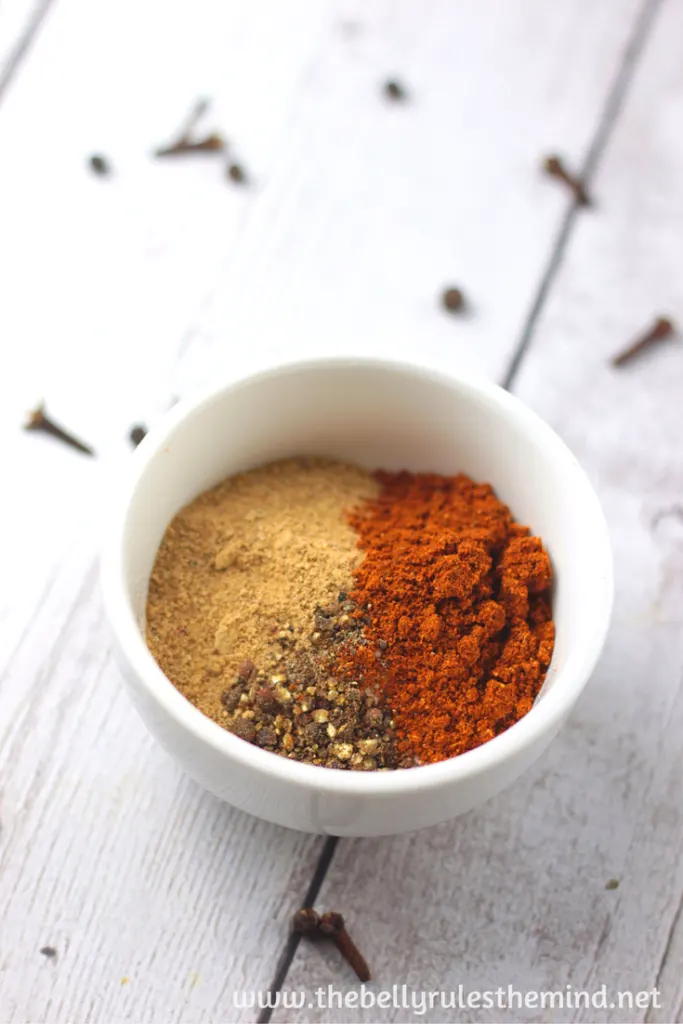 Today's Samosa
Today the popular street food in India is made with so many different fillings. Although meat samosas are common in Northern India and Goa, the most popular stuffing across India yet remains, potatoes, peas and onions. Other popular stuffing include Indian Cottage Cheese (Paneer), vegetables like carrots, cabbage & spinach, lentils, and cheese. Infact today's Samosa is has even adapted to fusion flavors from the across the globe. I have had Chinese Samosa, stuffed with veggies and noodles. The Mexican Samosas is stuffed with Jalapenos and cheese. Italian Samosa's come in the form of Pizza Samosa and even Macroni and Cheese Samosas. The Greek influence of Samosa can be found in the Spinach and Cheese flavors. Apparently there are also sweet Samosas for dessert, like Apple Pie Samosas and Chocolate Samosa. Not only does today's samosa made with different kinds of stuffing but is also make healthier. We bake the Samosas today than fry it. Trust me those of you who haven't tried baked Samosas, I highly recommend it. It's so much more easier and a great way to avoid unnecessary fat from frying them. The baked crust is as crispy and crunchy as a fried samosa. The Indian community has even gone further to make use of the Samosas as an ingredient. Samosa Chaat and Samosa Pav are perfect examples of how much we love consuming Samosas and can make newer dishes from our favorite snack.
The easiest ever Samosa Stuffing
Although today Samosas in India are street food and are available in large grocery stores across the globe, it is still considered a party favorite, fit for any occasion. Infact the one time of the year that Samosa preparations are at it's peak across the Indian subcontinent, is during Diwali, the festival of lights. We take pride in serving our guests with homemade Samosas. The Samosa stuffing is differently prepared in every household. The most time consuming process is cooking the boiled potatoes mixture for a couple hours on low heat.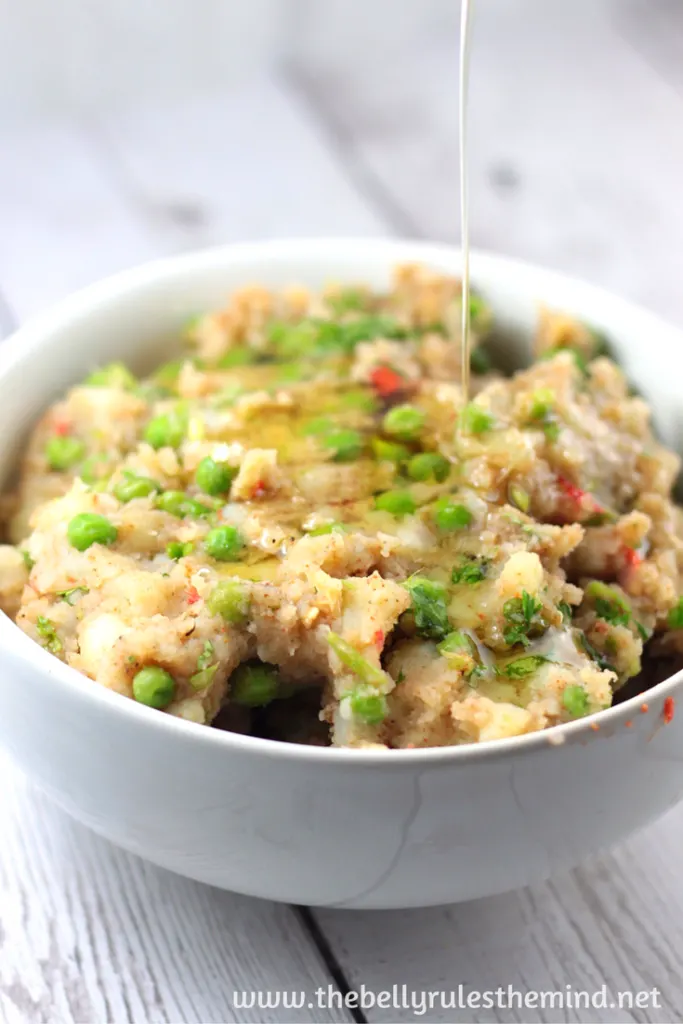 However I found an easy way out to relish the Samosa without cooking the mixture for hours together. Thanks to my sisters MIL who is visiting currently who as I have mentioned before is an awesome cook. She always has these new innovative ideas and recipes that I am a big fan of. A week ago she came home and we had our cooking marathon where she shared some of her cool recipes with me. So today I am sharing her Samosa recipe that we made. It really is the simplest ever Samosa stuffing recipe. It's literally just boiling ingredients and mixing the spices but this stuffing will offer you an ultimate tongue seduction. Enjoy them at home or while. Stay tuned to The Belly Rules The Mind as in our next post we will be sharing modern wrapping techniques.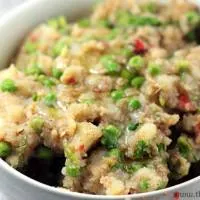 Easiest Ever Samosa Stuffing
For more healthy ideas and recipes subscribe to our email or follow us on Facebook to stay updated with all the healthy information we share. Check out our Pinterest boards for all the healthy eating inspiration you'll ever need. For an unending buffet of healthy photographed food, follow us on Instagram