Frozen Yogurt is Little A's new found love. Something he was introduced to last year in his school. Apparently a local frozen yogurt vendor often promotes themselves in their schools in an attempt to promote local business. Now this vendor also happens to be in the same complex where we go for our groceries, our favorite pizza place and also right next to the hair salon were Little A get's his haircut. So ofcourse everytime we are in the complex for some or the other errand, without fail little A points out the store to me. Sometimes I let him have his treat while most times I pass. Off late ofcourse the excuses I am giving him are not good enough so when it happened this weekend, I promised him I would make it for him at home. Now what he really likes at the Yogurt place more than the frozen yogurt are the different kinds of sprinklers he gets to choose. His favorites are the MnM's and gummies, which I totally despise. So in an effort to balance the 80/20 Rule (80% of the time healthy and the other 20% is for occasional treats and special occasions), I explained to him that once in a while we can treat ourselves but the rest of time we can make our own frozen yogurt at home. He was instantly thrilled.
So as soon as we entered home that evening, Little A reminded me of making our own frozen yogurt. A perfect cool treat for the summer made healthy. He is a lover of yogurt already, so this was easy.We used our silicon cupcakes liners to set the yogurt and made it colorful but garnishing the yogurt with fresh fruits. These are perfect homemade summer treats for the kids, which make such a healthy snack.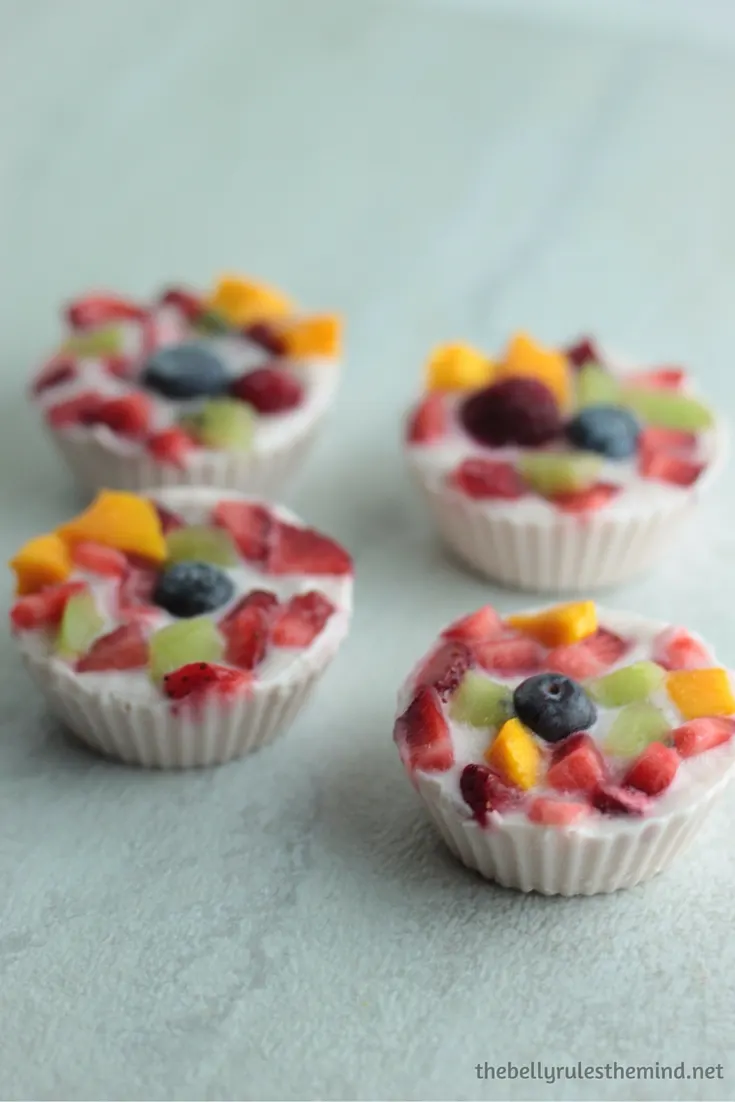 I think it's a great alternative to the store bought sugary frozen yogurts and most of the time we don't even know what extra ingredients are added. These are made with yogurt and fresh fruits, no unnecessary sugars, no artificial colors or flavorings. Although I do have a secret ingredient for the color to look like the store bought.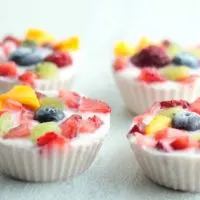 Frozen Yogurt Bites
Ingredients
Fresh fruits tidbits like strawberries, mangoes, raspberries, blueberries & kiwi.
2-3 drops of fresh beetroot juice.
Instructions
Using a cheesecloth, strain the whey from the organic yogurt for a couple hours.
For the pink color, I was peeling a beetroot and I let a few drops into the yogurt. Mix well. You don;t want to use a lot of drops or else it will have an earthy taste.
Scoop out 2 oz. of yogurt into each mold.
Garnish it with your favorite fruits.
And allow them to freeze for a couple hours.
If you know of someone who would enjoy these fruit and yogurt snacks, please share this post with them.
Products used