These delicious & perfectly individually sized Gujiya bites are stuffed with dried fruits and nuts and are naturally sweetened. Yes no sugar added and loaded with good fat. Don't worry the good fat won't make you fat, when consumed in moderation. 
Diwali, the festival of lights is less than a week away. Apparently this year Diwali is  just a day before Halloween. So apparently the great paradox is that back home in India, everybody celebrates the festival of lights while here in America, people celebrate Halloween. Ever thought about the fact that they are two sides of the same coin? They are both Fall festivals, when days tend to be shorter and  the sun sets earlier.  So while it gets dark, Halloween symbolizes darkness and on the other hand Diwali symbolizes the fact that we need more light now than summer. What do you think? Any thoughts? Would love to hear from you.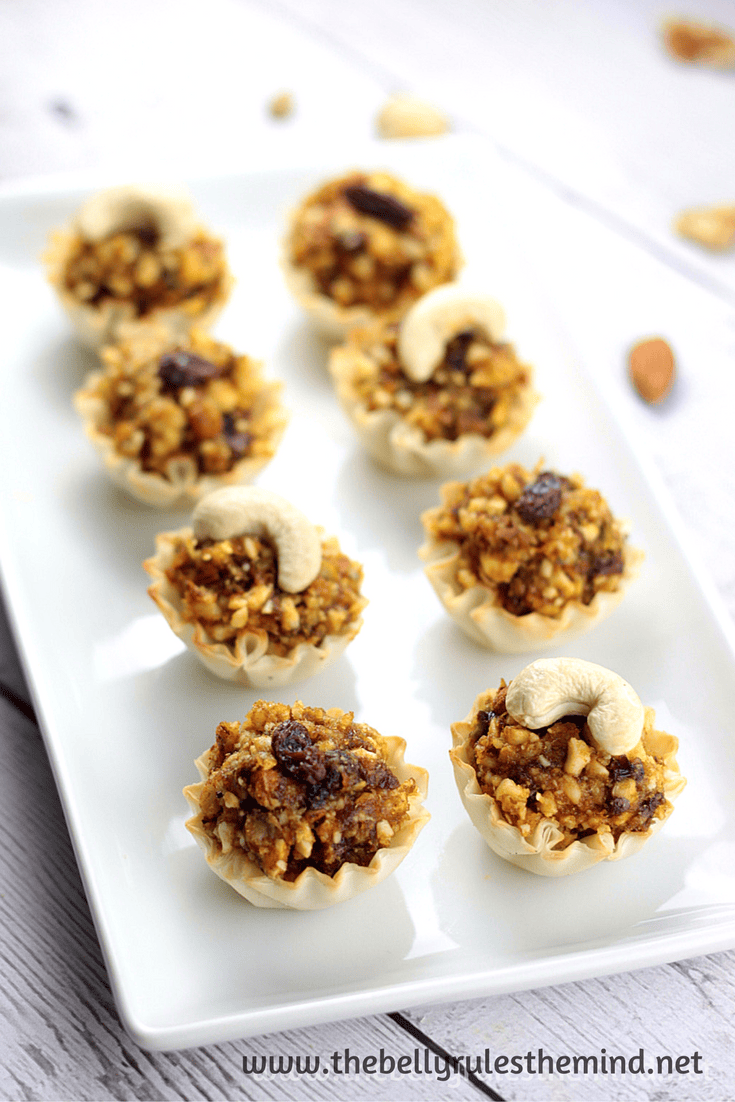 So guess what, here in the US, the Indian diaspora celebrate both Diwali and Halloween. The confusion this time of the year is wether to decorate the house for Diwali or for Halloween. So this year we decided to decorate our outdoors for Halloween while indoors our decor is for Diwali. Ofcourse we did put up our Diwali lights outdoor which luckily also go well for Halloween. So while I am making Diwali treats, I am also buying my goodies for trick-or-treat.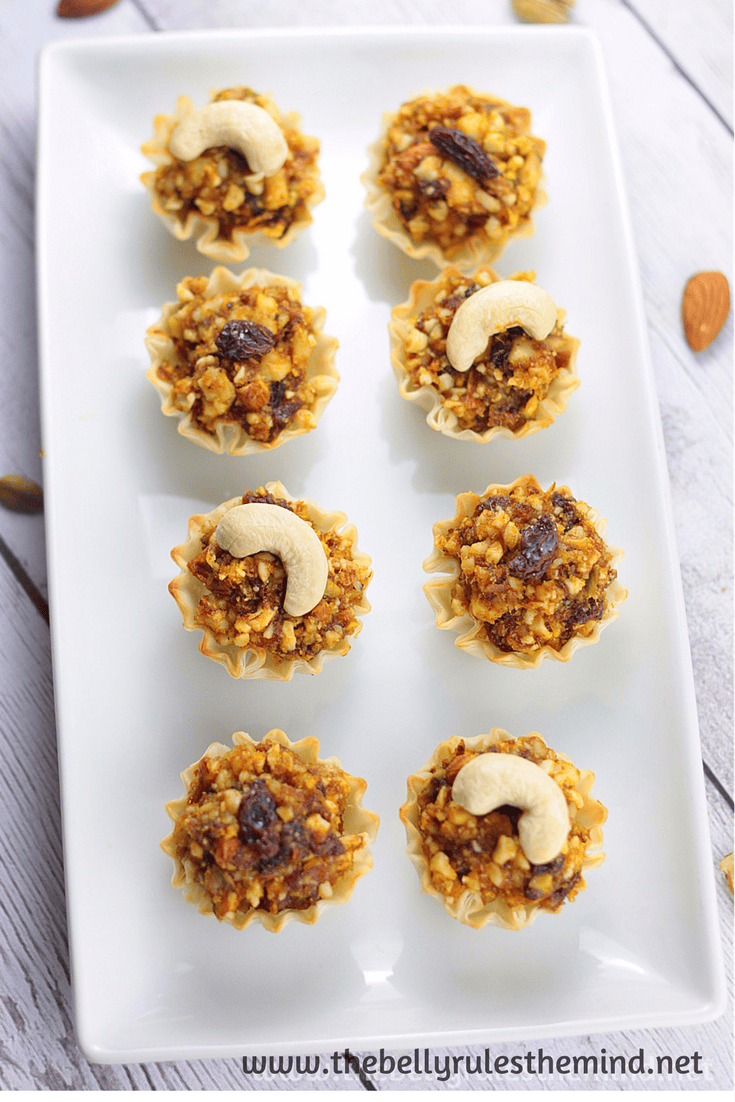 After the Samosas, it's was time to make some Gujiyas, also known as  ghughra, karanji, karachika & karjikayi. Typically it is a flaky puff with a sweet stuffing. Some make it with khoya or mava, while some make it semolina. As a kid I loved relishing khoya gujiays, as it was often made during Diwali and Holi. However, ever since I moved to the US, I often made Semolina / Sooji Gujiyas too. Making the Semolina Gujiya makes life a lot more simpler. However this year I wanted to make something different so under my sister's MIL's assistance, we made this baked, bite size  dry fruit gujiyas, that are naturally sweetened. These are perfect for portion control, not fried but baked and loaded with good fats. According to this article by Dr. Mark Hyman, eating fat doesn't make you fat. Obviously moderation counts too, so these small bites of deliciousness are a great way to keep a watch on yourself during the festive season. Super easy to make with easily available ingredients at home and barely takes any time.  Infact I know for a fact that almost every household celebrating Diwali is loaded with these ingredients during this time of the year. Although in the past I have made a Healthy Fudge Cake using a similar ingredients, I have to admit that the flavors in this mixture are much richer and intense.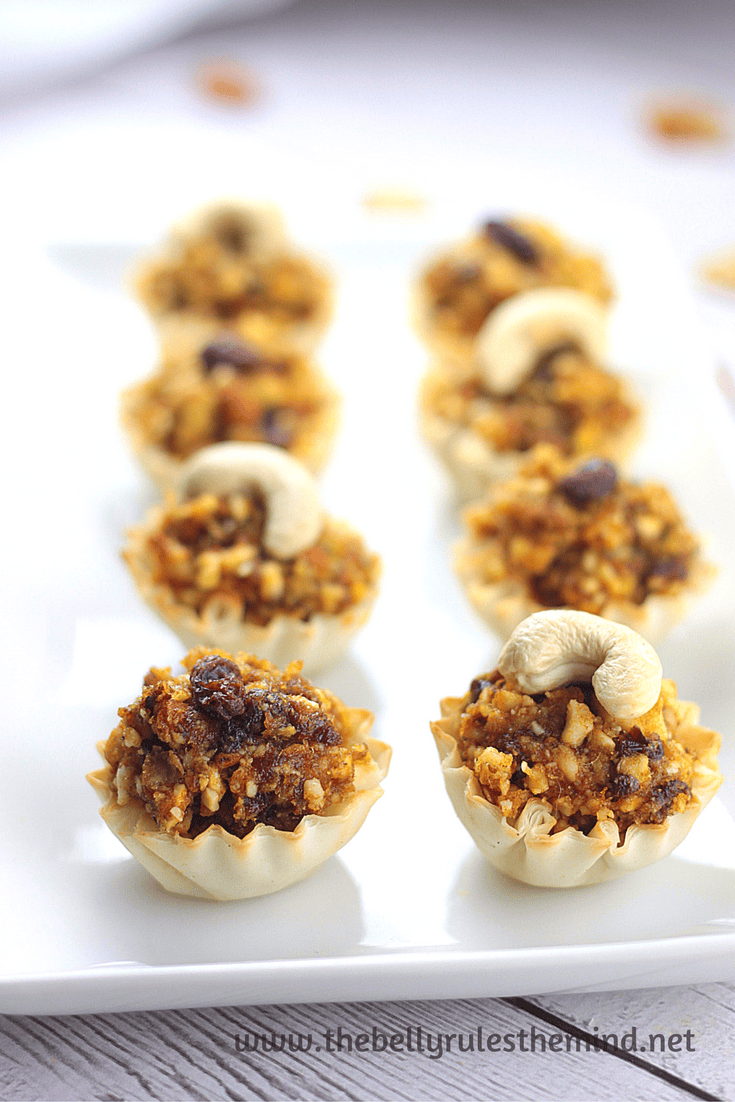 So do you have a favorite recipe using dried fruits & nuts? I love using these healthy ingredients. Apart from the 10 minute Healthy Fudge Cake ,I have made No Cook Date & Nut Snack Balls, Modaks, Loaf Cake  and trust me we still don't get bored of these ingredients. Check out the recipe below and if you like it, don't forget to share with someone you love :)
For more healthy ideas and recipes subscribe to our email or follow us on Facebook to stay updated with all the healthy information  we share. Check out our Pinterest boards for all the healthy eating inspiration you'll ever need. For an unending buffet of healthy photographed food, follow us on Instagram
Ingredients
Instructions
In a small bowl soak the saffron strands in luke warm milk.
Deseed the dates. I used very soft Mejdool dates
], however if the dates
are not soft and moist, soak them in milk for about 20-10 minutes and then use them. Deconstruct the soften dates.
Add the almonds, cashews, pistachios & walnuts in a mixer and pulse them.
Remove the crushed mixture in a mixing bowl and add the dates, nutmeg powder , cardamom powder & saffron milk.
Mix well.
Bake the mini fillo shells as per the instructions on the package.
Scoop out a teaspoon of the mixture into each fillo shell and garnish with a raisin or a nut of your choice.
The bite size Gujiyas are ready to be served.
If you have extra mixture remaining,your can store it in an airtight container in a refrigerator for about 2 weeks.
https://thebellyrulesthemind.net/gujiya-bites/