Indian style Pumpkin / Kaddu recipe bursting of sweet & tangy flavors. Mildly hot and easy to prepare, this is sure to leave you lip smacking.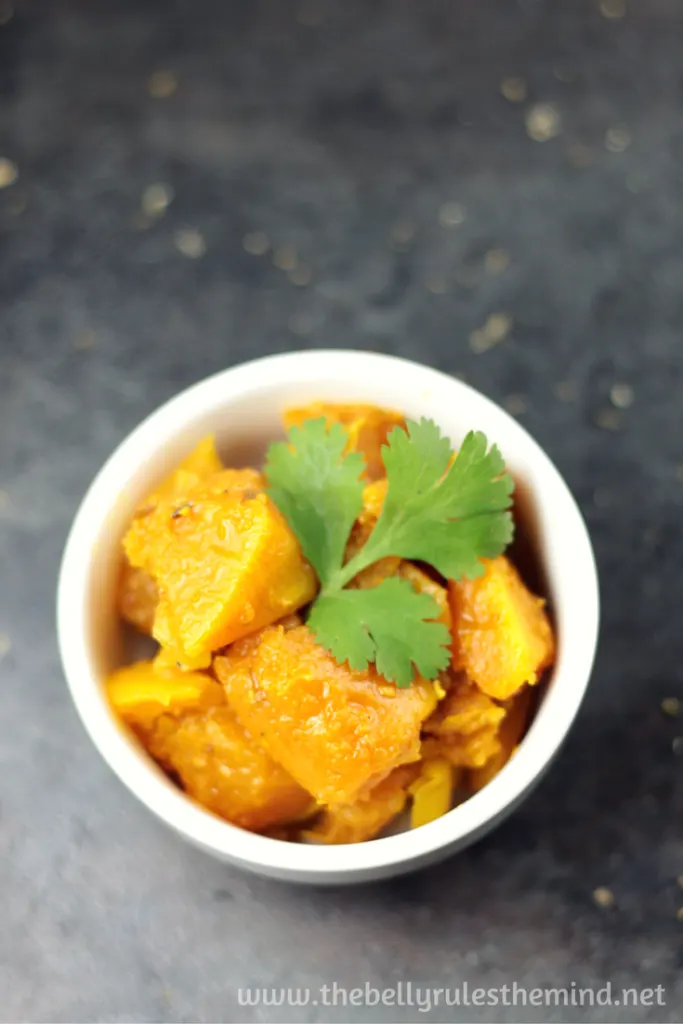 It's officially fall. It's cold outside, the leaves around the tress have started falling, the laundered jackets and coats are back in the coat closet. Most important of all, I see is pumpkins everywhere. That means it's time to enjoy my favorite Kaddu is sabzi. In India, Pumpkin is commonly known as Kaddu. The coffee shop is serving pumpkin spice latte, the grocery store is overstocked with pumpkins and fall flowers. The home decor store has all the fall merchandise related to pumpkin candles, accents, bedding, bath and body accessories. Trust me it's pumpkin everywhere. So in the spirit of celebrating and eating seasonal fruits and veggies (5 Reasons Why You Should Buy Seasonal and Eat Local), I wanted to share my favorite Pumpkin recipe.
This pumpkin recipe brings back precious memories of celebrations back home. It is an quintessential part of every Kayastha celebration. A community known for its delectable food habits with distinct Muslim flavors. Traditionally it is served along with another Kayastha stapel Bedmi Aloo (curried potatoes) and Puris (fried flatbreads). The whole meal it itself is very rich in calories because of the potatoes and and puris. However pumpkin itself is a very low caloric fruit and is loaded with dietary fiber. Infact is very low on saturated fas and cholesterol. Overall it's a good source of Vitamin A, Vitamin C, Vitamin E, Riboflavin, Potassium, Copper and Manganese.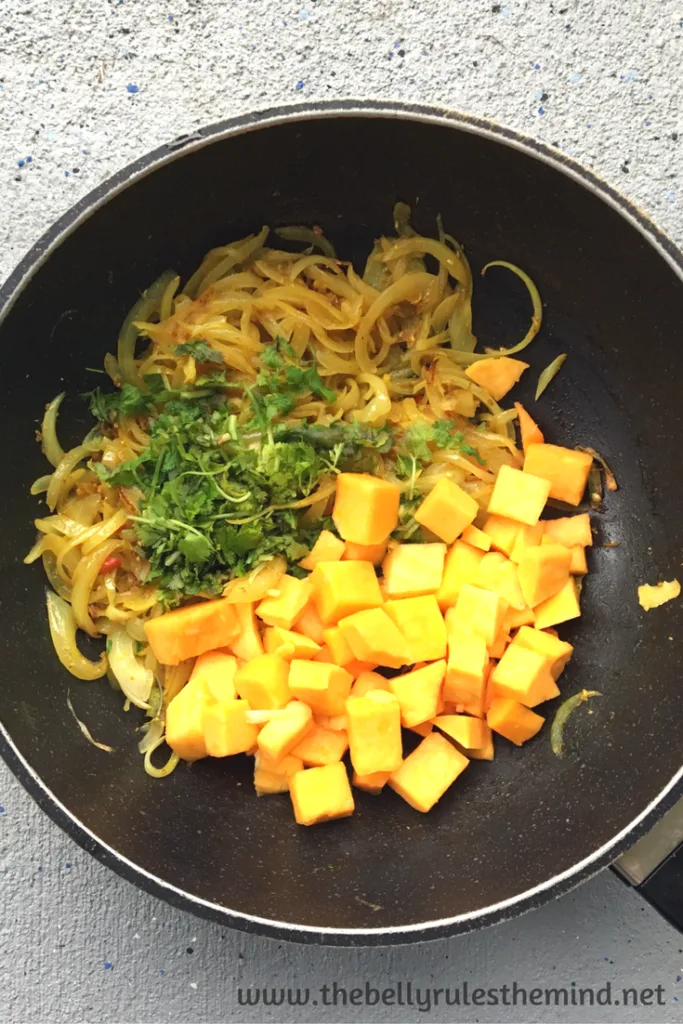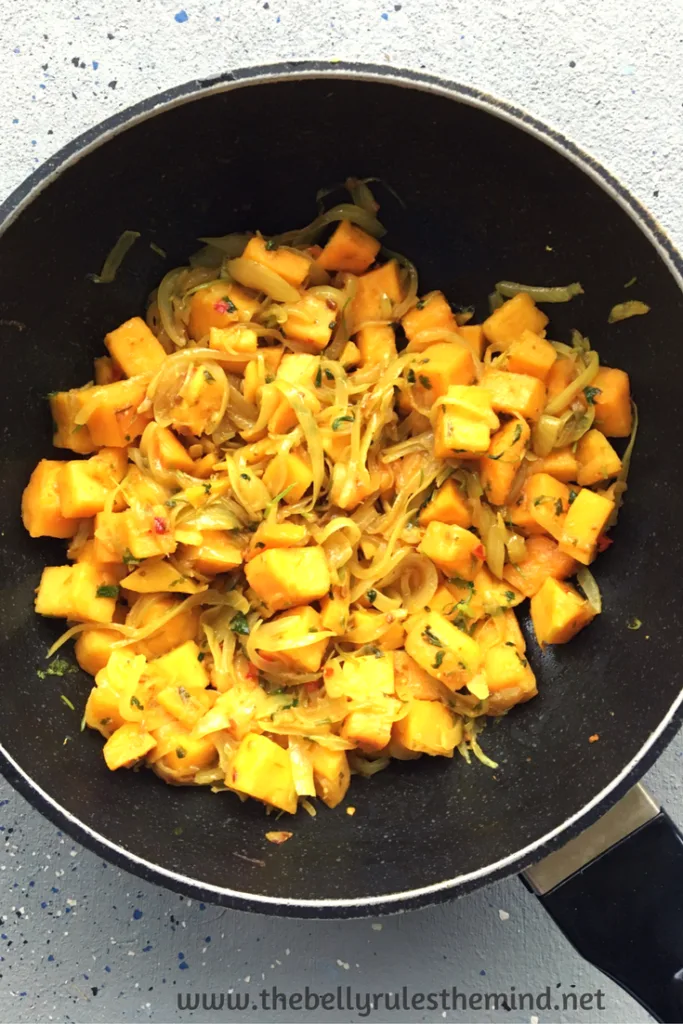 What I love about this recipe are the flavors. It's mildly hot, sweet and tangy. At the same time the Indian spices definitely add that zing to this recipe. It's texture can be customized to taste. I enjoy the chunks of pumpkin however my 4 year old likes the Kaddu all mushed up. Although traditionally it is made with onions, I sometimes skip the onions for family and friends who are fasting and it is still delectable. I have made several variations of this recipe using sugar pumpkins, acorn squash, and butternut squash and they all taste equally good. I even enjoy a pressure cooked curried version of this recipe. It's a very easy preparation and doesn't require any fancy ingredients.
Do you have a favorite fall recipe? Does it involve pumpkins or winter squashes? If you know of someone who might like this recipe, please spread the love and share it with them.
For more healthy ideas and recipes subscribe to our email or follow us on Facebook to stay updated with all the healthy information we share. Check out our Pinterest boards for all the healthy eating inspiration you'll ever need. For an unending buffet of healthy photographed food, follow us on Instagram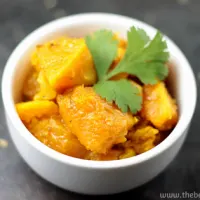 Kaddu Ki Sabzi / Indian Style Pumpkin
Ingredients
If fasting
skip the onions and use rock salt instead
Instructions
Wash and peel and chop the pumpkins into cubes
Heat oil in a wok. Add asafoetida, fenugreek seeds, cumin seeds and red chillies it you like it hot.
Add onions and saute for on medium heat until translucent.
Add pumpkin cubes, turmeric powder, cilantro leaves or coriander powder & salt & sugar. Mix well, cover the wok & cook on medium heat. If the pumpkin starts sticking to the pan, add the little water and keep stirring gently. If you stir too much it will result in a mushy texture. One the pumpkin cubes are soft and tender, add garam masala powder and dry mango powder.
Mix well, garnish with cilantro and serve it with either a curry or Roti (Flatbread)