Good day folks, hope it's been a good day for you all so far. It's been an exciting week for us so far. Our second post '10 Ideas to Engage Toddlers in the Kitchen' was published on Huffington Post Blog. You can check it out here. Small accomplishments that make us happy. Some of you were asking how it works, I will share a separate post on that. For now I submit a blog post on Huffington Post Blog and they get back to me after they have reviewed it, letting me know if they are going to publish it or not. Apparently, not all posts are accepted. Lucky for us that both the posts we have submitted so far have been published. The earlier one is 'What Is in Your Juice & Is It Really Worth It?' If you haven't checked these posts already, check them out and drop in your comments and let us know what do you think about it.
Anyways getting back to our recipe today, I love the Middle Eastern salad, Tabbouleh. It is also consumed as a main-dish salad for summer meals. Well it's spring and the temperatures in NC are already soaring up to 80 's F. So meals are lighter and cooler and what better than consuming seasonal produce. That's how I landed up making Tabbouleh yesterday. I often visit this local deli, on Chapel Hill called Mediterranean Deli to relish their Tabbouleh. However we haven't been there in a while so I thought of making my own. Typically, all Tabbouleh is made up of the same ingredients, however the proportions used can alter the taste. It is inherently a super simple dish, literally tossing ingredients together. It is super healthy too as it is a grain and vegetable based salad. The flavor is what I enjoy the most, the lovely balance of salty, sour, bitter and sweet adds great depth of flavor.
If you liked this recipe share with your friends and family and spread some food love :). For more of our salad recipes click here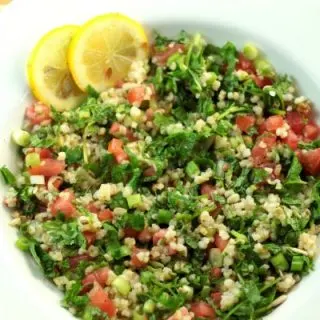 Tabbouleh Salad
Ingredients
1 cup bulgar. You could even use brown rice. If you want to make if gluten free you can use quinoa.
1/4 cup flat leaf parsley, chopped
1/4 cup mint, chopped
1/4 cup cilantro, chopped
1/4 cup green onions, chopped
1/4 cup tomatoes, chopped
1 teaspoon cumin powder
1/2 teaspoon crushed black pepper
1 tablespoon melon seeds (optional)
Salt to taste
Lemon juice to taste
1 tablespoon olive oil
Instructions
Rinse the bulgar and cook it in a large pan of boiling salter water as per the packet instructions. Rinse and allow it to cool..
In a large mixing bowl, toss in all the ingredients and mix well.
Refrigerate it. Serve it cold.