These Tofu Tikkas are a healthier alternative to the traditional Indian Paneer Tikka. They are not only just healthy and easy to make but the bomb of flavors will leave you wanting more. It's as simple as preparing the marinating the tofu and veggies and grilling them. Gluten Free, can be made vegan too.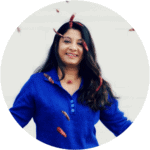 So the weather is finally getting warmer now. Infact we have been averaging about 85 degrees F this week. So everytime I am driving back home and parking the car in the garage, I can tell people in my neighborhood are grilling from the smell from their BBQ's. So the other night I finally made some Tofu Tikka. I haven't come across a single person who has tried either the Tikkas on skewers or curry and hasn't fallen in love with them. No wonders it is such a popular dish around the globe. What I love about Tikka is the fresh, tender, moist & spiced chunks of Indian Cottage Cheese and veggies  marinated and then grilled. These can be enjoyed as an appetizer but Dr.Mystery and I like to have it for dinner sometimes.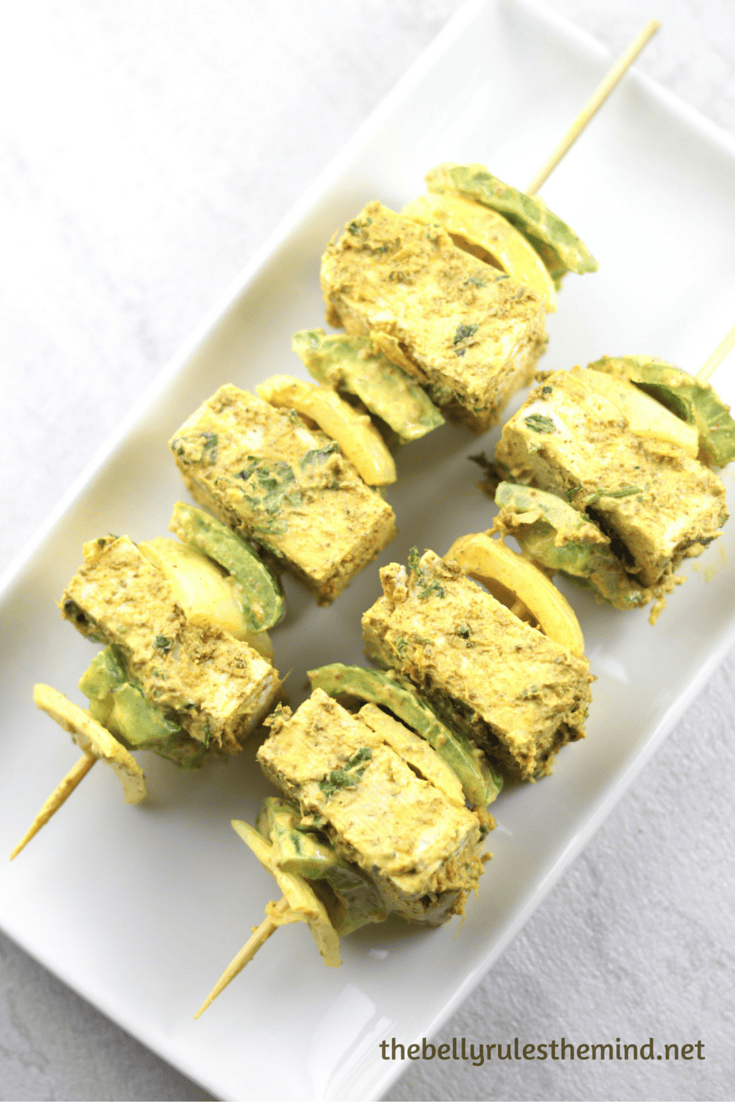 The marinade is everything in this dish. If you can get the marinade right, your good. What's great about this gourmet dish is that it is super easy to make. It's 'literally just tossing a few ingredients together' my favorite line isn't it? You know by know that I like to keep my cooking simple and easy. The marinade mixture is a bomb of flavors. Once the marinade is ready, you can toss in veggies, tofu, paneer (indian cottage cheese) or meat.  As I write this post, my mouth is still watering and I am wondering in the back of my mind if I can quickly make some Paneer or have some Tofu for some Tikka tonight.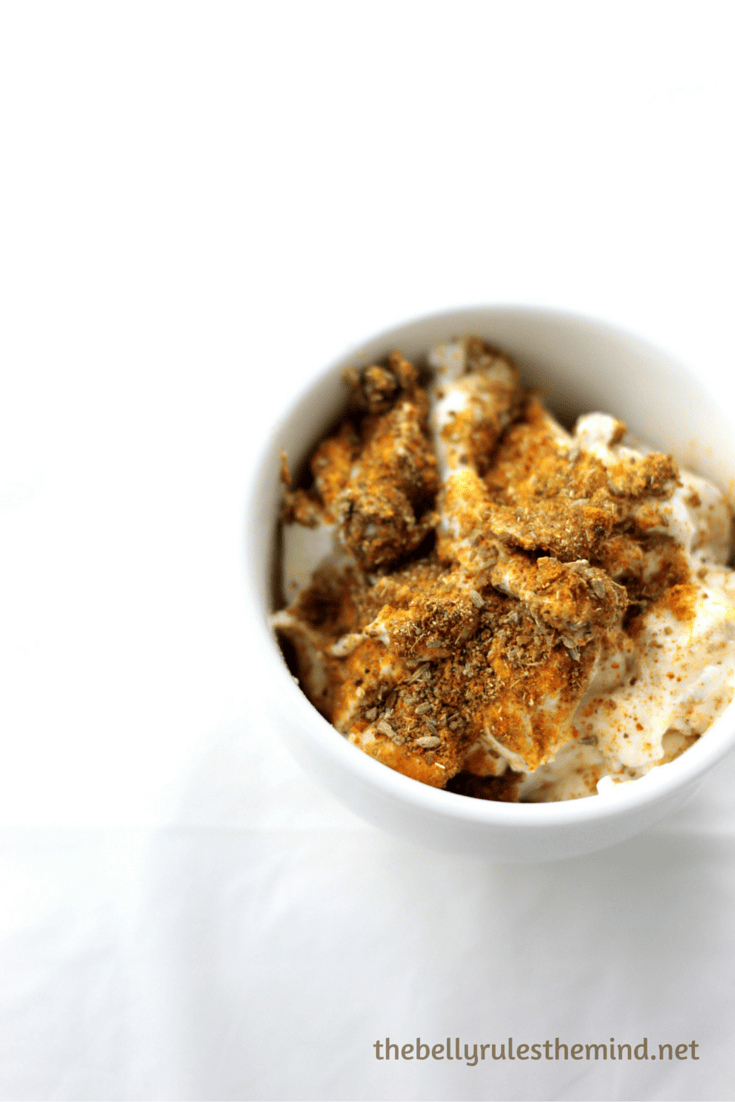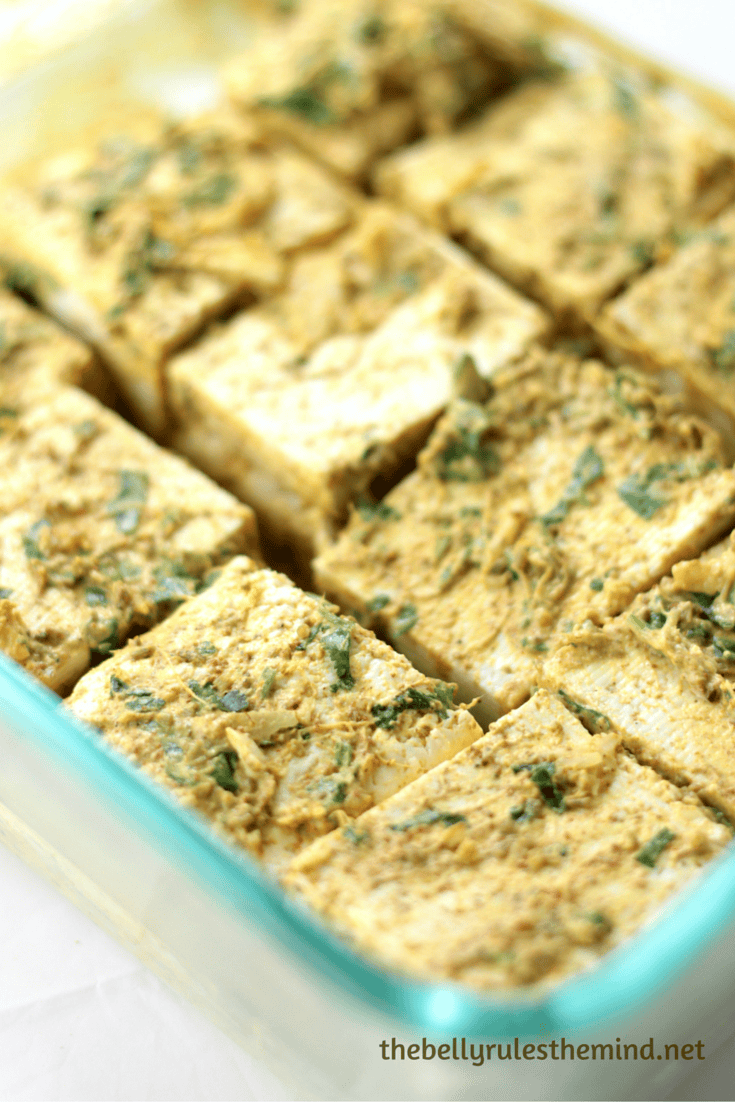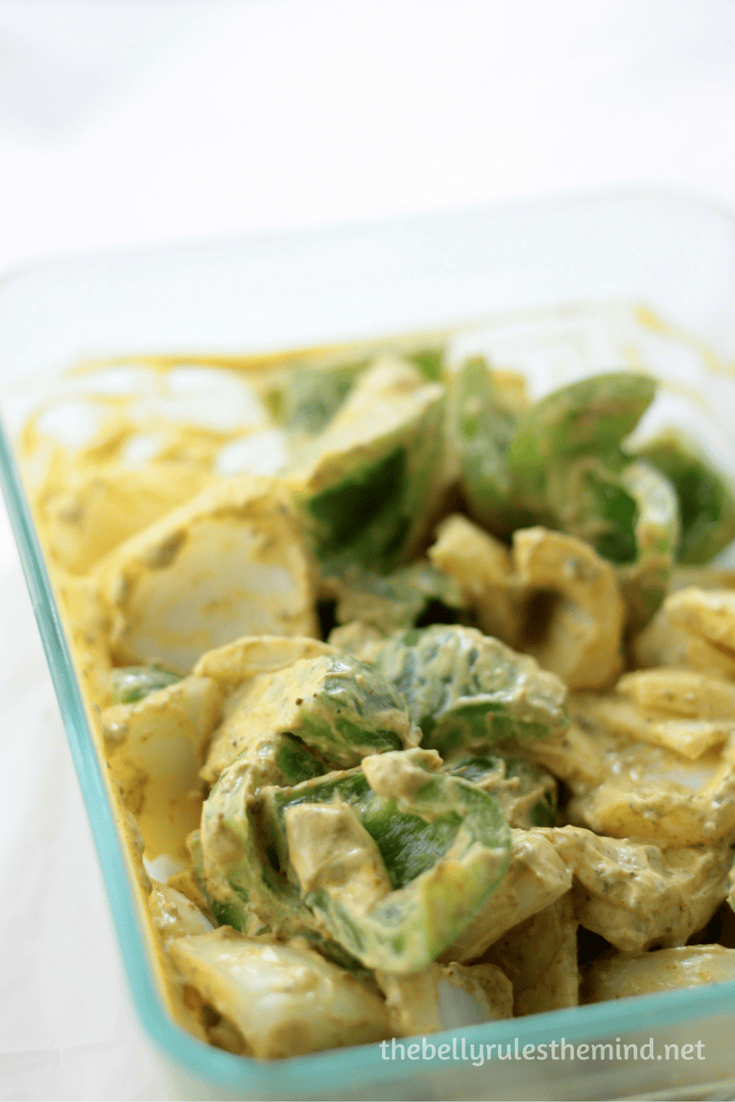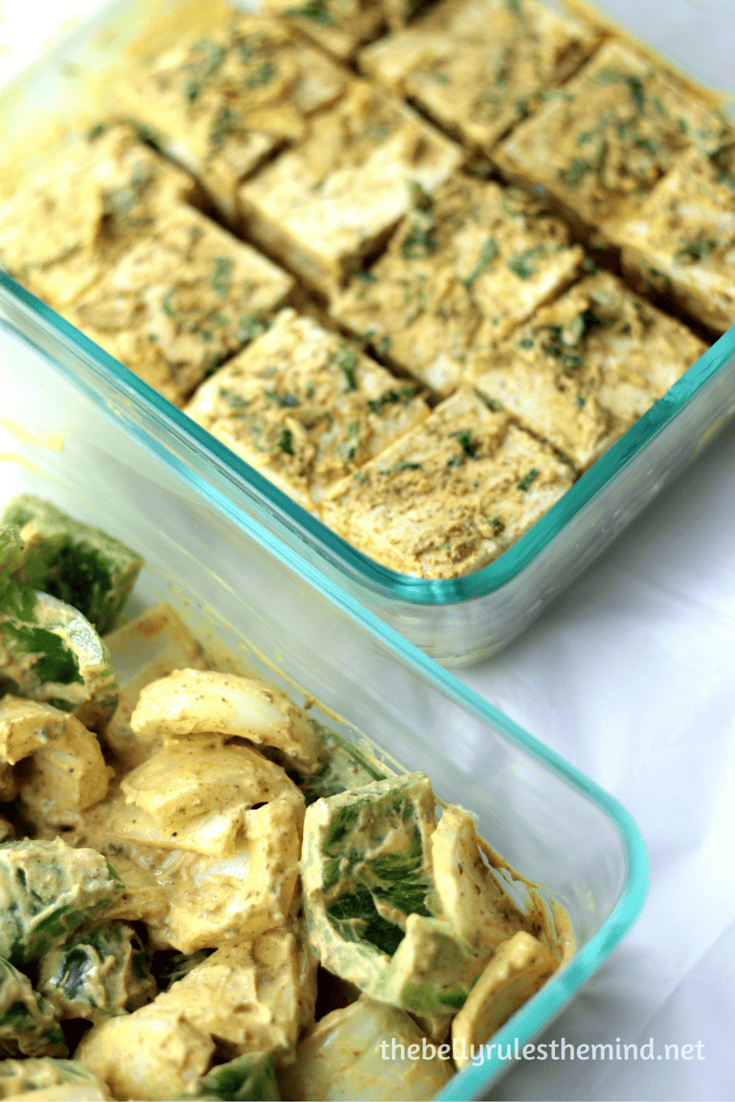 I like to marinate my veggies and protein in two different dishes. That ways I make sure I don't break the tender pieces of Paneer or Tofu and they are evenly coated. Grilling a combination of veggies and protein using this marinade is so healthy and flavorful.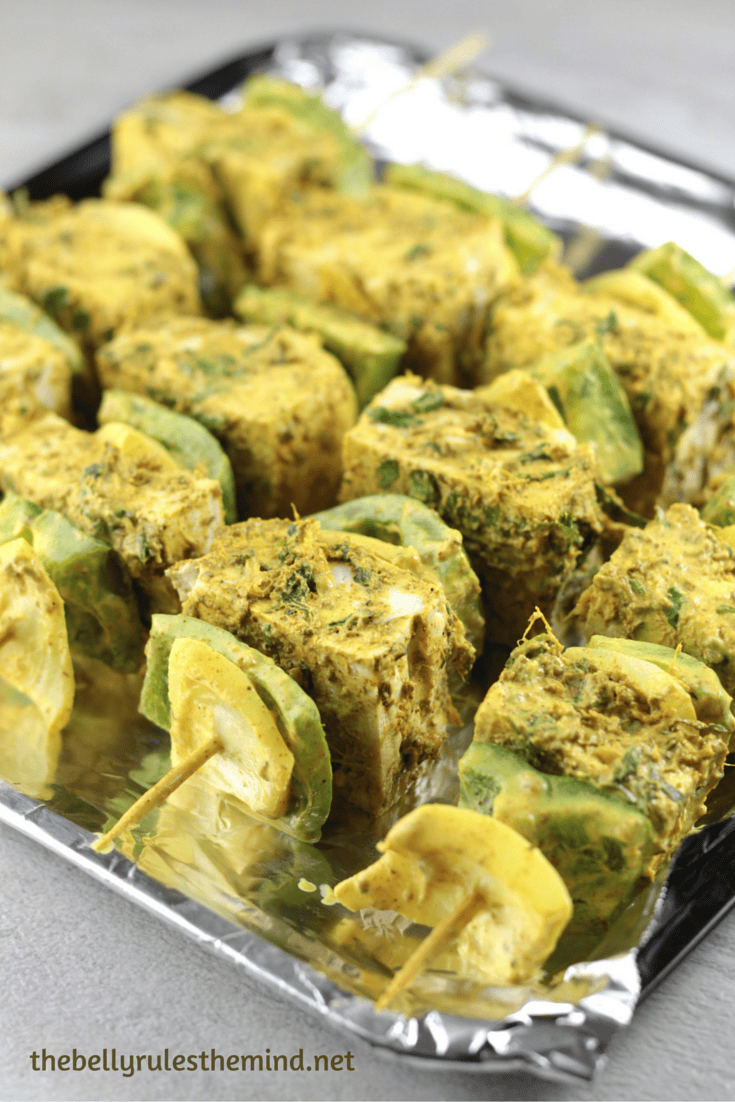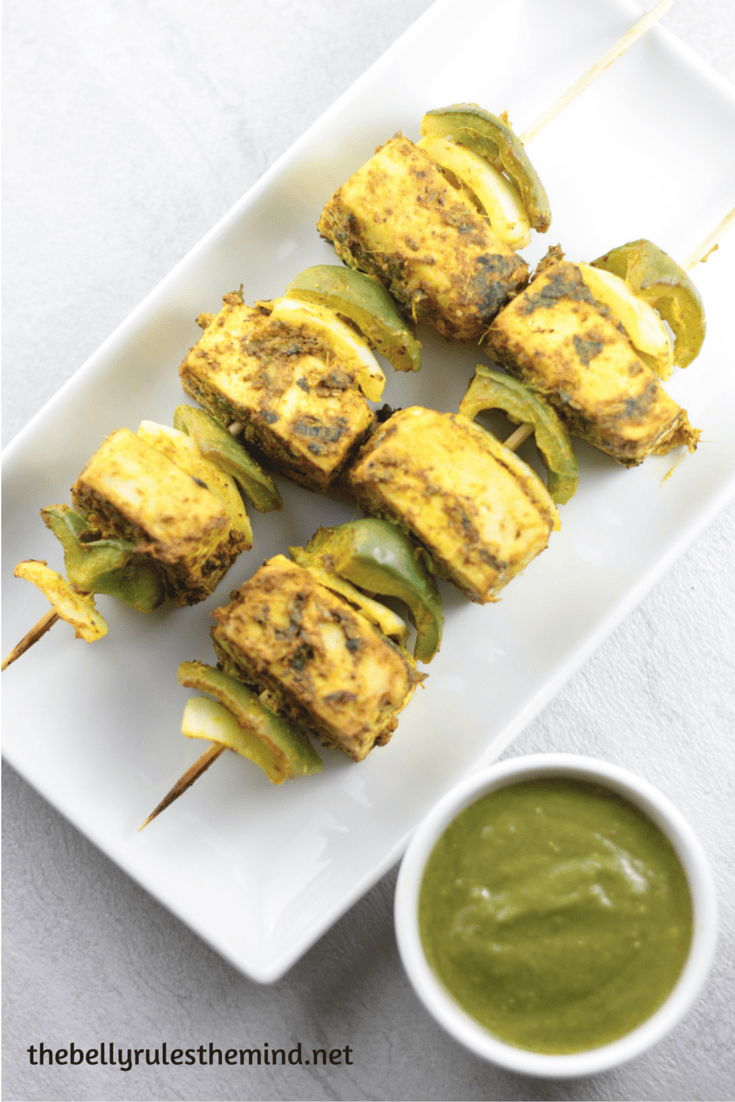 These are great when served with our Green Chutney. These will leave you wanting more.
For more healthy ideas and recipes subscribe to our email or follow us on Facebook to stay updated with all the healthy information  we share. Check out our Pinterest boards for all the healthy eating inspiration you'll ever need. For an unending buffet of healthy photographed food, follow us on Instagram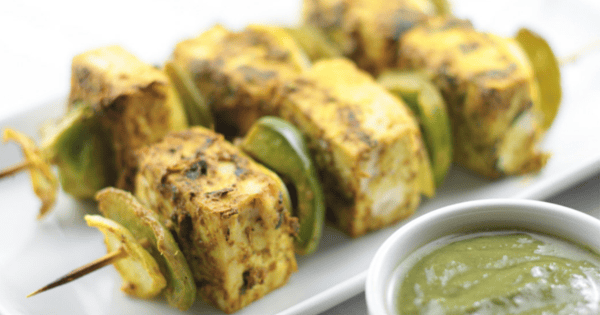 Ingredients
12 Oz Organic Extra Firm Tofu of Paneer cut into half inch cubes
2 Bell Peppers cut into half inch cubes
1 Onion cut into half inch cubes
6 tsp. of Hung Curd / Hung Yogurt / Greek Yogurt
2 tbsp. of Mustard Oil
3 to 4 Garlic cloves, crushed
1 tsp. Grated ginger
2 tsp. Cumin powder
2 tsp. Coriander powder
1 tsp. Turmeric powder
1 tsp. Chaat Masala
Paprika / Red Chili Powder to taste
Salt to taste
1 tbsp [Tikka Masala Powder|http://amzn.to/1PnDAjE} (optional). If you don't have any of the above spices, you can just buy a bottle of dry Tikka Masala at the Indian grocery store or on amazon. If you use this powder your tokkas will look more reddish than yellowish from the paprika in it.
Vegan option replace the yogurt with lemon juice
Instructions
For the Marinade
Strain the whey from the yogurt. For regular yogurt it could take a couple hours while for greek yogurt it could take 30 minutes.
In a mixing bowl add oil, yogurt, ginger, garlic, cumin powder, turmeric, red chilly powder, chaat masala, tandoori masala and salt. mix well. At this point taste the marinade and make it to your taste.
Now cut your vegetable and tofu chunks into half inch cubes. In separate bowls dishes coat them with the marinate and keep them aside for atleast 2 hours in the refrigerator.
Soak the wooden skewers in water fr 30 minutes.
Arrange the chunks alternately and preheat oven to 400 degrees F. Cook them for about 8-10 minutes. You could even cook them on stove stop or grill them or cook them in a tandoor.
Serve it with hot with our Green Chutney.
https://thebellyrulesthemind.net/tofu-tikka/
Products Used