Turmeric Golden Milk / Turmeric Latte is the perfect winter drink to heal your body, boost your immunity and enjoy the health benefits of Turmeric. It's ready in just 5 minutes and can be enjoyed warm or cold, in the morning or bedtime. Vegan. Gluten-Free.
[avatar user="Anvita" size="thumbnail" align="right" link="https://thebellyrulesthemind.net/about-us/" target="_blank"]Anvita[/avatar]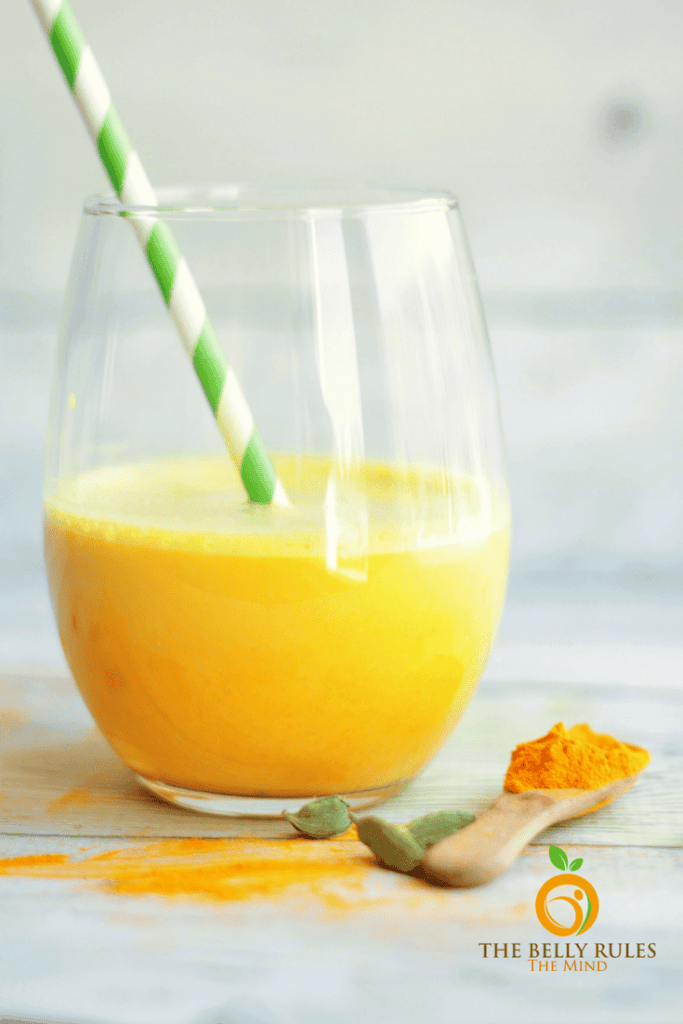 Turmeric Golden Milk / Turmeric Latte
If you haven't already tried Golden Milk yet, trust me it's a must try winter beverage. This is a perfect drink to sip on, especially this time of the year when it's exceptionally cold with minus temperatures outside. Flavored with spices and Turmeric it's a great way to enjoy some health benefits of Turmeric. Turmeric also known as Haldi in India is known to be an Ayurvedic super food.
Back home in India it's an home remedy for
Cold and cough
Anti-Inflammatory effects
Antiseptic effects
Boost Immunity
I have fond memories of my mom and dad making this drink for me, when I came down with cold when I was a kid. I was never fond of drinking white milk, so they always flavored it for me with turmeric and cardamom. Back then I never really valued it's benefits, until the time I became a parent. After I had Little A, I consumed this again because of it's anti-inflammatory effects which heals post partum surgery recovery. Now I often give this Turmeric Milk to Little A in the winters.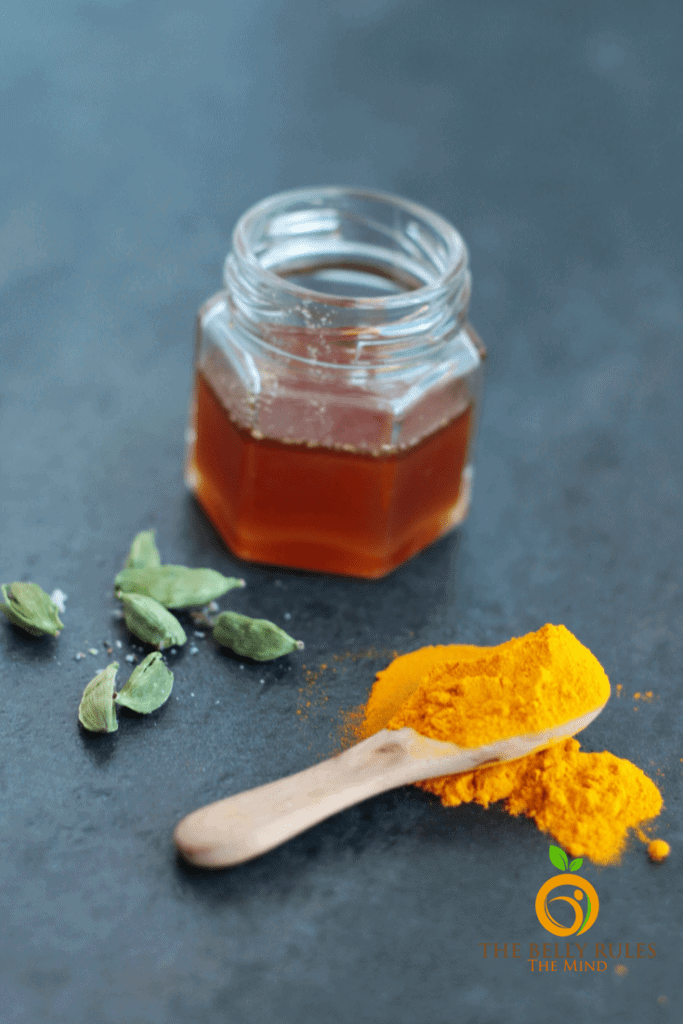 Benefits or Turmeric Golden Milk
Apart from boosting immunity, there are a whole lot of reasons to incorporate this milk into your lifestyle.
Turmeric contains curcumin, an antioxidant known for it's anti-inflamatory and antiseptic properties. So the next time someone in your family has a fall and is wounded or is recovering from a internal wound, drinking the Turmeric Latte will promote faster healing.
According to this research paper Curcumin, has been studied for its active role in the treatment of various central nervous system. Consumption of Turmeric increased the levels of serotonin and dopamine, chemicals responsible to make us feel good & relax the body). Thus it is used as a natural remedy for Insomnia, Depression & Anxiety. No wonders the old age tradition in India, of drinking Haldi Doodh / Turmeric Milk is getting very popular in the West too. Some people prefer Turmeric Curcumin supplements instead of adding it to their diet.
Curcumin, the active ingredient in Turmeric acts as a natural painkiller by blocking the pain receptors. Thus healing internal inflammations and common headaches from cold, flu & congestion.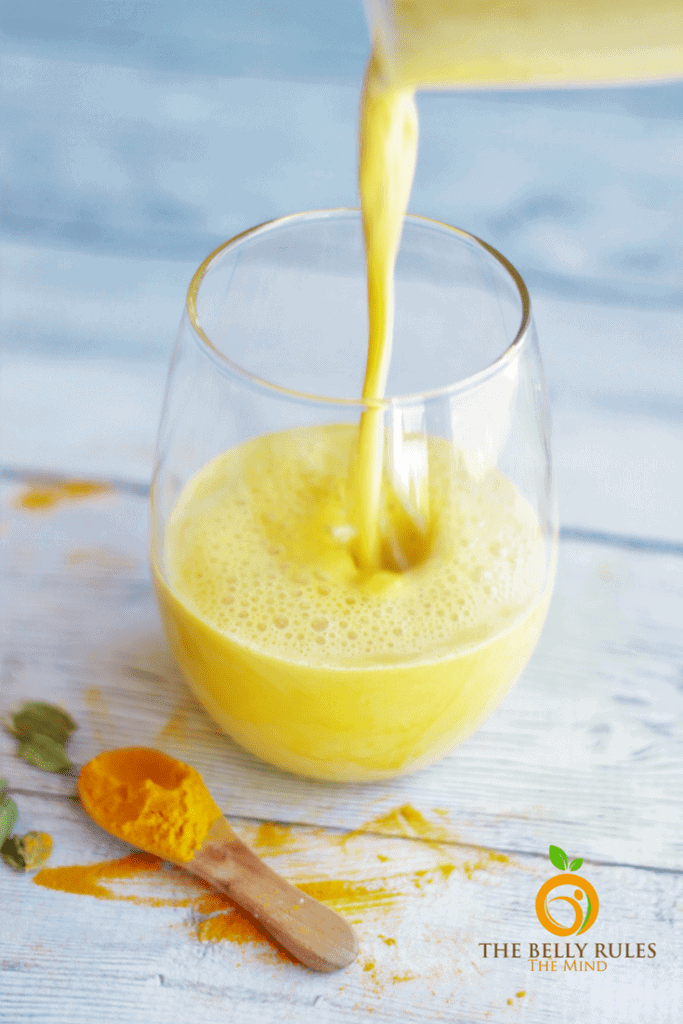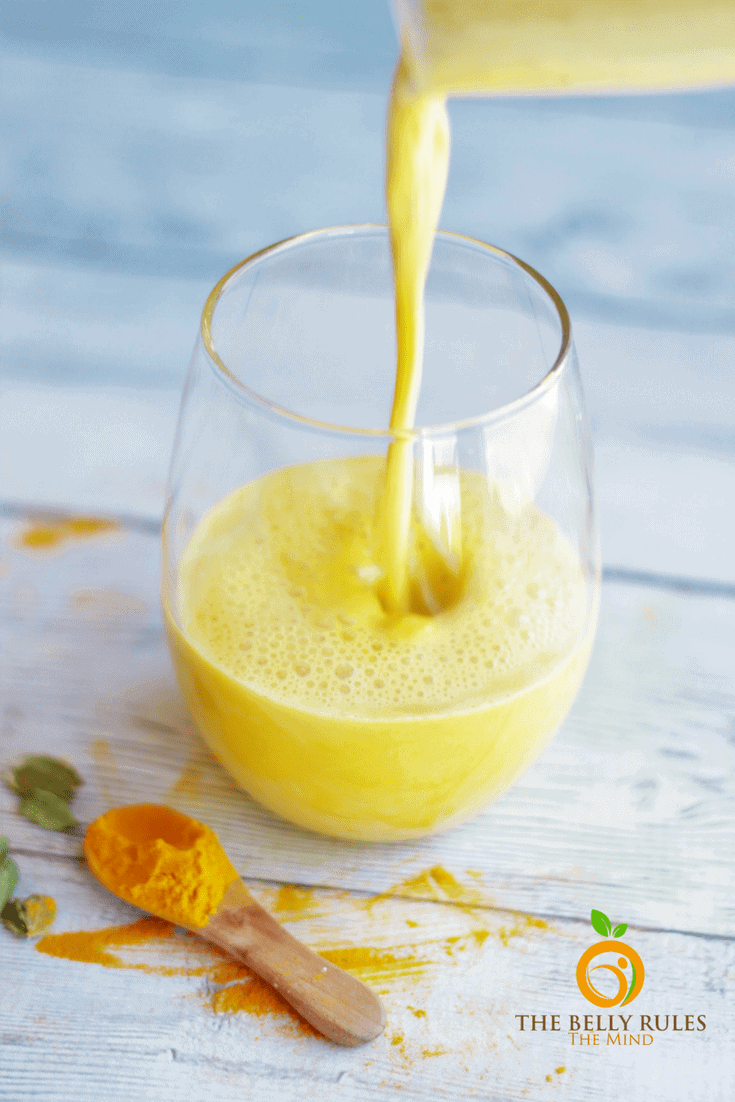 Ingredients Matter
I have realized over the years that ingredients matter. When you want to heal your body, make sure you are using good quality products. Instead of using any Turmeric, I source it from my friends at BanyanTree Foods, who are importers of pure and fresh dry spices directly from their spice plantations in India. This enables me to get superior quality products in a "farm to table" type manner.
What I love about their products most is that the zero to minimal warehousing time enables spices to remain fresh and retain their fragrance and taste for a long time. Ofcourse the products undergo strict quality checks to eliminate the possibility of contamination. These spices have earned their reputation amongst Michelin star restaurants in The United Kingdom and are attracting great positive feedback from the folks who have sampled them here in the U.S.
I am loving their spices as I try them. For now, I made this Turmeric Latte using their Turmeric and Cardamoms and trust me I could tell from the aroma that spices are fresh and superior quality.
Although Soniya and myself use Turmeric in a lot of our daily cooking, however there are some recipes where we have generously used Turmeric like this Turmeric Ginger Elixir & this Barley Soup.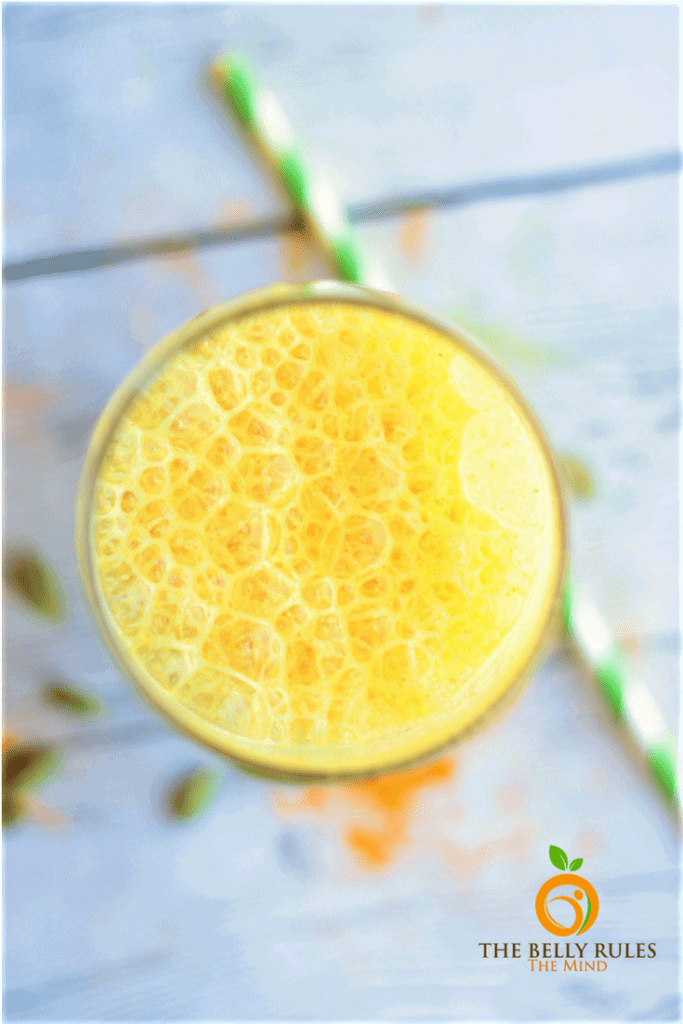 How to make Turmeric Golden Milk?
It's super easy to make this Turmeric Golden Milk. You can enjoy it warm or cold depending on the time of the year. You can make it in a blender or a shaker. All you need to do is add turmeric, milk of your choice, a natural sweetener & some cardamom seeds. You can also add some optional ingredients like cinnamon, black pepper and nutmeg. However for starters, the cardamom is a very pleasant and mild flavor.
Turmeric Golden Milk Recipe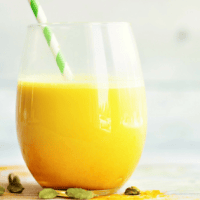 Turmeric Golden Milk / Turmeric Latte / Haldi Doodh
Turmeric Golden Milk / Turmeric Latte is the perfect winter drink to heal your body, boost your immunity and enjoy the health benefits of Turmeric. It's ready in just 5 minutes and can be enjoyed warm or cold, in the morning or bedtime. Vegan. Gluten-Free.
Ingredients
1 cup almond milk, or milk of your choice
1/4 teaspoon turmeric powder
1 tablespoon maple syrup or a natural sweetener of your choice
1/8 teaspoon cardamom seeds, coarsely powdered
Instructions
Add turmeric, choice of milk, natural sweetenerand powdered cardamom seeds either into a latte shaker or a blender.
Shake or blend until the ingredients have completely blended.
Pour it into a glass or a mug and enjoy the drink as you heal your body.
If you like it warm, heat the milk until luke warm.
Recommended Products
As an Amazon Associate and member of other affiliate programs, I earn from qualifying purchases.
If you like this post, do share this post with your friends and family and inspire them to use natural ways to heal the body.
For more healthy ideas and recipes, and to stay updated with all the healthy information we share, follow us on Facebook. Check out our Pinterest boards for all the healthy eating inspiration you'll ever need. For an unending buffet of healthy photographed food, follow us on Instagram. For two random healthy recipes of the day, follow us on Twitter