Cool down with this no-cook, 2 Ingredients homemade go-gurts / yogurt Pops made with homemade Yogurt and real fruits and no added sugar! The most indulgent healthy yogurt pops made in just minutes and only 2 Ingredients! They are perfect snacks to cool down as summer fast approaches. They're also healthy enough to eat for breakfast!
Hello, again The Belly Rules The Mind Readers! Today I am sharing one of my kiddos favorite summer treats for you all. I remember as a kid my mom would make me frozen yogurt pops. They were one of my favorite and still is. Super easy to make and the perfect way to cool down. I grew up eating these popsicles all through my childhood. Dairy is a huge part of an Indian diet, and yogurt is a staple in almost every family. We used to mix yogurt with wild berries, or mom's homemade jam, to add flavor and freeze them overnight. Now, we didn't have all these fancy popsicle molds, tubes back then so mom used to freeze them in ice mold trays.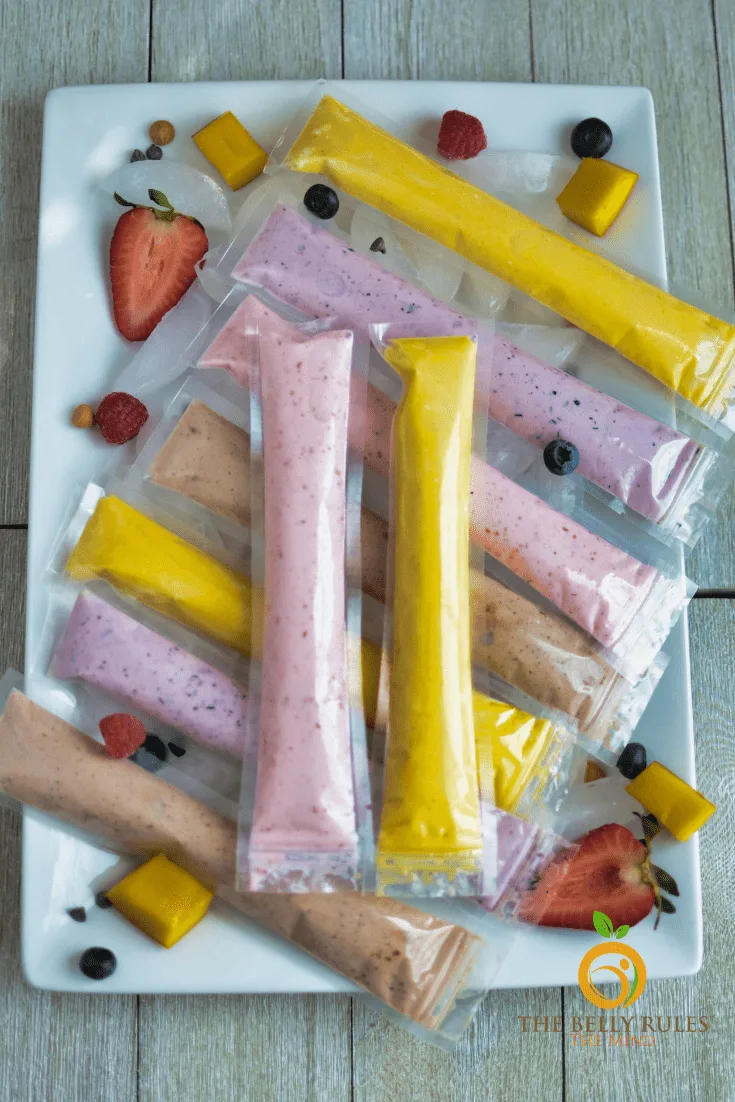 Homemade Go-Gurts are an amazing summer Snack for the kids
I am super excited as summer is fast approaching and summer break + summer camps. My dilemma during summers is how to give my two boys R2 (12) & R3 (7), who are in a growth spurt and are hungry all the time, healthy snacks. At the same time, I need to stay within our monthly budget and thus a call for more homemade snacks and treats. Seriously trying to find healthy, inexpensive, FILLING snacks is nearly impossible. But we have no choice but to try ..RIGHT?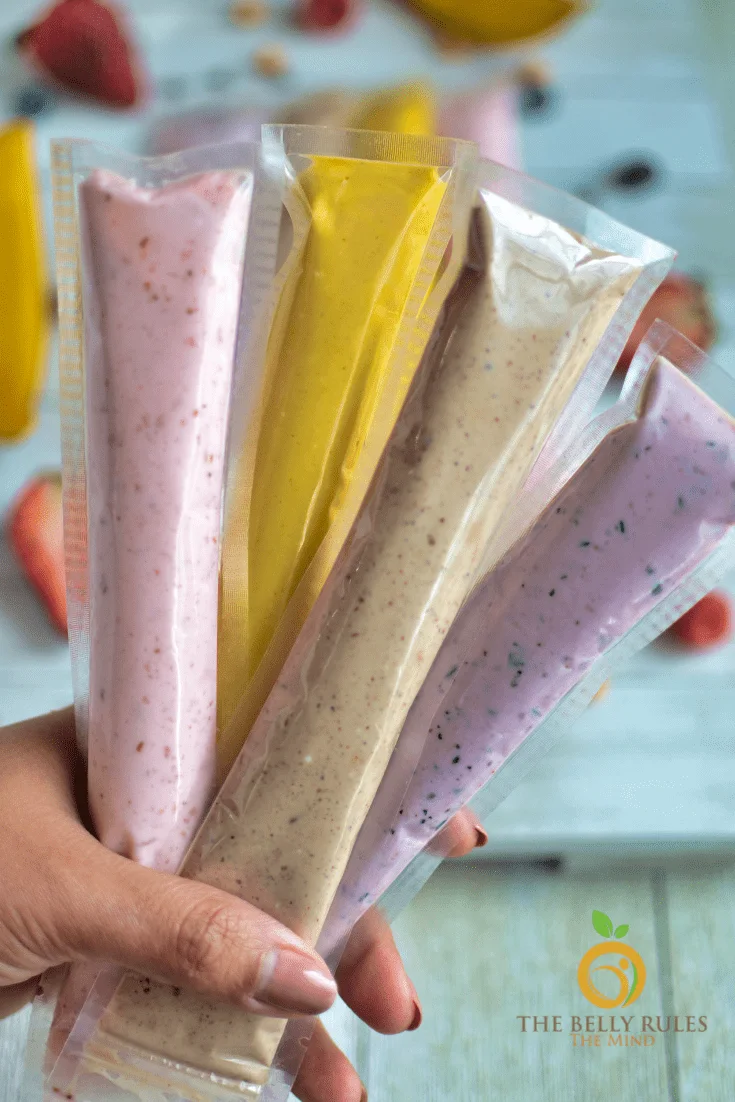 2 Ingredients are all that is needed to make the Homemade Go-Gurts
You only need 2 simple ingredients to make your own at home. They are particularly awesome in the summer, but my kids like them all year round. I usually make a gallon of yogurt at a time and save half for fresh eating and make half into go-gurts.
Plain Yogurt (Greek or regular)
Fresh fruits
Add the fresh fruit puree and mix together and BOOM you have Homemade Go-Gurts. These yogurt pops are not only healthier but cheaper as well those store bought brands. The store-bought brands are often filled with excess sugar, food coloring, added flavors and preservatives that do not gel well with your body. I love the burst of colors from the healthy fruit and controlling the portion size that is just right at around 4oz for a small treat.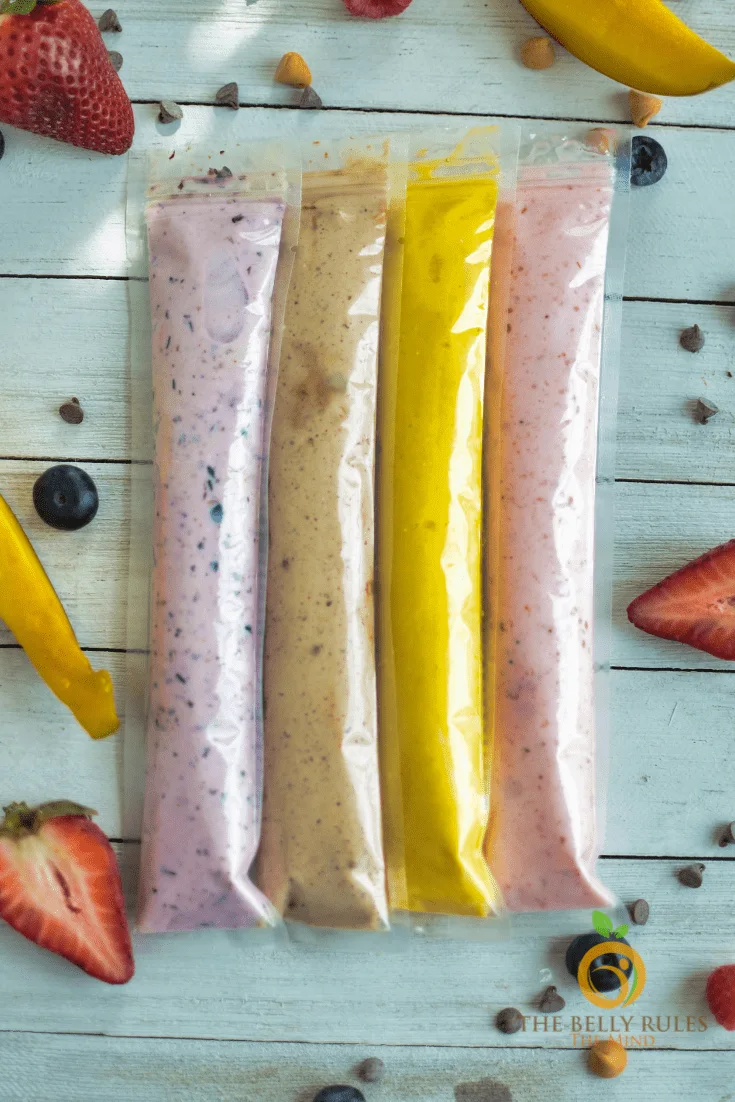 What kind of yogurt is needed to make these homemade go-gurts?
Nothing beats the freshness and taste of homemade yogurt and these go-gurts are no different! We start with our favorite Instant pot homemade yogurt. High in protein, and chock full of much-needed probiotics, it's a WHOLE lot cheaper to make at home than to buy in the store, too! If you do not have any homemade yogurt, you can use any type of yogurt, non-fat, Greek yogurt, whole, 2%, almond, soy, coconut whatever rocks your boat. We like the consistency we achieve with whole milk, however, you can go with 2% Milk based on your preference. You can refer to the instructions for the homemade yogurt here.
Homemade Yogurt popsicles with no Added Sugar!
These resultant creamy, vibrant homemade go-gurts / yogurt popsicles are free of refined sugar. If you like a little more sweetness, we recommend you swap out the refined sugar with either honey, maple syrup or agave. You can certainly make it vegan with your choice of vegan yogurt. These homemade yogurt popsicles are guiltlessly indulgent, yes, even in the middle of winter. You can make these pops with any berries or fruits of your choosing, and really any pureed, seasonal fruit, adjusting the sweetness as necessary to your personal tastes.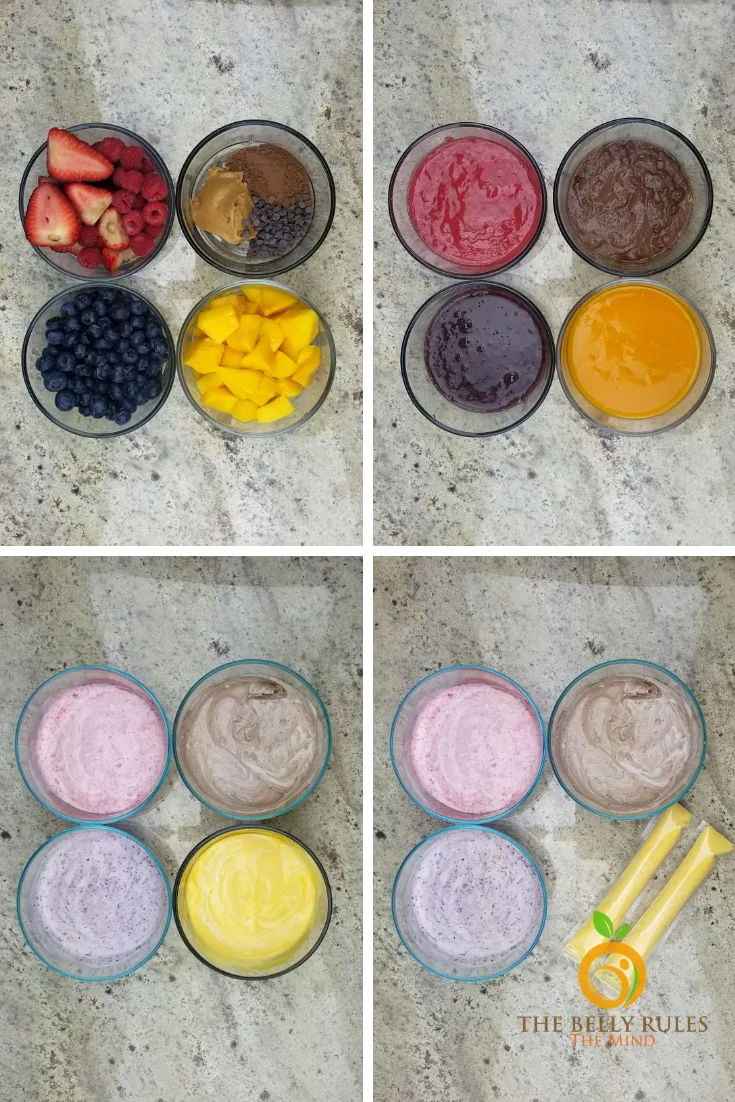 Meet the homemade yogurt pops- Your healthy school lunch snack!
Freeze these homemade yogurt pops in tubes (or the environment friendly option) so that you can pull one out and pack lunches for your kids. Pop one in a lunch box in the morning and by lunch they are defrosted and ready to eat. With no artificial dyes or sweeteners, it's much healthier than the store-bought version and my kiddo begs for these every day. If your kid has developed a taste for those on-the-go yogurt squeeze tubes like Go-Gurt or is always asking to try them, make your own healthy homemade version with this recipe. I can make them myself, freeze them, pop them in their lunches to be ready to eat by lunchtime!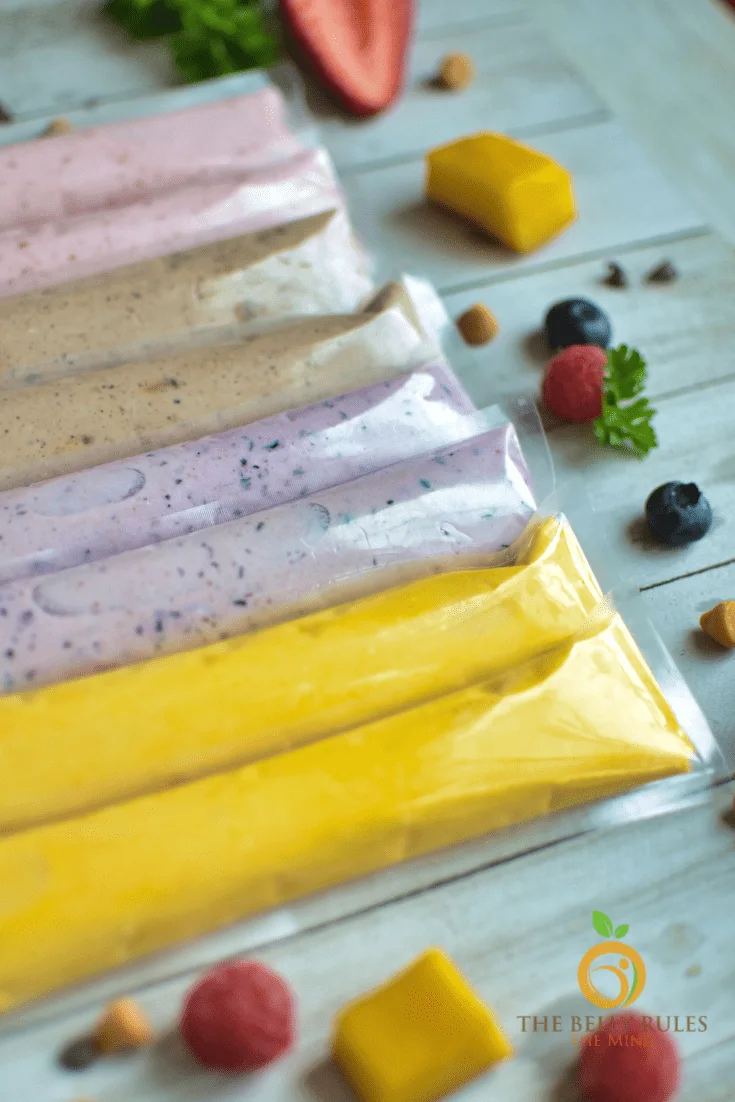 Flavors for these Homemade Go-Gurts
You can use strawberries?, Blueberry, raspberries, mango, kiwi, peach, banana, cherry, avocado, peanut butter +choco chip??– whatever you have on hand or you like!
Freezing Yogurt Tubes
Aside from making a healthy and quick snack for you (and your kiddos!), I've discovered a simple way to use these yogurt tubes (or the environment friendly option) to satisfy ice cream cravings. Just pop them in the freezer for at least two hours. When ice cream cravings strike, take one out, run it under warm water for 30 seconds or so, cut off the top, squeeze it up, and cold, creamy bites of fruity goodness are perfectly portioned at your fingertips — no spoon needed!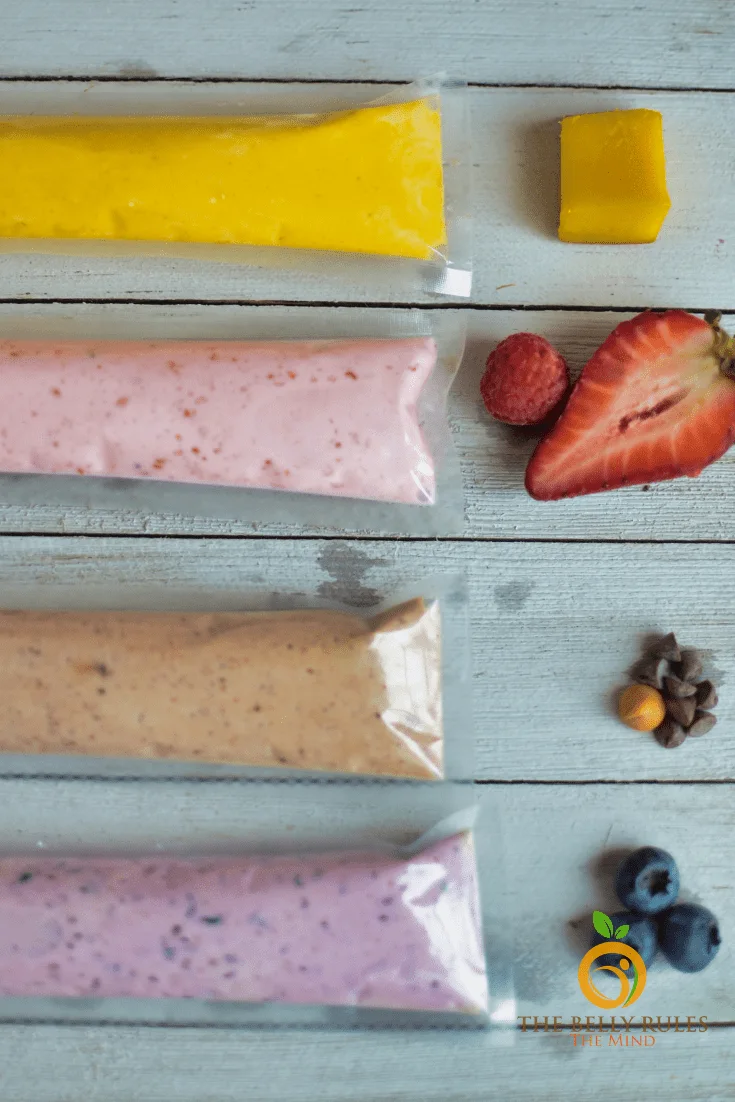 Homemade Go-Gurts Breakfast?
I love them as my breakfast on go there are always my easy standby A homemade parfait made by layering yogurt with fresh fruit puree and granola. I am a fan of this homemade granola recipe from our blog! You can top it with your favorite or just basic granola ingredients such as pumpkin seeds, sunflower seeds, sesame seeds, coconut chips, and dried cherries, but you can add or leave out whatever ingredients you think will fly
what Equipment you would need to make these yogurt pops?
Funnel
Large Spoon
20-24 freezer pops (or the environment friendly option). Want to save more money? you can use snack size ziplock bags
Bowls for each flavor
Freezer :)
These are as fun to eat as they are to make, so pull the kids in the kitchen to help with this one?‍♀
Homemade Go-Gurts / Yogurt Popsicle Recipe Video
2-Ingredient Homemade Go-Gurts Recipe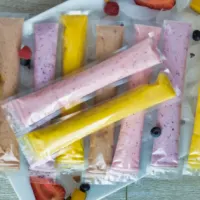 2 Ingredients Homemade Go-Gurts
Ingredients
8 cups plain yogurt / non-fat or whole milk/ homemade yogurt
1 cup fresh mango puree
1 cup fresh blueberry puree
1 cup strawberry/ raspberry puree
2 tablespoon peanut butter+1 tablespoon choco chips+1/2 tablespoon unsweetened coco powder
Instructions
Equally divide the yogurt in 4 containers (2 cups for each flavor)
Blend all the fruits and pour the fruit puree in the yogurt and mix well .
Pour it into freezer tubes or environmental friendly popsicle tubes.
Store in freezer for 3 months. Pop one out to place in lunchboxes in morning and it will be defrosted by lunchtime.
Alternatively, you can store in fridge for 7-10 days
Recommended Products
As an Amazon Associate and member of other affiliate programs, I earn from qualifying purchases.