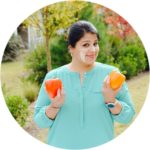 Pasta is our got to food if we do not have anything particular in mind to prepare. All of us SR3 love it and like to try different flavors. Today's recipe is quick, easy and so delicious. It is perfect for pesto and pasta lovers and its kid approved !!- Creamy Pesto Pasta! If you are looking for a quick dinner that will satisfy the whole family and those picky eaters, this recipe is for you.
6 ingredients & 15 minutes is all it takes to get this yumilicious Creamy Pesto Pasta done. A winning Quick lunch or dinner combination for the ENTIRE family!
I love love love Pesto Pasta. Did I say love too many times :P This creamy pesto pasta flavor is light and fresh , making it great for warm weather dishes. I have been making my own fresh pesto be it with basil, kale or our favorite Cilantro & Mint Vegan pesto .. So, when I am a little lazy to cook food, this is my goto Pasta recipe, I have been wanting to share this recipe with you guys from some time now, however my kids and me would end up cleaning the pot of pasta  before I could take any pictures. This time i made sure that I prepared some extra potion so that I could take pictures as well.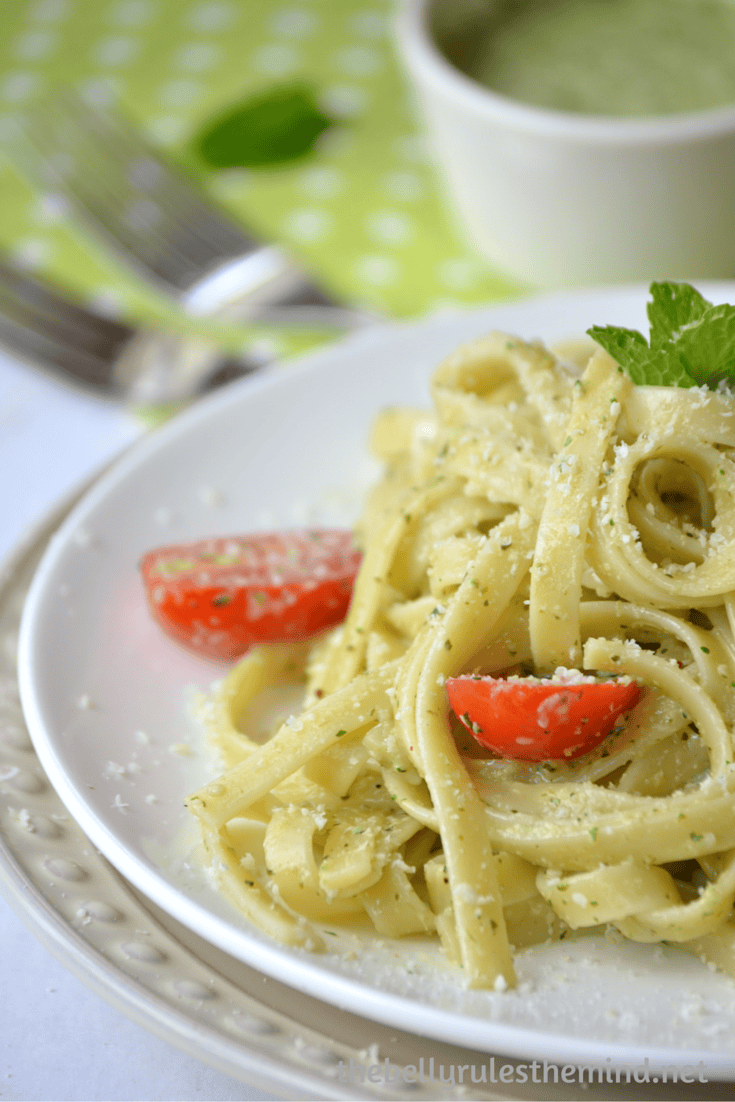 This recipe is so super quick that making the Cilantro & mint Pesto takes minutes to prepare and boiling the fettuccini . That SIMPLE!! You can top it with  grated cashews. I added my favorite organic Cherry tomatoes from my garden but you can add your or your family favorite vegetables, frozen spinach, to help get a little green and fiber into the meal. If you're not into spinach, you could try frozen broccoli florets, but I'd make sure to chop them up into smaller pieces before adding them in or steam the broccoli :D

Using Cilantro & Mint Pesto for pasta is perfect spread on sandwiches ,I had some on grilled cheese last night for dinner ..Heaven !!, mixed with scrambled eggs, or Spread it over chicken, Shrimps, Tofu and grill it OR Pesto stuffed No-fry Mushroom recipe …Endless options.
Creamy Pesto Pasta (Vegan)
Ingredients
14 ounces Fettuccini /or any kind of pasta you like
For pesto
1/2 cup extra virgin olive oil
4 ounce Cilantro
2 ounce Mint /1 large handful
1/2 cup cashews/If you want nut free you can use toasted sunflower seeds
1 teaspoon lemon juice /optional
4-5 cloves garlic/ minced
salt to taste
Instructions
Bring a big pot of salted water to a boil over high heat. Add the Fettucinni and cook , according to package directions. Drain, reserving 1 cup of the pasta water, then toss with a bit of olive oil to prevent sticking. Place in a large serving bowl.
Pesto :
To food processor add all ingredients except for olive oil.
Turn processor to high and add olive oil in a slow steady stream. Start with 1/4 cup and add more olive oil until pesto reaches desired consistency.
Making the Creamy Pesto Pasta:
Pour the Cilantro & Mint Pesto over the pasta, then toss gently to combine. If the pasta seems too thick and sticky, add a bit of the reserved pasta water. Add the cherry tomatoes and toss to combine. Serve warm or at room temperature, topped with grated cashews if desired.
https://thebellyrulesthemind.net/creamy-pesto-pasta-vegan/