Penne pomodoro is an easy pasta recipe that will please everyone in your family. Making this vegetarian pasta dish in the Instant Pot turns this meal into an easy one pot wonder, perfect for the busiest of weeknights or even for kids lunchbox!
LET'S BE FRIENDS ON PINTEREST! WE'RE ALWAYS PINNING TASTY RECIPES!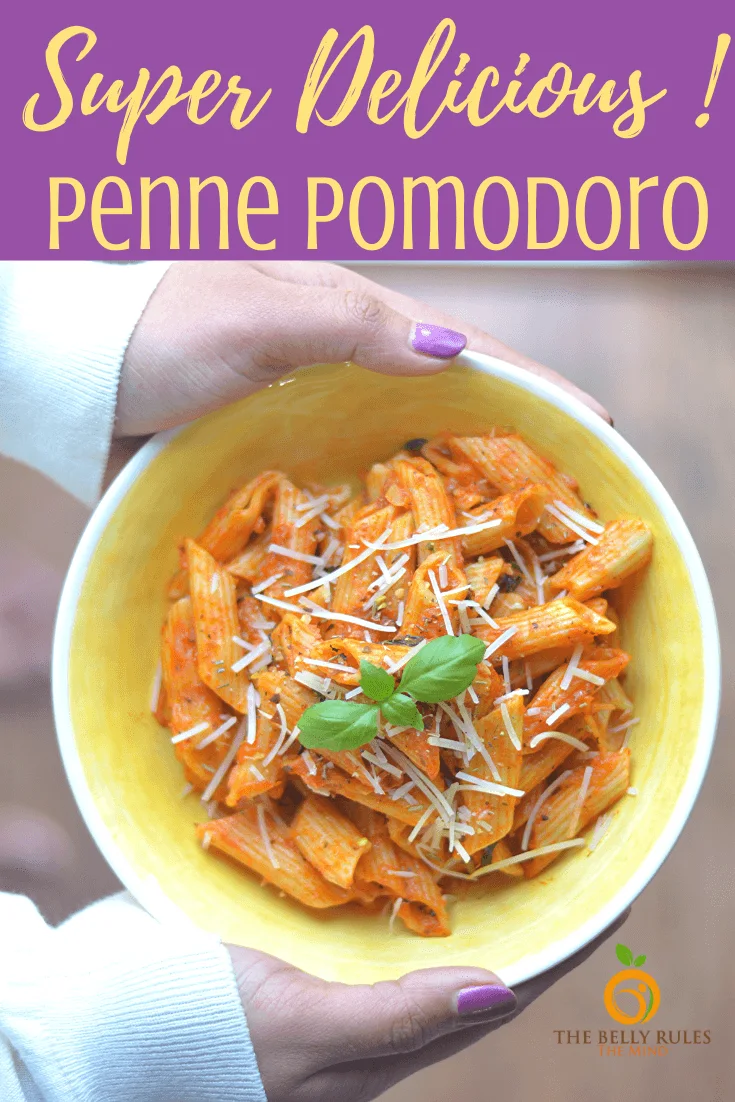 What is Penne Pomodoro?
Penne Pomodoro is an Italian pasta dish using short tubular noodles and a red tomato based sauce. Traditional pomodoro recipes use fresh tomatoes, garlic, basil, olive oil, and salt. You can also add other fresh vegetables like onions and carrots. The Instant Pot turns this Italian classic into an easy, one pot meal your whole family will love.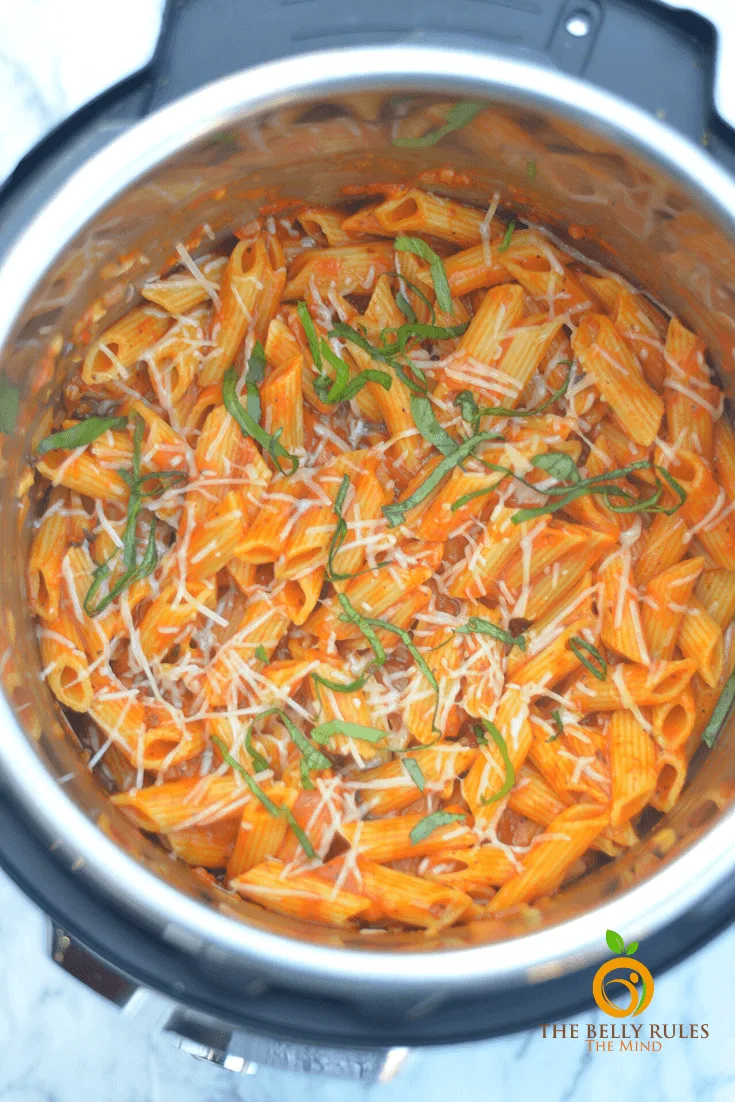 Penne Pomodoro Carrabba's Style
Carrabba's is a popular Italian American restaurant chain. They offer classic and modern takes on several Italian dishes, including penne pomodoro. Whenever we go there, I enjoy the fresh baked bread and their flavorful penne pomodoro.
If you enjoy Carrabba's penne pomodoro, you'll love this version of the recipe. And you'll find that using the Instant Pot cuts down on a lot of the work required to make this delish pasta. Make your favorite penne pomodoro at home and save money!
Ingredients you need to make Penne Pomodoro
Penne Pasta
San Marzano whole peeled plum tomatoes (pureed)
Onions
Minced garlic
Water
Olive oil
Basil leaves
Red chili flakes
Oregano
Salt and
Parmesan Cheese
How to make Penne Pomodoro -
Step by Step
To make penne pomodoro in the Instant Pot, turn it on Saute mode and allow it to heat up. Once the inner pot is hot, add in the olive oil and heat the oil through. Next, add the garlic and onions and cook them for about 2 to 3 minutes or until they become fragrant. Once the onions have cooked a bit, add in the red chili flakes, oregano, and basil.

Once the spices are added, give them a quick stir. Then, add the penne or other pasta directly over the onions. Next, add in the 2 -1/4 cups of water or broth .Sprinkle salt to taste.

Finally, add in the pureed tomatoes over top of it all but do not stir it at this point.

Place the lid on top and set the valve to "Sealing." Next, set the pressure to high and cook for 5 minutes. Finally, do a Quick release .

Open the lid, mix the pasta a bit. Sprinkle some Parmesan cheese and some more chopped basil .Serve with your favorite bread, garlic bread, or garlic knots.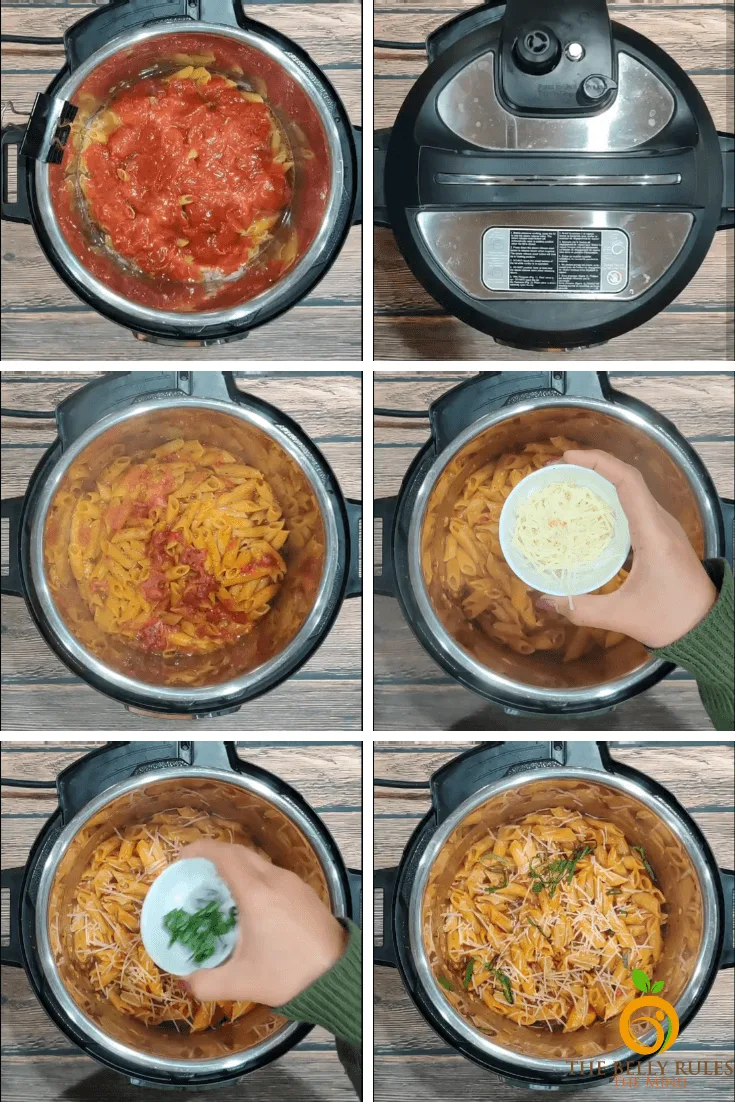 Pro Tips and Tricks
Penne pomodoro traditionally uses fresh ingredients which you can find at any grocery store. But you can also use some shortcuts that are faster and taste just as good. Here are some tips and tricks that will help you make great tasting penne pomodoro in your Instant Pot:
If you have the time, you can use fresh tomatoes from the grocery store or your garden. Just be sure to wash them, remove the seeds, and peel them before placing them in the food processor.

Use a garlic press to save time in mincing the garlic. The garlic press also helps to release some of the flavors of the garlic.

Though you can use water to make the pomodoro, using a broth can add extra flavor during cooking. I would recommend using vegetable broth.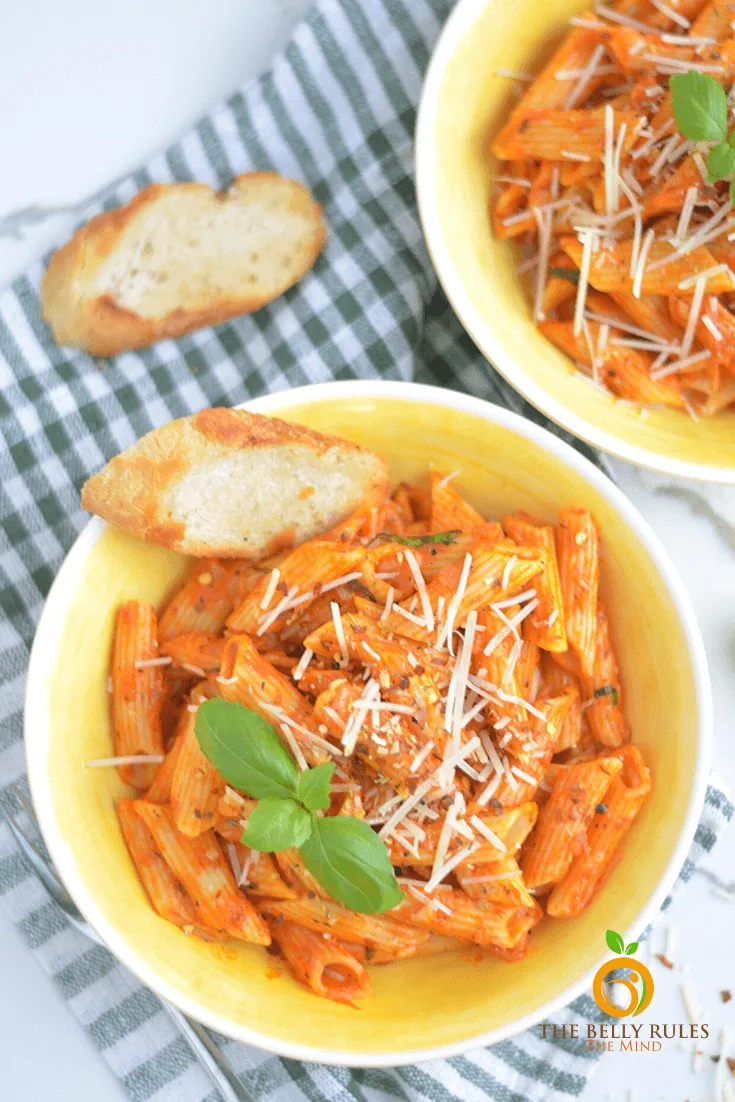 Is Penne Pomodoro Vegan?
Penne pomodoro is vegan if you stick to the base ingredients. However, if you add in parmesan or other cheese, it is no longer vegan. You can use vegan cheese to make it Vegan.
Arrabiata vs Pomodoro
Arrabiata is another Italian sauce that uses tomatoes as its base. The major difference between arrabiata and pomodoro is that arrabiata uses red chili peppers or other peppers to add spiciness to the sauce. Similar to pomodoro sauce, arrabiata sauce consists of tomatoes, herbs, and spices cooked in olive oil.
My family and I like a bit of heat, so we make our pomodoro sauce with a bit of red chili flake. If you prefer, you can omit the red chili powder, which will cut down significantly on the spiciness level for a much more mild flavor.
What is Pomodoro Sauce made of?
Pomodoro sauce is traditionally made using tomatoes cooked in olive oil along with garlic, basil, salt, and sometimes onions and other vegetables. Pomodoro sauce can vary a bit based on how it is made. In some cases, it is a bit of a chunkier sauce using diced tomatoes.
My penne pomodoro involves pureeing the tomatoes to make a bit of a smoother sauce. If you prefer, you can dice the tomatoes and keep the sauce a bit chunkier.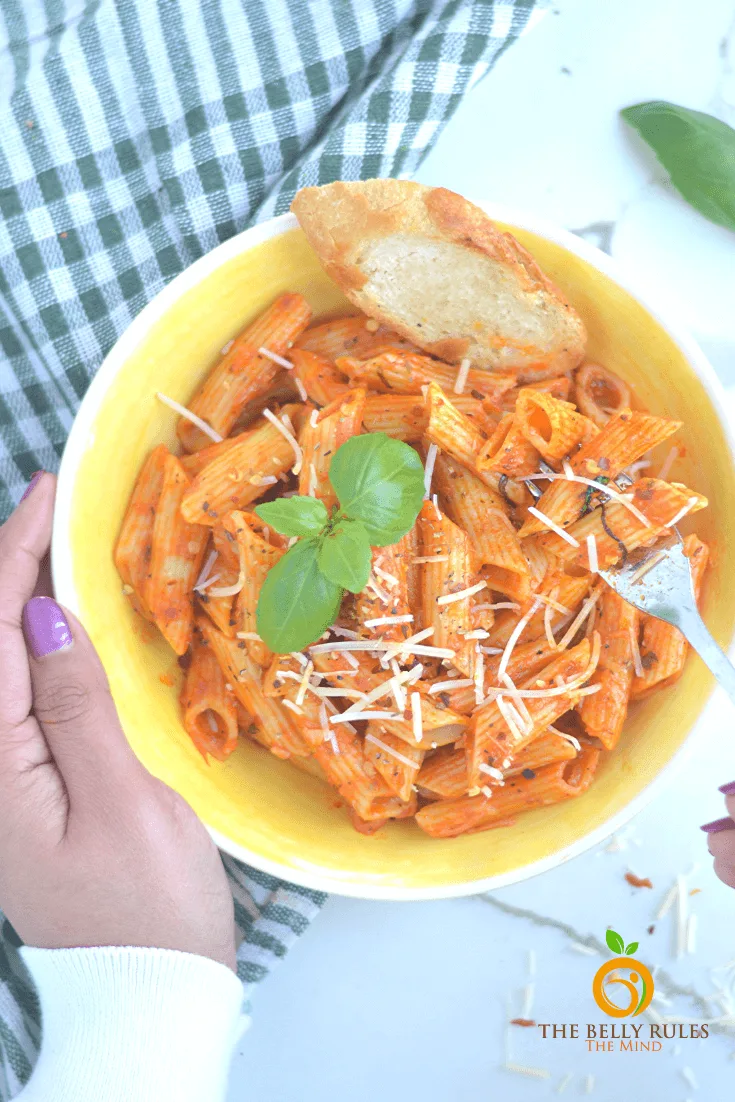 Can I freeze Penne Pomodoro?
You can freeze penne pomodoro, but it is best served fresh. You can make enough for leftovers so you can send it with your family to work and school. But you should store the penne pomodoro in the fridge in an airtight container for 2 to 3 days.
If you must freeze it, you can, but it may be a bit watery when you unfreeze it. Also, the tomatoes and pasta may lose some of their freshness when freezing it.
What tomatoes can I use for my recipe?
When making this recipe, I use San Marzano whole, peeled tomatoes. I find these have the best flavor of all the canned tomato varieties. You can order them here if you can't find them at your local store.
If you have fresh garden plum tomatoes or fresh plum tomatoes from the store, you can use them instead. If you use fresh tomatoes, you can puree them after washing, peel them and then puree them, or dice them, if you desire. The skin does not hurt the recipe, it really just a matter of preference.
Perfect Lunchbox meal for kids!
Having easy recipes that come to the rescue with kitchen staples are a must! Bonus: this dish makes a terrific thermos lunch for both my kiddos. Win-win!
What other type of pasta can I use for this Pomodoro Recipe?
For best results, you should use penne. But if you don't have penne on hand or can't find it at your local store, you can use rigatoni, farfalle, fusilli, or cavatappi varieties. You should be able to find these in the pasta aisle at your local store.
They all have similar shapes or thickness and will work well with this recipe. If you go with spaghetti or other thinner pasta, you would have to adjust the cooking time a bit in the Instant Pot.
Instant Pot Penne Pomodoro Video Recipe
Bon appetite!
Do you Love Pasta ? You will simply love our Spaghetti Aglio- E- olie or 5 Ingredients Mac- N- Cheese
More Instant pot Pasta Recipes
Do let us know if you made the Penne Pomodoro and how it turned out in comments below.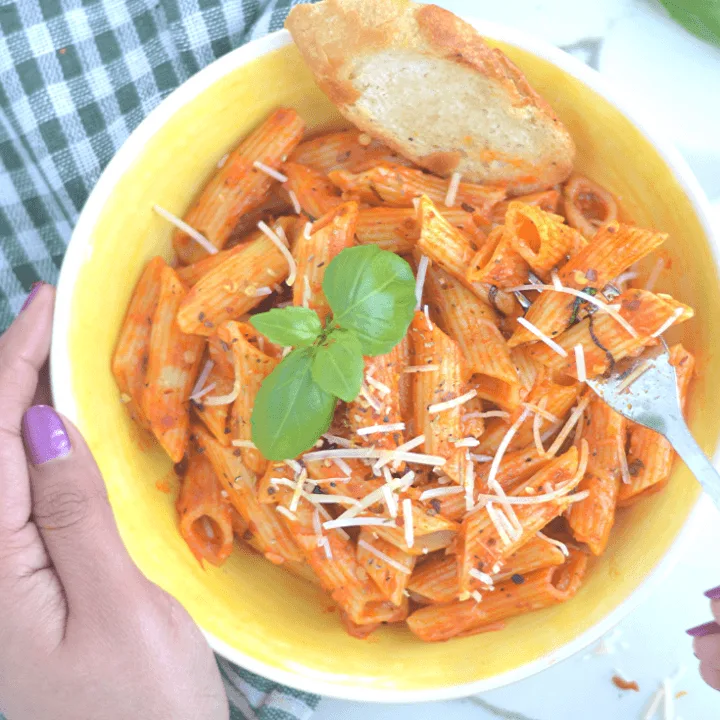 Best Instant Pot Penne Pomodoro
Penne Pomodoro is an easy pasta recipe that will please everyone in your family. Making this vegetarian pasta dish in the Instant Pot turns this meal into an easy one pot wonder, perfect for the busiest of weeknights or even for kids lunchbox!
Ingredients
12 ounces of penne
14 ounces of San Marzano whole peeled plum tomatoes (pureed)
1 small onion, finely chopped
1 tablespoons of minced garlic
2-1/4 cups of water or broth
1 tablespoon of olive oil
4-6 basil leaves, washed and chopped
1 teaspoon red chili flakes
1 teaspoon oregano
salt to taste
Optional: Parmesan Cheese
Instructions
Press the Sauté button and allow the Instant Pot to heat up.
Drizzle a bit of olive oil into the inner pot of your instant pot.
Add in the chopped onions, garlic, red chili flakes, oregano, basil and cook until fragrant, about 2-3 minutes.
Add in the penne pasta, then pour the water and sprinkle the salt.
Pour the purred tomatoes on top of that, covering as much of the top layer of pasta as you can, and don't stir.
Secure the lid, and move the steam release valve to Sealing. Use the Manual or Pressure Cook button on your machine to cook at high pressure for 5 minutes.
When the cooking is complete, do a Quick release.
Stir the cooked pasta, mixing the sauce throughout evenly.
If the pasta looks a little watery at first, stirring the pasta will help the rest of the water absorb.
Season to taste if needed, sprinkle some cheese and chopped basil . Serve warm with Crusty bread.
Recommended Products
As an Amazon Associate and member of other affiliate programs, I earn from qualifying purchases.
Nutrition Information
Yield

4
Serving Size

1
Amount Per Serving
Calories

221
Total Fat

6g
Saturated Fat

1g
Trans Fat

0g
Unsaturated Fat

4g
Cholesterol

3mg
Sodium

120mg
Carbohydrates

18g
Fiber

3g
Sugar

5g
Protein

8g
All information and tools presented and written within this site are intended for informational purposes only. We are not a certified nutritionist and any nutritional information on TheBellyRulesTheMind.net should only be used as a general guideline. This information is provided as a courtesy and there is no guarantee that the information will be completely accurate. Even though we try to provide accurate nutritional information to the best of our ability, these figures should still be considered estimates.