Delicious & easy Orange Mango Smoothie is packed with vitamin C & protein. Tastes so refreshing like sunshine in a glass, this smoothie a great way to kickstart your morning & boost your immunity. 5 minutes, 6 ingredients breakfast. (GF & can be made Vegan too)
Hope you guys has an awesome weekend. We had fun. We went on a roadtrip to Atlanta to visit family and ofcourse tour the city. For little A and me, it was our first time. However for Dr. Mystery, he is a frequent flyer through Atlanta. We went along with my sister and brother in law to meet one of our cousins. I must admit I liked the urban feel there. We still haven't gotten over the food scene, we absolutely loved Krog Street Market. It's this old warehouse that houses a west coast style market selling produce and some amazing specialty restaurants from around the globe. We also enjoyed some really good Indian Chaat & Indo Chinese cuisine during our trip. Apart from enjoying the food scene we also took a tour of the downtown, the World of Coca Cola, Georgia Aquarium and ofcourse we had to take little A to Legoland, which was the highlight of his trip. To sum it all it was a great weekend to catch up with family and see a whole new city.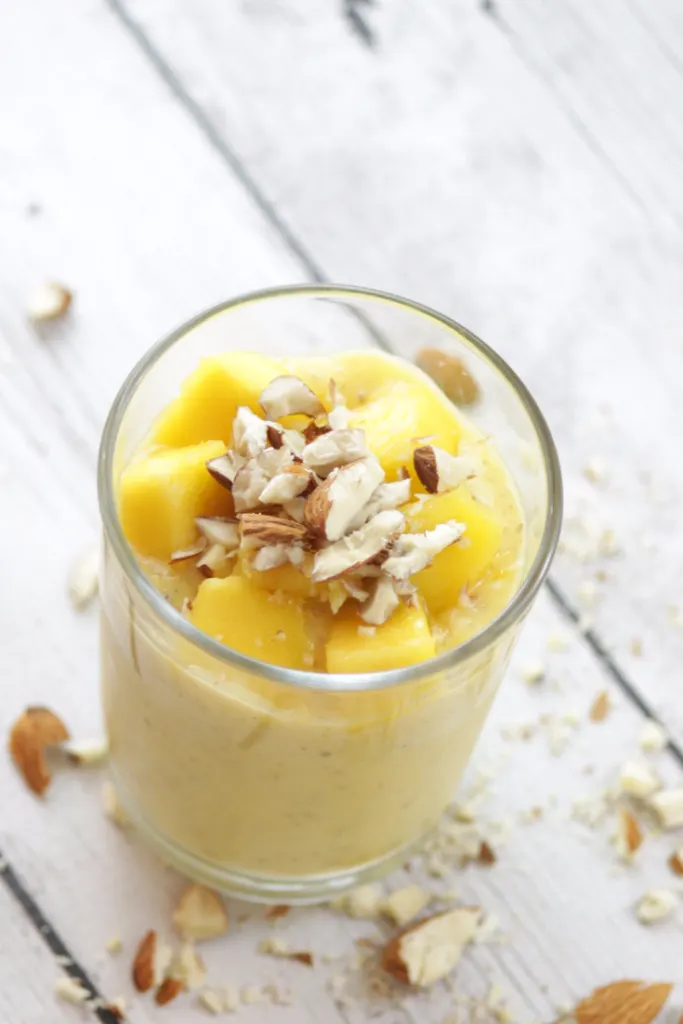 Now that the weekend is over, back to reality, back to routine. This morning we had a crazy start. Woke up late after 3 continuous late nights only to realize I need to whip up something in just 5 minutes as little a had to be dropped off to school timely. The only thing I could think off was a smoothie. Tossed in the mangoes, oranges, some yogurt, honey and chia seeds and voila!!! I was done. Phew!!! After I dropped him to school I got back home to enjoy my breakfast smoothie. I made another batch for myself and Dr. Mystery so I could take some pictures for the blog too.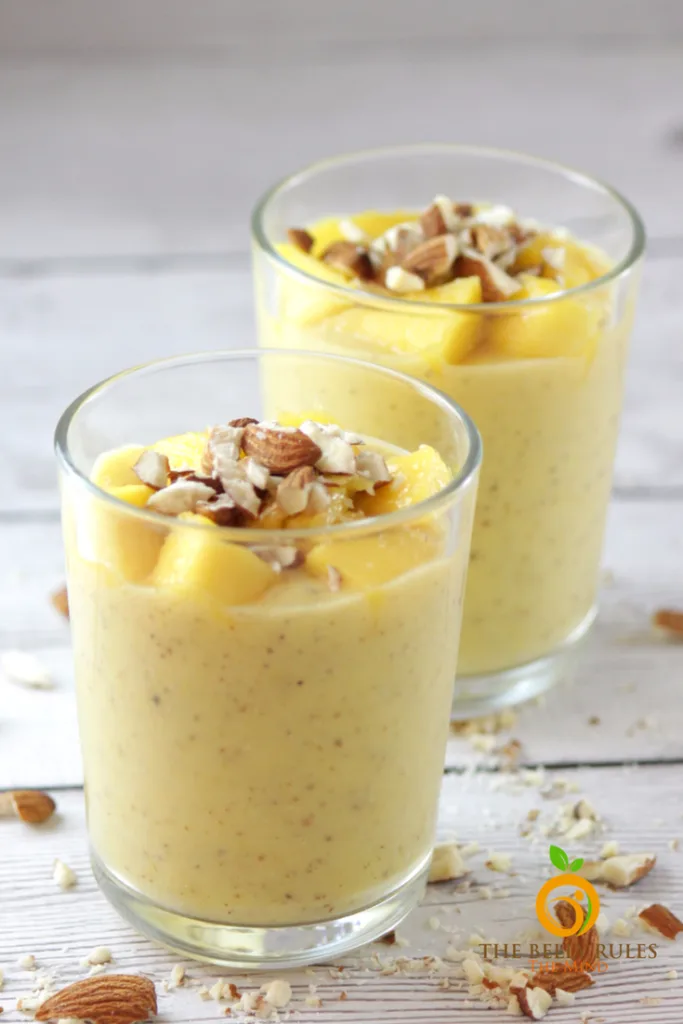 Honestly, this is an awesome way to kickstart your day as this smoothie is loaded with vitamin C from mangoes and oranges and also contains protein from yogurt and chia seeds. It's a great smoothie to build your immunity or enjoy the benefits of protein post work out. It's healthy as it doesn't have any refined sugar added to it and it's gluten free. If you are still not convinced, guess what??? It's ready in just 5 minutes with 6 ingredients only & no-cook. Best of all is it's tropical taste that makes you forget it's a Monday morning :)
If you follow me regularly you will realize that this recipe has ingredients similar to Chia Oats Breakfast Parfait, that you guys liked so much. However the two are very different from eachother as the Breakfast Parfait is an overnight oats recipe using mangoes while this is a smoothie. They are both no cook & healthy so they make a great breakfast option. If you haven't checked out the Breakfast Parfait yet, I highly recommend as it is one of our very popular blog posts.
So do you struggle with breakfast options when you don't plan ahead of time? Would you like to see more no-cook or make ahead breakfast recipes? Leave us a comment and let us know. In the mean time if you try these recipes, don't forget to tag us on your social media and let us know your thoughts on it.
Healthy Orange Mango Smoothie
Ingredients
1 organic mango, peeled and cubed
1 organic naval orange, peeled
1/2 cup ice cubes (optional)
Instructions
Blend all the ingredients together and your breakfast smoothie is ready.
Vegans can replace the yogurt with almond milk.
If you do not want to add ice cubes into your smoothie, freeze the mango chunks overnight before using them.
Products Used