This Instant Pot Palak Paneer tastes just like the Indian restaurant! It is Rich, creamy, and perfectly spiced spinach and paneer dish. This easy vegetarian dish is a hearty meal that'll get your family to eat and love their greens!
LET'S BE FRIENDS ON PINTEREST! WE'RE ALWAYS PINNING TASTY RECIPES!
Jump to:
What is Palak Paneer?
Palak Paneer is one of the most popular paneer dishes in northern India. Palak means spinach and Paneer is a widely used Indian soft cheese. You find paneer in a lot of different dishes. It doesn't melt and is sort of similar in taste to queso blanco or unsalted halloumi.
To make Palak Paneer, you blanch spinach and puree it with seasonings like ginger and garlic. It is a great way to sneak in green vegetables to picky eaters. And the Instant Pot makes preparing Palak Paneer even easier. If you want to sneak in a few more greens, check out our Saag Paneer or Saag Aloo recipe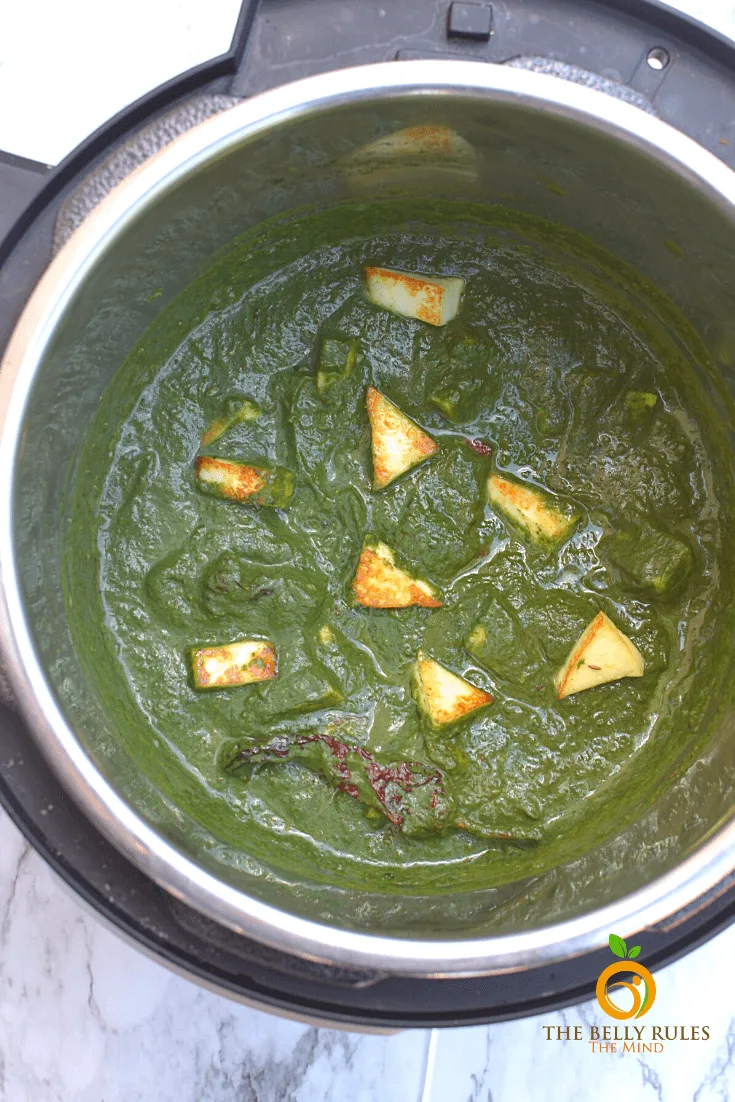 Why Make Palak Paneer in the Instant Pot?
Making palak paneer in the Instant Pot gives you a consistent result each and every time you make it. Plus it cuts down on the cook time and the clean up time, allowing you to make it on the busiest night.
Are you Crazy about Indian food but not too sure about the Indian Spices? Check out our Essentials Indian Spices Guide to become an expert on Indian spices and start making Indian Recipes a pro!
If you are looking for other easy Instant Pot recipes to try, check out our 15+ Quick and Easy Instant Pot Recipes for Beginners. You can also check out our 135+ Instant Pot Vegetarian Recipes for all your Instant Pot recipe needs.
How to make Instant Pot Palak Paneer?
The Instant Pot makes cooking palak paneer very easy. You can either make your own paneer at home (our homemade paneer recipe) or use storebought paneer. To start, wash the spinach and set aside. After washing the spinach, soak the paneer cubes in hot water until you are ready to use them.
After you get the spinach washed and the paneer soaking, it is time to get started cooking. Add the inner liner to the Instant Pot. Turn the Instant Pot on Saute mode and wait until it gets nice and hot.
When the pot is hot, add the oil or ghee along with cumin seeds, Thai green chilies, ginger, garlic and chopped onions.Saute the aromatics for 1 minute.
Next, add the spinach, salt and water and press the cancel button. Once the spinach and water are added, place the lid on and set the vent to sealing. Set to manual pressure cook for 1 minute and do a quick release as soon as it is done.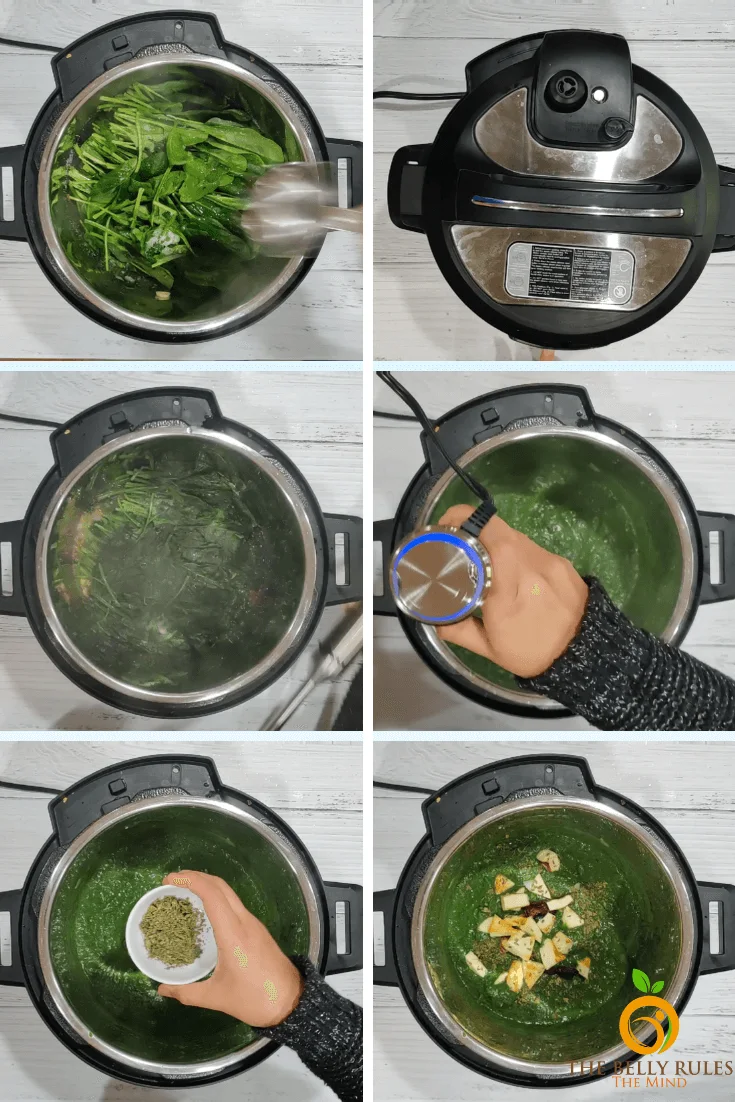 Once all the steam releases, open the lid. Use an immersion blender to blend the spinach into a smooth paste.
Finally, add the crushed dried fenugreek leaves and Paneer and mix it together well. Serve it hot with Naan or rice and enjoy!
Why Palak Paneer is healthy?
Palak paneer is primarily made of pureed spinach. Spinach is a green, leafy vegetable known for its health benefits.
Spinach has lots of nutrients like iron and vitamins K, A, C and B2. Eating spinach can help with your digestion, bone health, and skin and hair maintenance.
And it tastes good. It is something you can feel comfortable serving your family frequently because it will help them stay strong and healthy.
What is the difference between Saag and Palak
Saag and Palak are similar but different. Palak refers to recipes that use spinach as the main ingredient. Saag can refer to one or more leafy vegetables such as mustard greens, collard greens, or spinach. It may even contain finely chopped broccoli.
Both Saag and Palak contain various spices for flavor. And you generally serve the dishes with either flat breads or rice.
Is Palak Paneer vegan?
Palak Paneer is a vegetarian dish. Paneer is a type of Indian cheese that is similar to cottage cheese. When you use Paneer, you can make a delicious vegetarian dish.To make it vegan use oil instead of ghee and you can substitute tofu for Paneer.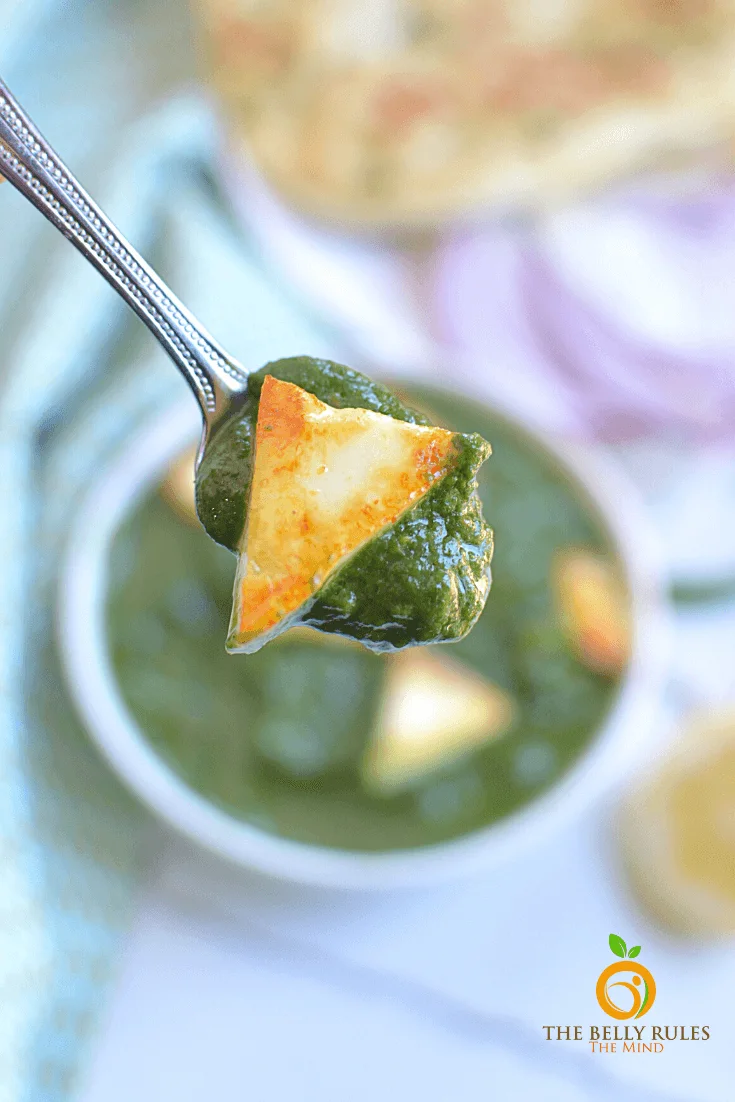 What do you serve with Palak Paneer
Palak Paneer is great for dipping breads into. Some of my favorites to dip into the Palak Paneer are Naan and Roti - traditional Indian flat breads.
You can also pair it with jeera rice or other rices. Rice helps give the Palak Paneer something to stick too.You can also enjoy Palak Paneer on its own. But breads help sop up and clean out your bowl.
Can I substitute Paneer with Tofu?
Yes! You can definitely substitute Tofu for Paneer. Doing so will make your Palak Paneer vegan and won't change the steps you need to make this easy recipe.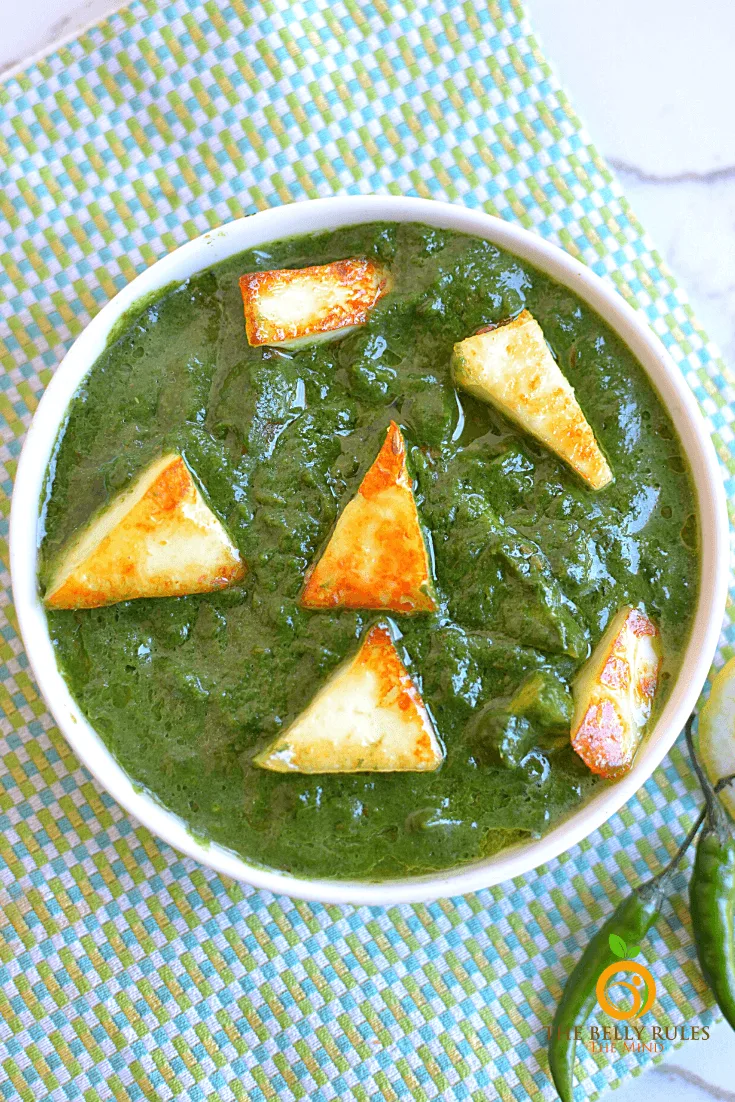 Can I make Palak Paneer ahead of time?
You can make Palak Paneer and store it in the fridge for up to two days. Before placing in the fridge, put it in an airtight container.
When you are ready to serve, you can reheat it in a microwave. It makes a great lunch for a busy family.
Tips and tricks
Making Palak Paneer in the Instant Pot is already very easy. But if you want some tips on how to make the best Palak Paneer, you can follow these suggestions:
use an immersion blender to mix the paste - then you don't have to try to get the Palak into a blender or food processor

use fresh spinach not frozen - though frozen could work, it does not always taste as good and you need to thaw it first

if you eat vegan foods, use tofu as a substitute

don't leave the spinach sealed in the Instant Pot after pressure cooking it, this can make very mushy spinach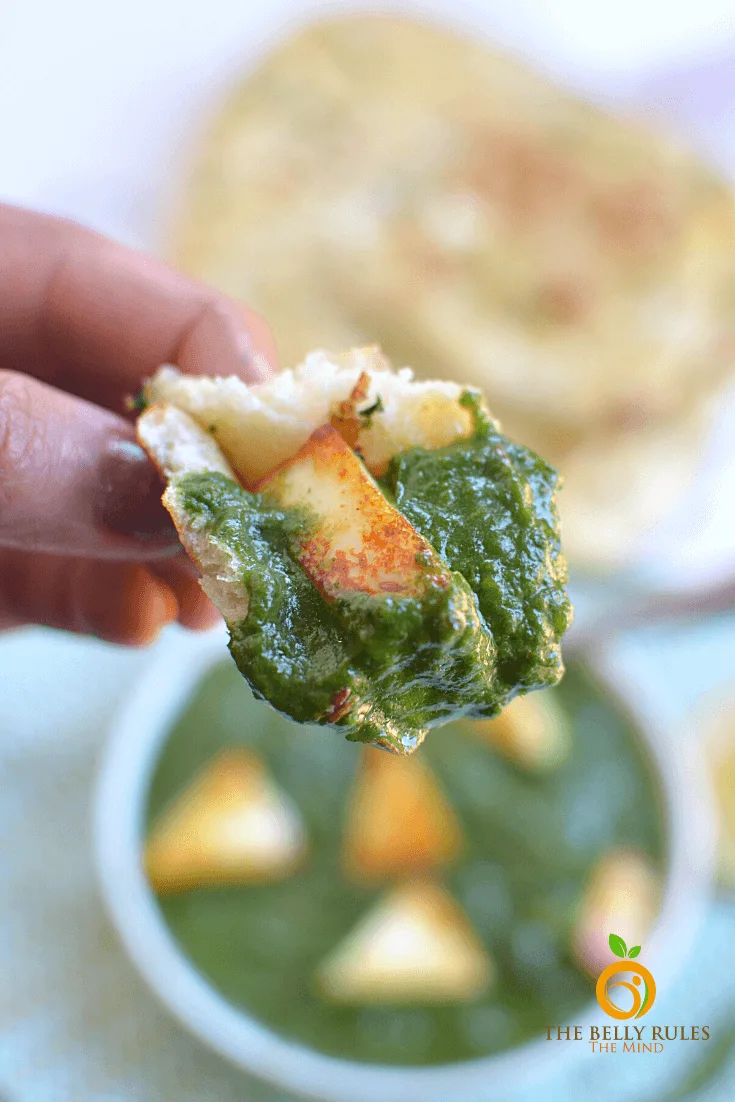 Is this recipe Keto friendly?
Yes! Palak Paneer is a Keto friendly recipe and it gives you the needed greens as well. A delicious way to stay healthy!
If you make this Instant pot Palak Paneer recipe, don't forget to come back and leave your feedback and star rating. We would be THRILLED if you would take a pic and tag us on Instagram @dbellyrulesdmind or Facebook @thebellyrulesthemind
Instant Pot Palak Paneer Video Recipe
Instant Pot Palak Paneer Recipe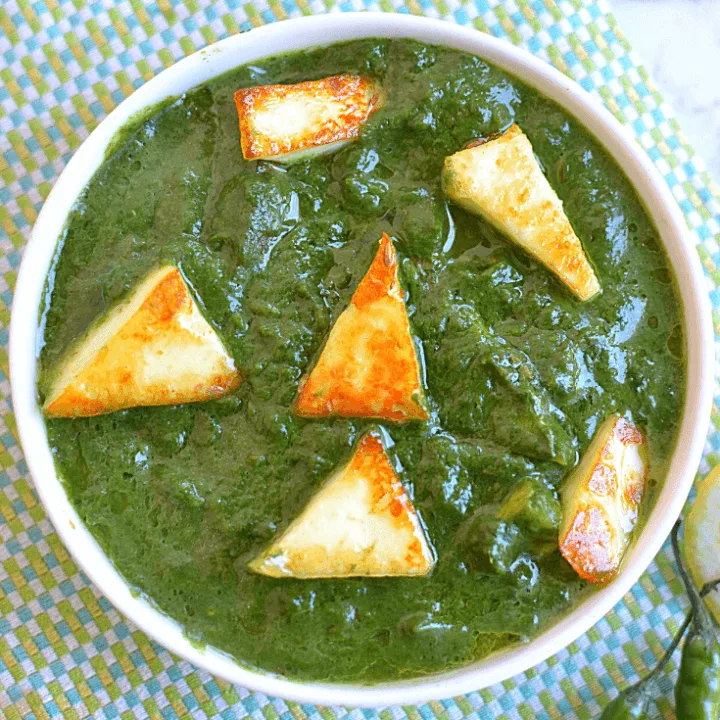 Instant Pot Palak Paneer
Additional Time:
10 minutes
This Instant Pot Palak Paneer tastes just like the Indian restaurant! It is Rich, creamy, and perfectly spiced spinach and paneer dish. This easy vegetarian dish is a hearty meal that'll get your family to eat and love their greens!
Instructions
You can either use homemade paneer or store bought paneer.
Wash the Spinach leaves and set aside. Soak paneer cubes in hot water till use.
Put IP on Sauté mode
When HOT add ghee or oil.
Add in the cumin seeds, thai green chilies, ginger, garlic and the chopped onions and saute it for 1 minute.
Add in the spinach, Salt to taste and water.
Cancel Sauté.
Cover with lid, and move the VENT to SEALING.
Pressure cook for 1 minute.
Quick Release immediately.
Using an immersion blender,blend the spinach into a smooth paste
Lastly add the crushed dried fenugreek leaves and paneer.
Mix well and serve hot.
Enjoy!


Notes
If you want to add fried Paneer
Drizzle the paneer with 1 tablespoon olive oil. Season the paneer with Salt .Fry the paneer over high heat for 1 minute on each side. Add it when the palak is ready.
If using ginger garlic paste use 1/2 tablespoon with the onions.
What can I substitute paneer with?
There are a lot of vegetables you can substitute
Tofu
Cooked chickpeas/ Garbanzo beans
Corn
boiled potatoes