Palak Paneer Bowl – A creamy, aromatic and healthy spinach gravy served with tender paneer or tofu. Palak Paneer bowl is one of the most popular saag paneer dishes that me and my family enjoys and you really have to give it a try!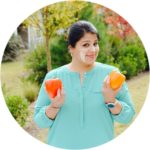 I can tell you once you have tried this recipe, you'll appreciate how light and subtle this green bowl of goodness is!!! The Palak Paneer bowl has magnesium, folate, vitamin A, vitamin K, potassium, calcium and so much more. So forget about the rich and creamy restaurant styled curry we're all accustomed to, this is something you can enjoy without feeling the need of an extra gym workout after a meal :P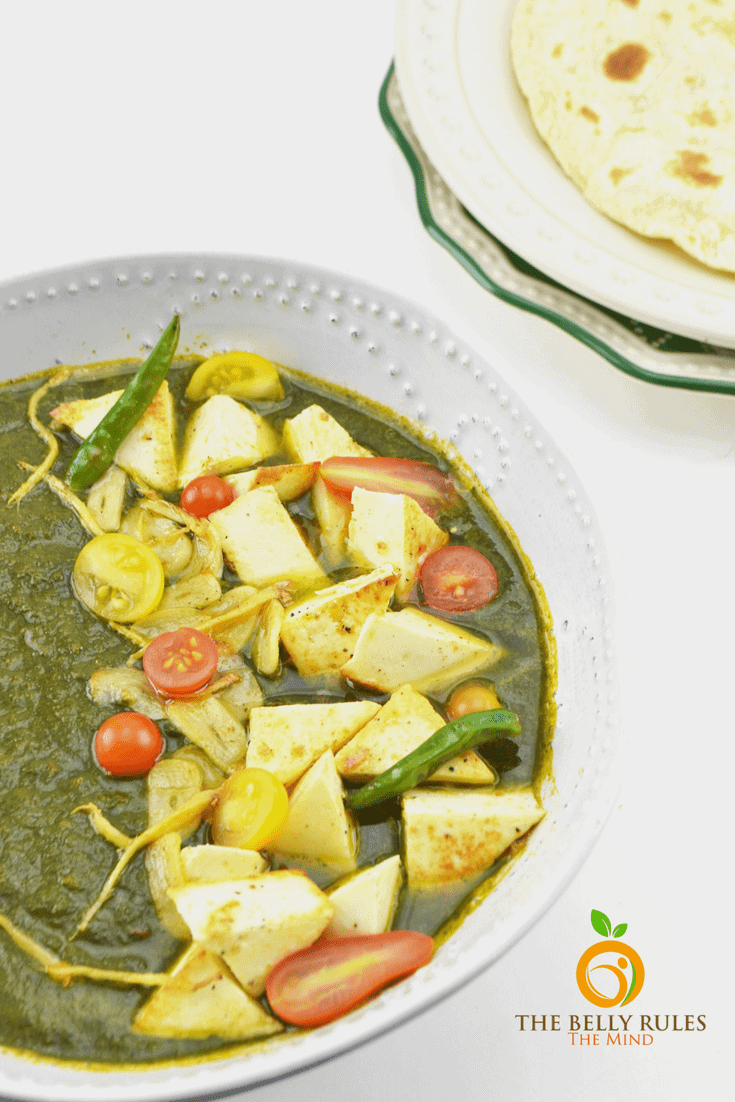 This Palak Paneer bowl a classic vegetarian Indian restaurant dish that's quick and easy to make at home and relish it with your family and friends. This is a vegetarian dish (it can easily made Vegan by adding Tofu ) from the north of India and is enjoyed during cold weather. This Palak Paneer bowl is served hot with a tandoori selection, like Roti , Naan or boiled rice.
I have always loved this Palak Paneer dish since my childhood. This is the exact way my mom makes it and I have not changed a step ;) It is prepared by mixing paneer in a thick paste made from purred spinach and seasoned with garlic and other spices.
Spinach is a great source of vitamins and cottage cheese or paneer gives the calcium and protein. For more Spinach recipe try our Hara bhara kabab, Spinach pasta , Spinach fritters , Spinach smiles .

Here are some of the benefits of the dish.
1 Full of nutrition
2 Improves digestion
3 Beneficial for pregnant women
4 Full of protein
5Lowers blood pressure

Tips to make palak paneer healthy:
Opt for low-fat version of Paneer/ cottage cheese.
Add spices in moderation as palak tastes best without too many spices or herbs.
Do not overcook spinach in order to preserve the nutrients in it.
Do not fry Paneer or Tofu . you can just spray them with olive oil saute them.
Palak Paneer Bowl (Gluten- free + Vegetarian)
Ingredients
•1 big bunch Spinach 
• 7 - 8 cups Water ( for boiling spinach )
• 1 cup Onion 
• 4 Green chilies
• Paneer/cottage cheese( Tofu for vegan version )
• 2 Tbsp Ghee/ (Olive oil for vegan version) 
• 1 Tsp Cumin 
• 1 Tsp Ginger paste
• 1 Tsp Garlic paste 
• 2 medium Tomatoes / puree
• Salt to taste
• 2 Tsp Dried fenugreek leaves 
• 1 TspGaram masala 
Instructions
• Wash spinach properly and chop the leaves.
• Boil 7-8 cups of water, add chopped spinach. Let it cook for 3 minutes exactly and strain. Rinse with cold water (it helps in keeping bright green color intact).
• In a blender, puree the spinach without adding water and set aside.
• Take 1 tsp Ghee or oil, add sliced onion and fry until soft and translucent. In a blender add softened onion, tomatoes and green chilies and blend until a smooth paste.
• Heat 1 tbsp ghee or oil in a pan on medium heat and add cumin seeds. Add ginger garlic paste and sauté for 30 seconds. Add Tomato /onion paste and cook for few minutes.
• Add dried fenugreek leaves, garam masala and salt. add the spinach puree and Mix well and cook for 5-6 mins. Add water if gravy is too thick.
• Cut ½ inch cubes of paneer or tofu and shallow fry them in a pan. (This step is optional)
• Add paneer /tofu cubes in the spinach gravy and simmer for 2-3 minutes. sprinkle some ginger juliennes 
• Palak Paneer is ready to serve
https://thebellyrulesthemind.net/palak-paneer-bowl-gluten-free-vegetarian/
For more healthy ideas and recipes subscribe to our email or follow us on Facebook to stay updated with all the healthy information we share. Check out our Pinterest boards for all the healthy eating inspiration you'll ever need. For an unending buffet of healthy photographed food, follow us on Instagram