Look no more! This unique Peperoncini Pesto Chutney is one versatile sauce that goes so well with pasta, sandwiches, or even as a dip. Made with power greens Mezzetta Peperoncini and nuts, this Pesto Chutney is lip-smackingly delicious. You will instantly fall in love with the flavors. This post is sponsored by Mezzetta.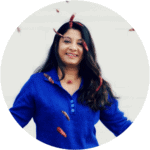 Today's recipe makes me wonder if the Italian pesto and the Indian green chutney could mean the same thing in different languages. Come to think of it, traditionally they were both made by grinding a fine paste of the ingredients using a mortar and pestle. Some ingredients like cilantro, mint, chillies, nuts, lemon juice are definitely a common factor between them. Ofcourse over the years the years, we have started using our blenders or food processors to make the same. Infact we have even started making so many different variations of the traditional recipes. The one thing that hasn't changed about the pesto or the green chutney is that no matter what you add them too, they will bring out a burst of flavors. Just the pesto or green chutney alone can enhance the taste of the meal.  Yum yum!!!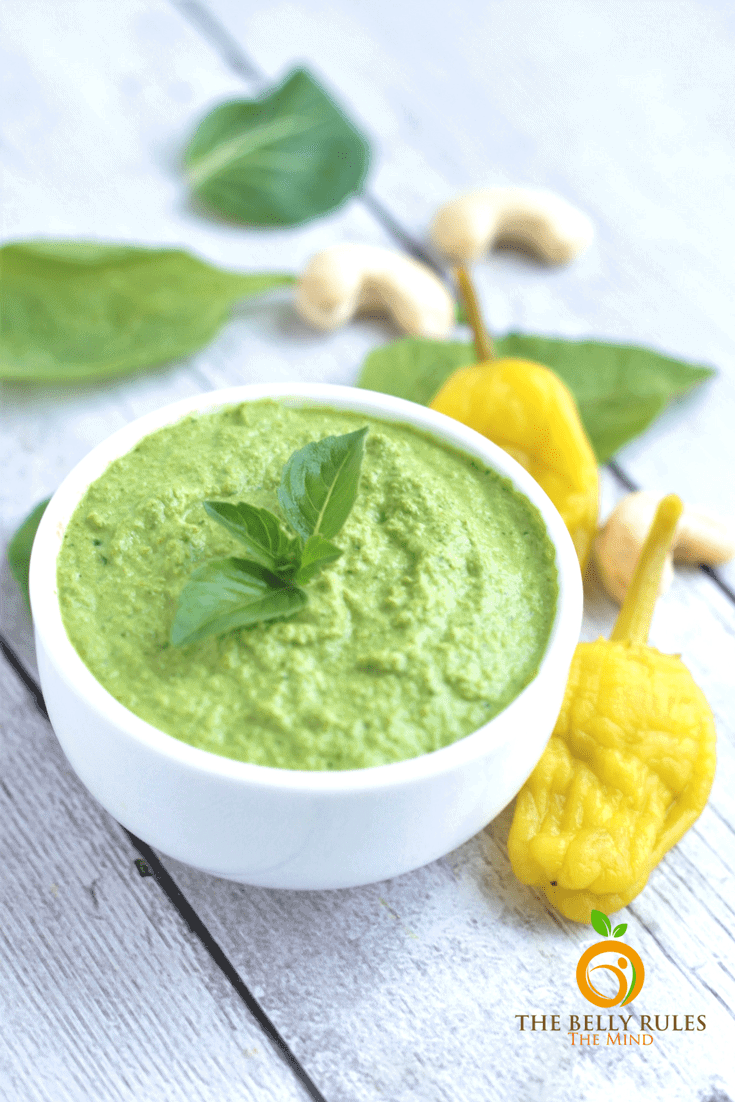 Let me tell you, this is a pretty unique pesto. Unsual combination of ingredients with a bomb of flavors. The star of this recipe is the Peperoncini.  They are typically a variety of hot chili peppers that originated in Italy. They are sweet and tangy to taste & because of their tang they are great for pickling. Thus are commonly found in jars in supermarkets. Raise your hand if you have bought pickled peppers in the past and didn't end up emptying the jar and for months together that jar was still lying in the refrigerator. Finally, when you clean the fridge you think these have probably passed their best by date and toss them. I admit, it has happened to me, not once but several times. So this time when I was buying the Peperoncini at Harris Teeter, I wanted to make sure I use these peppers in a recipe that requires me to empty the bottle. For this recipe, I used Greek Golden Mezzetta Peperoncini. These are grown on sun drenched Mediterranean farms,  their golden color and mildly piquant, fruity flavor echoes the spirit of native land, creating eating experiences that awaken the senses.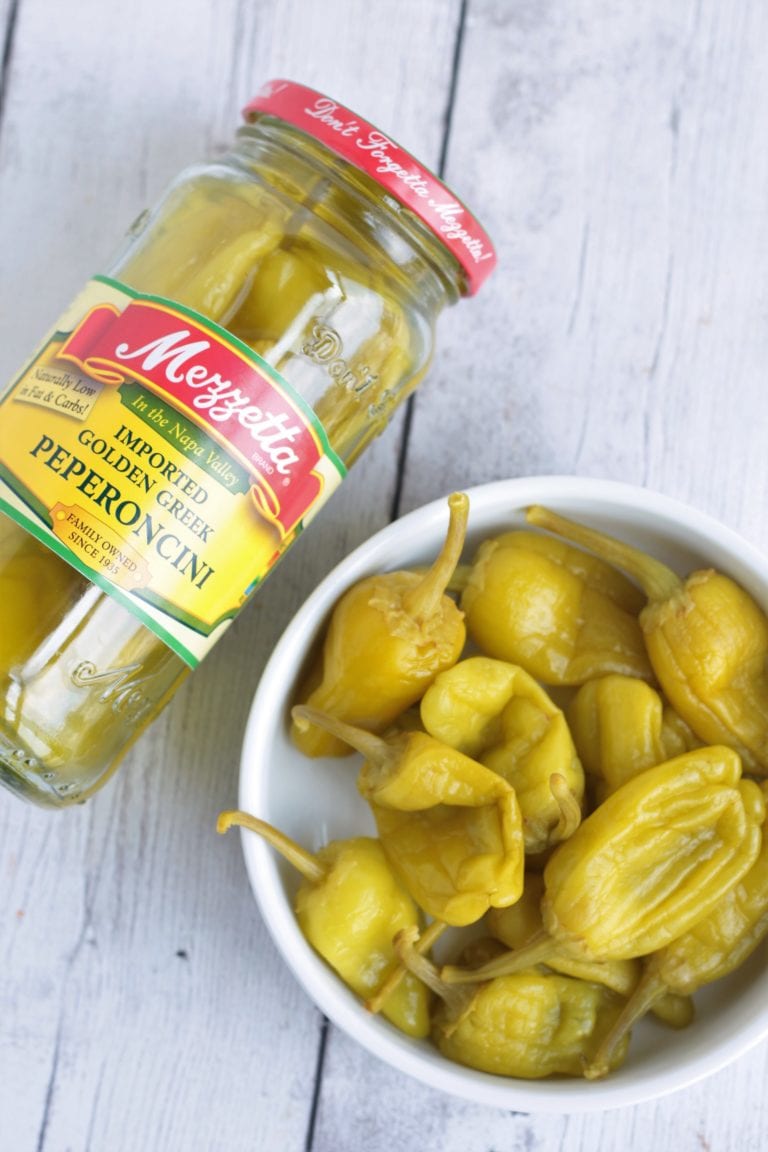 As I picked up the jar of Mezzetta Peperoncini,  I was sure I wanted to empty the whole jar at once and not have any left overs in the fridge. Once I got home and started looking through the ingredients in my fridge I realized, I had some power greens like spinach, bok choy and green chard along with basil. The minute I figured out that these greens will be my ingredients too, I knew I was making Pesto Chutney. Don't sweat about the power greens, you can use any greens you have, spinach, kale, mint, cilantro, basil, they will all work. So I started pulling the ingredients together. I must admit I had never used Peperoncini to make Pesto or chutney before so I was a little nervous, but the end result was well above my expectation.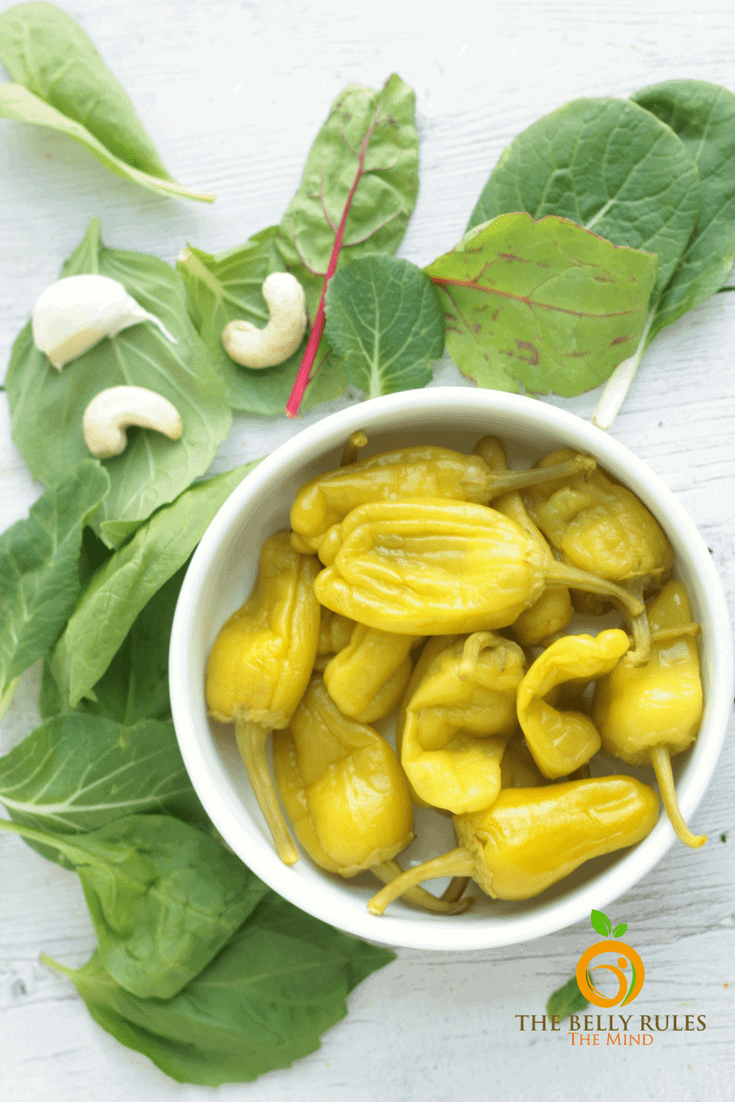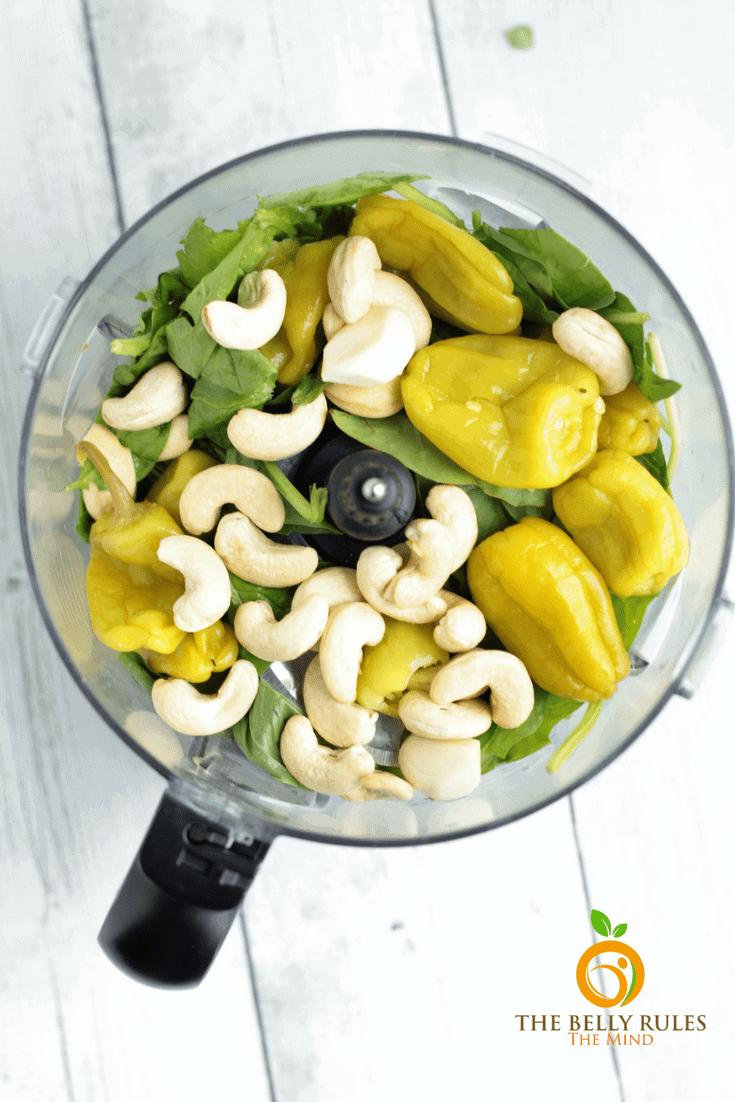 This no cook Pesto Chutney is super easy to make, no fuss at all. It's ready in literally 5 minutes. Just gather your greens, herbs, nuts, blend them all together and you are done. No need to add any salt or lemon juice. Pickled Peperoncini usually already have the salt and tang from the vinegar and also they are tangy enough on their own too. Although one could use any nuts to make a pesto or chutney, I chose to use cashews as they give a really smooth consistency. Mind you, the cashews help cut off the tang and salt from the pickles. Did I forget to mention that this Pesto Chutney is vegan and gluten free too?I initially made a smaller batch to figure out the taste of the Pesto Chutney, since it was a hit in the first go itself, I emptied the whole jar of Mezzetta Peperoncini and shared the Pesto Chutney with a friend and my sister.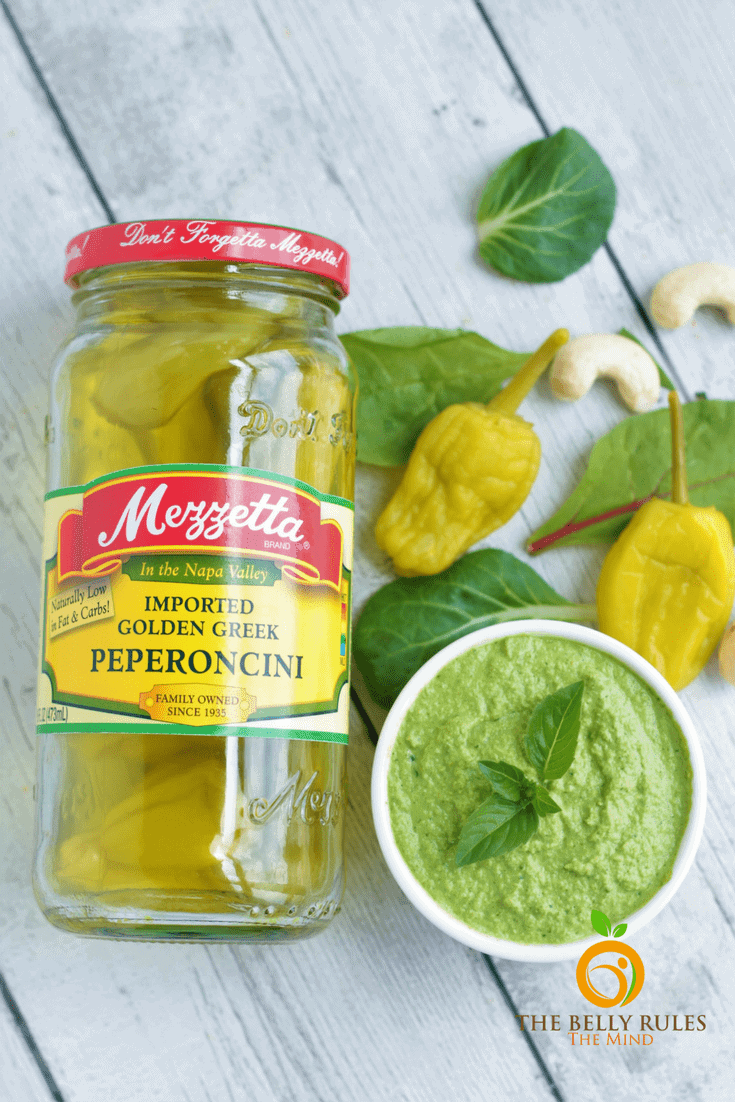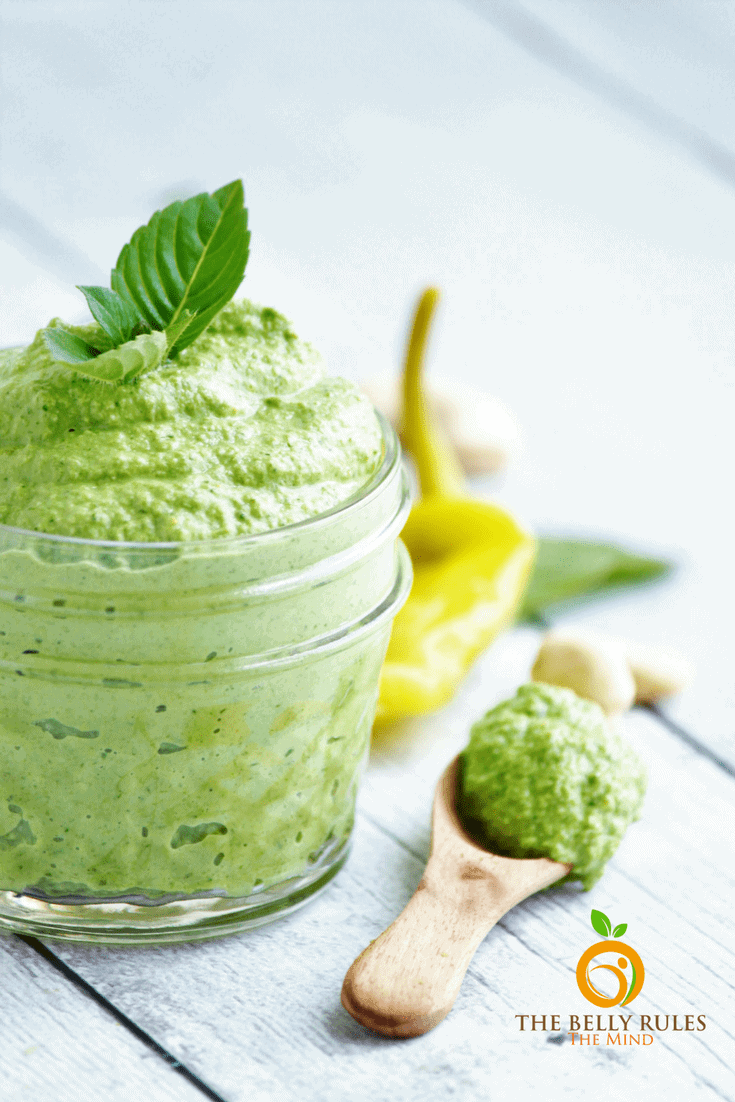 Over the weekend I had my sister and BIL over and I served this Pesto Chutney with Dosas and they absolutely loved it. It was tangy and full of flavors and aroma. Since they liked it, Dr. Mystery and I also decided to try the same combo and absolutely fell in love with the taste. Had I not told you the ingredients, wouldn't you have thought that this is the coconut chutney that goes with Dosas.  The next morning we spread it on our bread and made sandwiches too. Last night, I even made a small batch of pasta for Little A with this Pesto Chutney. We were pretty thrilled that this Pesto Chutney made anything taste better. This recipe will surely help you get to the bottom of the jar, no more wastage!!!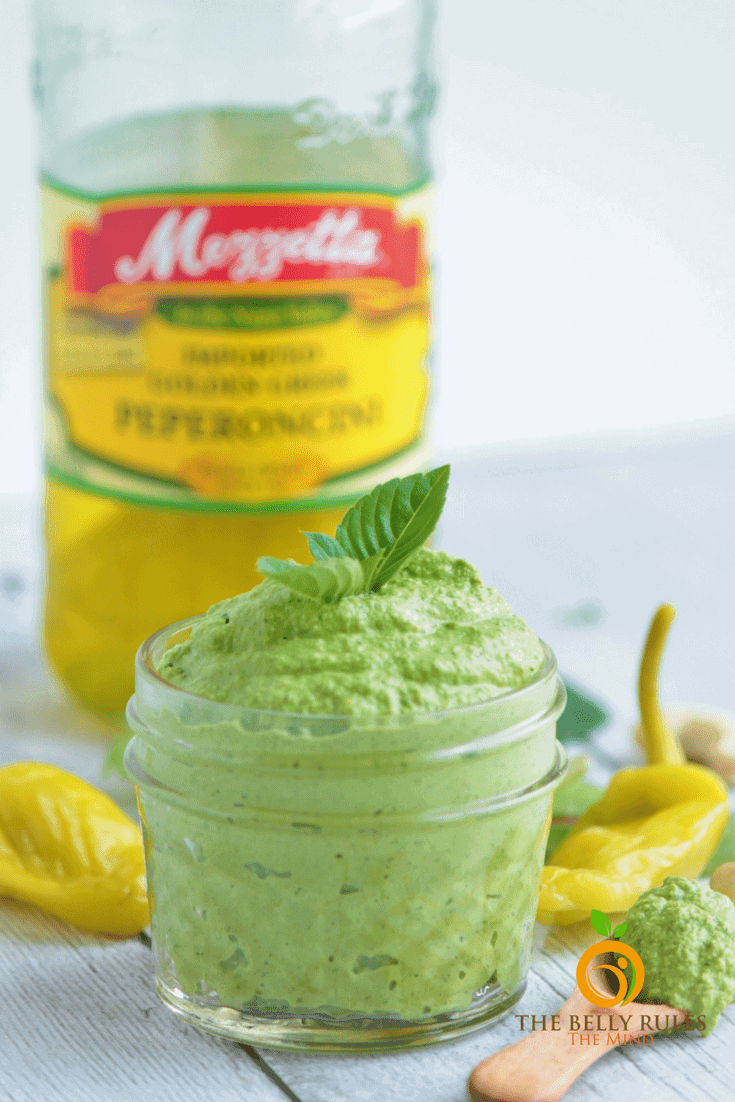 Have you had a chance to check our Mezzetta yet? If not make sure you check them out and participate in their give away here. One lucky winner gets 52 gourmet meal kits for two from Chef'd and 10 runner ups win a $50 Chef'd gift card.  Every entrant gets 10% off any Chef'd order. What are you waiting for? Hurry!!!
Peperoncini Pesto Chutney (V+GF)

This unique Peperoncini Pesto Chutney is one versatile sauce that goes so well with pasta, sandwiches, or even as a dip. Made with power greens Mezzetta Peperoncini and nuts, this Pesto Chutney is lip-smackingly delicious. You will instantly fall in love with the flavors. This post is sponsored by Mezzetta. 

Ingredients

2 cups greens (you could use whatever you have available, I used, spinach, bok choy and green chards)
1 cup fresh basil
1 cup cashews
4 garlic pods

Instructions

Rinse and de-stem the Mezzetta Peperoncini
In a blender add all the ingredients together and blend until a smooth paste.
I didn't have to add any water, vinegar or lemon juice as the moisture from the Peperoncini was good enough for the consistency.
If the pesto chutney is still a little tangy for you, add a little sugar to mellow it down.

https://thebellyrulesthemind.net/peperoncini-pesto-chutney/