Sweet and sour Raspberry Lemonade Popsicles to beat the summer heat. Made with fresh raspberries and homemade lemonade, a cool treat for a hot sunny day.
[avatar user="Anvita" size="thumbnail" align="right" link="https://thebellyrulesthemind.net/about+us" target="_blank"]Anvita[/avatar]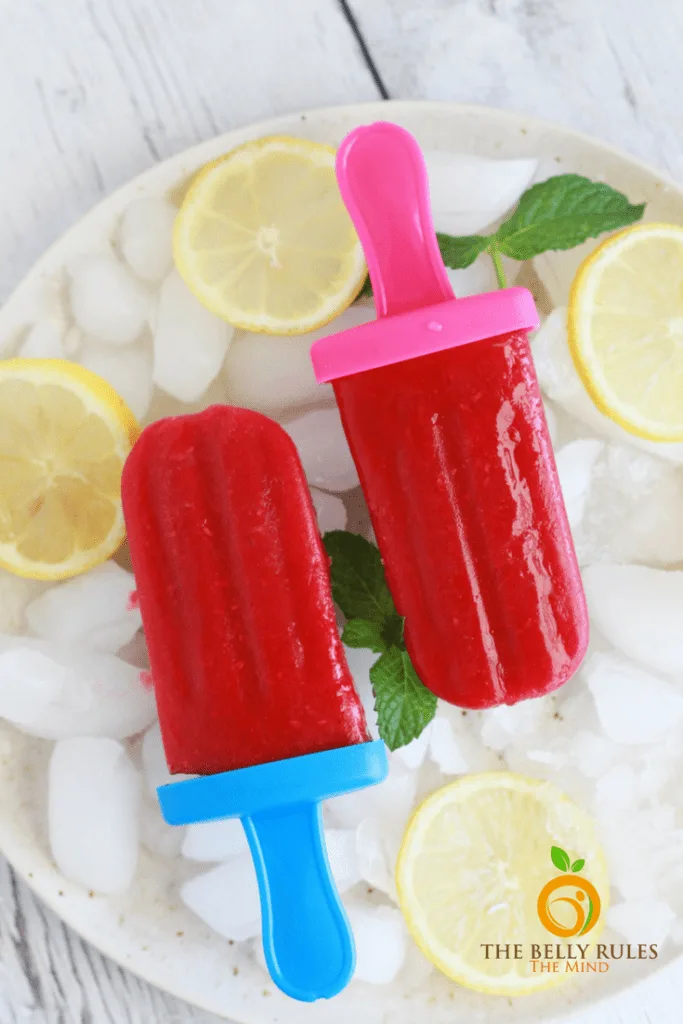 Yay!!! So happy to be back with you after a much needed and refreshing Summer Break, that I couldn't resist sharing these super refreshing Raspberry Lemonade Popsicles today. A couple weeks ago we went on a road trip to Canada. All the way from Raleigh, NC to Montreal to be precise. Trust me, it was one of the best road trips so far, skipped the highways, took the scenic routes and the weather was so co-operative throughout. Met family, traveled, explored, relaxed, it was great to unwind. I will share more details about the trip on the email that I will send out this week.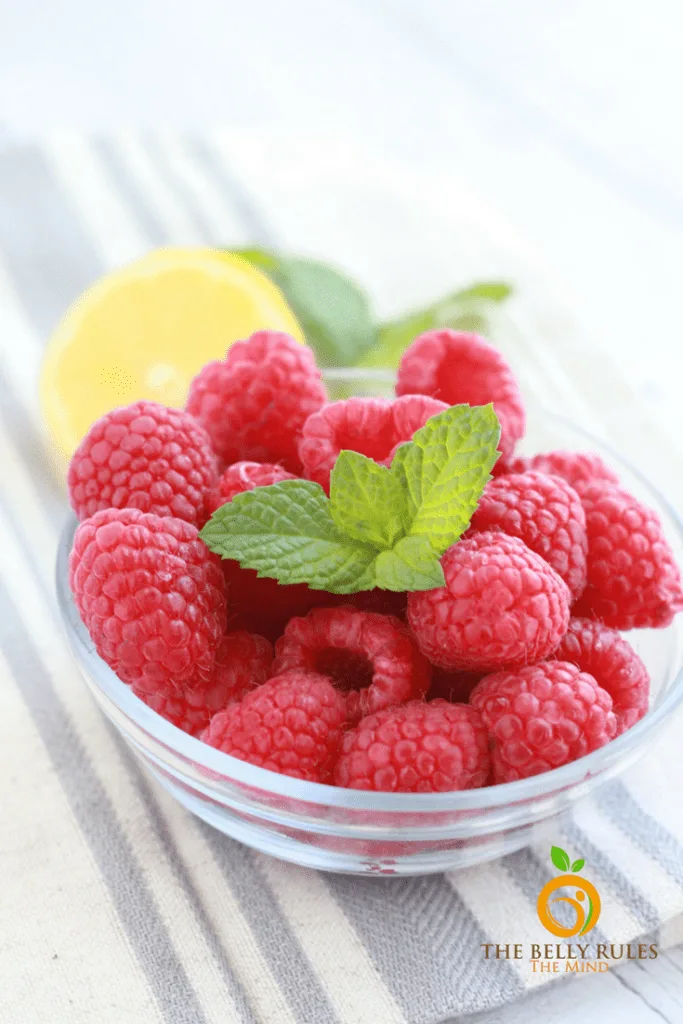 We kind of got spoilt in Canada with the cool cloudy days. We are making an effort to adjust to the NC heat now. From being outdoors the whole day to being stuck indoors due the heat is taking a toll on Little A. He always prefers colder climates to warm, so in an attempt to cool him down and keep him busy we have been doing several activities at home and one of them was him helping me makes these delicious Raspberry Lemonade Popsicles. Made with fresh raspberries and homemade lemonade, these Raspberry Lemonade Popsicles are a cool treat for anyone. Refreshing sweet and tangy flavors & a doze of antioxidants and vitamin C is all you need to keep you cool.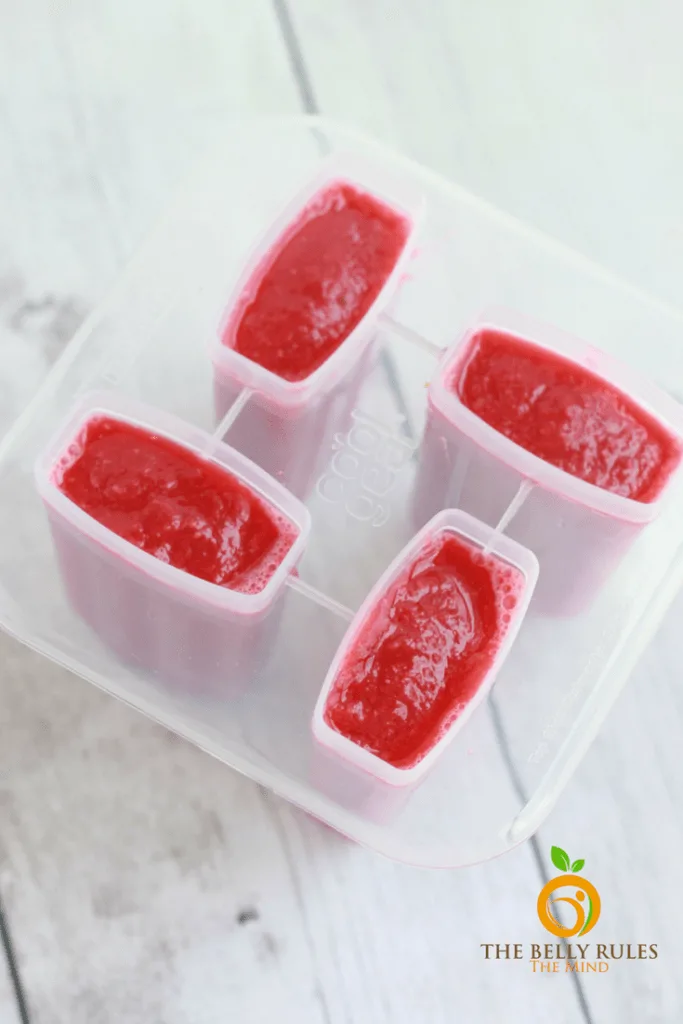 These Raspberry Lemonade Popsicles are super easy to make. I like to involve Little A with me when I am making no-cook recipes. I personally think it's a great way of exposing him to the food he consumes and learning about it. In my post 10 ways to engage kids in the kitchen, you can read all about why we should involve kids in the kitchen and some ideas too. Getting back to the popsicles, you can make them with fresh or frozen raspberries. I prefer using fresh raspberries as I always have a box of them in my refrigerator. I puree them and use them as is instead of straining them and getting rid of the seeds. Raspberry seeds are a great source of dietary fiber and contain a lot of antioxidants and essential fatty acids that are good for us. Unless someone is a texture freak, I recommend using them. Although Little A is a texture freak he actually didn't mind the seeds in the popsicles. After pureeing the raspberries, we freshly squeezed lemon juice into the same container. Finally, we added our preferred sweetener, monk fruit extract, and water, gave it a couple blitz and poured the Raspberry Lemonade into the popsicle molds.
Little A isn't a fan of mint, but you could also add mint or basil before blending and that would completely enhance the taste. I would even love to try a little zing from ginger. Lately, I am in love with the combination of ginger and lemon. Feel free to experiment and try different additions to this lemonade, you can't go wrong with this at all. You can use Strawberries, Blueberries anything you like. It's a very simple recipe and a great one to involve kids and keep them busy during the holidays. Honestly, kids look forward to the results or their experiments and cooking. Little A could barely wait for the popsicles to freeze. I have noticed when Little A makes something even if it's not the yummiest dish, he will still like it because he made it. So imagine these sweet and sour popsicles that kids love during summer. An absolute delight for them! So much healthier than the store-bought option. I always stock up on fruit popsicles as they come handy after an outdoor playdate or just when we have kids over playing at home.
If you like this idea, don't forget to share it with someone why might like these Raspberry Lemonade popsicles. If you like lemonade popsicles check these lemonades below that you can freeze to make your popsicles.
For more popsicle recipes from the blog, here you go
Hydrating Electrolyte Popsicles (you will be surprised by the secret ingredient)
Dry Fruit & Nut Popsicles
Peach Pops
Strawberry Yogurt Popsicles
Papaya Popsicles
Watermelon Popsicle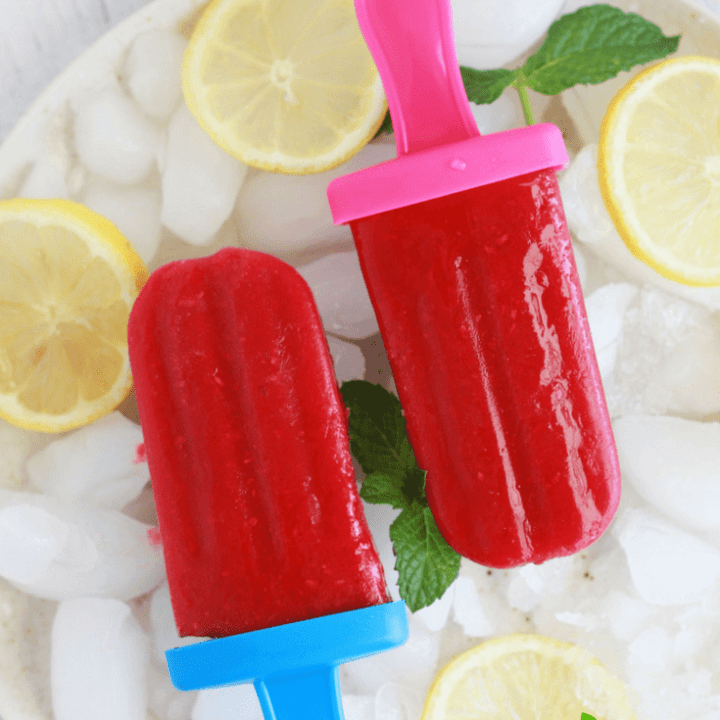 Raspberry Lemonade Popsicles
Ingredients
1 cup fresh Raspberries
1/2 cup lemon juice
1/4 cup monk fruit extract
1.5 cup water
Instructions
Puree the raspberries in a food processor or blender until they're as liquefied as possible.
Add freshly squeezed lemon juice to the raspberry puree.
Add monk fruit extract or a sweetener of your choice and water.
Mix well, making sure the monk fruit extract has dissolved completely and then pour in popsicle molds.
Allow to freeze for a couple hours and the tangy raspberry popsicles are ready.