Roasted Cashew nuts are the perfect holiday party snack! When you get them in 3 flavors, they become a part pack snack.. :-). Oct marks the start of my favorite time of year. From the parties to the music to the movies to the festive snacks (like these mixed nuts!)–I love it all!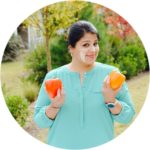 For me, no party is complete without a bowl of home Cashew nuts (3 flavors).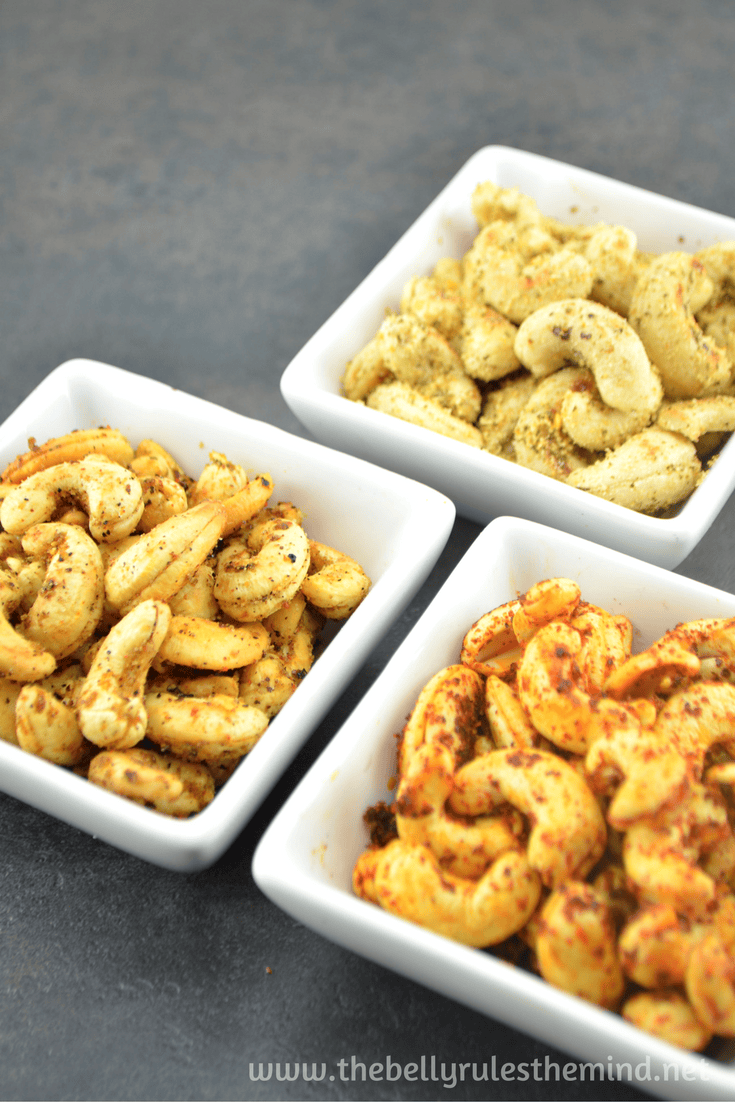 Sweet & Spicy cashew nuts
Chilli Lime cashew nuts
Pizza Flavored cashew nuts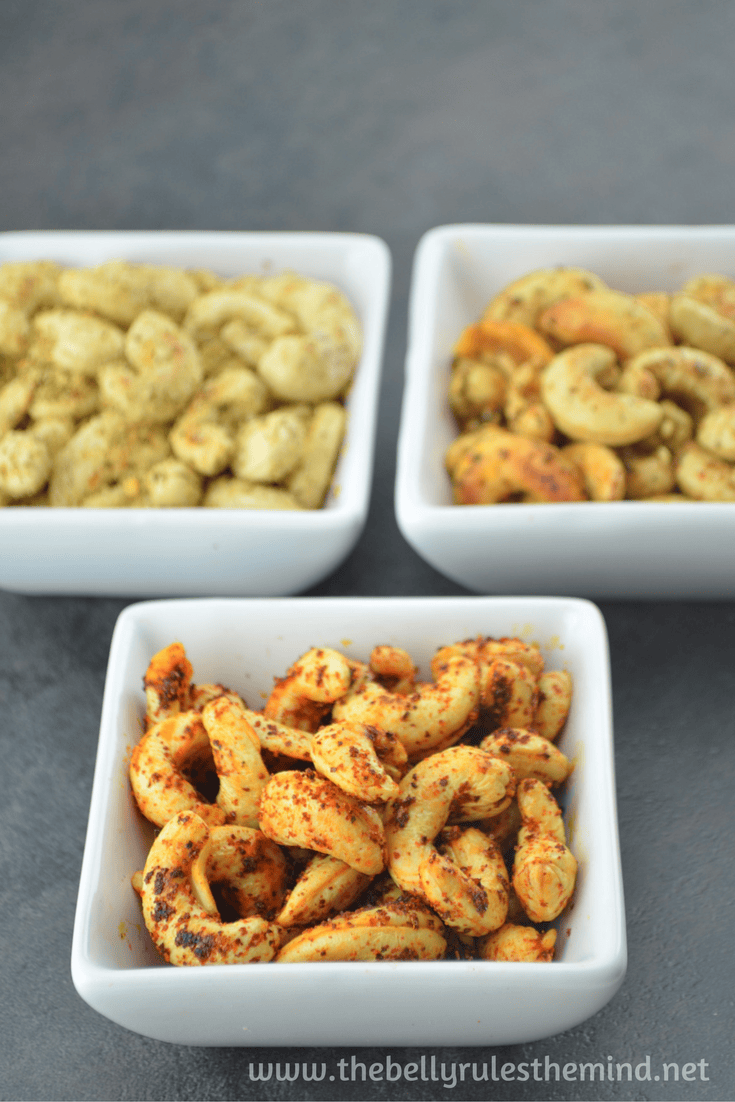 Me and my family are Nuts about nuts .. literally!! So when I came from India this summer, I got these beautiful Goan cashews but my kids refused to eat it coz of the dried skin on it .. Bummer. Each time i use to open the pantry and the big 2 packs of the cashew-nuts were literally staring at me :D So as the festive season was approaching what better way to serve them .. Roasting these cashew nuts is so easy !!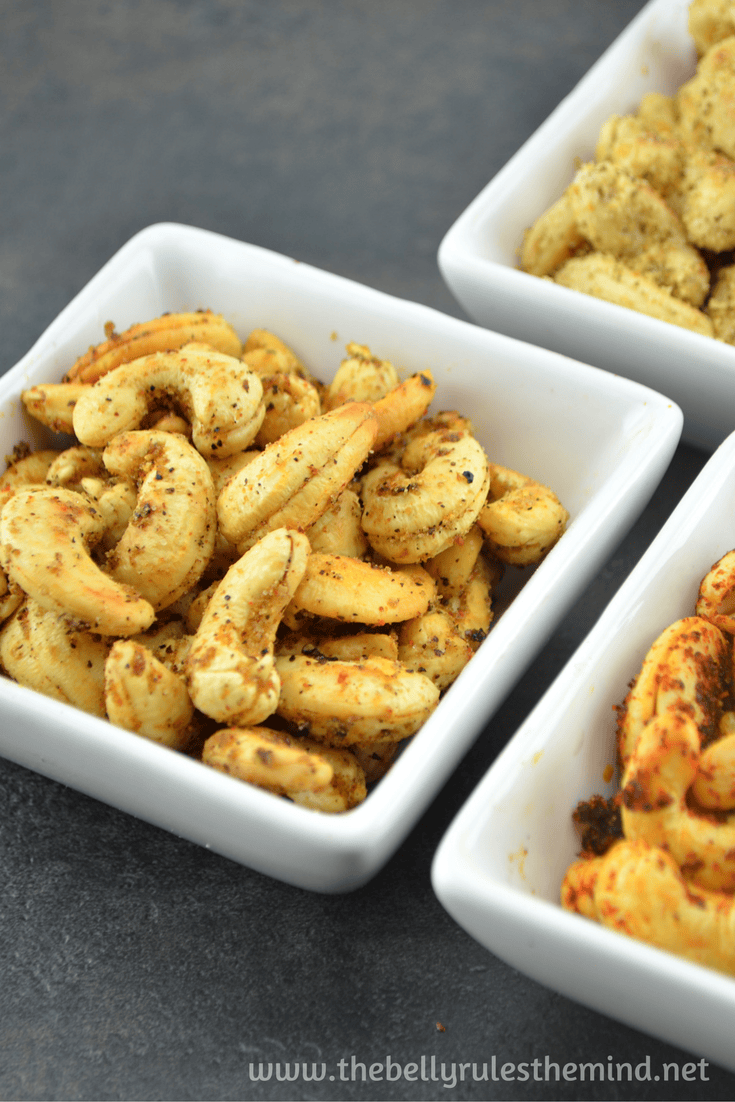 The days from Ganesh chaturti, Navratri Leading up to Halloween to diwali and then Christmas are just as special to me as are the actual event itself. The anticipation, preparation, and fun activities in between with my family and friends make the holiday season entirely magical.
1 Sweet & Spicy Roasted cashew-nuts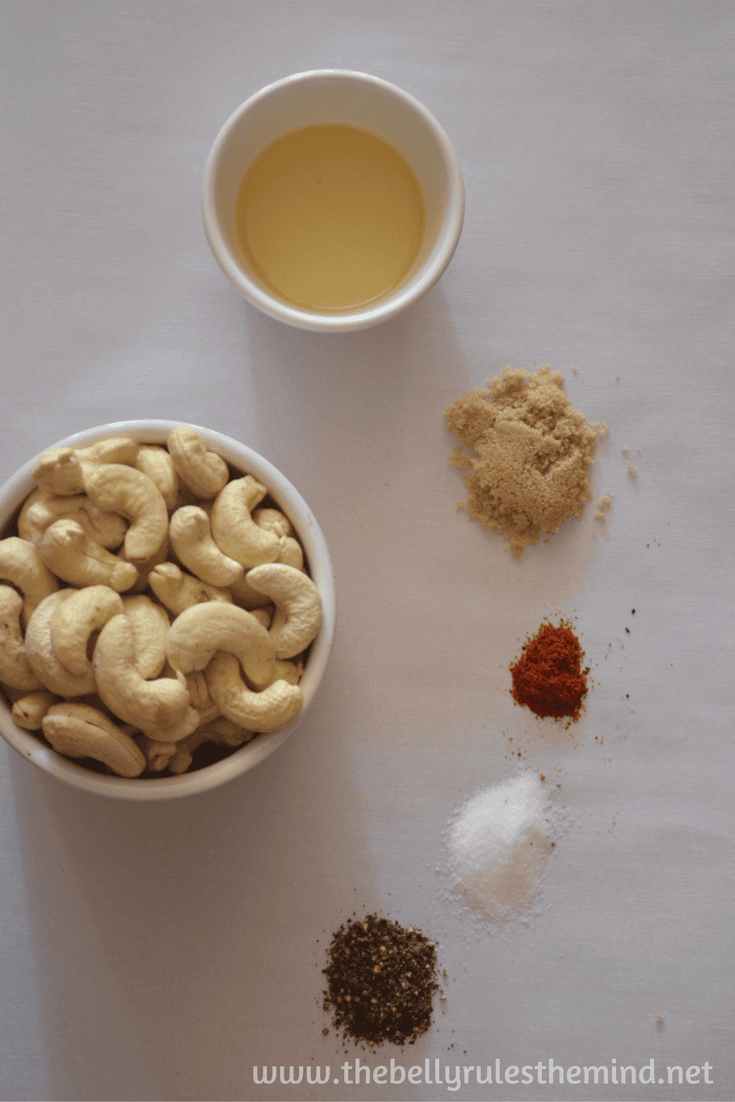 2 Chilli Lime Roasted cashew-nuts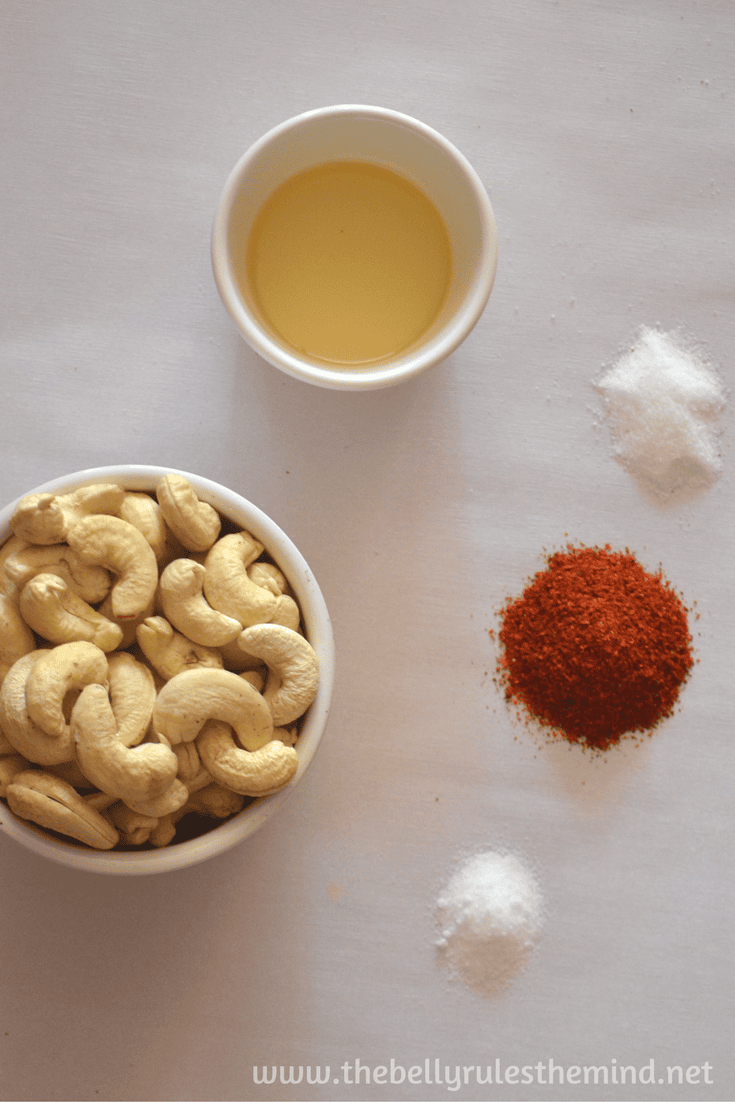 3 Pizza Flavored Roasted cashew-nuts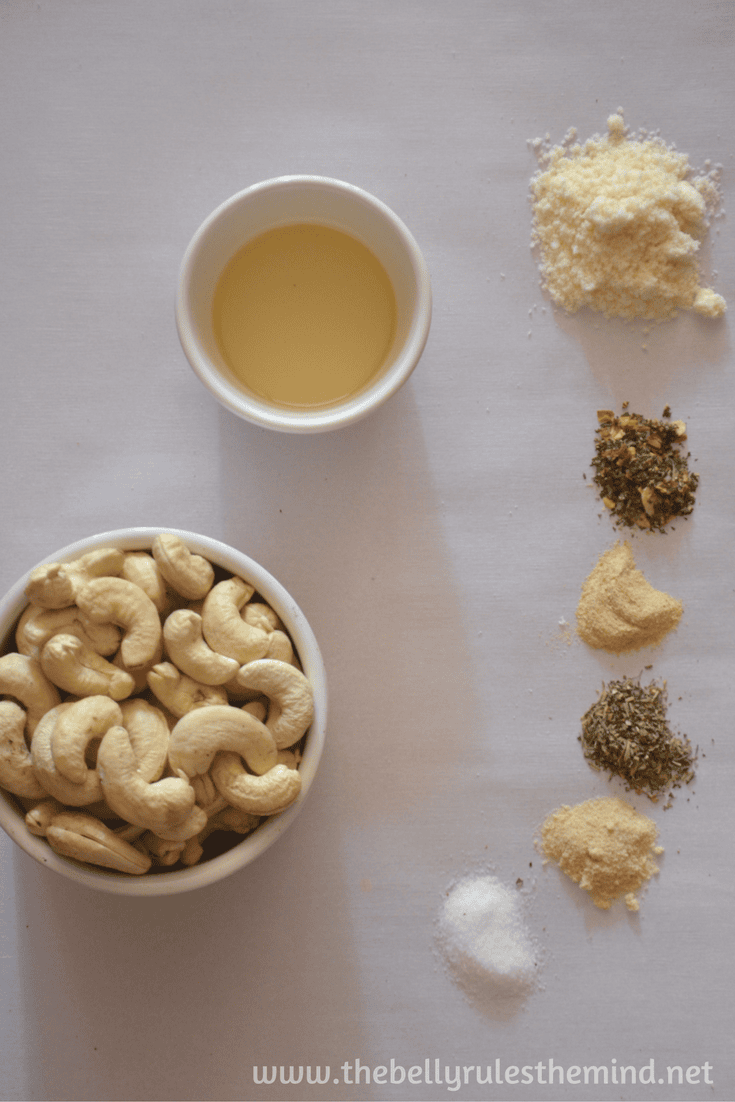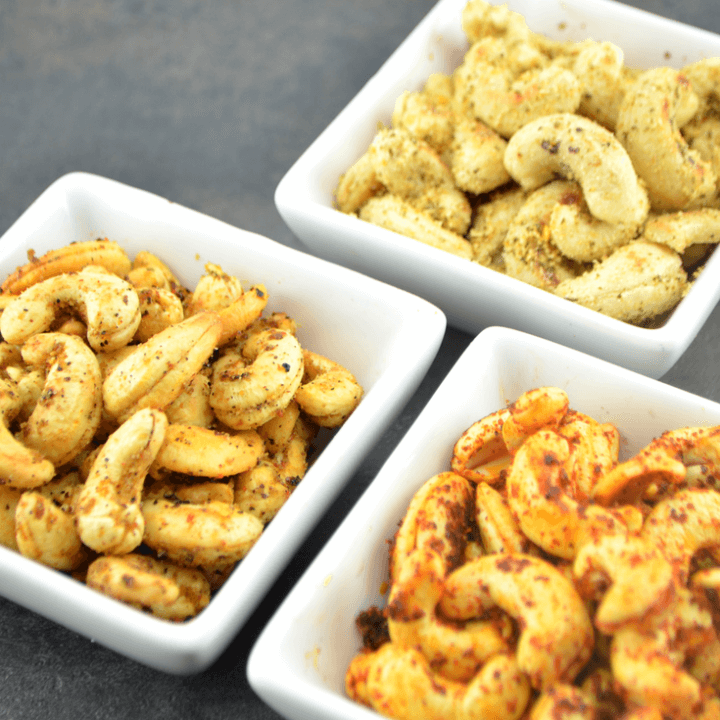 Roasted Cashew-nuts ( 3 Flavors )
Ingredients
To make sweet and spicy Roasted cashew-nuts.
1 cup cashew-nuts
1 tsp olive oil
1 tbsp brown sugar
½ tsp salt
1 tsp chilli powder
2 tsp black pepper powder
To make pizza Roasted cashew-nuts,
1 cup cashew-nuts
1 tsp olive oil
1 tbsp grated Parmesan cheese
½ teaspoon basil
½ teaspoon oregano
¼ teaspoon salt
⅛ teaspoon garlic powder
To make Chilli lime Roasted cashew-nuts
1 cup cashew-nuts
1 tsp olive oil
1 tsp red chilli powder
2 pinch of citric acid
Instructions
Position racks in the upper and lower thirds of oven to preheat to 250 °F.
mix the ingredients in a large bowl. Add cashew-nuts toss to coat.
spread in an even layer on a baking sheet
Bake, stirring every 15 minutes, until dry, about 30 minutes.
Let cool completely. Store in an airtight container.
Make Ahead Tip: Store in an airtight container for up to 3 weeks.
NOTE: You can even pan roast them .. Just toss the cashews in a pan with oil and roast it dor 10- 15 mins on low to med heat , as the color starts to change add the desired flavor and keep rasting it for 5 to 10 mins.till they are dry and have a nice crunch.
Check out our Minty & garlicky Roasted chickpeas & Roasted Peas .
For more healthy ideas and recipes subscribe to our email or follow us on Facebook to stay updated with all the healthy information we share. Check out our Pinterest boards for all the healthy eating inspiration you'll ever need. For an unending buffet of healthy photographed food, follow us on Insta