This Thai Tofu Buddha Bowl is super easy to put together and is full of flavors. Perfect weeknight dinner in 15 minutes to tantalize your taste buds. Vegan. Gluten-Free.
Short on time doesn't mean short on flavors. This Tofu Buddha Bowl is literally made in 15 minutes. A perfect weeknight dinner. I made this on one of the snow days last week. A warm comforting bowl of Thai flavors loaded of rice, curried vegetables and tofu. Not only is this bowl vegan & gluten-free, but is loaded with protein and healthy saturated fats. I had some left over basmati rice which I used for this preparation. Although Basmati rice has a low glycemic index, I am sure you can surely make this recipe healthier by using quinoa, or any other grain you prefer.
If you follow TBRTM, you will already know by now that I love Thai flavors. However, I am trying to get Little A to enjoy it too but seems like he prefers the Chinese flavors. I am still going to keep trying and I am sure one day he will relish these flavors. I mean, how can someone not enjoy Thai food, atleast that is what I think? Although sometimes I think, Little A has something got to do with the color of the food. He enjoys red & yellow curries the most. Next is brown (mix lentils) and green curries. He loves his green pasta sauce however, this curry was a little less green than it should be as I had limited cilantro. Trust me that makes a difference in the taste as well as the color. Check out the color of this Thai Green Coconut Dressing. This curry is nothing but a diluted version of the Green Coconut Dressing. I just watered it down and brought it to boil and then poured it over the rice vegetables and tofu.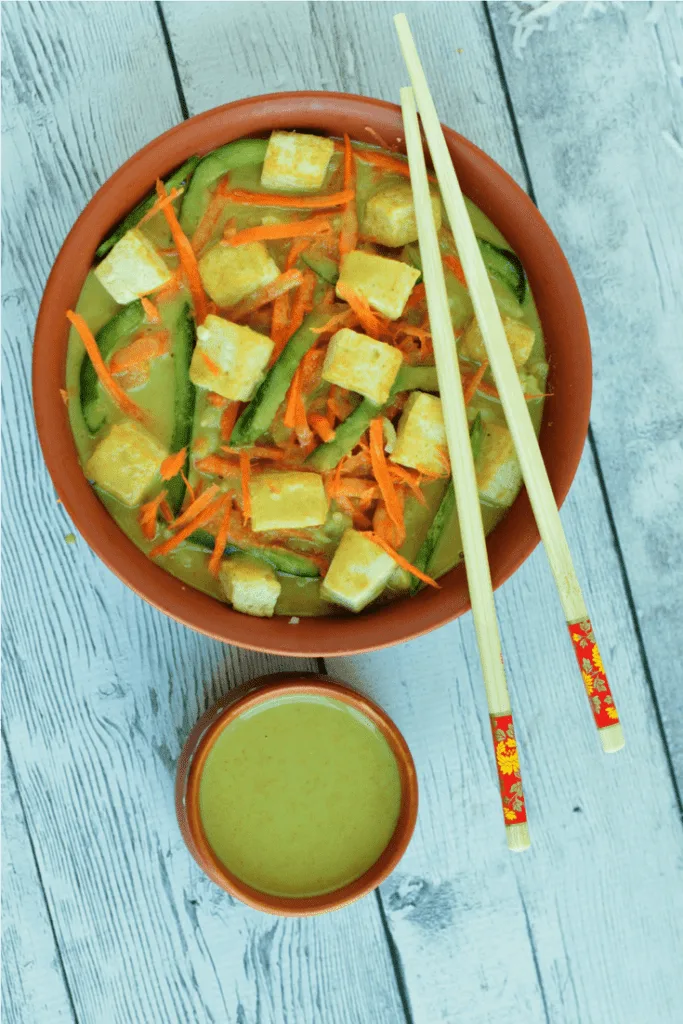 What I love about this recipe is that it comes together very easily and is pretty quick. The sauce is ready by just pulsing the ingredients in a blender. Just water it down and your curry is ready. while the curry comes to a boil, pan smear the tofu and throw in some raw carrots and bell peppers. They add in a perfect crunch to the delicious flavors, apart from consuming raw vegetables. The tofu and the curry are a great source of protein and good fats. It's a hit hit always. Everything I have made something with the Thai Green Coconut Dressing, it's always been yum!!! Try it yourself.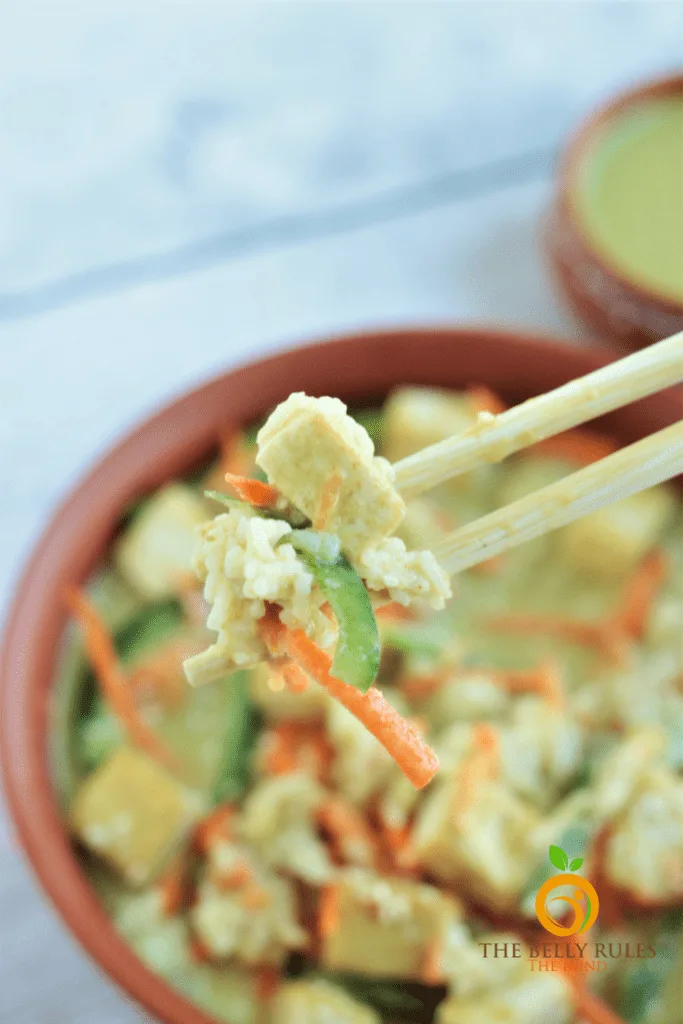 If you like this post, we are sure you will like some of our other posts too like,
Thai Green Curry Soup
Thai Chicken Satay with Spicy Peanut Sauce
Spiralized Thai Salad
Thai Green Curry Paste
For more healthy ideas and recipes, and to stay updated with all the information we share, follow us on Facebook. Check out our Pinterest boards for all the healthy eating inspiration you'll ever need. For an unending buffet of healthy photographed food, follow us on Instagram. For two random healthy recipes of the day, follow us on Twitter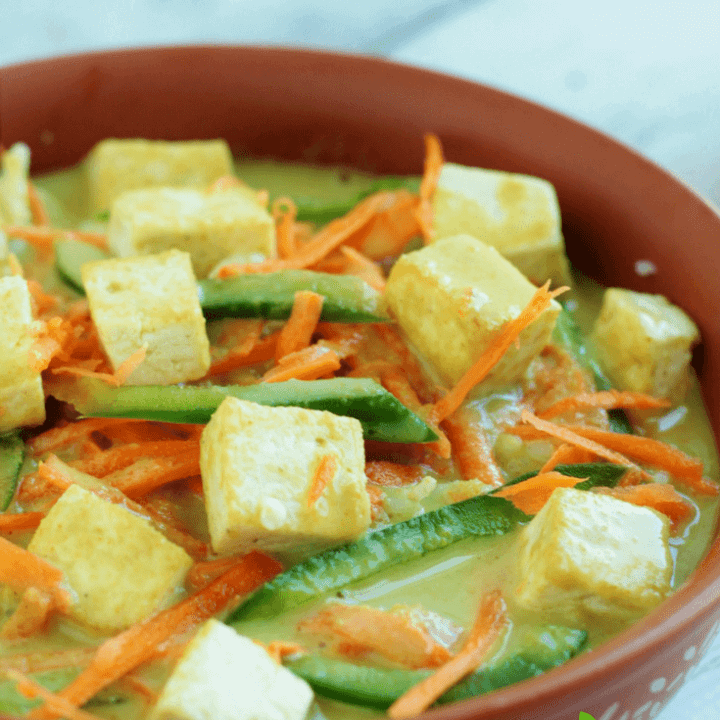 Thai Tofu Buddha Bowl
Ingredients
1 cup [Green Coconut Dressing|https://thebellyrulesthemind.net/2016/06/thai-salad-green-coconut-dressing/]
1 cup rice or grain of your choice.
12 pieces of Tofu
1 teaspoon oil
1 carrot, shredded
1 capsicum, shredded
Instructions


Make a 1 cup of [Green Coconut Dressing|https://thebellyrulesthemind.net/2016/06/thai-salad-green-coconut-dressing/].
Water it down to the desired consistency and bring it to boil.
Pan smear the tofu in 1 tsb oil, until lightly brown in a non stick pan.
I used left over rice but you could use any cooked grain of your choice.
Serve your choice of grain in a bowl. Throw in the raw vegetable shreds and tofu.
Pour the hot curry and dig in to enjoy the bowl.