This simple recipe for homemade Vegan Cranberry Pistachio Biscotti is like a little piece of heaven. If you've never made biscotti at home, you are in for a real treat. This recipe yields crisp, tender cookies that won't break your teeth ;) and it can be made easy with only 6 ingredients!
[avatar user="soniyasaluja" size="thumbnail" align="right" link="https://thebellyrulesthemind.net/about-us/" target="_blank"]Soniya saluja[/avatar]
It is the time of the year for cranberries in everything. Today I am sharing an easy delicious treat with you guys using dried cranberries and pistachios. It is perfect for setting out at a Christmas party or just to snack on snuggled up by the fireplace or for edible gift exchange Warning: this stuff is highly addictive.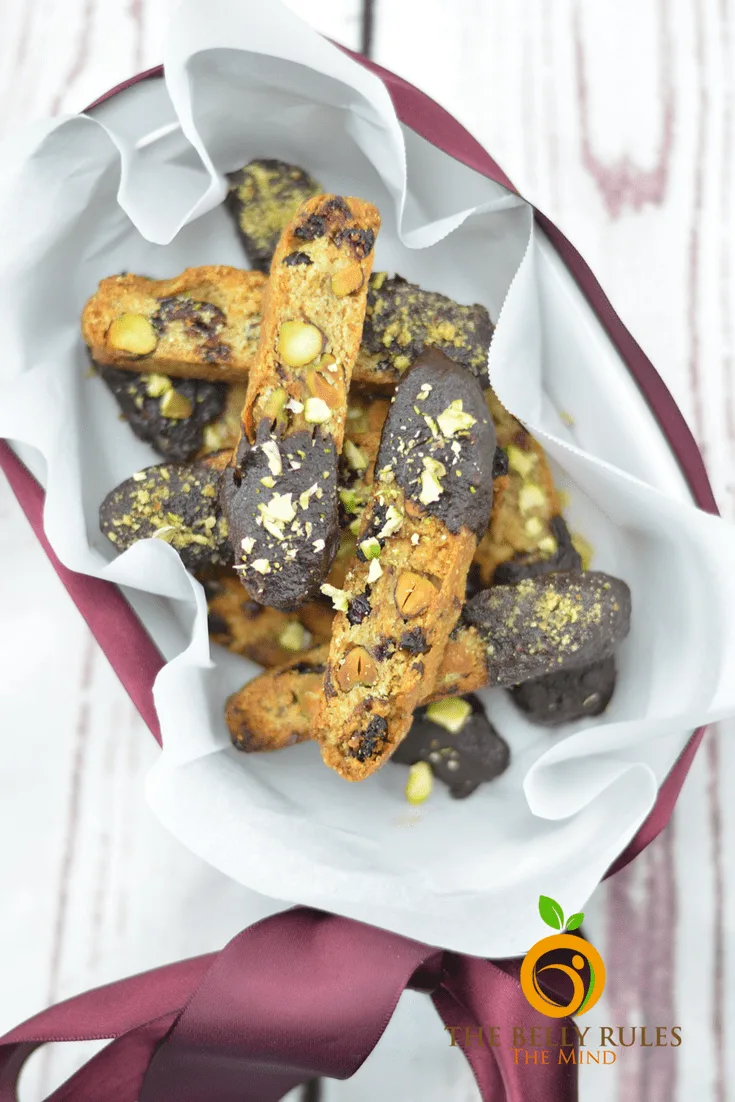 These Vegan Cranberry pistachio biscotti are crunchy, mildly sweet and fun to dunk in your favorite cup of tea, coffee or my kids favorite hot chocolate. I just like them as it is. You can decorate these biscotti with melted white or dark chocolate drizzle. Or coat the ends in melted chocolate!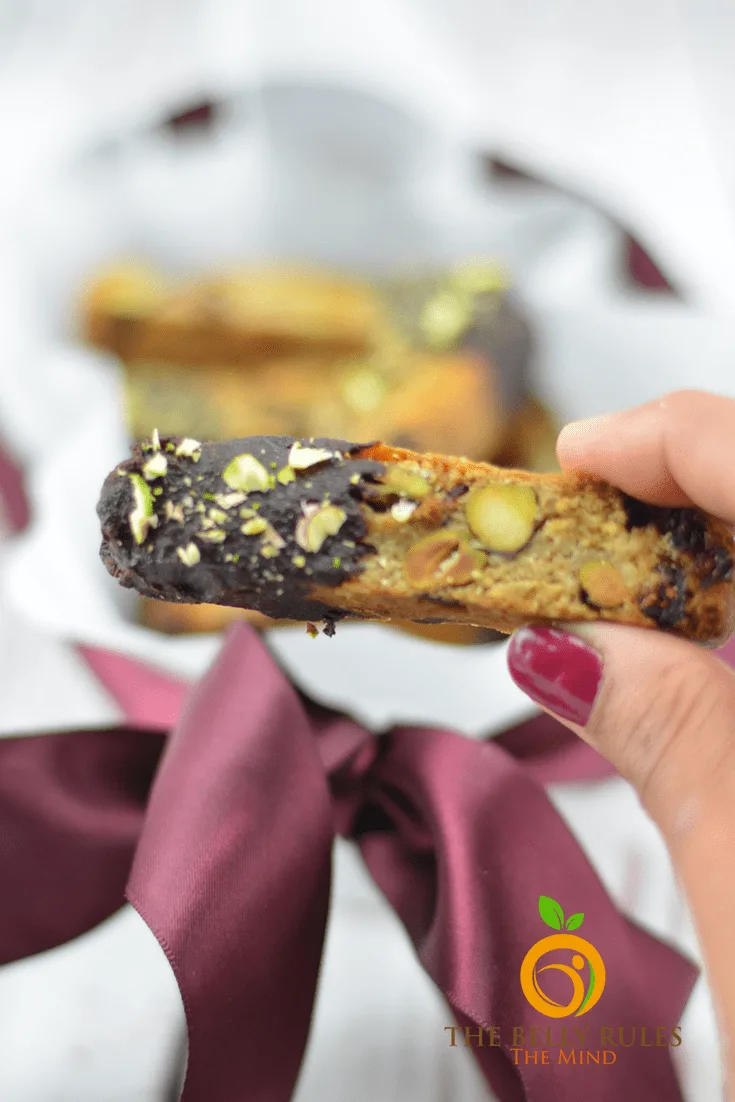 Speaking of crunch, I was pleased to find out that these Vegan Cranberry Pistachio biscotti stores incredibly well. If you're like me, you'll want to make a big batch to have around for breakfast throughout the week.You can easily substitute any nuts in this biscottis or even skip them. You can also try our Whole Wheat Cranberry Cookies or the Creamy Cranberry Coconut Energy bites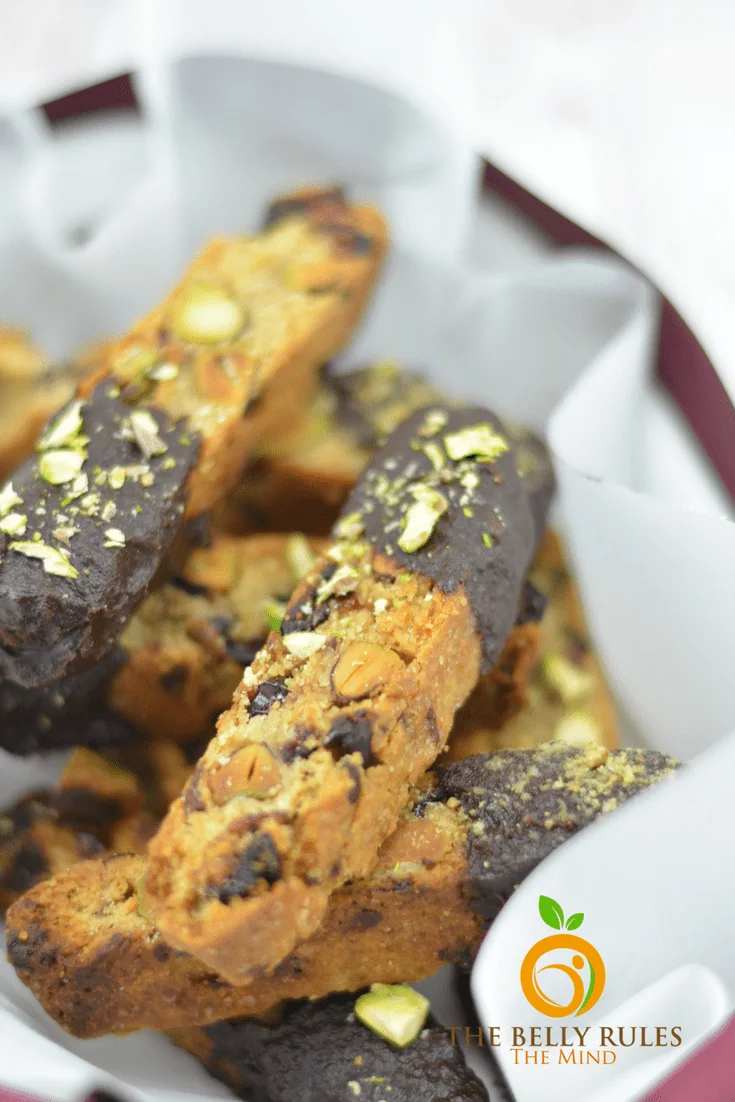 If you haven't tried making biscotti yourself yet, now is the time. Because I'm just going to keep making scrumptious biscotti flavors for you to try.
Vegan Cranberry Pistachio Biscotti
Ingredients
1 cup whole wheat flour
1 teaspoons Baking powder
1/4 oil Cooking oil
few tablespoon milk/ non dairy for vegan version
1/4 cup organic Sugar
2 teaspoons Vanilla Extract/optional
1/2 cup Pistachios/ unsalted
1/4 cup dried cranberries
1 cup dark choclate
Instructions
In a bowl, add oil and sugar, whisk it till it is creamy,add in the cranberry and pistachios and mix it Add the dry ingredients and combine till it forms a sticky dough.add few teaspoon of milk to form a dough.
Preheat the oven 350*F
Press the dough into a long log shape.
Place the log on a baking tray which is lined with butter paper.
Bake the dough for 20 minutes till it forms a golden crust on the top.
Remove it, and using a serrated knife, cut the log into half-inch thick biscuits.
Turn the cut edges on the tray.
Bake it again, for 5-6 more minutes and take it out and let it cool .
melt the chocolate in the microwave oven .dip the cooled biscotti in the melted chocolate or drizzle it on the biscotti.
Store it in airtight container.