62 Fast breakfast ideas for those busy mornings. These healthy breakfast ideas are super easy and quick to prepare. No-cook, make-ahead, vegetarian, vegan, gluten-free options too !!!
Breakfast, is it the most important meal of the day? Absolutely YES!!!! It literally means break the fast. It kickstarts your metabolism and helps you burn calories during the day. It fuels you up for the rest of the day after an overnight fasting. When we wake up in the morning, our blood sugar levels are low. For our body to function and make our muscle and brain work. Breakfast helps us replenish it. Without breakfast our body is like running a car without petrol. We should consumes our breakfast within two hours of waking up and it should 20-35% of your guideline daily allowance (GDA).
If you have read the above paragraph before then you know it's from one of our older posts 7 Days 7 Breakfasts. We seriously cannot emphasize enough the importance of a healthy breakfast. Yet we know so many people who just don't realize the importance of breakfast.
Do you skip breakfast as your mornings are far too busy?
Do you often pick up breakfast from a drive-thru? Would like to like to save your hard earned money?
Do you wake up every morning thinking what to make for breakfast?
Not sure how to make your breakfast fast & healthy?
You are just not a morning person?
If you answered yes to any of the questions above. This blog post is for you. In this post we share with you some really healthy and quick breakfast options for you and your family. We have got you covered with all kinds of ideas, sweet to savory. No-cook, make-ahead, vegan, gluten-free, overnight oats, puddings and parfaits, muffins and energy bites, smoothies, juices & yogurt bowls. Most important they are all healthy & vegetarian!!! So let's get started.
Recipes from the TBRTM blog (Healthy, No-cook, Vegetarian, ready in 5 minutes)
Ready in jiffy these smoothies and juices are a great way to kickstart your day.
Savory Breakfast Ideas (Healthy, Vegetarian, Make-Ahead)
Healthy Breakfast Cookies, Cake & Bread (Make-Ahead)
The kids love these don't they? Make these ahead of time and they can be such a life saver in the mornings.
Healthy Overnight Oats (No-Cook, Make-Ahead, Sweet, Fruity, Chocolaty, Nutty)
If you are not a morning person (time for a confession, I am not a morning person either), then these overnight oats are the best breakfast in the world. Just dump the ingredients together, the night before and voila breakfast is ready to be served when you wake up in the morning. How good is that?
Peanut Butter & Blueberry Overnight Oats (V)
Healthy Chia Puddings & Parfaits (Protein Packed, No-Cook, Make-Ahead, Sweet, Fruity, Chocolaty, Nutty)
If you like a protein packed breakfast in the morning, these Chia Seed Puddings are a great way to kickstart your day.
Blood Orange Chia Pudding (V,GF)
Breakfast Smoothies (No-Cook, Power Boosters)
Wake up to your daily dose of fresh vegetables and fruits. Try to make use of fresh ingredients as much as you can to get the maximum nutrients from these smoothies. Absolutely guilt free, and loaded with the goodness of fiber from fresh produce. Toss in the ingredients in a blender and blend. Enjoy them as is or if you have some extra time on your hand and you like your breakfast fancy, make yourself a smoothie bowl, add in your favorite toppings and nourish your body.
Green Goddess Smoothie (V)
Matcha Mint Avocado Green Smoothie (V)
Healthy Breakfast Muffins, loaded with the good stuff, vegetables, goof fat and fiber. (Make-ahead)
If you like to snooze in the mornings, these muffins are a perfect idea for breakfast - on - the -go.
Breakfast Energy Bites
Bite into a burst of superpowers with these fast, nutritious and affordable energy bites. Always a hit with the kids.
Breakfast Granola (Make-Ahead, Crunchy, Fruity, Chocolaty & Nutty)
Homemade Granola is far more healthy and delicious than the store bought fancy oats. These are great for cereal lovers and can be made ahead of time. Make a big batch and store it in your pantry.
Healthy Yogurt Bowls
Skip the traditional boring yogurt and start your morning with these gorgeous yogurt bowls topped with fruits.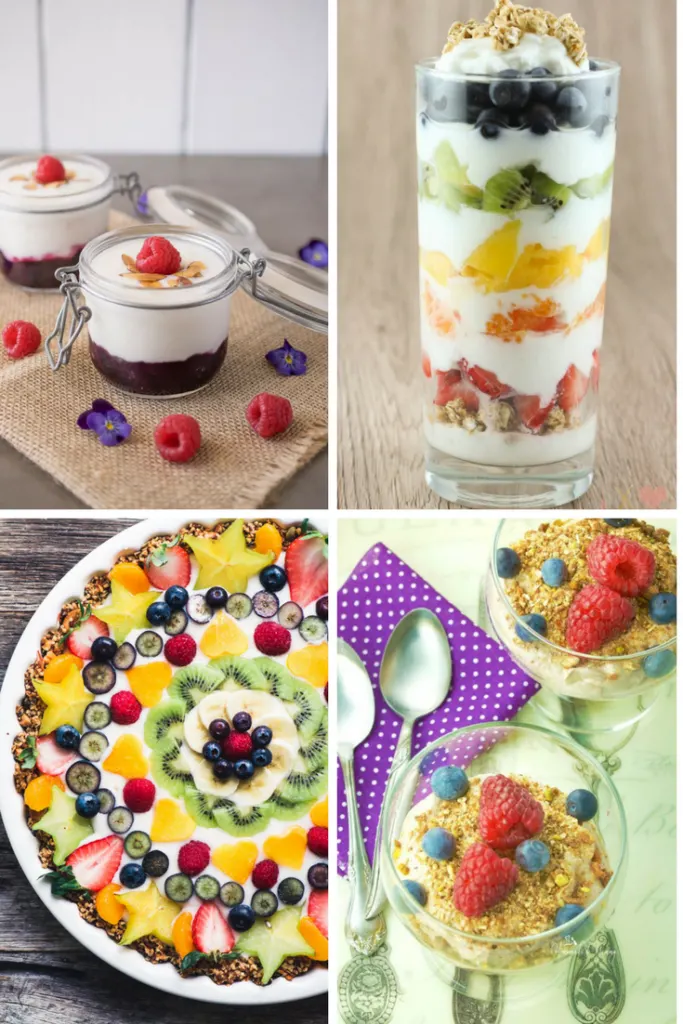 Explaining from Left to Right
So there you go, almost 60 days of healthy, no-cook, make-ahead breakfast recipes. So no more excuses. Enjoy.
Do you have a favorite that you would like to try first? What is your typical breakfast like? Drop in your comments below, we would love to hear from you.
If you like this breakfast recipes, share these with your friends and family and promote healthy eating.