Avocado sushi rolls are one of several different vegan options for people who love sushi. Ready in only a few minutes, this is the perfect snack, appetizer, or even dinner. We love to make these with the whole family so everyone has a hand in helping make a great dinner, mixed in with a bit of healthy competition.
Come JOIN US on our FACEBOOK group and be a part of our community and discuss various recipes, tips and tricks.
LET'S BE FRIENDS ON PINTEREST! WE'RE ALWAYS PINNING TASTY RECIPES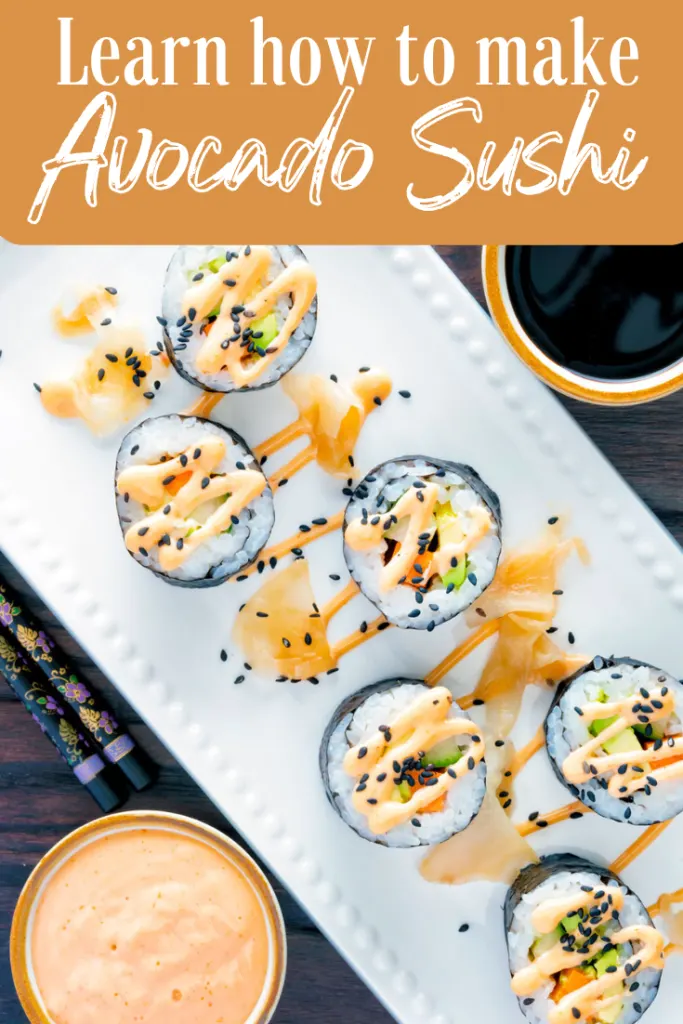 Jump to:
What is an avocado sushi roll?
An avocado sushi roll is a tasty, vegan version of sushi. It is perfect for anyone who does not eat meat, including fish.
One of the things we love about these avocado rolls is that you can make it a family activity. It can be fun to see who can make the best sushi roll or who can make the most complete rolls the fastest.
What is in an avocado roll?
An avocado roll is a type of vegan sushi roll. It is made with small pieces of avocado, often combined with other veggies like carrots or cucumbers. You can further add flavor with your favorite dipping sauces and serve it alongside your favorite sushi rolls.
What does avocado sushi taste like?
Avocado has a naturally creamy, mildly earthy, and somewhat buttery flavor. The sushi rice adds a bit of a sweet and sour flavor to the avocado rolls for a creamy, sweet and sour flavor.
The flavors are relatively mild, which means you can season it with your favorite dipping sauces and flavors. You can add in extra flavor to the rolls with veggies, ginger, or other seasonings to change the flavor a bit more.
Ingredients to make avocado sushi roll
When you want to make avocado sushi rolls at home, you'll need a few different sets of ingredients and tools to make your job easier. We break down what you need below:
For the sushi rice, you'll need:
Sushi rice - We provide instructions on how to make this or you could follow our sushi rice recipe here.
Water
Sushi vinegar - You could use rice vinegar instead.
Sugar - This balances out the tartness of the vinegar.
Salt
For the avocado sushi, you'll also need:
Full size nori sheets - You should be able to find these at your local store or order them online.
Ripe Avocado - Pick ones that have a soft, but firm texture, and darker green color.
Roasted black sesame seeds
Optional ingredients - You can also add in cucumber and carrots for added crunch.
For a great tasting dipping sauce, you can make our Sririacha Aioli with pickled ginger.
Sriracha Aoili from the blog
Finally, we use the following tools to make life easier:
Bamboo Rolling Mat
A small bowl of water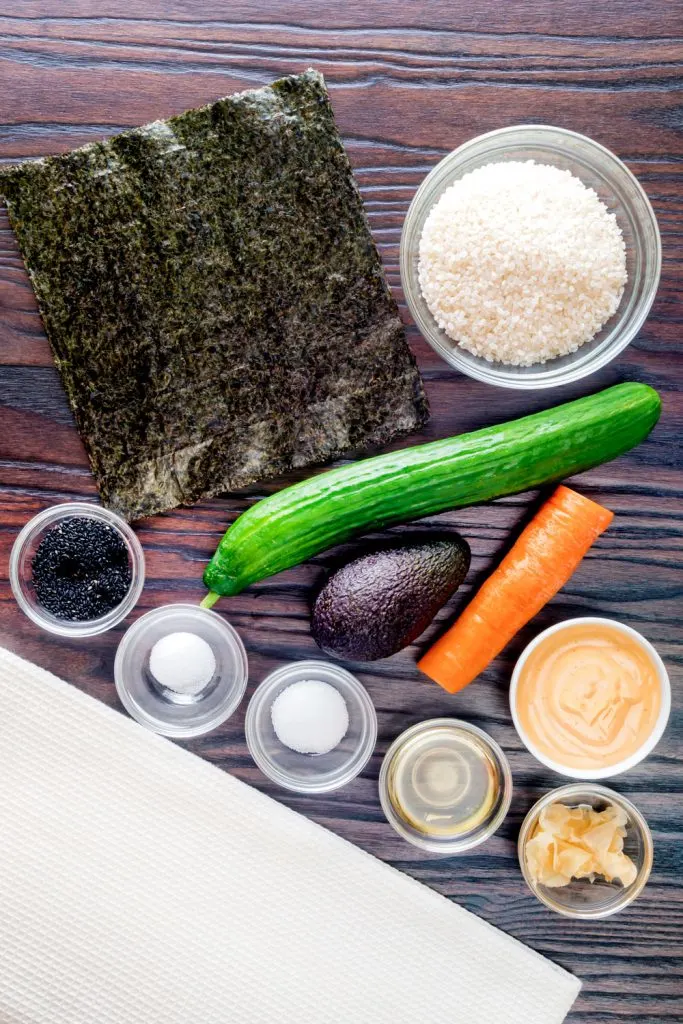 How to make avocado sushi roll
Before you make avocado sushi rolls, you will need to have sushi rice ready. You can find our sushi rice recipe here, or follow these simple instructions to make the rice for the rolls:
Once the sushi rice is ready to be rolled into a sushi roll or to be added to a sushi bowl. See below for how to roll an avocado roll.
While the rice is getting cooked, prepare the avocado, carrots and cucumbers. Cut the avocado into slices and the cucumbers and carrots into 1 cm thick strips.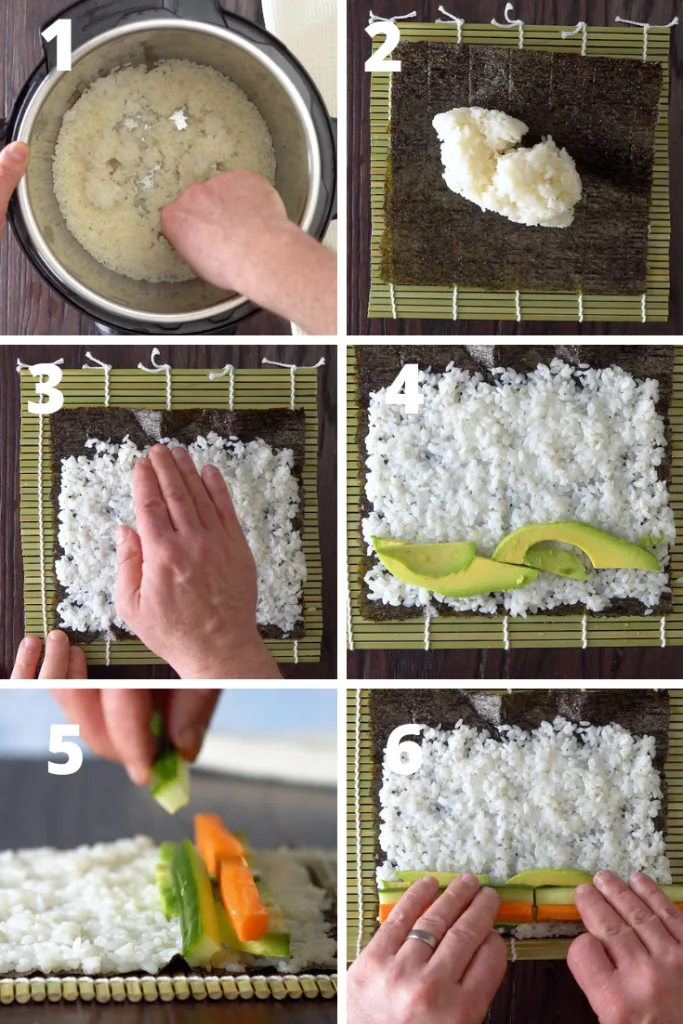 How to roll an avocado roll
When we make avocado sushi, we make sure to use a bamboo rolling mat. That makes the process super easy. Here's how to roll the avocado sushi roll:
First, place the bamboo mat on the workbench so that the greenish side is up and the cotton strings face away from you.
Next, place the nori sheet on the mat with the shiny side facing down.
When ready, take a cup of rice and place it in the center of the nori sheet.
Next, wet your hands in water and spread the rice evenly on the nori sheet. As you spread it out, make sure to leave about ¾ inch of the sheet empty towards the cotton threads and then press the rice down to make sure it's evenly spread. (don't smash the rice, just push it down a bit so it lays flat)
Next, place 3 to 4 avocado slices, the cucumbers, and carrot slices on the lower side of the sheet. When ready, connect the short strips making sure the strips reach both the ends.
Tuck your thumbs under the mat and hold the ingredients with your fingers and then roll the mat away from you. As you roll, make sure the nori sheet is overlapping nicely with the side that doesn't have the rice.
Next, place the sushi roll on a cutting board and carefully cut the sushi rolls into 6 pieces with a wet knife.
Finally, sprinkle the sushi rolls with roasted black sesame seeds and then serve it with our Sriracha Aioli, soy sauce / tamari, wasabi, and pickled ginger.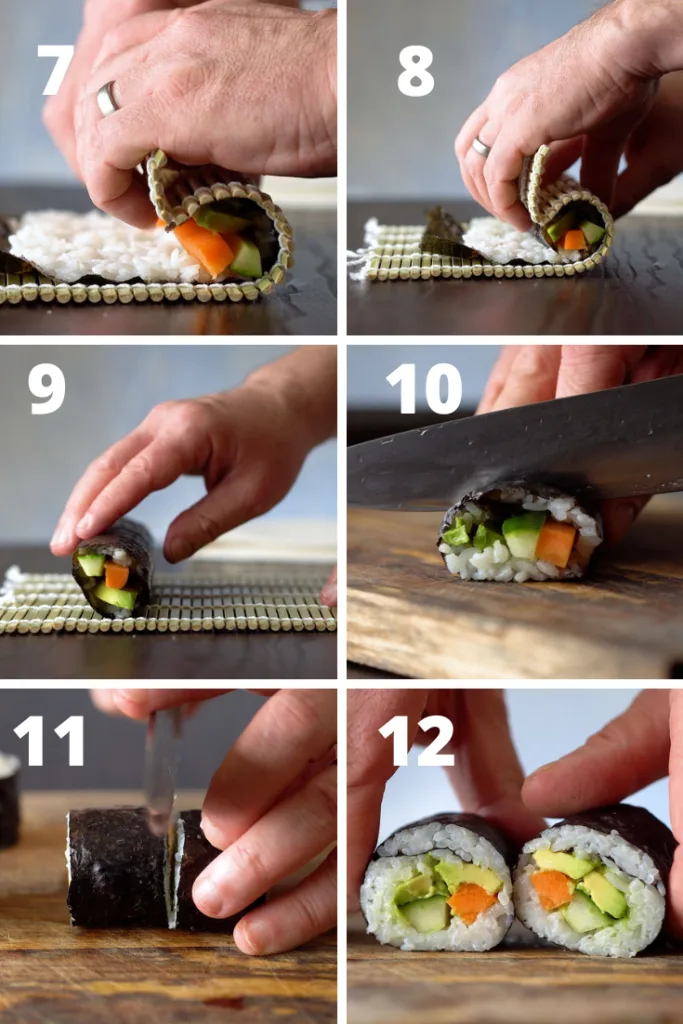 How to keep avocado fresh in sushi?
If you are wondering how to keep avocado fresh in sushi, here's what you need to do. First, rub the sliced avocado with either lime or lemon juice. This will help prevent browning.
The other step you can take is to roll the rolls as tight as possible and then wrap each in plastic wrap to keep as much air out as possible. Only cut them when you are ready to serve.
How long does an avocado roll last?
Once you make it, you have about 24 hours to eat avocado sushi rolls. After that, the avocado will start to turn and they will become less appetizing.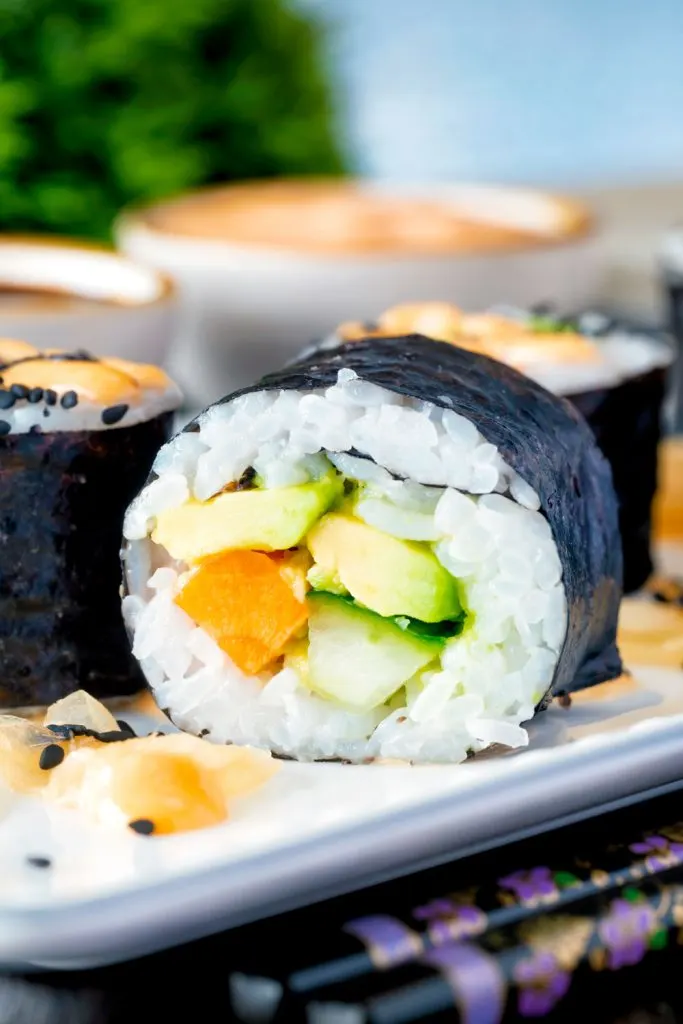 Refrigerating an avocado sushi roll
To store the avocado sushi roll for up to 24 hours, first, wrap the rolls tightly and then wrap each individually in plastic or cling wrap. Place the rolls in the fridge and serve them within a day so they maintain their freshness.
Can I eat avocado sushi the next day?
Yes, you can eat avocado sushi either left overs or made ahead if you like. But you should keep in mind that avocados go bad and turn brown very quickly. Your best bet is to store leftovers as soon as you are done eating and try to make the sushi fresh the day you want to eat it.
Variations
When making avocado sushi, you can make a few variations to the recipe to add more flavor or texture. Here are a few suggestions:
Add in a bit of wasabi sauce for some added heat
Add in carrots and cucumber
Grate or mash up ginger into the roll
Skip the rice and just use avocado and veggies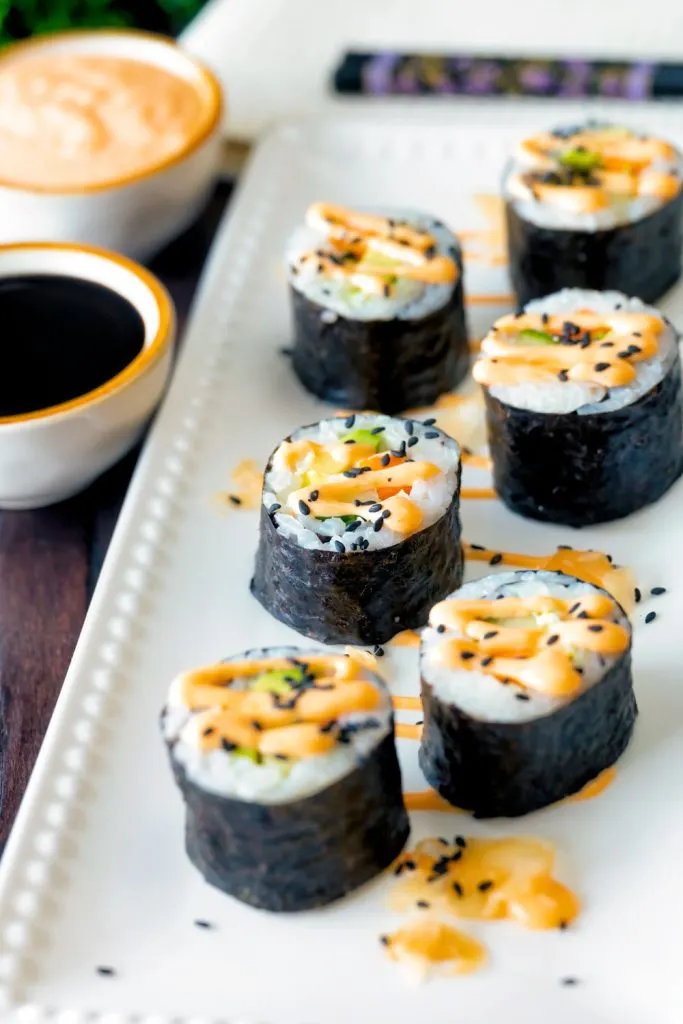 What to serve with Avocado Sushi Rolls
Avocado maki goes great with other sushi and rolls. When served on its own, it's a great snack or appetizer. When served with other rolls, it makes a great meal.
Some of our favorite pairings include: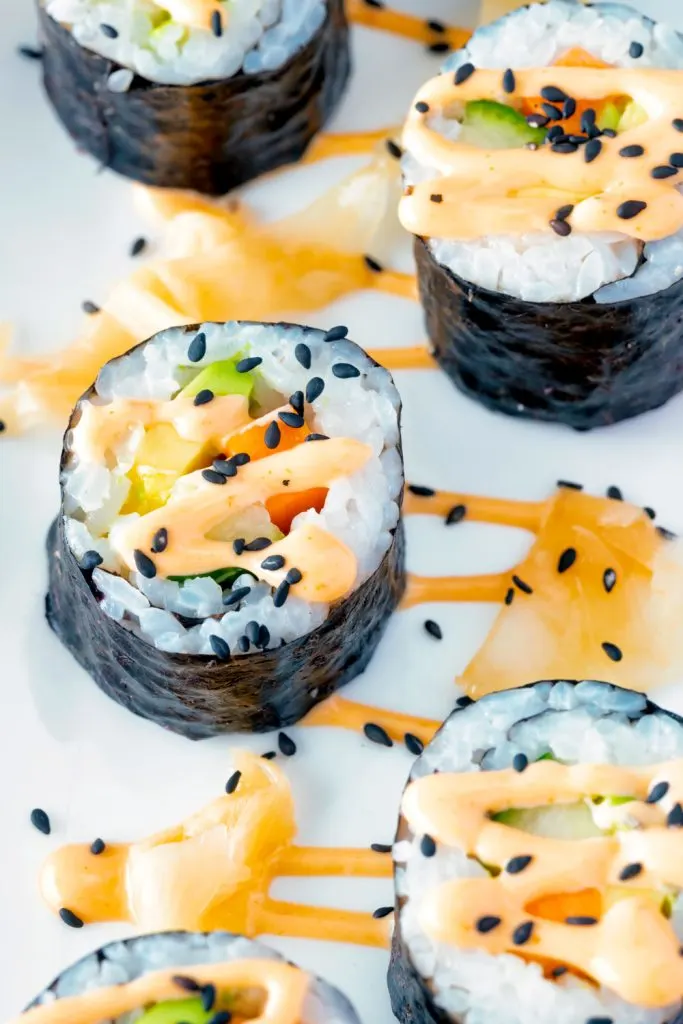 Pro Tips to make the best avocado sushi rolls
Here are some pro tips when you are ready to make the best avocado maki rolls:
Use a bamboo mat for easy rolling.
Make sure to cut the avocado into small enough pieces to make rolling easier.
When adding in extra veggies, make sure they are cut thin and are small to make them easier to roll and eat.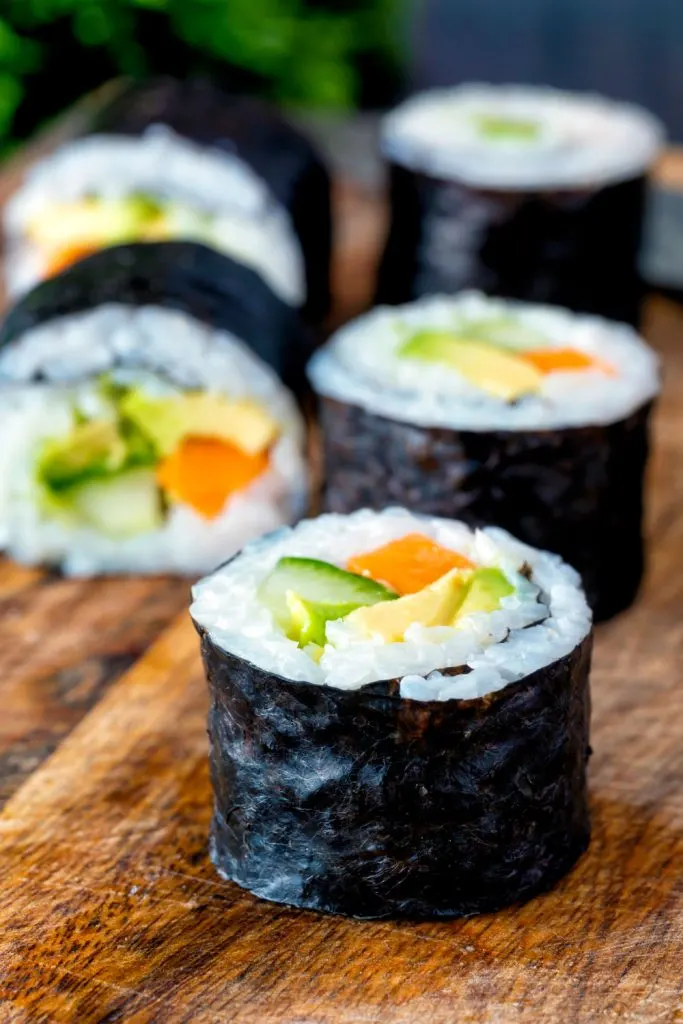 Let us know what you think
If you make this delicious recipe, let us know how it went! When you make this, be sure to take a pic and tag us on Instagram @dbellyrulesdmind or Facebook @thebellyrulesthemind!
More recipes from the blog that you would like to try
About Anvita
Hi! I'm Anvita, the founder of The Belly Rules The Mind. I was born and raised in India but now I reside in the United States.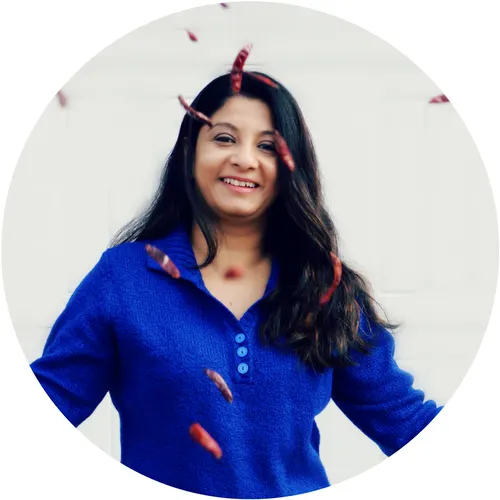 I love to travel and experience different cultures and cuisines. Having lived in different countries across the globe like, India, Australia, Germany and United States has taught to enjoy and appreciate culinary experiences. I believe that food brings people together.
As a self taught cook, I am always trying new recipes and variations to see what tantalizes my family's tastebuds. I am always trying to replicate meals from around the world that we have cherished. Hope you enjoy them too. Read more