Dal Makhani is one of the most ordered vegetarian curry recipe in Indian restaurants. No Punjabi get-together is complete without this finger licking and creamy Instant Pot Dal Makhani / Madras Lentil. Who said Dal Roti is a boring meal? Just indulge in this super delicious, Restaurant Style Dal Makhani and you will fall in love with it!!

Don't forget to check out the recipe video below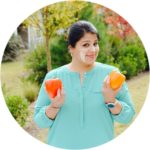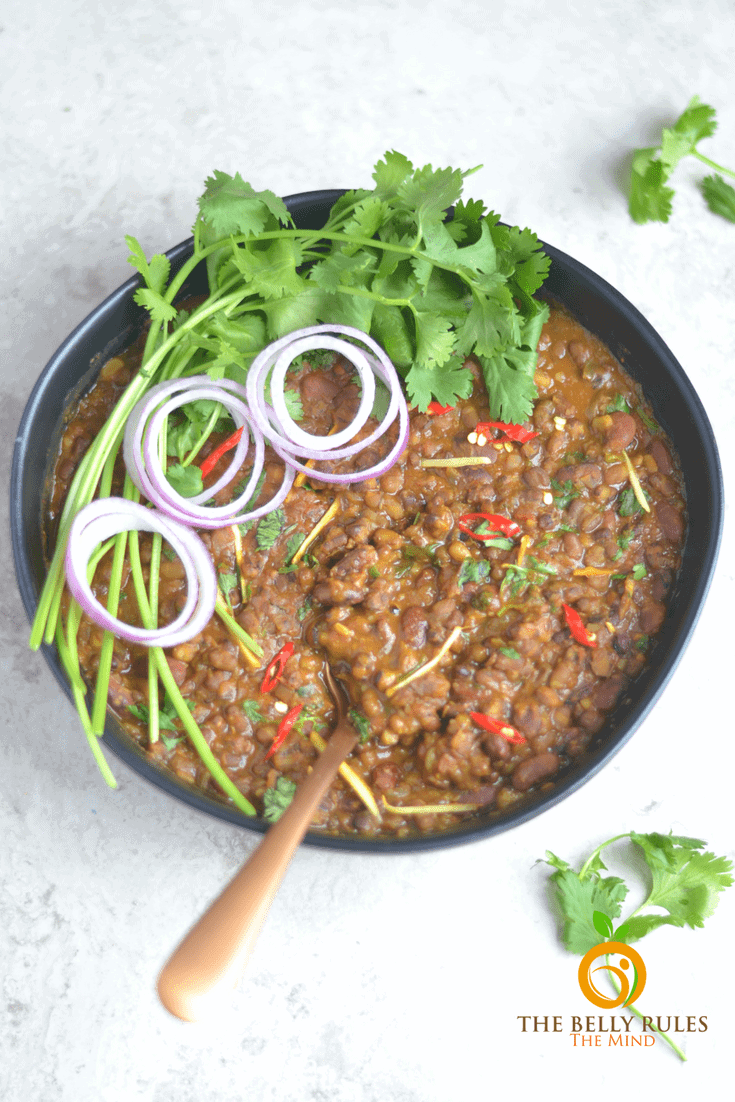 What is Dal Makhani / Madras Lentils ?
Dal literally means Lentil and Makhani literally means Butter. Dal makhani is a comfort food that originated from Punjab region of the Indian Subcontinent and now is well know across the globe. It is served in most Indian restaurants. Punjabi Dal Makhani or Madras Lentils as it is sometimes called is a delectable, rich and creamy Punjabi dish made with whole black Urad lentils (black gram) and a handful of kidney beans.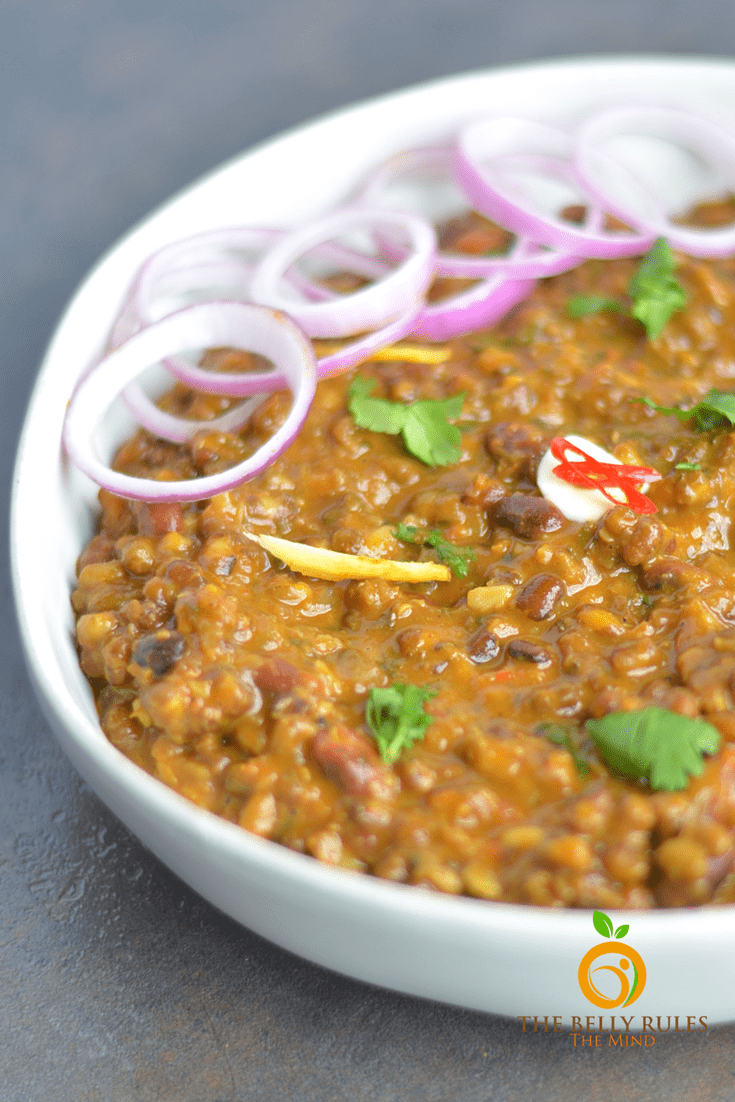 How long can I keep Dal Makhni in the refrigerator
Dal Makhani can be kept in the refrigerator for a couple of days. Dal Makhani usually has milk or cream to make it creamy which makes it difficult to preserve it for more than a few days. This is one of the reasons you may want to minimize the use of cream or make enough to last one meal.
How can I get the creamy texture of Madras Lentil?
The creamy texture is usually achieved by adding a few tablespoons of cream or milk. Butter also adds to its creamy texture and takes the Dal Makhani aka Madras Lentil to the next level. In this recipe, the creamy texture has achieved without any cream or butter. The split Urad dal that is added to the preparation gives it a creamy texture, however, you can add some cream on the top if you need it a bit more creamier.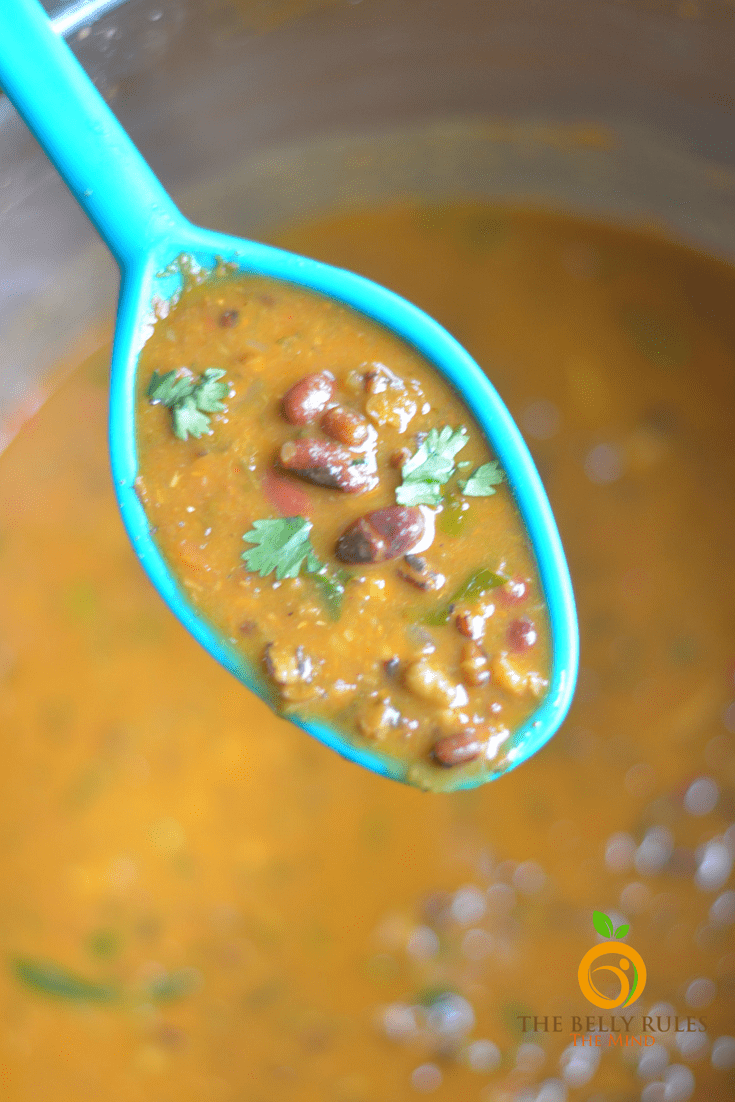 Dal Makhani is made from which Dal?
Dal Makhni is prepared by using whole Urad Dal and a handful of split Urad Dal (split black gram) and Kidney beans (Rajma) that makes it creamy and enhances the flavor.
Is Dal Makhni Gluten Free?
Yes, this Dal Makhani recipe is gluten-free and is lip smacking and finger licking delicious !!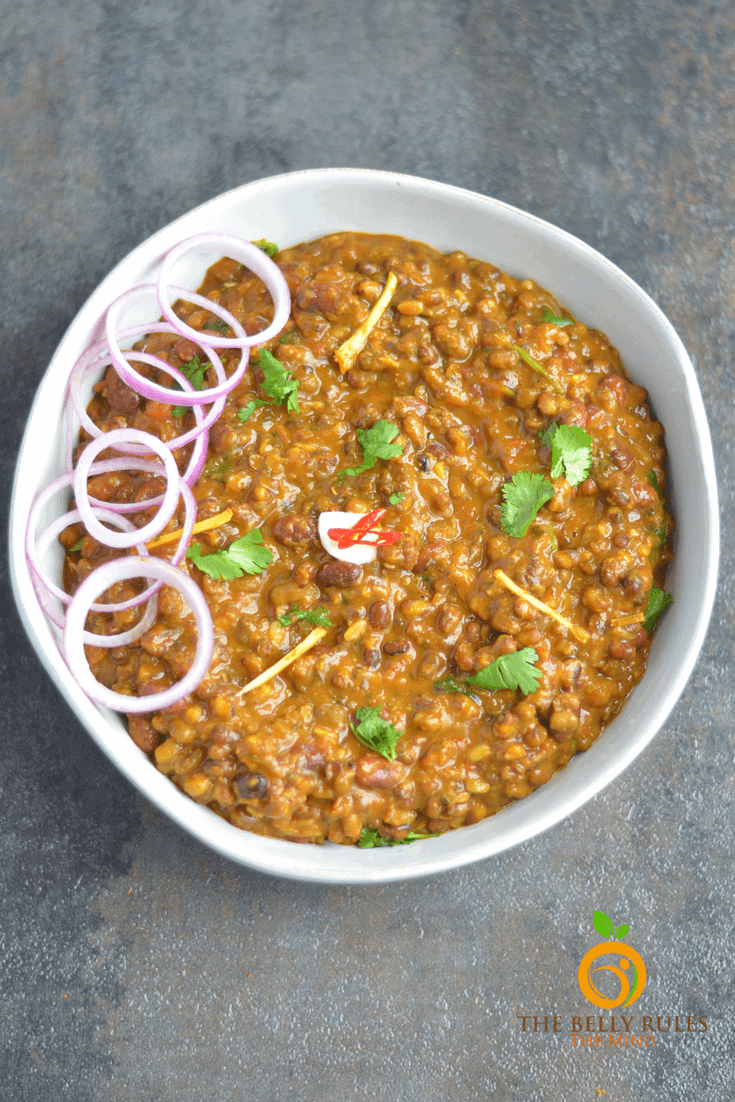 What do I serve Dal Makhni with?
Dal Makhni is known for its flavorful and creamy texture, it's a versatile dish that can be eaten with almost anything. Basmati Rice, Roti, Naan, whole wheat kulcha, bread you name it and it goes perfect with it. Served with some perfectly cooked Rice, multipurpose chutney,aachar, chilled pineapple lassi or chilled mango lassi just takes this to a whole other level of deliciousness.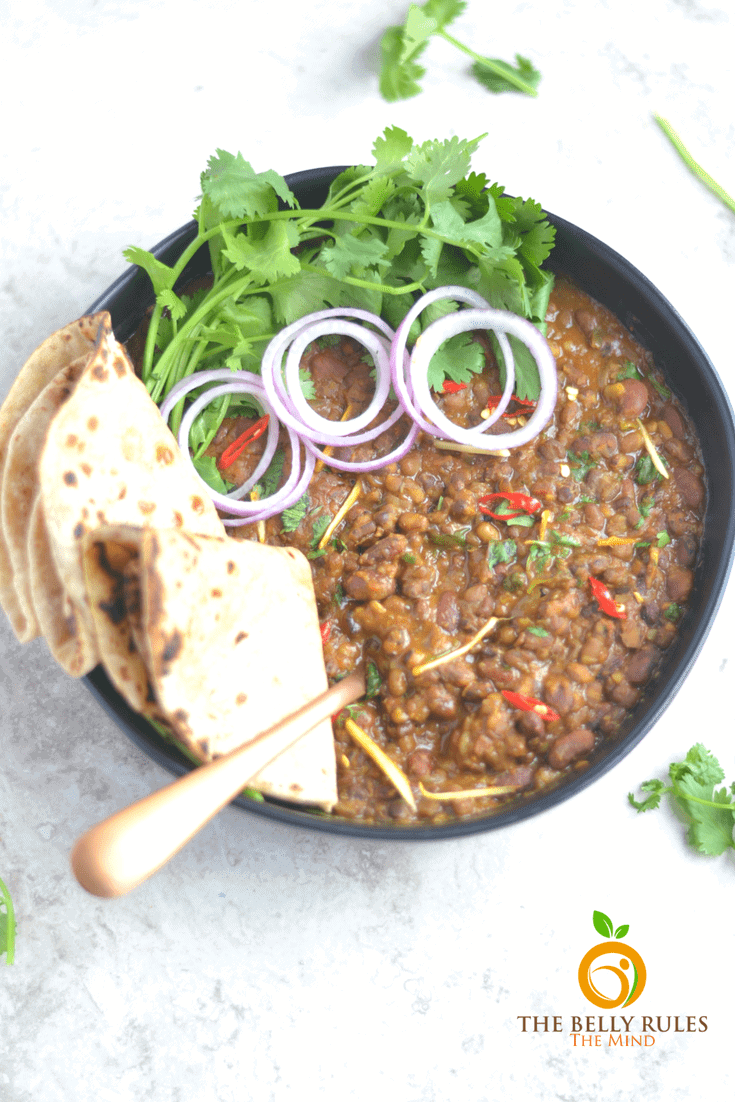 Do I need soak Dal overnight for making Dal Makhani in an Instant Pot ?
No, you do not need to soak the Urad Dal overnight. Use this Instant Pot recipe to make this Dal Makhani in under 45 minutes. This recipe does not need any soaking of Dal.
Is Dal Makhani healthy ?
This version of the popular dish is a low-calorie variant, which is not only healthy but also tastes as delicious without adding any cream or butter. Try our version which is made in instant pot with just 1 TBSP oil and no cream and you will not regret it.
Can I make this Instant Pot Dal Makhani Vegan?
Dal Makhni can be made vegan by skipping the cream and butter. You would love the flavors even without the cream and butter
What is the difference between Dal Makhani and Madras Lentil?
Madras Lentil usually has lesser spices than Dal Makhani and hence are a bit milder version in terms of spices. Adzuki beans are usually added in the Madras Lentils that you get in stores.
What do I garnish the Madras Lentil with?
This Vegan Madras Lentil can be made in around 45 minutes! The simplicity of this Instant-Pot Dal Makhani requires no garnish, but I personally love to garnish this Dal Makhani with fresh cilantro, ginger julienne, and red chilies.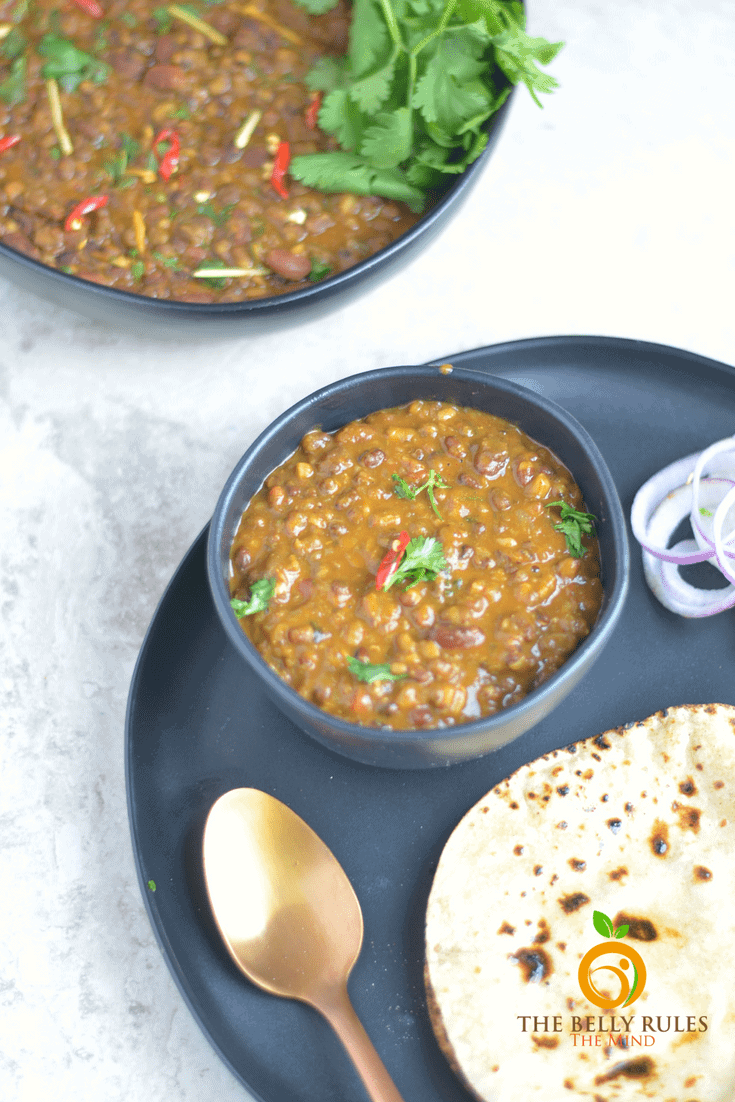 My family loves this Dal, and I make it often. This is an easy recipe that's quick and inexpensive to make, and I typically have all of the ingredients on hand.
Pro Tips to make Perfect Restaurant Style Dal Makhani at home
Use fresh garlic, ginger, and tomatoes
Use white onion if possible
Grind the tomatoes into a puree instead of store-bought tomato paste
Minimize the use of cream if you are planning to store it for a few days
Add butter as per your taste to enhance the flavors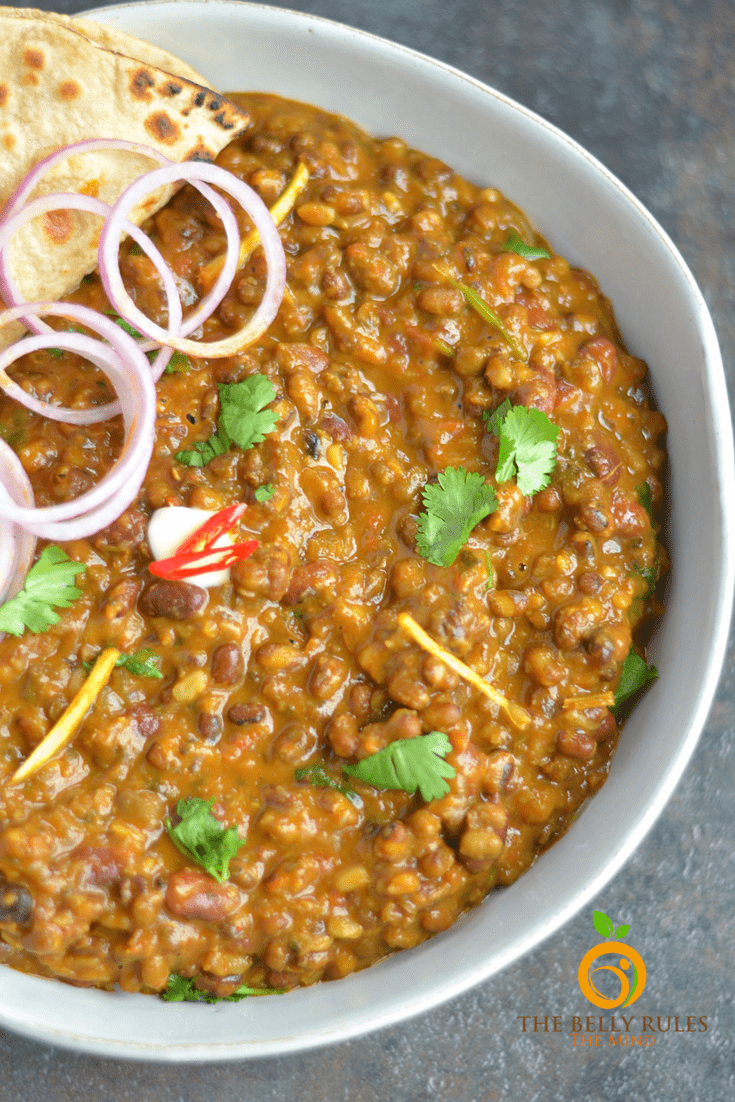 Try our healthy Air frier Apple chips and Air Frier Banana chips for homemade quick and easy kid snack options
Check Out our other Awesome Instant Pot Recipes
Instant Pot Dal Makhani Recipe Video
Dal Makhani is my favorite comfort food
Dal Makhani is one of my favorite meals to make… it's the ultimate comfort food. I love the way the house smells when a large pot of this Dal Makhani is simmering on the stove. The Madras Lentil still tastes awesome the next day so I always make a large batch with this recipe, to have as leftovers for lunch the next day :P.
Instant Pot Dal Makhani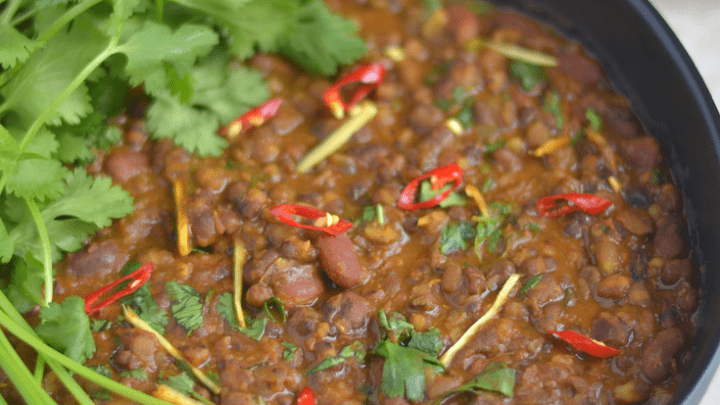 Dal Makhani is one of the most ordered vegetarian curry recipe in Indian restaurants. No Punjabi get-together is complete without this finger licking and creamy Instant Pot Dal Makhani. Who said Dal Roti is a boring meal? Just indulge in this super delicious, Restaurant Style Dal Makhani and you will fall in love with it!! 
Ingredients
Black gram dal / whole urad dal -1 cup
Black gram skinned/urad dal(this adds the creamy texture after the dal is cooked) -1/4 cup
Kidney beans/rajma -1/4 cup
Olive oil -1 tbsp
Cumin seeds - 1 tsp
Dry bay leaves - 1
One medium onion/ finely chopped
2 cloves garlic/grated or crushed
1/2-inch piece ginger/ grated or crushed
Chopped cilantro/Coriander leaves - 2 tbsp
Turmeric powder - 1/2 tsp
Red chili powder - 1 tsp
2 medium tomatoes/crushed
Cumin/coriander powder - 2 tsp
Kasoori methi - 2 tbsp
Salt to taste
6 cups water
Instructions
Soak the udad dal and kidney beans together for an hour. Be sure to drain the beans and dal before using.
Place the steel liner inside your Instant Pot , and turn on the saute function. Heat oil and add the cumin and bay leaves.
Add the onion, ginger & garlic .
Saute for a couple of minutes until the onion becomes soft.
Add the tomatoes,Salt, turmeric, Red chili powder, and cumin /coriander powder and half of the kasoori methi leaves and stir to mix.
Add the drained, soaked beans and dal . Stir well to mix. Add 6 cups of water .
Cancel the Saute function on the Instant Pot, and put on the lid.
Press the Pressure cook function on the Instant Pot which sets it to pressure cook for 35 minutes.
Wait until the pressure has dissipated.
Stir the dal well (Use a potato masher or the ladle to mush some of the dal and beans, making it creamier). If it appears dry, add some water , and turn the saute function until it heats through.
Serve it with hot paratha or naan.

Instructions for stove Top
Wash and soak the whole black gram , Chana dal,Rajma & Split black gram dal.(I added canned Rajma while giving tadka)
Pressure cook the dal in water with Onion,chopped ginger ,Green chillies,salt and turmeric powder for 3 to 4 whistles and then let it be on low flame for 10 mins.
After 10 mins switch off the gas. When the pressure settles down open the lid and see if the dal is totally cooked and soft.
(If you forgot to soak the dal .. no worries just pressure cook 4-6 whistles and keep it on low to medium heat for 30-45 mins.Skip the Rajma or add canned rajma while giving the tadka)
For tempering:
Heat unsalted butter or Oil in a pan . Add cumin seeds, when the cumin seeds start spluttering add garlic and Chopped tomatoes. Saute till the tomatoes are well done.
Add red chilli powder, coriander powder and dried Kastoori methi / dried fenugreek leaves saute until oil oozes out from the masala or till the tomato becomes mashy.
Pour the cooked dal from the pressure cooker .
Simmer on low heat until the dal totally soft and well blended with the tadka/tempering.
Serve immediately, garnish with green chillies and ginger pieces. enjoy it with whole wheat Kulcha ,Roti or Jeera Rica.