For all Eggplant lovers, ?? I got an easy peasy awesome recipe for you! Instant pot Sweet and Spicy Eggplant stir fry aka delicious Meatless Monday recipe that is healthy, quick, and full of flavors! This sweet and spicy Instant Pot eggplant stir- fry is so addictive and versatile. Cooked to perfection in minutes, each bite is bursting with flavor! It is so easy to put together and make for a perfectly healthy (and delicious) lunch or dinner!
This post was originally published on April 5th 2018 and has updated instant pot instructions and video.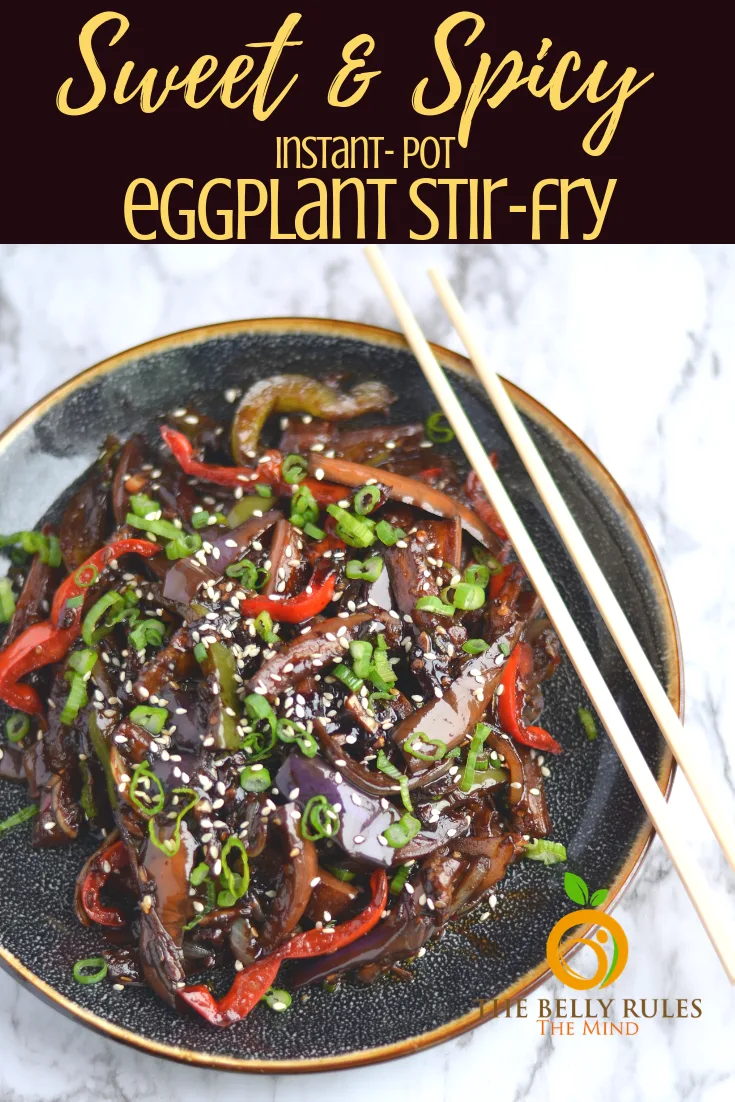 Hey everyone! I was going through the blog recently and noticed that we do not have many Asian/ Chinese Cuisine recipes. Its one of my family's favorite cuisine and I felt that I am not doing justice to it considering the fact the number of times I make them at home on a monthly basis. I usually don't plan our meals and prepare something that the kids request on that day. This is one way we get our kids excited about food. I love the fact that most Asian cuisines are prepared in under 15 minutes and we use whatever combination of protein and veggies we've got on hand at that time.
Try out our Teriyaki Fried Rice Bowl and Instant pot Vegetable Chow Mein and you will love the ease at which you can quickly be classified an expert cook/chef.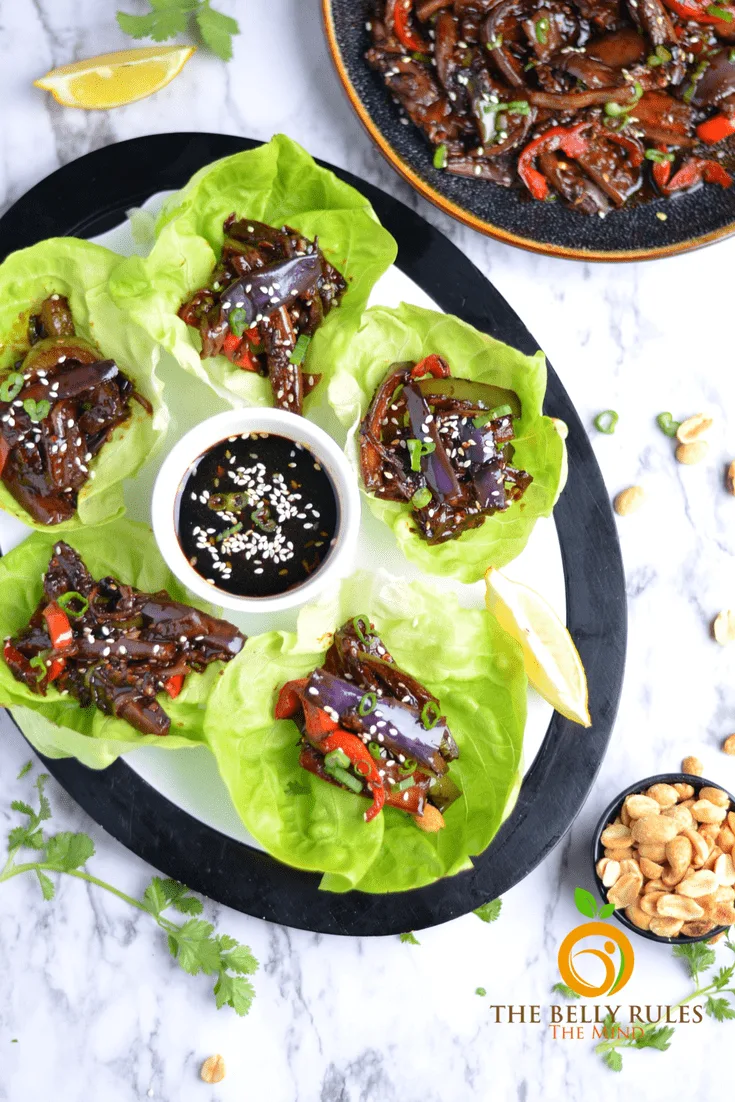 WHAT KIND OF EGGPLANTS TO USE IN THIS RECIPE
When I saw and purchased long, Asian eggplants from my local farmers market, I knew something sweet and spicy was in the making. We at The Belly Rules The Mind (TBRTM) love eggplant a lot !! In summer we grill it, make dips, but if you're looking for another quick way of cooking it, a stir-fry will let you avoid cranking on the oven, too. There is something great about a simple stir-fry eggplant. It is one of the few dishes I could enjoy from pretty much any Chinese take-out menu, anytime. A good sauce is key, and you can make a tasty one for this at home to heap over a bowl of rice. I have used Chinese eggplant? to make this popular side dish. The Chinese eggplant is thinner and longer than the short and thicker eggplant that is commonly available in supermarkets.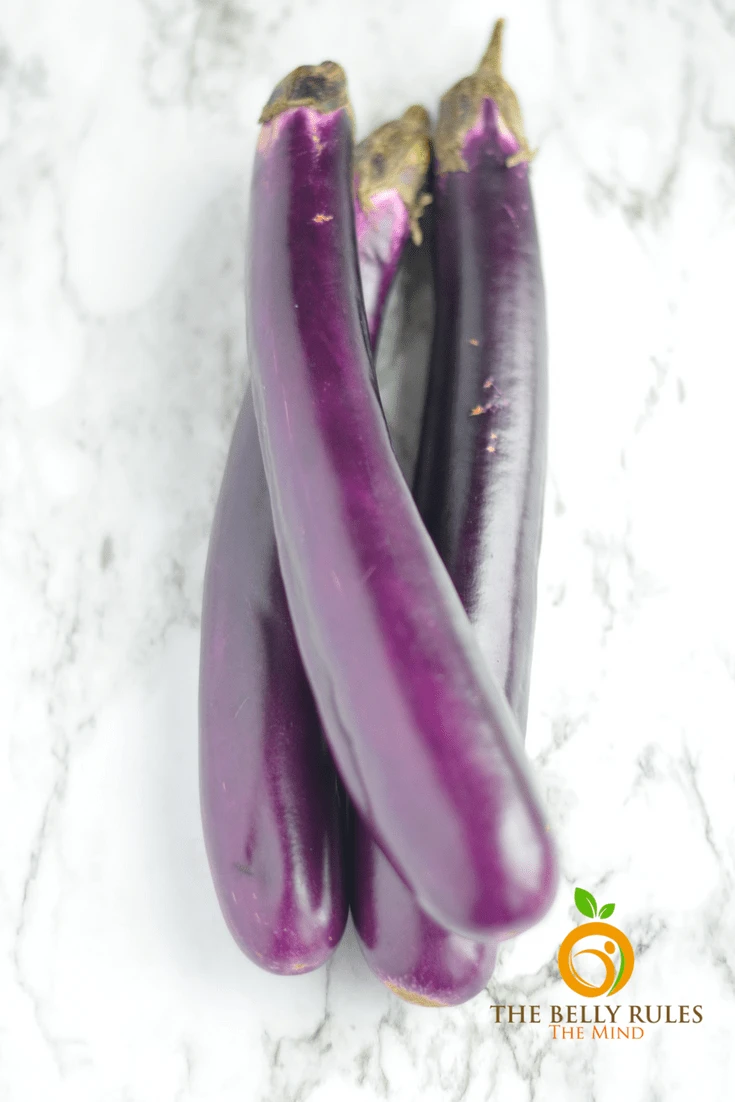 How to choose the best eggplant
Weight

Heavier eggplants tend to have more seeds and the seeds add up to the weight. make sure they are light

Size

Bigger eggplant tends to taste bitter and has more seeds

Shape

Longer shape eggplant has less "juice" compares to a rounder shape.

Looks

Make sure the eggplant does not have any bruises or cut on the outer skin. There should be no sign of mold either
How to prevent eggplants from turning black after cutting
If you keep the eggplants cut for a long time in the open air, it oxidizes and turns brown/black. To prevent this you can prepare a large pot of water with 1 teaspoon of salt in it. Place the cut eggplants inside the water and this will help to prevent or slow down the discoloration.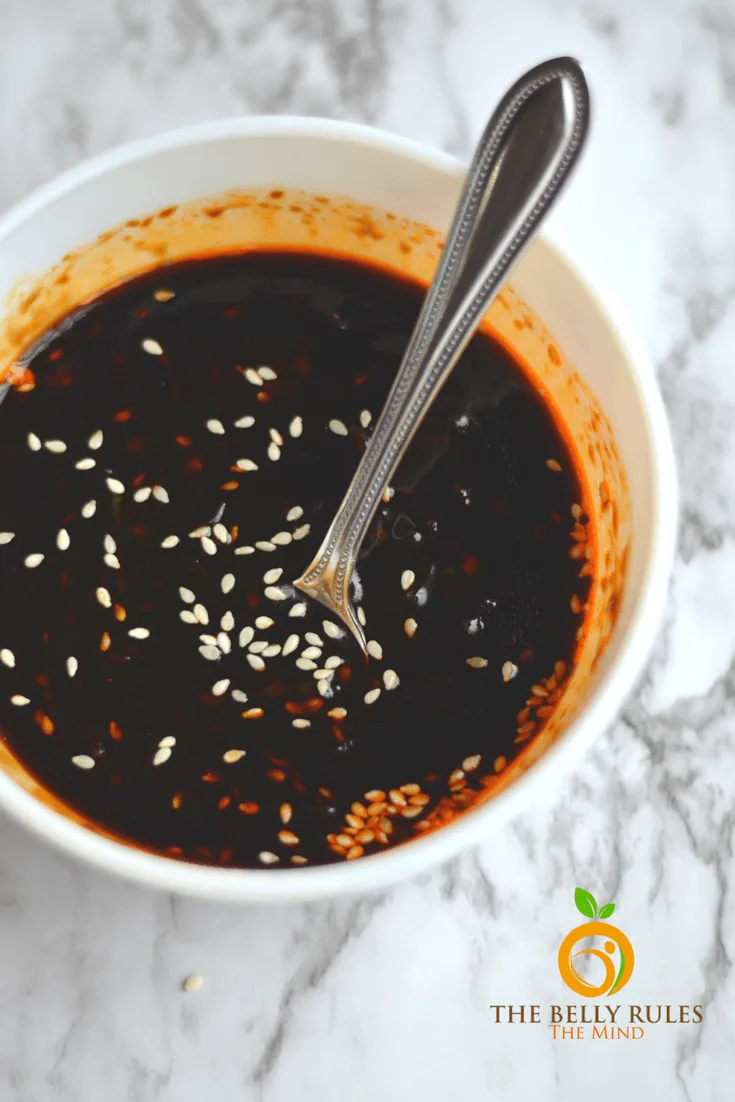 Pressure cooking the eggplants is much better than deep frying
Raw eggplants have a texture like a sponge. They taste plain on their own and absorb pretty much anything you cook them in. Eggplants taste good when they are soft and almost mushy.
This recipe is perfect for summer and one you need to put on your "must try" list. This is a quick and easy Chinese eggplant stir fry is made in a delicious sauce that's sweet and tangy. Plus, the eggplant pieces are so tender, they almost melt in your mouth. Ready in 15 minutes from start to finish. It's one my whole family and loves and a dish were all your family and friends always end up going back for seconds. The Eggplants is so tender and the sauce on top is truly divine. We love serving the sweet and spicy Eggplant in lettuce wraps, but you could also serve over a bed of rice.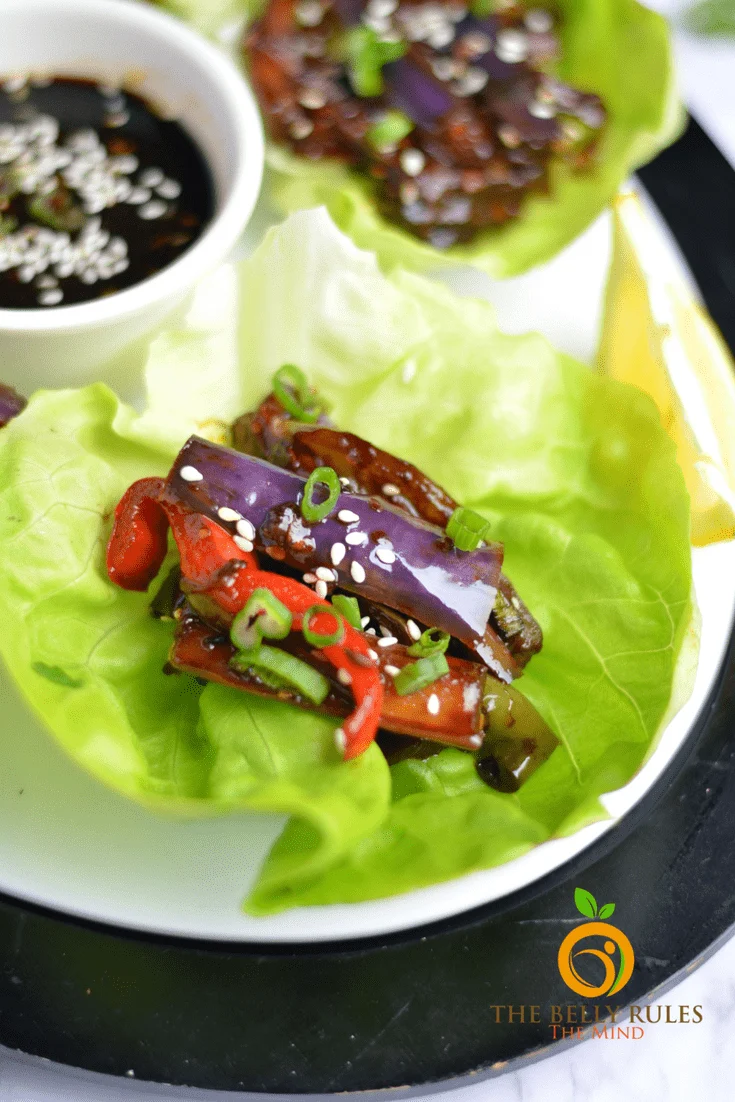 How do I serve this amazingly flavorful eggplant Stir Fry?
This quick and easy Sweet & Spicy Eggplant stir fry is flavored with garlic, ginger, green onions, bell peppers, onions, sesame, and a bit of spice. You can even add mushrooms or Tofu in it. The sweet and spicy sauce is what truly makes this eggplant over the top. It has the perfect flavor! You can eat this Instant Pot garlic eggplant many different ways. Since the eggplant is very hearty and filling, it can serve as a vegan meat substitute – ladle this eggplant over rice or quinoa or on the lettuce as my family loves it!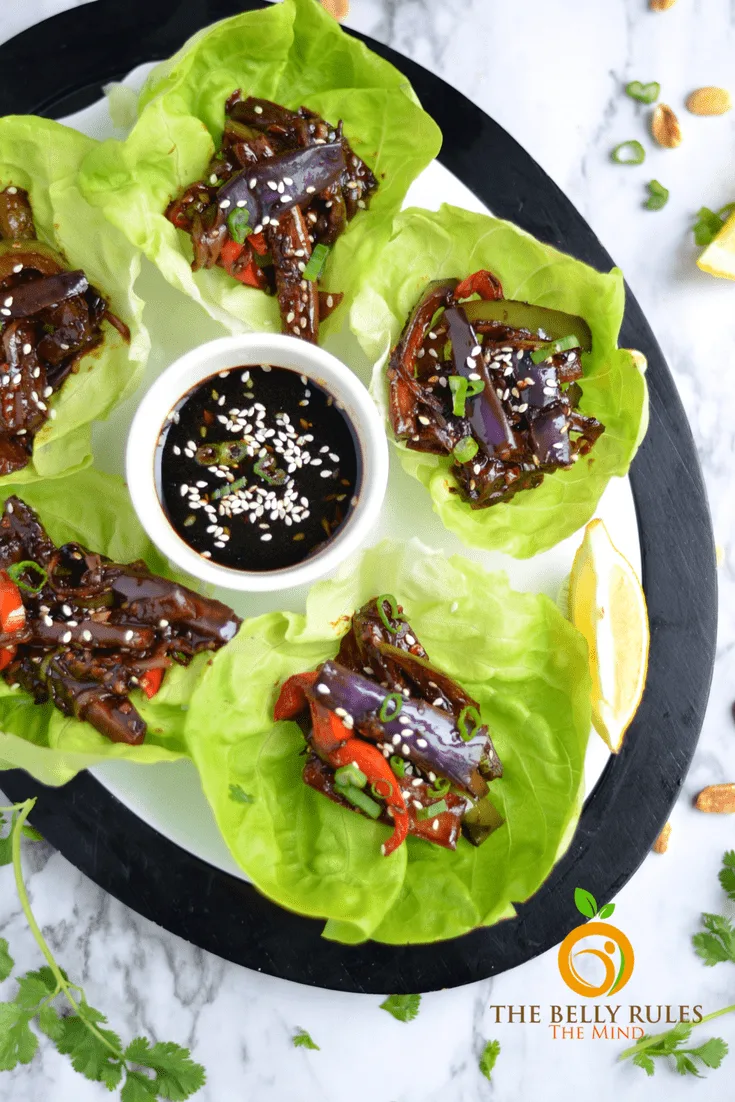 Sweet and Spicy Eggplant Lettuce Wrap / Veggie Lettuce Wrap anyone?
This is a one-pot recipe done in under 15 minutes end to end. The time to cook this recipe is probably the best thing about the recipe apart from its flavor. Then all you need to do is serve it in a lettuce wrap. We like to add a few green onions, crunchy peanuts on top too.
This recipe makes a great appetizer or for dinner with rice or a light lunch like me and R1 used some lettuce to make Eggplant lettuce wraps :D. Basic ingredients make this recipe a quick on to stir-fry together in less than 15 minutes. The recipe can be tweaked for your taste, liking and enjoyment, add in mushrooms, tofu..... Do check out other Asian recipes on our blog here
Sweet and Spicy Eggplant Stir Fry Recipe Video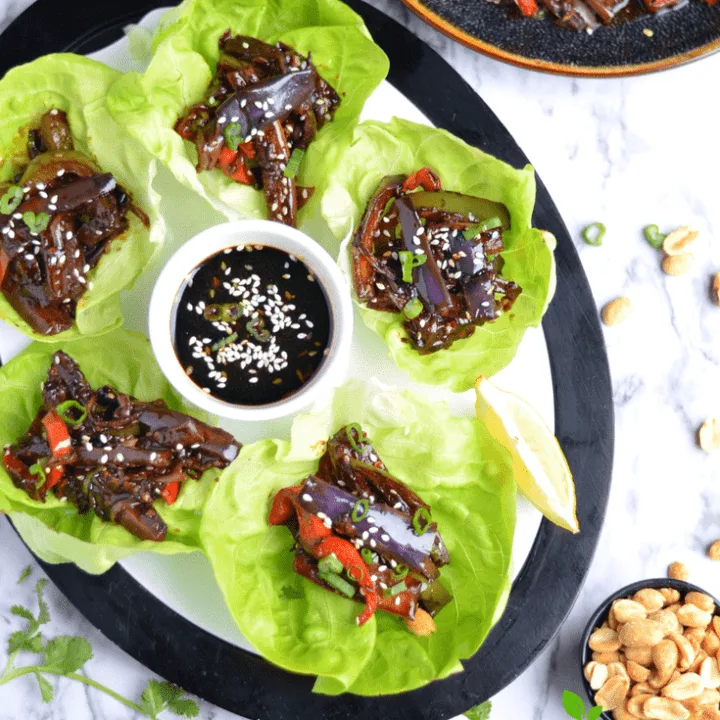 Instant pot Sweet & Spicy Eggplant Stir Fry
Additional Time:
5 minutes
Ingredients
2 eggplant, cut into thick sticks
1 small onion/sliced
1/2 green bell pepper/ sliced
1/2 red bell pepper/ sliced
a small piece of ginger/ julienne
5 cloves garlic/chopped
1 teaspoon 5 spice powder
1 green onion/ chopped
1/2 cup water
For the sauce
3 tablespoon soy sauce or Coconut Secret® Soy-Free Seasoning Sauce
1 tablespoon sriracha sauce
2 tablespoon sweet chili sauce
1 tablespoon Vinegar
2 tablespoon Ketchup
Roasted Peanuts / For garnish/ optional
1 tablespoon sesame seeds, toasted /for garnish/optional
How do you serve it
Butter or Bibb Lettuce for making Lettuce wraps or white rice
Instructions
Instant pot instructions
Wash the eggplant and chop it into sticks as shown in the video.
In a bowl add soy sauce,ketchup , sriracha sauce,sweet chilli sauce and vinegar and stir to mix.
Press 'Saute' function and allow the HOT to pop up.
Add olive oil to the hot inner pot.
Add the chopped onions, bell peppers, ginger and garlic and stir.
Add in the Eggplant , 5 spice seasoning and the Sweet & Spicy Sauce.
Pour in the water and press CANCEL.
Pressure cook it for 6 min.
Let the pressure release naturally (NPR) for 5 minutes and then release any remaining pressure using the Quick Release (QR) method.
Open the lid and check the consistency.Press SAUTE button and cook it til desired consistency.
Sprinkle the green onions, sesame seeds and peanuts and serve.
stove top instructions
Heat a pan, put in oil, add garlic and ginger saute it for few seconds.
Add the eggplant and green chilies.
Add the onions and bell peppers, and stir-fry briefly.
Add sweet & spicy sauce.
Stir it well.
serve it with Butter or Bibb lettuce.Garnish with toasted sesame seed, peanuts or cashews, and ginger if desired.
Recommended Products
As an Amazon Associate and member of other affiliate programs, I earn from qualifying purchases.