My first recipe here is a Maharashtrian dish that I personally love called Kothimbir Vadi /Cilantro Fritter. I have fond memories of it. Every time we traveled to Pune, we had to stop at the famous Damodar to relish the Kothimbir Vadi / Cilantro Fritter. It is a wonderful starter snack that is extremely popular among Maharashtrians and often prepared in most Maharashtrian homes served with steaming hot masala tea. It tastes yummy, crispy on the outer side and soft inside, irresistible and lip smacking. There are various versions of making this dish. Some steam it, while some deep fry it. My version here is a healthy No Fry Kothimbir Vadi / Cilantro Fritter without compromising the taste. I make it in an appe pan :)
Ingredients
1/4 teaspoon asafoetida or hing
1/2 teaspoon cumin / zeera
1/2 teaspoon mustard / rai
1 teaspoon sesame / til
2 teaspoon roasted peanut powder (coarse)
1 teaspoon turmeric powder
2 teaspoon garlic crushed
2 teaspoon ginger grated / adrak
1 cup besan / chickpea /gram flour
1/2 cup fresh cilantro/coriander / dhaniya leaves chopped
3 green chilies/ hari mirch chopped
Salt to taste
2 cups water add in slowing
4 teaspoon oil
Method
Note : Keep all the ingredients ready before you start the preparation, as ingredients needed to be added in a quick sequence. It took longer for my tea to be ready than this.
In a mixing bowl, add besan / chickpea flour, half of the cilantro leaves .Slowly add water while stirring the mixture to make sure there are no lumps.
Heat 2 teaspoon oil in a sauce pan or a wok. Add cumin, mustard sesame,green chilies, ginger, garlic, turmeric and salt. Mix well until you start to hear the crackle.
To this pan, add the above besan mixture ans continuously stir it, making sure again that there are no lumps.
As you see the mixture starts to thicken, add the remaining cilantro / dhaniya leaves, and peanut powder.
Continuously keep stirring until you see the mixture leaving the sides of the pan and turns into a thick paste. The consistency is in between that of a batter and a soft dough.
Now that the mixture is ready made balls out of the mixture that fit into the appe pan.
Heat up the appe pan with with a few drop of oil. To it add sesame.
Cook the balls in the appe pan on medium flame. Turn the side in approx 3-5 mins.

Once the balls are a little golden brown and crisp , they are ready to be served with green peanut chutney. Enjoy it with garam chai / tea.
Don't forget to let us know when you try this recipe and share your pictures with us.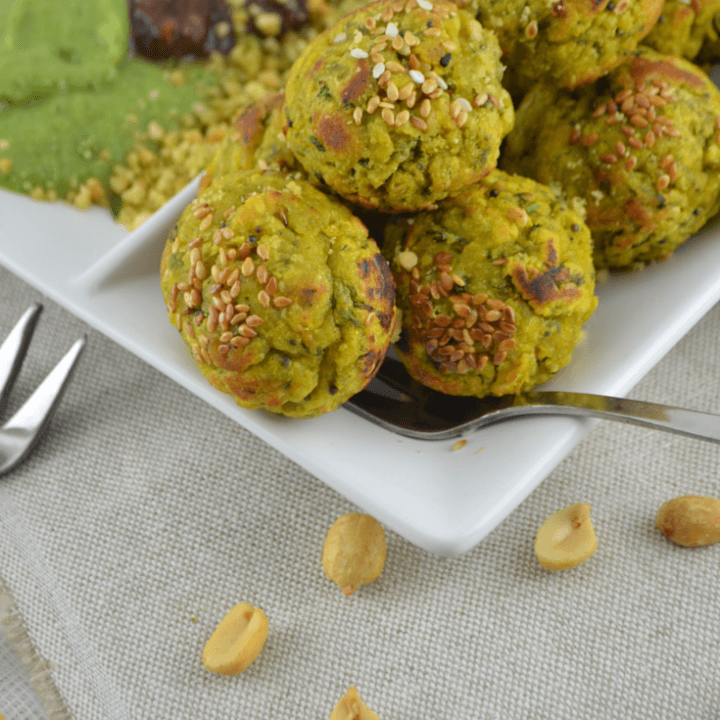 No Fry Kothimbir Vadi / Cilantro Fritters made in Appe Pan
Ingredients
1/4 teaspoon asafoetida or hing
1/2 teaspoon cumin / zeera
1/2 teaspoon mustard / rai
1 teaspoon sesame / til
2 teaspoon roasted peanut powder (coarse)
1 teaspoon turmeric powder
2 teaspoon garlic crushed
2 teaspoon ginger grated / adrak
1 cup besan / chickpea /gram flour
1/2 cup fresh cilantro/coriander / dhaniya leaves chopped
3 green chilies/ hari mirch chopped
Salt to taste
2 cups water add in slowing
4 teaspoon oil
Instructions
Note : Keep all the ingredients ready before you start the preparation, as ingredients needed to be added in a quick sequence.
In a mixing bowl, add besan / chickpea flour, half of the cilantro leaves .Slowly add water while stirring the mixture to make sure there are no lumps.
Heat 2 teaspoon oil in a sauce pan or a wok. Add cumin, mustard sesame,green chilies, ginger, garlic, turmeric and salt. Mix well until you start to hear the crackle.
To this pan, add the above besan mixture ans continuously stir it, making sure again that there are no lumps.
As you see the mixture starts to thicken, add the remaining cilantro / dhaniya leaves, and peanut powder.
Continuously keep stirring until you see the mixture leaving the sides of the pan and turns into a thick paste. The consistency is in between that of a batter and a soft dough.
Now that the mixture is ready made balls out of the mixture that fit into the appe pan.
Heat up the appe pan with with a few drop of oil. To it add sesame.
Cook the balls in the appe pan on medium flame. Turn the side in approx 3-5 mins.
Once the balls are a little golden brown and crisp , they are ready to be served with green peanut chutney. Enjoy it with garam chai / tea