Vegan Tofu Matar Masala- Here is a healthier twist to the classic Mattar Paneer. Curried Tofu with peas in a lip-smackingly delicious skinny tomato sauce. Vegan minus all the fat.
Mattar Paneer is a classic recipe of curried peas and Indian cottage cheese cooked in a thick, rich and creamy tomato sauce. I love Mattar Paneer as it's absolutely delicious however the downside is that it's loaded with calories from fat. Fat from Paneer and also the fresh cream that is added to the sauce. So it's ok to relish Matter Paneer occasionally but if you see yourself making it a little too often, then here is my healthier twist to it. I replace the Paneer with Tofu and make the sauce without adding any cream.
Why Tofu over Paneer?
Both Tofu and Paneer are known for their texture and protein content. While Paneer can be easily made at home, it's not easy to make Tofu as home. Paneer is made from curdling milk while Tofu is made from curdling soy milk. They are both a great source of protein too. The protein content is definitely higher in Paneer (18.3 grams) compared to Tofu (6.9 grams). However it's mainly the fat content that makes me choose Tofu (2.7 grams) over Paneer (20.8grams) . Another reason I pick Tofu over Paneer is that the caloric value of Tofu is only 62 compared to 265 for every 100 grams of Paneer. This makes Tofu a great option for those who are looking to lose weight or weight training or are lactose intolerant like me. Lastly I always prefer to use Sprouted Tofu over the regular Tofu, as it's made from Sprouting Soybeans, which makes digestion very easy.
Now let's get back to the recipe. What I love about Tofu Mattar recipe is that it's pretty quick and easy to make. It's a great way to enjoy restaurant style flavors in the comfort of your own home. I often make this when I have guests over. So far it seems to be a hit. To them it seems like I put a lot of effort into the dish but honestly it's not that much at all. For this Tofu Mattar preparation, I use my favorite 30 minute Indian Masala Curry. I usually always have a batch stored in my kitchen. The good thing is that when I don't have time to make an elaborate meal, I just bring out this sauce and add in my veggies or proteins. Usually, peas, tofu, cauliflower, potatoes, go very well in this curry. However, if you like to go fancy you can even add koftas or croquettes like I have done in the past. Check out the Lauki/Squash Kofta I added to this curry in the past. You can even add Malai Kofta, Stuffed Spinach Koftas or Arbi /Taroroot Koftas too. But if you like to keep it simple, just toss in the tofu and peas and your done.
So would you like to enjoy a warm bowl of curried peas and tofu with some chapati or rice?. Let's get started and dive into the recipe.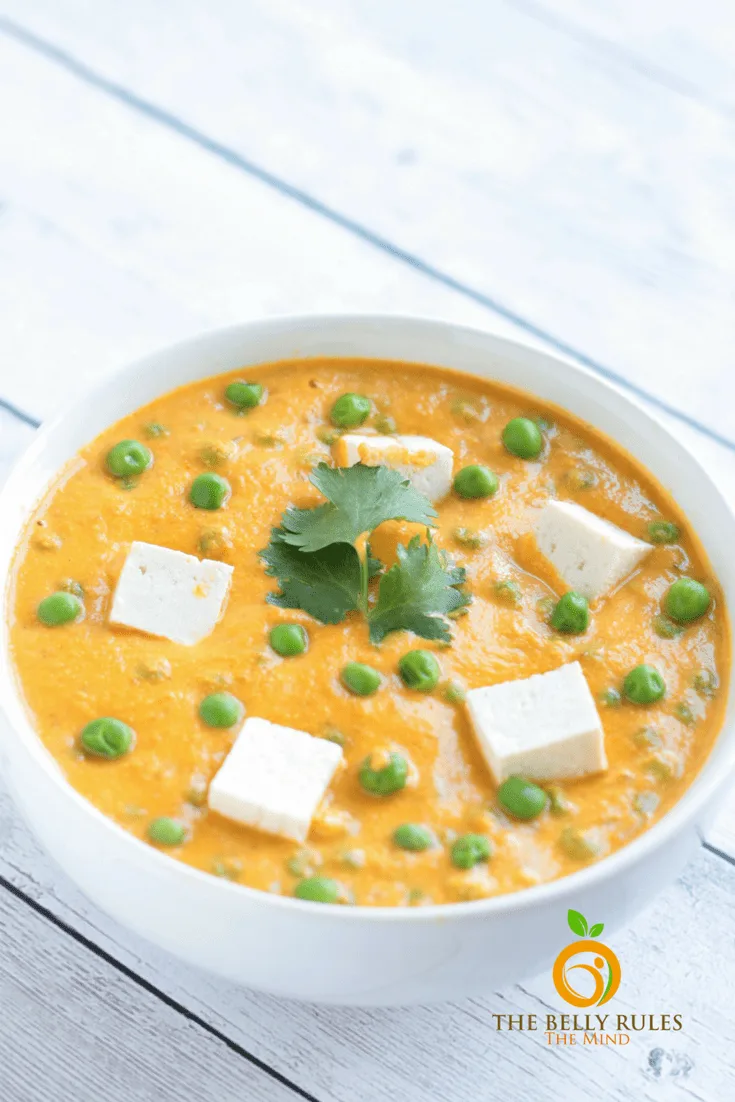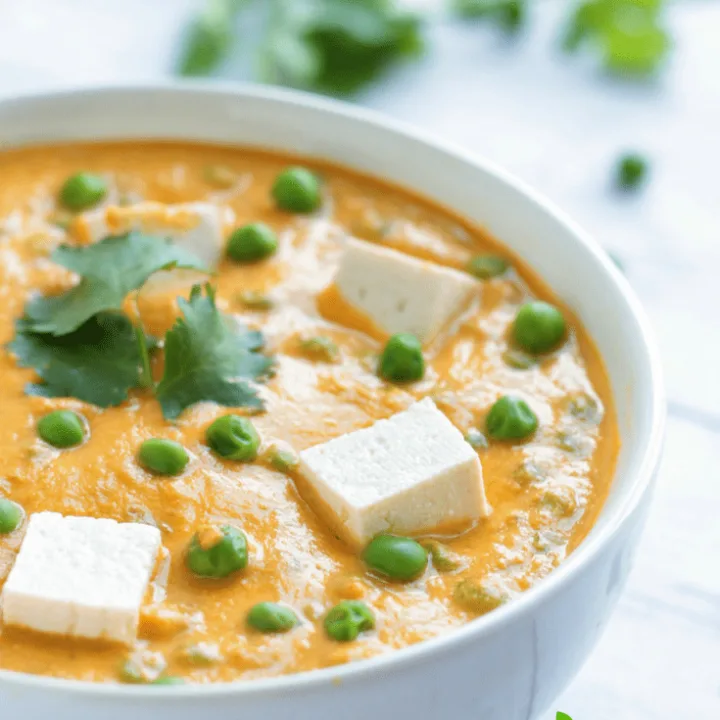 Tofu Matter / Curried Tofu & Peas
Ingredients
1 cup peas
Water (optional)
Instructions
There are 3 ways you can make this recipe
1. If you are using hard peas, the desi Indian mattar and cooking on a stove top pot or pan, boil the peas ahead of time. Then add the Indian Masala Curry to the pot. Add in the peas and tofu and let it simmer for about 5 minutes. If the sauce is too thick for you you can water it down while it's simmering.
2. If you are using hard desi mattar you can also pressure cook the meal. In a cooker add the Indian Masala Curry, peas and tofu and cook it until the first whistle.
3. Is using soft sweet peas, then in a stove top pot or pan, add in the Indian Masala Curry, peas and tofu and cook for about 5 minutes.
Garnish with cilantro and your done