[avatar user="Anvita" size="thumbnail" align="right" link="https://thebellyrulesthemind.netabout-us/" target="_blank"]Anvita[/avatar]
Gyro is a popular Greek sandwich style wrap which has become a popular street food across the globe. Ever heard of the Tofu Tikka Gyros? Never heard of that right. Well it's my own creation out of leftovers and my latest obsession with Gyros. Although Gyros are popular Greek found, my version is a fusion using Indian and Mexican ingredients. Can you even imagine the fusion of flavors? It's utterly delicious. Allow me to share with you how this fusion came into existence.
Remember the Gyro from 7 Days 7 Lunches roundup. Ever since then I had been wanting to make my own Gyro. So the other day I had left overs from the Tofu Tikka I made. So I thought to myself, why don't I use the left over to make my own wrap which is gyro style. By know I had run through the recipe of assembling the gyro a lot of times but in the back of my mind I knew I didn't have any pita flatbreads. However I did have some Tortillas in my pantry that came to the rescue. So although typically a Greek Gyro is grilled meat or haloumi or feta cheese for vegetarians tossed along with fresh salad like cucumbers, lettuce, tomatoes, onions and Tzatziki (similar to raita) sauce. A gyro differentiates itself from the other wraps by not having a complete over-wrap but instead an unsecured lower flap. So although I didn't have the traditional ingredients I still wanted to use my delicious Tofu Tikkas and make a gyro style wrap using some salad and my own dressing so I came up with my Tofu Tikka Gyro.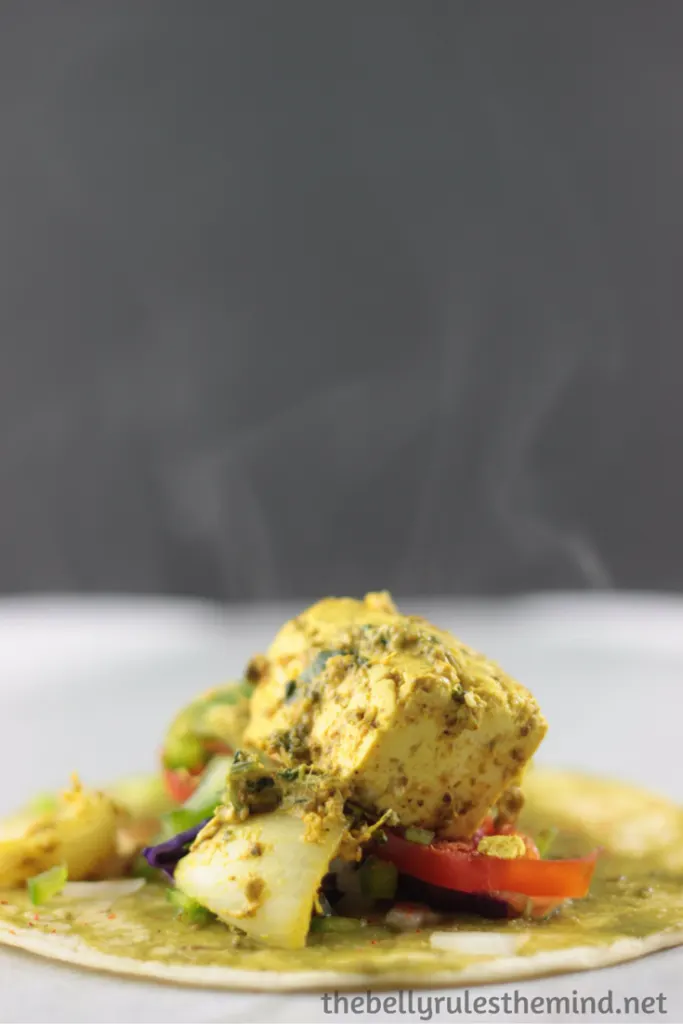 It's such a healthy meal right? It's adding protein, salad and sauces all in one flatbread and enjoying the fusion of flavors. Although I used a tortilla instead of pita but if Pita isn't easily available you could even use Indian flatbreads like Kulchas or Rotis. I didn't have Tzatziki either so I used our multipurpose Green Chutney. Add in the Tofu Tikkas and salad of your choice, voila your Gyro is ready.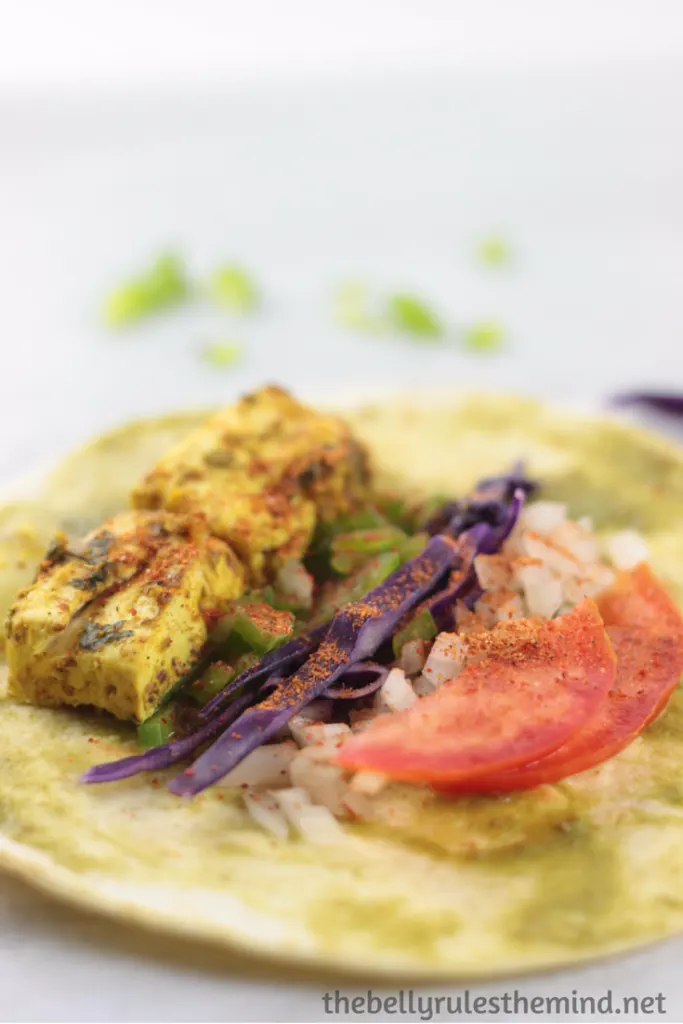 Guys mind you, although this isn't an authentic Greek Gyro, but it still tastes super delicious because of the grilled Tofu Tikka. It makes a great fuss free lunch or weeknight dinner that is ready in just a few minutes. Plus it's different from the mundane dinner or lunch routine.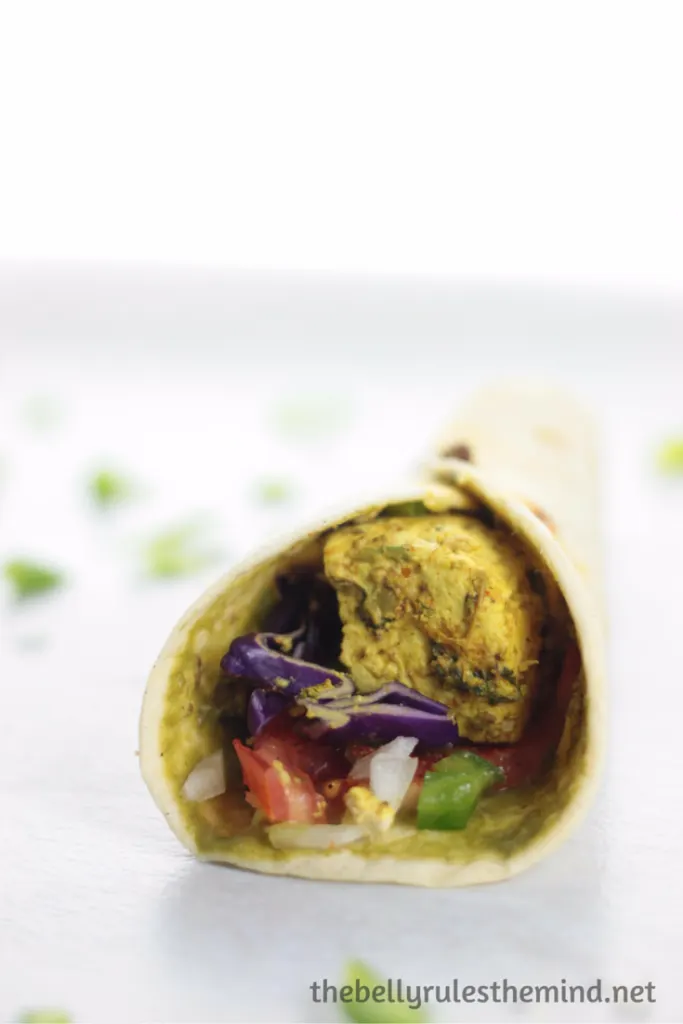 Tofu Tikka Gyro Wrap
Ingredients
1/8 cup Tomatoes, sliced
1/8 cup Bell peppers, diced
1/8 cup Onions, diced
1/8 cup Red cabbage, diced
Instructions
Cook both sides of tortillas for a total of one minute on slow to medium heat.
Spread the green chutney.
Add grilled [Tofu Tikka| http://thebellyrulesthemind.net/2016/06/tofu-tikka/], Paneer of choice of protein
Add in the chopped vegetables
Add Frankie Masala
Fold it and it's ready.
Products Used