Looking for a way to simplify baingan bharta for satisfying lunch you can make ahead of time? My Instant Pot baingan bharta takes this traditional recipe and updates it and simplifies it so you can make this yummy vegetarian meal for your family with a fraction of the time and effort.
LET'S BE FRIENDS ON PINTEREST! WE'RE ALWAYS PINNING TASTY RECIPES!
WHAT IS BAINGAN BHARTA?
Baingan bharta is a traditional Punjabi dish that's very popular for lunch. The vegetarian dish is made from roasted eggplant that you mash and stir fry with aromatics. The texture is very similar to baba ganoush. Traditional baingan bharta recipes involve cooking the eggplant over a fire or charcoal. Instead of making mine over a charcoal grill or fire, I have updated the recipe to be much faster and easier to do in my Instant Pot.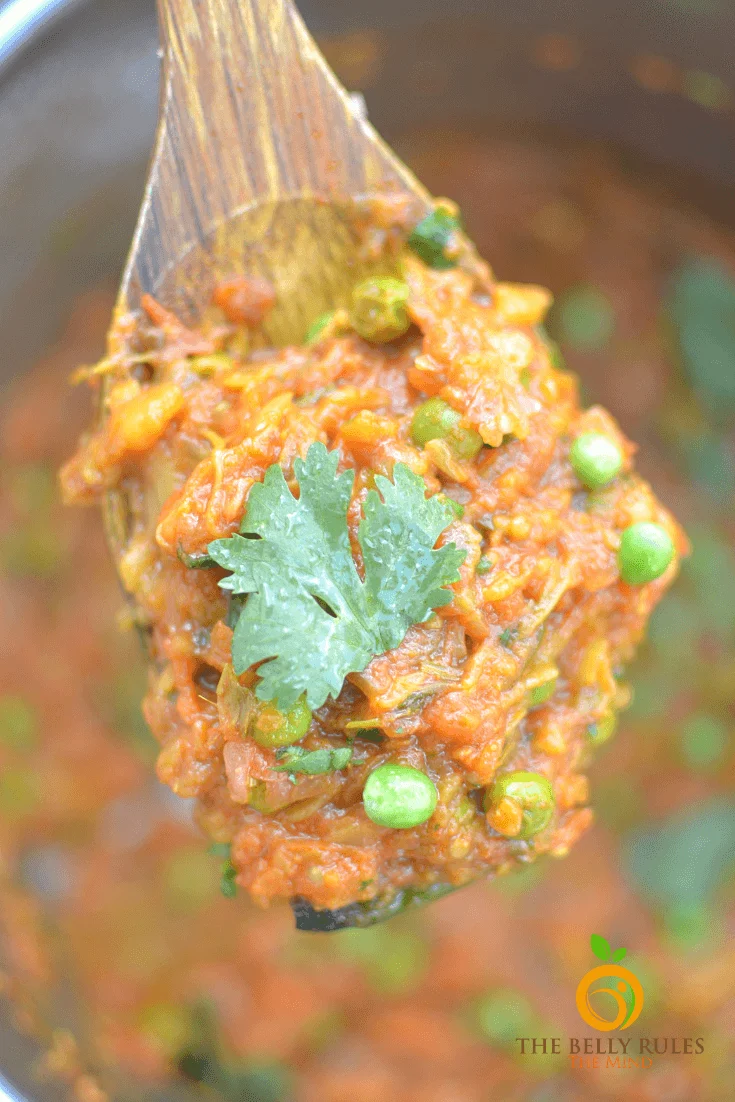 WHY SHOULD I MAKE BAINGAN BHARTA IN THE

INSTANT POT?

The Instant Pot and the CrispLid take a relatively complicated dish like baingan bharta and simplifies it so you can put it together in one pot in so much less time. As a busy wife and mom, this is so important to me. The Instant Pot allows me to make this nutritious, delicious traditional Indian recipe for my family without taking a ton of time or using multiple pots and pans. And the result is still a yummy eggplant recipe loaded with flavor.

If you're new to the Instant Pot, don't worry! I break down everything the Instant Pot does in our complete beginner's guide to the Instant Pot, called Is the Instant Pot Worth It. Once you get the hang of the Instant Pot, you'll be making flavorful recipes in with a fraction of the time and work!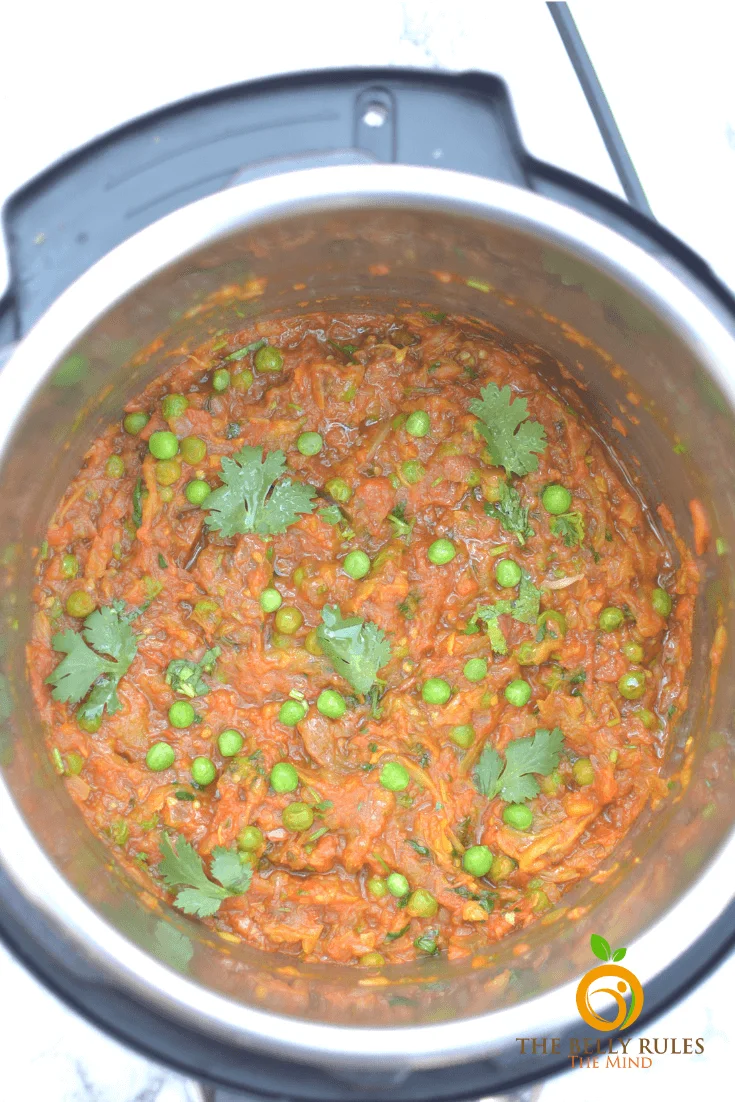 BAINGAN BHARTA WILL MAKE YOU FALL IN LOVE WITH EGGPLANTS
Even if you are on the fence about eggplant, you need to give this baingan bharta a try. While eggplant itself has a very mild flavor when you roast it first and then blend it with sweet tomatoes, spicy peppers, and a savory blend of spices it is truly something special. Plus roasting and mashing the eggplant gives it a velvety texture that is so good for dipping naan into. You won't be able to get enough of the flavor combinations and will want to make this over and over again.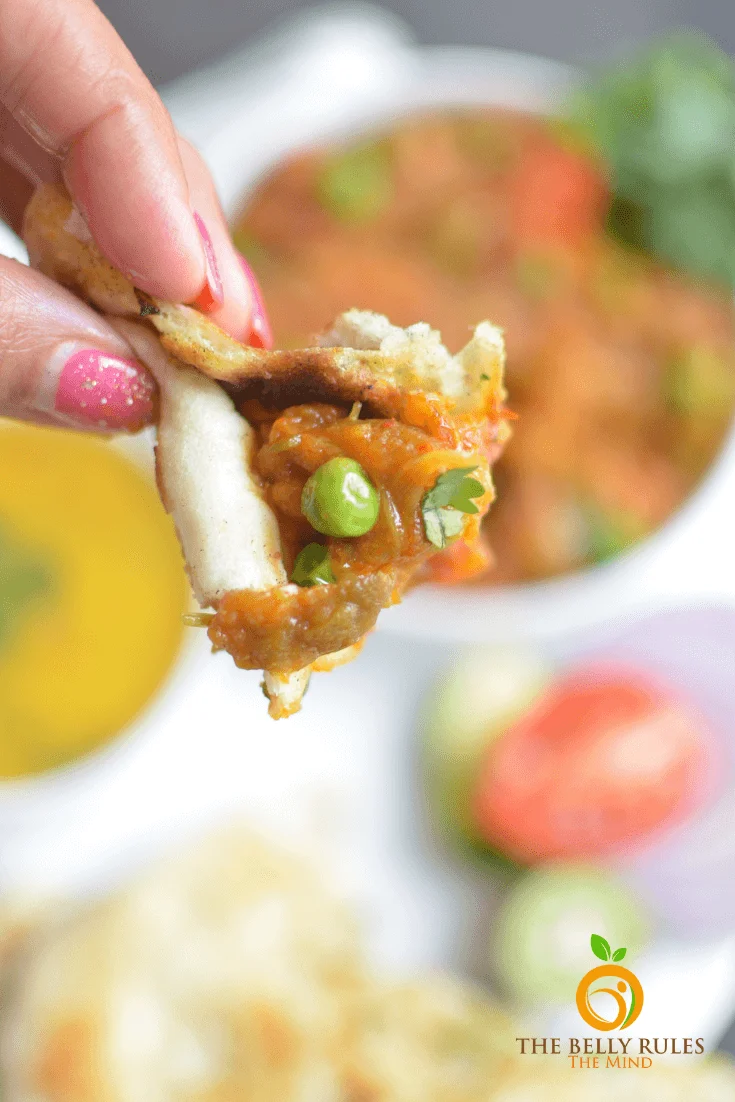 HOW DO I MAKE THE BEST BAINGAN BHARTA?
To make the best Baingan Bharta, you need to use either a Mealthy Crisp Lid, an Instant Pot Crisper on the Instant Pot, an air fryer, or more conventional methods like the stovetop or oven. The key is to get a good char on the eggplant skin while cooking it.

The Crisp lid is an electric pressure cooker attachment which makes your electric pressure into an airfryer, crisps food and even dehydrates food. Most of us already have an electric pressure cooker, so if you are short on counter space , then this is a great option to have instead of purchasing another gadget to keep on the counter top. We have tested it with many recipes and love the results. If you don't have a crisp lid already you can get it here. If you do have a Crisp Lid, let's get started.

The Instant Pot makes doing this very easy with a crisp lid. It takes about 20 minutes and you only need to flip the eggplant once to ensure even cooking. If you cooked the eggplant on the stove or in the oven, you need to need to flip it constantly or cook it for an hour.

Also, don't skip adding garlic and green chili into the eggplant prior to cooking it. This helps to infuse flavor into the eggplant, making it more delicious.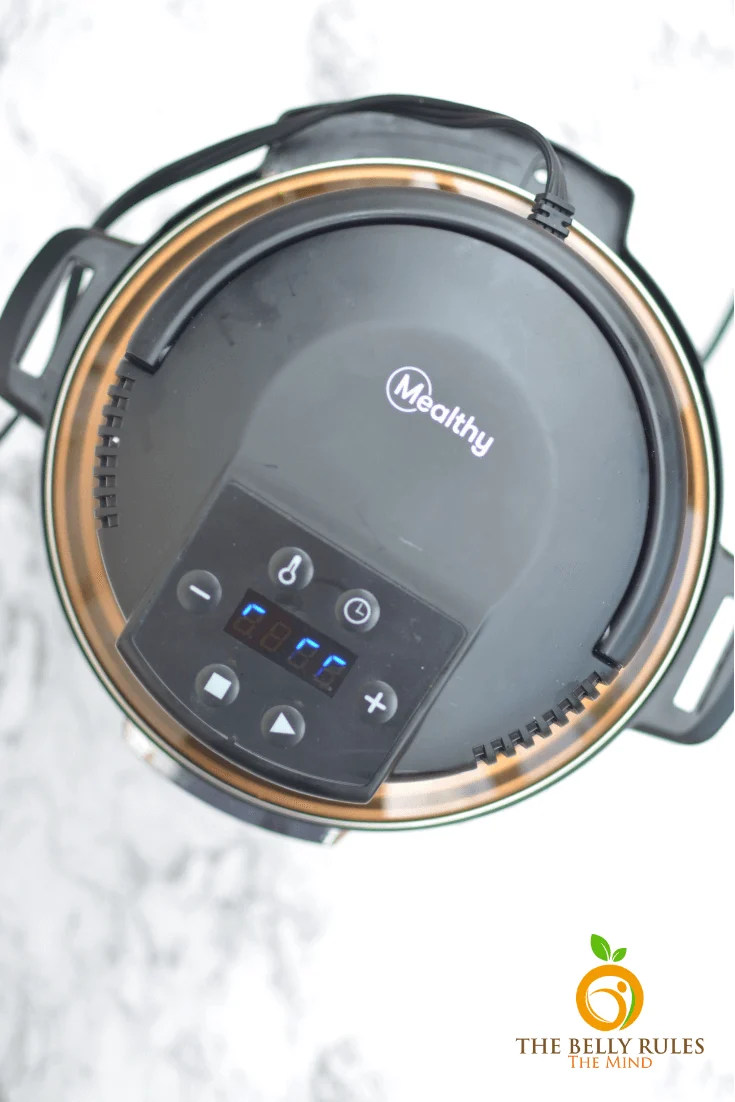 BAINGAN BHARTA- A DELICIOUS LUNCH!
Baingan bharta is easy to make ahead and send with your children and husband all week long. Punjabis love their Baingan ka Bharta for lunch and often make it for a weekend or weekday lunch. With the Instant Pot, you can make it whenever you like because it is so much faster and easier to make and send it with your family for healthy, flavorful lunches on the go.
HOW DO I GET THE SMOKY FLAVOR IN MY BHARTA?
The smokey flavor for bharta comes from using the air fryer or CrispLid. If you don't have an air fryer or crisper attachment, you can cook the bharta on the stovetop or in the oven to get the nice charred, smokey flavor.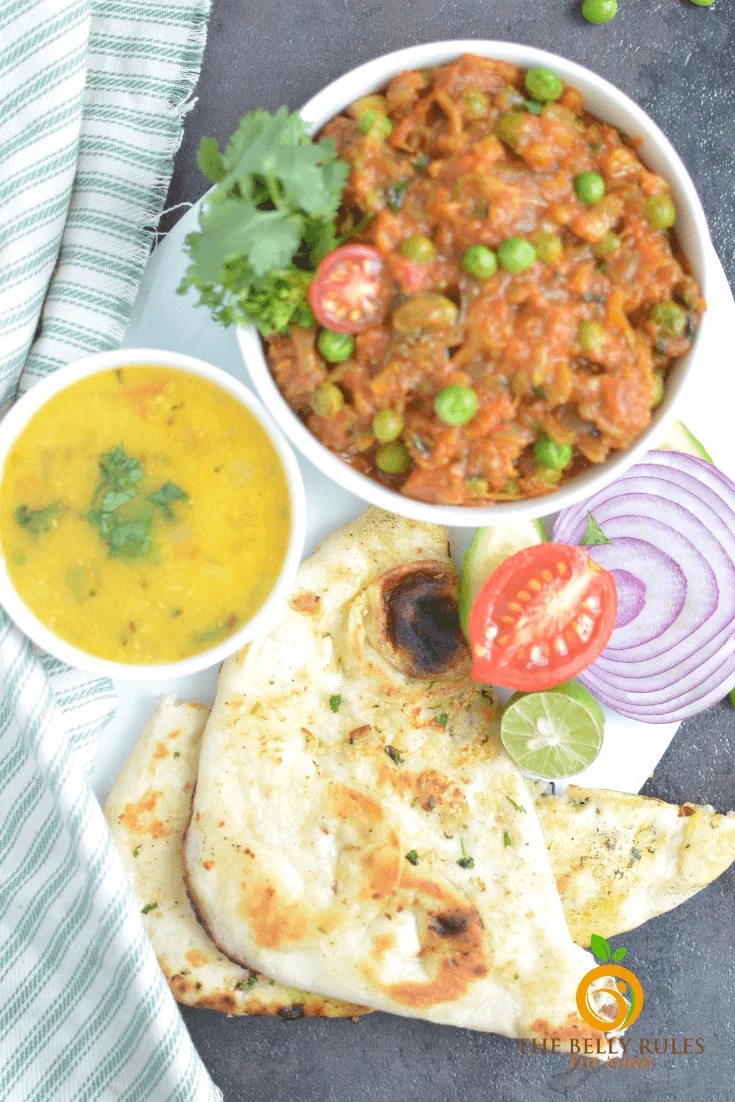 WHAT DO I SERVE THIS BHARTA WITH?
I love to serve baingan bharta with Instant pot Dal Tadka or Reasturant style dal makani with hot Rotis and a side of homemade yogurt. You could also serve it with pita bread or naan. Both are great choices for dipping into the baingan bharta.If you are sending this with your children or husband for lunch, you can pack them with rotis and roll them like wraps for them to enjoy at lunch too.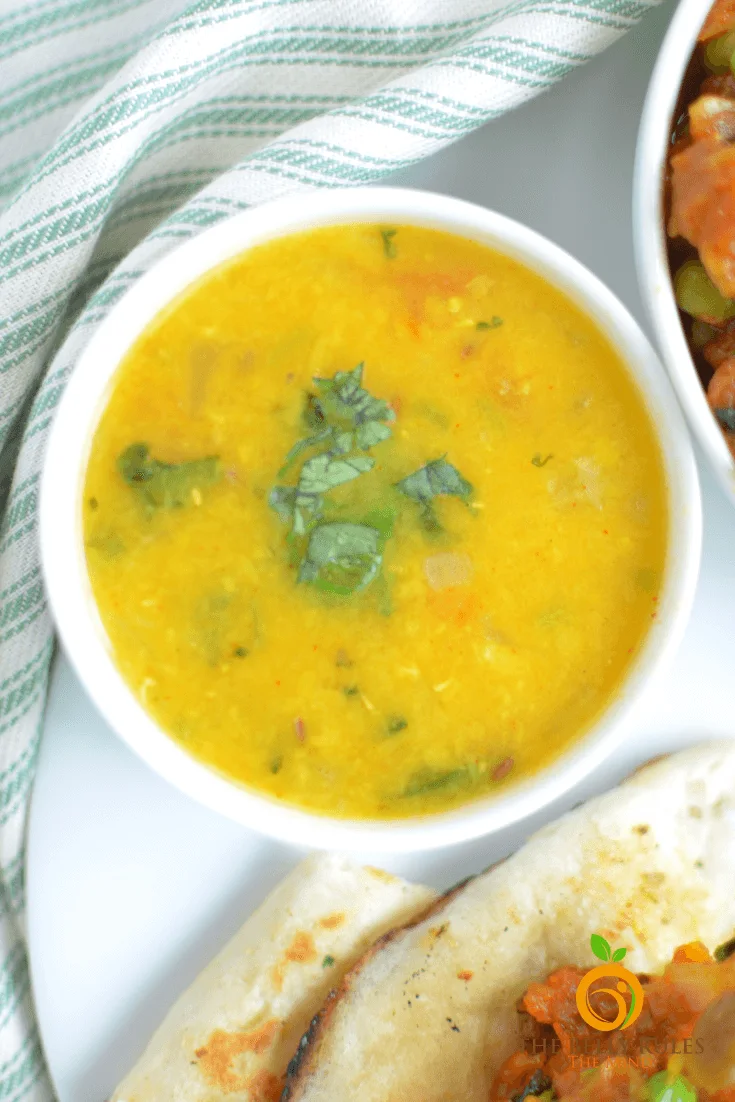 CAN I MAKE THIS BAINGAN BHARTA SPICY?
Yes! You can make baingan bharta spicy. To do this, you just need to add more red and green chili powder to the recipe. I recommend adding a ¼ teaspoon at a time to avoid making it too spicy.
HOW DO I CHOOSE THE BEST EGGPLANT FOR BAINGAN BHARTA?
The best eggplants are oval-shaped and have some indentations on them. Their skin will be a shiny black.

You should feel around on the skin of the eggplant. It should feel firm. If there are any soft spots, pick a different eggplant.

Rounder eggplants tend to have more seeds and less meat. Heavier eggplants tend to have a lot of seeds, so it is recommended to pick a lighter eggplant.

Also, you should pick out a female eggplant. A female eggplant will have a dash shaped dimple on the bottom. Eggplant seeds have a bitter taste.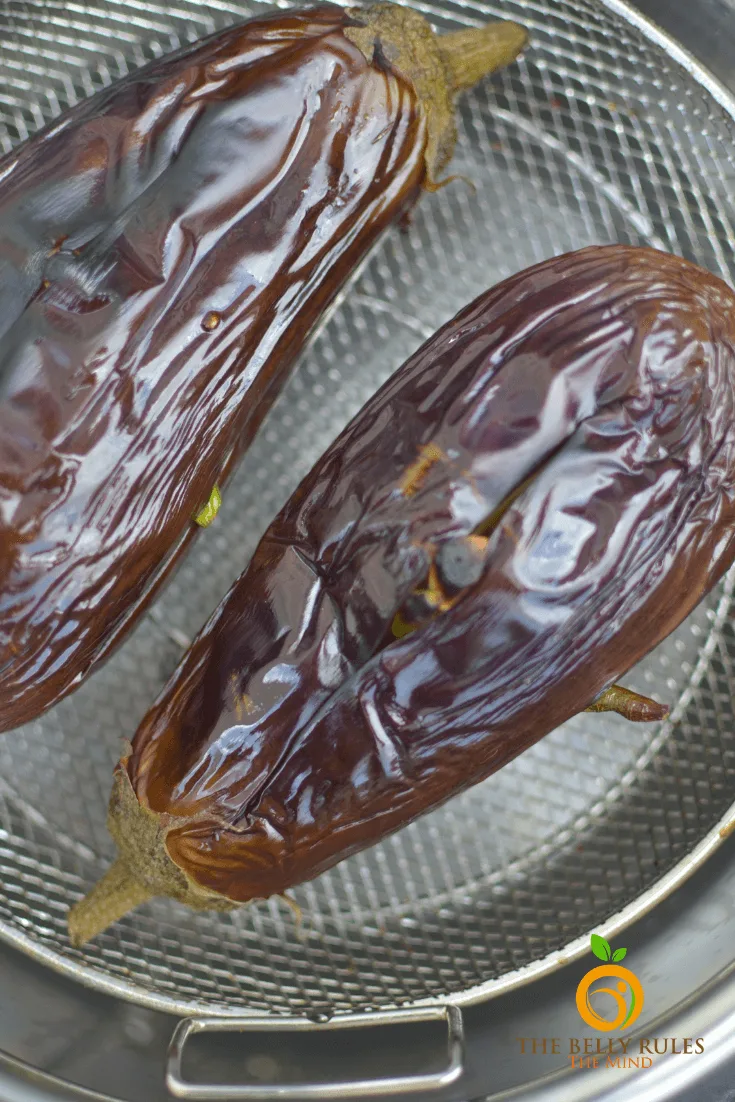 HOW DO I KNOW IF MY EGGPLANT IS PROPERLY ROASTED ON THE INSIDE?
One of the easiest methods to check to see if the eggplant is roasted is to use a fork. If you stick a fork or knife into the eggplant. It is done if you can easily puncture the skin and the eggplant feels soft like a baked or boiled potato.
If it is still firm, you will need to cook it for one to two more minutes. Check the eggplant again after 1 to 2 minutes and repeat. It is best to check it after short periods of time to avoid overcooking the eggplant.
HOW CAN I USE A STOVETOP TO ROAST THE EGGPLANT FOR BAINGAN KA BHARTA?
If you have to use the stovetop, you need to prepare the eggplant the same as you would if you used the air fryer.

To use the stovetop, heat a medium-sized pan over medium-high heat. Add in about 2 tablespoons of additional oil to the pan and let it heat through.

When the pan and oil are nice and hot, add the eggplant into the pan. It will likely sizzle and pop, so be careful when adding the eggplant to the pan not to burn yourself.

Set a timer for 1 minute. When the timer rings, use a long pair of tongs to flip the eggplant. Reset the timer and repeat the same process.

You will need to cook the eggplant for about 10 to 12 minutes and flip it frequently to avoid burning the eggplant.

At around 10 minutes, you can check if the eggplant is done by sticking a fork into it. If it is soft and tender, the eggplant is ready and you can remove it from the heat.
HOW CAN I USE AN OVEN TO ROAST THE EGGPLANT FOR BAINGAN BHARTA?
You can use the oven to cook the eggplant. Before getting started, preheat the oven to 400 degrees.

Similar to cooking it in the Instant Pot or on the stovetop, you need to follow the same preparation steps, cutting slits, adding in garlic and green chili, and coating in oil.

Once prepared, place the eggplant onto a cookie or baking sheet. Place the sheet into the oven and set the timer to 1 hour. You will need to rotate the eggplant every 20 minutes to help evenly cook the eggplant.

Similar to cooking it with the crisper or air fryer, the eggplant is done if you can easily stick a fork into the eggplant.

As an alternate final step, you can broil the baked eggplant for about 10 minutes. To do this, once the eggplant has finished baking, remove it from the oven. Turn the oven to broil and let the broiler heat. While it cooks, you will need to flip it every 2 to 3 minutes. This will help keep the eggplant cooking evenly.
HOW CAN I USE AN AIR FRYER OR CRISPER TO ROAST THE EGGPLANT FOR BAINGAN KA BHARTA?
Using an air fryer or crisper lid makes crisping an eggplant easier than traditional cooking methods. By using the crisper, you only need to flip the eggplant once in the mild of the cooking process. The crisper will also cook the eggplant evenly without burning it.

To use the air fryer or crisper requires similar prep to making it on the stovetop. You need to make three slits into the eggplant. Once the slits are made, you stuff them with green chili and garlic. This can be done using a small spoon and pressing the green chili and garlic into the slits.

Finally, coat the whole eggplant with oil. You can coat the eggplant using a spoon, pastry brush, or with your hands.

That's it! You are ready to air fry the eggplants. Set the crisper for 400 for 20 minutes. Halfway through, at 10 minutes left, flip the eggplants. Flipping ensures even cooking.

You could do this all on the stovetop, but you run a bigger risk of burning the eggplant. You need to flip the eggplant frequently, once every 1 to 2 minutes for 10 to 12 minutes. The air fryer or crisper takes the extra work out.
PRO TIPS AND TRICKS FOR THE BEST INSTANT POT WHOLE BAINGAN BHARTA
Roasting is the most important part of cooking the eggplants or baingan. The roasting helps to give it a smokey flavor. If your Instant Pot does not have the crisper lid, you will want to place it on a hot pan once prepared. You would need to cook it for about 10 to 12 minutes, turning it frequently, until it is fork-tender.

Let the eggplant or baingan cool before peeling it. You can place it in aluminum foil, which will create a bit of steam. The steam will make peeling the eggplant easier.

Once you have removed the skin, try dipping the eggplant in a bowl of cool water to help remove any small bits of burned on skin.

Picking the right eggplant is important. You should choose a roundish eggplant with shiny skin and no soft spots. Also, try comparing the weight between eggplants. Lighter weight eggplants have fewer seeds.
Instant Pot Baingan Bharta Recipe Video
Instant Pot Baingan Bharta Recipe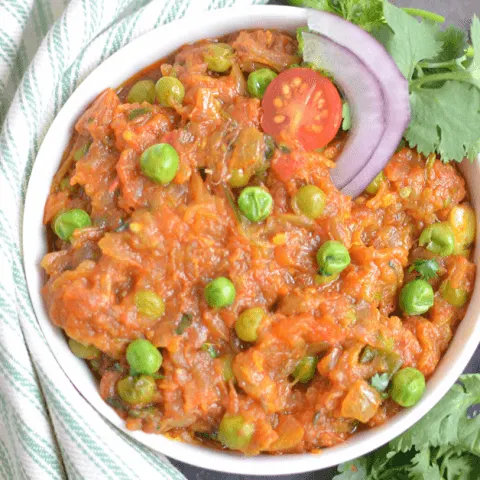 Baingan ka bhartha
Looking for a way to simplify baingan bharta for satisfying lunch you can make ahead of time? My Instant Pot baingan bharta takes this traditional recipe and updates it and simplifies it so you can make this yummy vegetarian meal for your family with a fraction of the time and effort.
Ingredients
For Roasting:
2 medium Eggplants/ Baingan
4 green chili
Four (4) Garlic Cloves
For the Bhartha:
2 tablespoon Oil
1 teaspoon cumin seeds/jeera
One (1) tablespoon fresh ginger / finely chopped
1 large Onion/finely chopped
3 medium Tomatoes/ finely chopped
1 cup green peas / frozen
One (1) teaspoon Kashmiri Red Chilli Powder
1 tablespoon Coriander/Cumin Powder
Half (1/2) teaspoon Turmeric Powder
Salt to taste
Roasted Baingan/ Eggplant Pulp
3 tablespoon Chopped Coriander
Few tablespoon of water
Instructions
Make 3 slits in the Eggplant/ baingan and stuff the slits with the green chili and garlic cloves.
Spray oil all over the Eggplant /Baingan and roast it in the crisp lid or air -fryer (400 *F) for 20 minutes, turn it at 10-minute mark or till baingan shrinks completely and should become really soft.
You can prick it with a fork or knife to check if it is cooked from inside. If not, roast for a few more minutes.
Press your pressure cooker on sauté, once it has heated up, add oil.
Add the cumin seeds and the chopped ginger and give it a stir.Add the onion and cook it for few minutes till the onions turn light golden.You can place a glass lid while sauteing the onions.
Remove the lid and add the tomato and all the ground spices and mix well.
Add in the peeled eggplant and give it a good mash with a potato masher ( you can chop the eggplant and add it too) add in the green peas and 1/4 cup water.
Cancel sauté mode, close the lid, then pressure cook for 0 minutes.
Do a Quick Release. Stir and sprinkle some chopped cilantro
Serve hot with Dal and Roti.