Instant-Pot Charro Beans are a great side or even a full meal with cornbread on the side! Have you ever forgotten to soak the beans prior night? Have you ever cooked dried beans in your Instant-Pot? This best Instant -Pot Charro beans recipe is a great place to start with and get your hands adjusted to the Instant-pot! It can be served as a main dish topped with Pico de Gallo and tortilla or Mexican fiesta rice on the side! Video Recipe included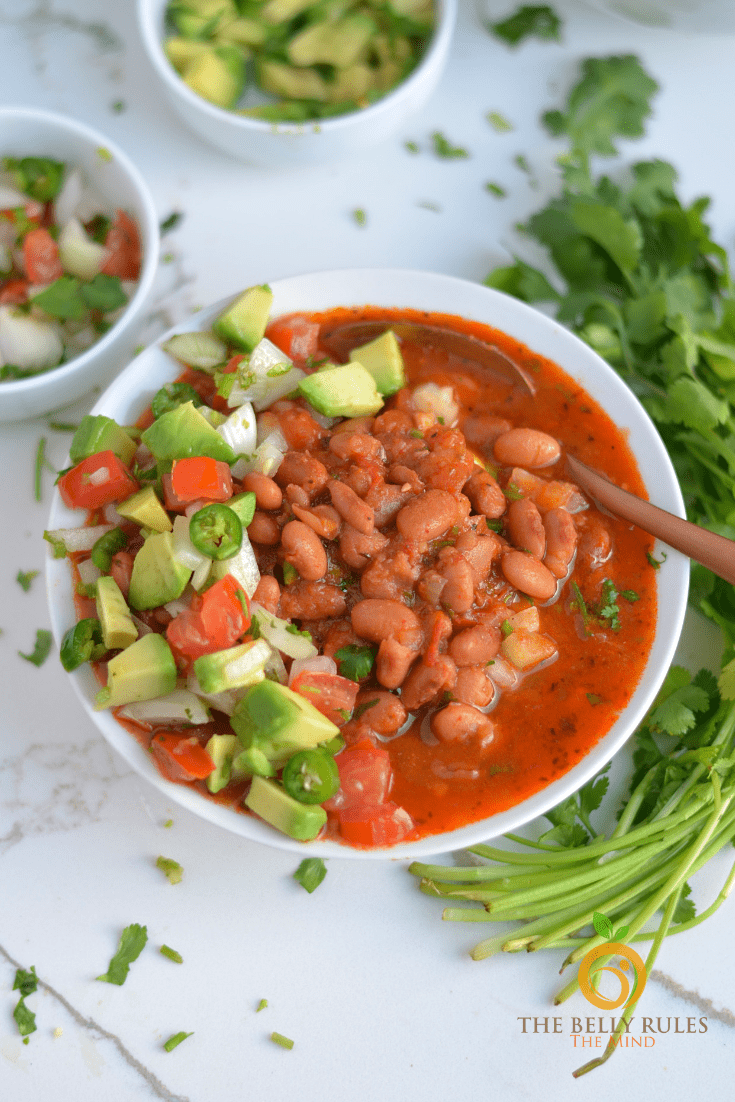 We are a huge fan of Mexican food. the techniques to make food, the spices, the ingredients and above all the final food is so similar to the Indian culture. We have eaten at quite a few chain Mexican restaurants and local restaurants and our current favorite is a place called Chuy's. One night we stumbled upon this place while hunting for a Mexican restaurant when our then favorite Don Pablos shut down in VA.Our server served us one of the chef's recommendations and he brought out a main dish with a side of some spicy bean. We simply fell in love with the dish and understood that the side beans were called Charro Beans. Then began a search Charro beans in stores. No stores carried Charro Beans making it a mystery for us as well. Eventually, we searched the "WEB" and found a few facts.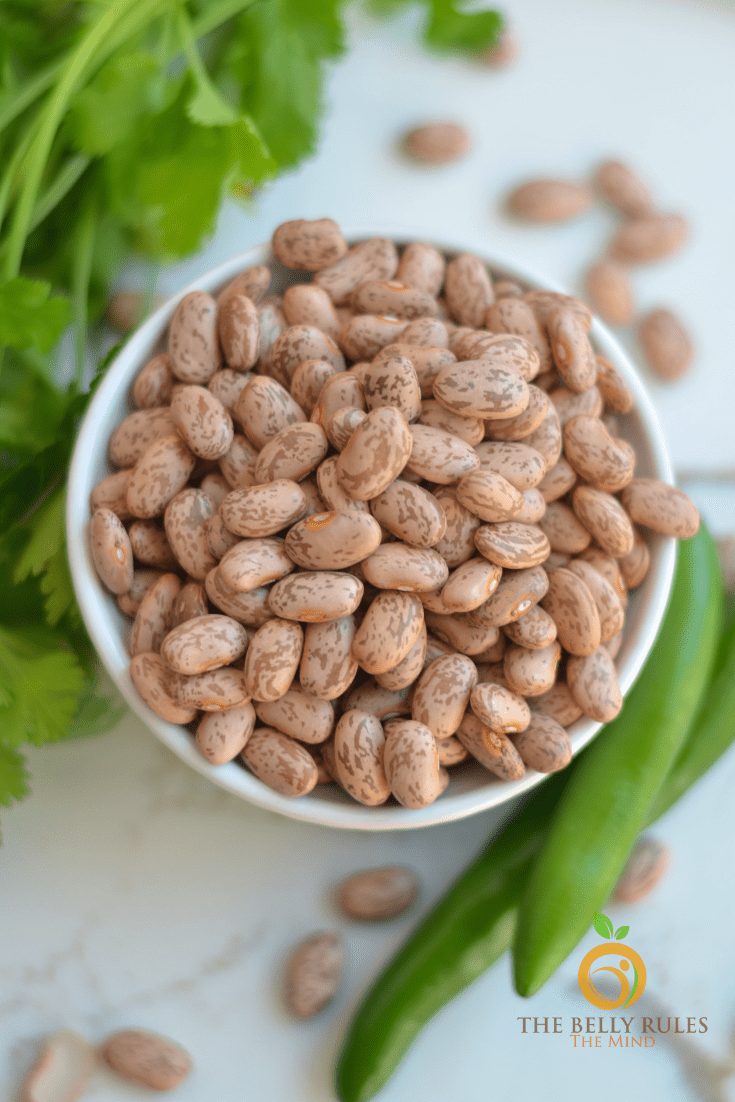 Wondering what is Charro Beans?
Charro Beans Is An Authentic Mexican Recipe from the northern part Of Mexico ."Charro" actually means traditional horseman or cowboy in Spanish🤠🤠 this is why we might sometimes see this recipe titled "Cowboy Beans." Charro beans is nothing but pinto beans prepared in a specific way and ingredients. For my Indian friends, when fully cooked, these beans are similar in taste to Kidney beans or Rajma as we commonly call it .
This best Instant-pot Charro Beans recipes is one of those dump and forget about it instant-pot meals. Its is a perfect option for your fall nights! Full of hearty protein & fiber, these beans are great for warming you up and keeping you nourished. I love using pinto beans because they are a little bit thicker and they've got more texture to them. They go really well with the thicker puree and the creamy texture here.
What do we need to make Vegan Charro beans?
Pinto Beans: You are going to need a lot of pinto beans to make this recipe. You can find bags of them anywhere, including online. When I make Charro Beans, I tend to make a lot of extra beans so that I can freeze them. Make sure you clean the debris by thoroughly rinsing them in cold water.
Pablano Peppers: The secret to this spicy, delicious, vegetarian charro beans is poblano peppers. You should ideally have the remaining spices in your pantry.Poblano (Capsicum annuum) is a mild chilli pepper originating in the state of Puebla, If you're wondering how hot a pepper is specifically, it measures 1,000 to 2,000 Scoville heat units.
Instant-pot: You don't have to use an Instant-pot to make these, but you definitely can. I love this instant pot – it works perfectly and I use it multiple times every week.
The Instant-Pot charro Beans recipe is so easy to make in instant-pot. It's perfect for the chilly winter weather coming up in the next couple of months. All you have to do is throw everything into the Instant-pot and press a button and dinner is served.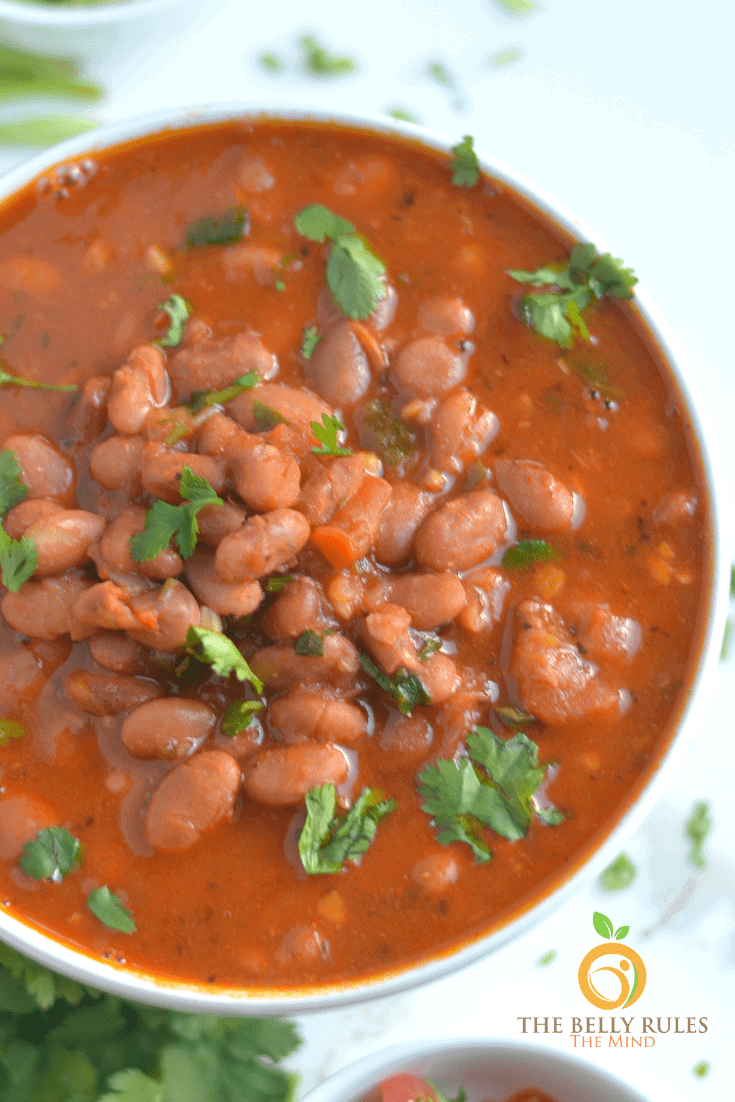 Did you forget to Soak Beans?
Not to worry. Cooking in the Instant-pot basically, means you don't have any cooking to do. It's done in about 45 mins. These are the best kind of recipes for us busy people. Or people who don't love to spend all their time in the kitchen. This is the instant-pot I have and I love it.
This Easy Charro Bean recipe also happens to be vegetarian, and EASILY vegan if you skip the sour cream and cheese garnish. It's so warm, comforting and delicious, it doesn't even need meat. OK you guys, bust out that Instant-Pot and start cooking!!
This uber easy and crazy flavorful Vegetarian Charro beans can be made in a pressure cooker, slow cooker, or on the stove, making it one of our favorite make-ahead recipes! You can add some heat to it by including chipotle peppers or jalapeños together with the tomato, onion, and cilantro.
Pin the best Charro Beans recipe for later.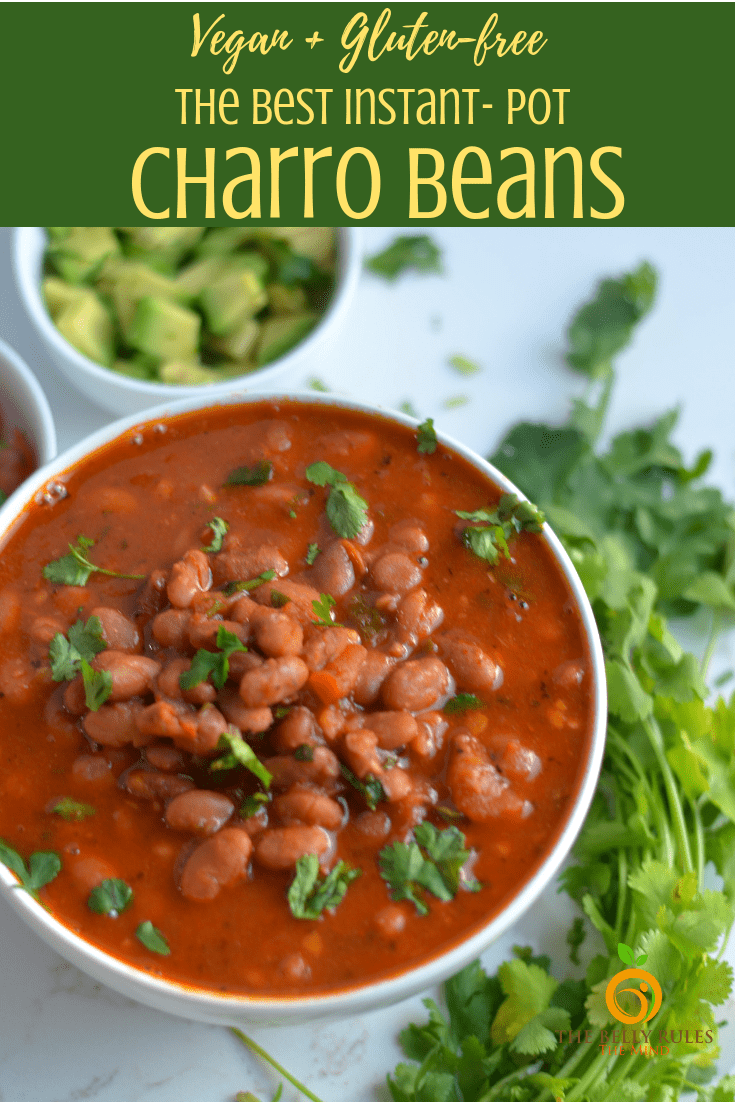 How to make Instant-pot charro beans – Video Recipe?
I brought this to a Potluck a few weeks back and it was a huge hit, which confirmed that I needed to share it on the blog. So, I really hope you enjoy it and make it for your loved ones!
Best Instant-Pot Charro Beans
Time to build Pressure
20 minutes
Total Time
1 hour
15 minutes
Ingredients
1 tbsp olive oil
1 onion diced
4 cloves garlic minced
2 tomato diced
2 tbsp tomato paste
1 pablano pepper
1 pound dry pinto beans thoroughly rinsed
5 cups low sodium veggie broth / water (1/2 cup more for well done)
Salt to taste
1 tbsp dried oregano
1 tbsp cumin
1 tbsp paprika
1 bay leaves
Instructions
Using an electric pressure cooker, set to saute. Add olive oil.
Add Minced garlic & chopped Poblano pepper.
Add in the onion , tomato, and tomato paste . Cook until tender.
Add salt to taste, cumin powder, paprika,dried oregano .
Add in the beans and broth. drop in the bay leaves.
Cook on high pressure for 45 minutes/ 50 minutes for well done. Allow a complete natural release.
Serve Immediately.
Optional - garnish with pico de Gallo, cilantro, and avocado
Notes
If you want to speed up cooking time, soak for 3 hours before, then cut 10 minutes off the cook time.
Remember it takes time for the instant pot to prepare the desired pressure, so keep that in mind. To speed things up, I like to use hot water.
Let naturally release for a time, but after 15 minutes you can just quick release.
Use 1/2 cup of water/broth more and 50 minutes of cook for restaurant like mushy texture / well done beans.
Recommended Products
As an Amazon Associate and member of other affiliate programs, I earn from qualifying purchases.