Instant Pot Bhindi Masala/ Bhindi Sabzi /Okra Curry - It is an easy okra stir-fry that requires just a few simple ingredients. It is vegan, keto-friendly and gluten-free. Can be put on the table in 15 minutes!
LET'S BE FRIENDS ON PINTEREST! WE'RE ALWAYS PINNING TASTY RECIPES!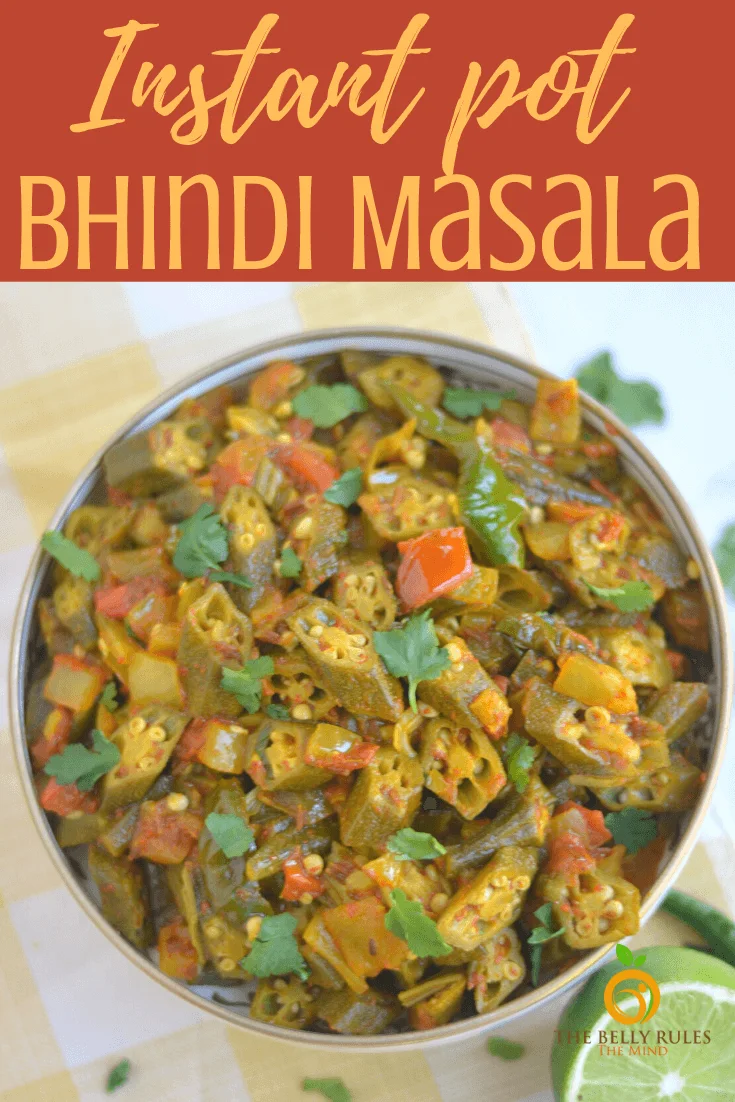 What is Bhindi Masala?
Bhindi masala / Okra Curry is a tasty, traditional Indian way to prepare okra. Bhindi means okra and masala refers to preparing food in a mixture of spices. When you make bhindi masala, you are preparing okra in several spices to make a tasty dish that encourages your family to eat their vegetables.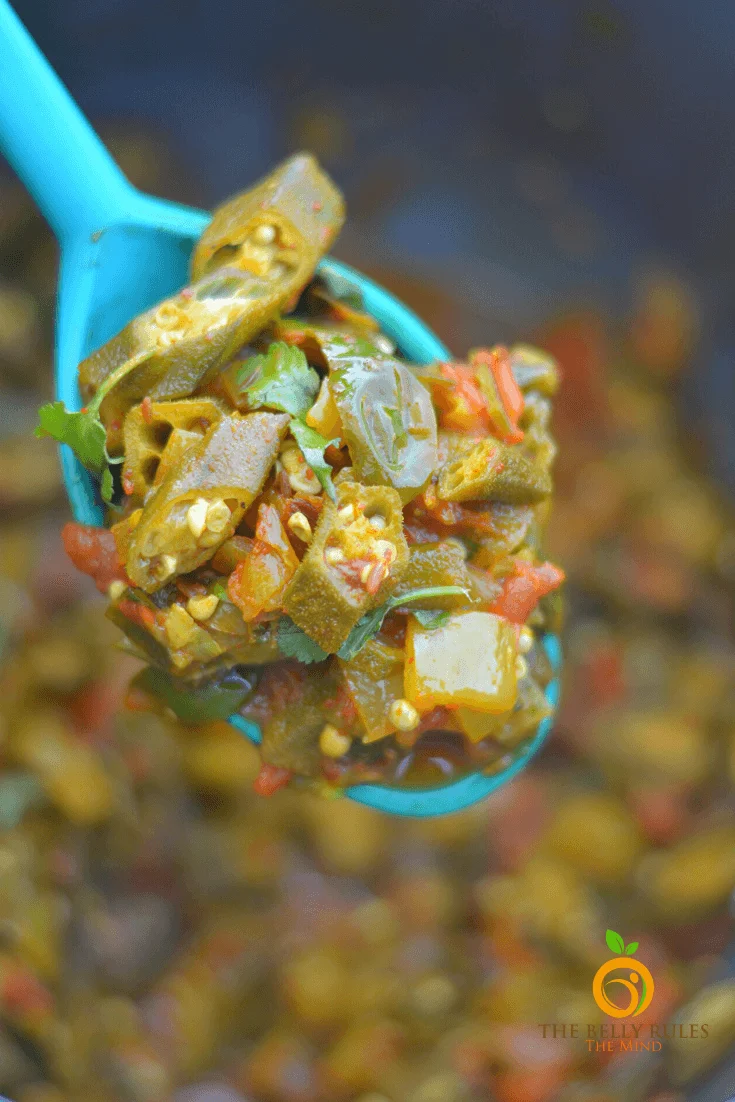 Bhindi Masala is a comfort food
Bhindi masala is Indian comfort food. The warm, spicy okra fills your belly and is perfect for cool, rainy days or when you are feeling down.
When I make okra curry for my family, no one complains. It is a great way to get the kids to eat okra, which is not a favorite of everyone. But this dish will make anyone an okra fan.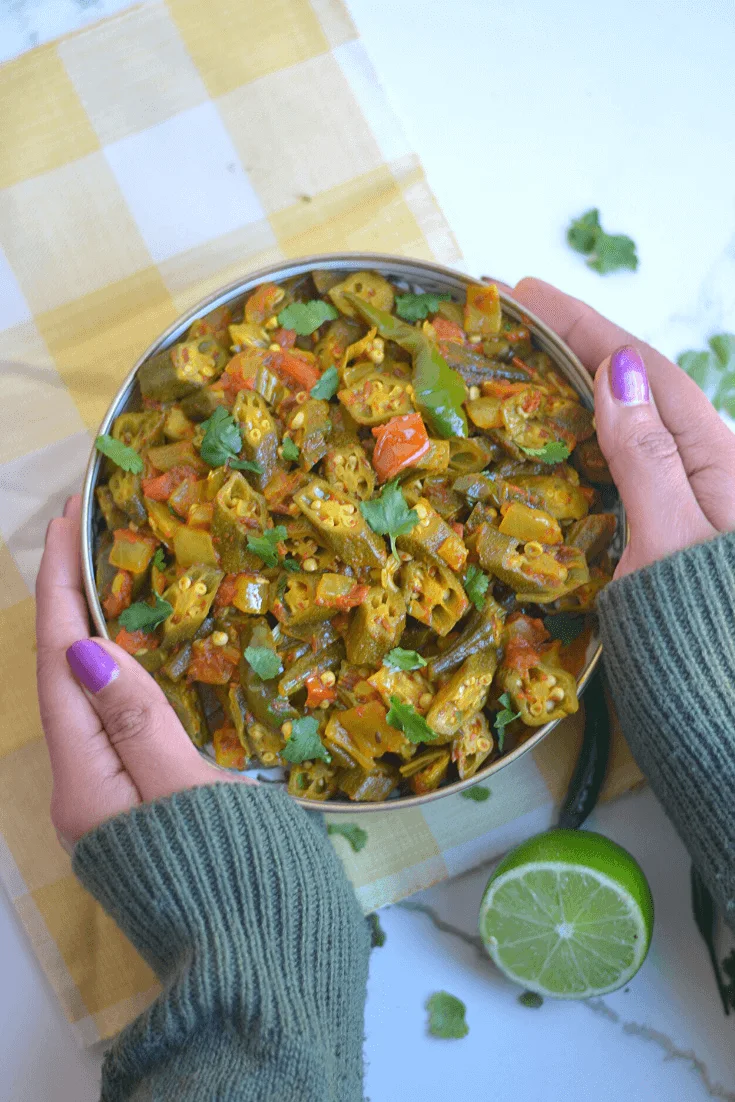 How to make in an Instant Pot
One of the things I love about the Instant Pot is how easy it is to use and how fast it cooks up some of my favorite recipes. If you're nervous about using your Instant Pot, take a deep breath! I break down exactly how to use your Instant Pot in my beginner's guide.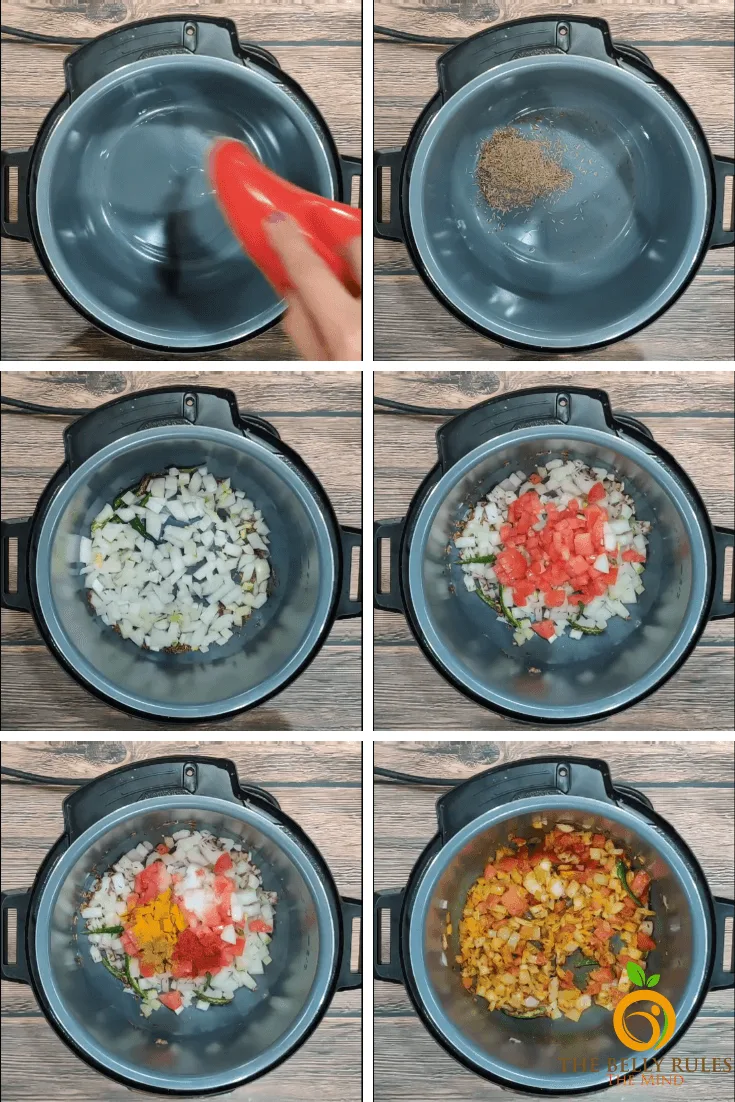 To make this,start by setting your Instant Pot to saute mode and the oil once it has heated. Next, add the cumin seeds and saute them until the start to crackle.
Once the cumin seeds are starting to crackle, add in the diced onions and green chilies and saute for 1 minute. Then, add the chopped tomato and add the spices and give it a stir .
Add the chopped okra, and the lemon juice. With all the ingredients added, give it a good stir to combine it all.
Finally, cancel saute and close the lid. Make sure the seal is set to the sealing position and select manual pressure cook mode for 2 minutes on low pressure.
Once the timer goes off, do a quick release. Garnish the bhindi masala with fresh cilantro leaves and stir the okra gently.
Serve the Bhindi masala with dal tadka, jeera rice, Navratan Korma or roti / bread.
Is Bhindi Healthy to eat?
Yes! Bhindi masala is a healthy comfort food. It contains vegetables, spices, and a small amount of oil, which makes it a nutritionally fulfilling meal for the whole family. Okra has several vitamins, fiber, and antioxidants.
Okra's fiber content helps keep you fuller for longer. This means you can serve this to your family for lunch to keep them full for the rest of the day until they get home for dinner.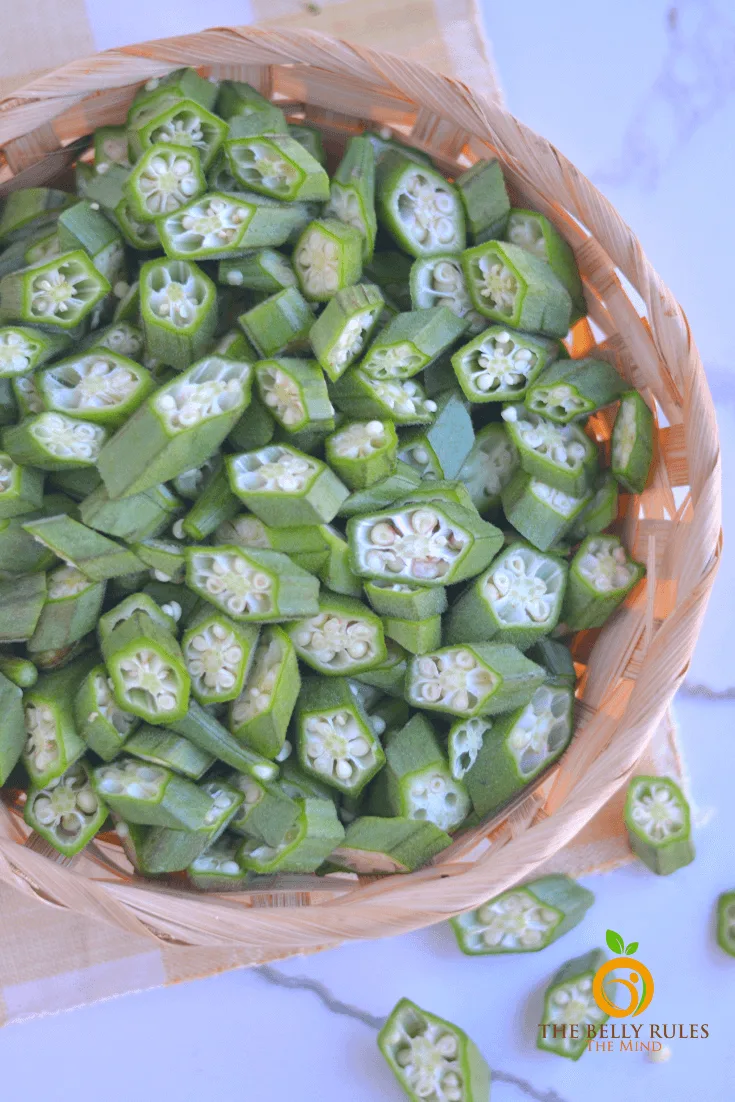 How can I make Bhindi less slimy?
Okra has a unique flavor and texture that some people feel is a bit slimy. In part, this is because okra releases a bit of a sticky substance while it cooks.
To avoid this, you can try washing the okra before cutting it. Once it is cut, you can then dry it off with a towel.
Another way you may be able to reduce the stickiness is to chop the okra into larger chunks. Smaller pieces tend to create more of the substance while it cooks.
My bhindi masala / okra curry recipe contains lime juice (dried mango powder) which helps reduce the slimy texture as well. You can also use Amchuran to help with this.
Pro-Tips
Okra is not everyone's favorite vegetable, but there are ways to make it more appealing to everyone. And this bhindi masala recipe ensures that you and your family will love okra.
Some tips to make the best bhindi masala include:
If you can, find younger okra since they are more tender and release less of the sticky substance when they cook

Keep the okra in larger chunks, this will also help keep the sticky substance from being released during cooking

While you are cutting the okra, make sure you wipe off the knife, it will help prevent too much sticky substance from being released

Don't skip adding oil, the oil can help reduce the slimy texture of the okra

Don't skip washing and drying the okra
Is Bhindi Masala Vegan?
Bhindi masala is vegan. You make it with vegetables, oil, and some spices. There are no animal products in this recipe.
Can I make Instant Pot Bhindi Masala with Frozen Okra?
You can make this recipe with frozen okra, but I would not recommend it. You will need to thaw the okra first. Then, I recommend drying it to help reduce the moisture found in frozen okra. Once it is thawed, you can follow the recipe as is.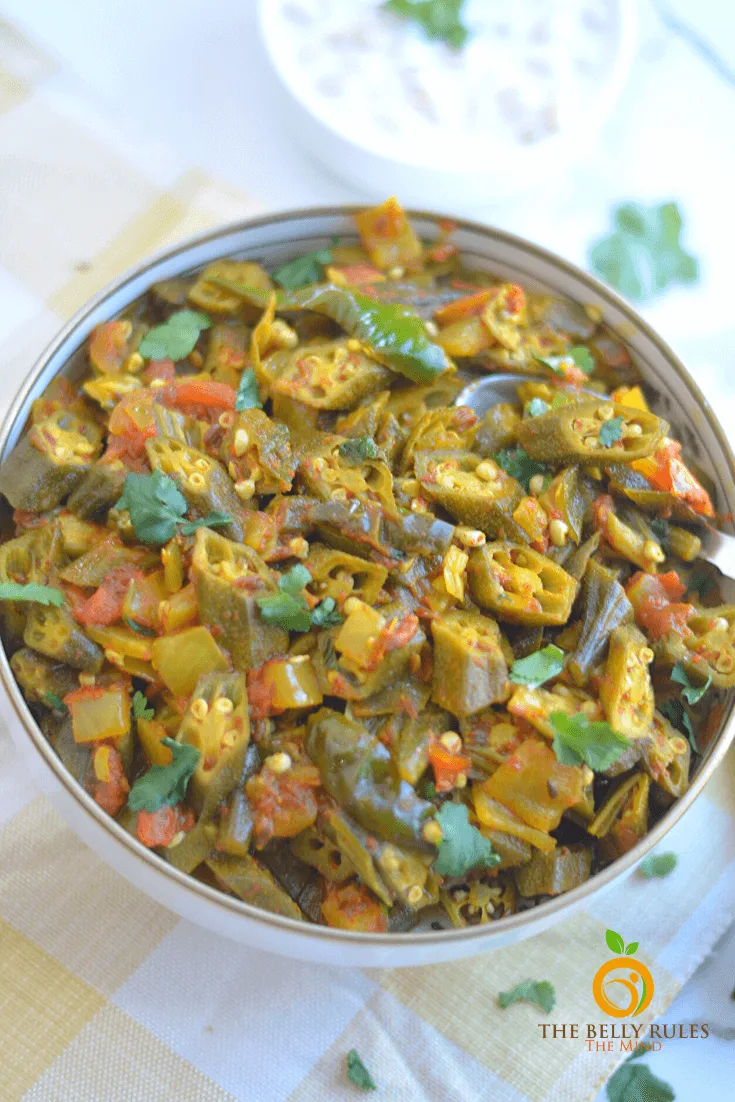 If you make this Bhindia Masala recipe, don't forget to come back and leave your feedback and star rating. We would be THRILLED if you would take a pic and tag us on Instagram @dbellyrulesdmind or Facebook @thebellyrulesthemind
Bhindi Masala
Instant Pot Bhindi Masala/ Bhindi Sabzi - It is an easy okra stir-fry that requires just a few simple ingredients. It is vegan, keto-friendly and gluten-free. Can be put on the table in 15 minutes!
Ingredients
Okra (Bhindi) cut into equal 1/2-1" pieces -1 lb
Medium Onion / chopped -1
Thai green chilies / chopped -2
Medium Tomato /chopped- 1
Oil- 1 tbsp
Cumin seeds-1 tbsp
Spices
Turmeric powder-1/2 tsp
Coriander powder- 1 tsp
Salt to taste
Red Chili powder -1 tsp
Juice of half lime or 1 teaspoon Dry Mango powder (Amchur)
Salt to taste
Chopped cilantro to garnish 1 tbsp
Instructions
Turn on the instant pot, select saute mode and add oil once it's hot.
Add cumin seeds and let it crackle.
Next add in the diced onion and green chilies and saute for 1 minute
Add in the chopped tomato and then add the spices ,okra and the in lemon juice . Mix everything well.
Cancel sauté and close the lid. Make sure the seal is in the sealing position.
Select manual or Pressure cook mode for 2 minutes at low pressure.
when done do a quick release QR, open the lid. Garnish it with fresh cilantro leaves. Stir the okra gently.
Serve it with Dal tadka , Jeera Rice.
Recommended Products
As an Amazon Associate and member of other affiliate programs, I earn from qualifying purchases.