Chocolate Quinoa Fudge Balls or Energy Balls are made with almonds, quinoa, and dates. Satisfy your cravings with this low fat and delicious snack option. It's a great "grab and go" snack and is full of yumminess that you and your family will love.These energy balls work great as a pre or post-workout option for adults or an after school snack for kids.
[avatar user="soniyasaluja" size="thumbnail" align="right" link="https://thebellyrulesthemind.netabout-us/" target="_blank" /]
My Kids R2 Age 10 & R3 Age 5 love these Chocolate Quinoa Fudge balls. As I have mentioned in my early post Creamy cranberry energy bites , R2 is a swimmer and is in a all year round swim team and practices 4 times a week. During summer, he becomes a part of a summer swim team and he swims daily and has competition based swim meets twice a week. My little one R3 is following his elder bother footsteps. He started learning swimming late last year and now he is also a part of the same summer swim team. The swim practice is at 7:30 am in the morning and we get up early to head out to the community center as it is around 13 miles (21 Km) away from home. These Chocolate Quinoa fudge balls keeps them charged up for swim practice and makes sure that they are not too hungry or stuffed before their meet. A win-win for both me and my kids :D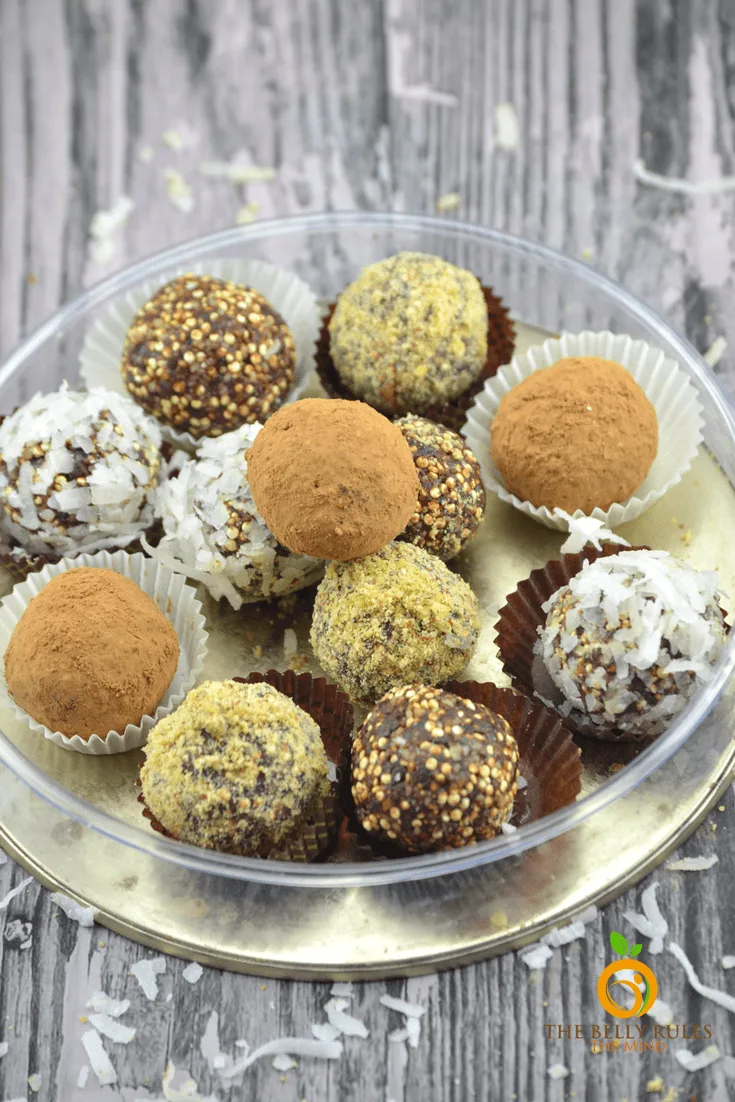 I'm always on the lookout for healthy snacks for my family, especially easy recipes since I am pretty busy with my kids different schedule . We love our "grab and go" recipes like Date & Almond squares , 3 Ingredient Apricot Energy bites , and Oven Roasted Whole Mung as they keep the kids energized for the busy schedule they have, however this recipe for homemade Protein filled balls is one of our all time favorites.
I know that a lot of people still purchase ready-made protein bars /snacks in the stores for convenience purposes, but it is great if you can spare a little bit of time and make a big batch of something like this and have it on hand.You'll save a ton of money, have total control over the ingredients and well, they taste great too.
Every bite is bursting with flavor, they're only lightly sweetened and have this wonderful hearty texture. A fill-you-up bites that's perfect for vegan, gluten free, Paleo and on-the-go breakfast/snack lovers alike.
This super duper simple recipe is a great one for getting kids involved in the kitchen as it does not require baking. These bites will take you around 10 minutes to make and this is where they can get excited and shape them as rectangles or other shapes that they may like? I'm too boring, so I just went with plain old circle ;) 2 bite balls.
Do checkout our other recipes made using Dates & Nuts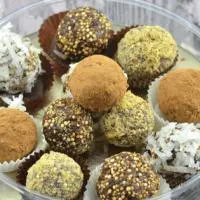 Chocolate Quinoa Fudge Balls
Ingredients
1/3 cup quinoa /uncooked
1 cup dates, pitted /10-12
1/3 cup almonds
2 tablespoons maple syrup/honey
2 tablespoons cocoa powder
Cocoa powder to coat/optional
pistachio powder to coat/optional
shredded coconut to coat/optional
Instructions
Heat oven to 350°F. Spread quinoa out on a baking sheet and bake for 6-8 minutes, until toasted and golden.
check after 6 minutes to make sure they don't burn.(You can even roast it on stove top foe 15 min on low flame)
In a food processor, combine the dates, almonds, and cocoa powder.
add maple syrup and pulse it few times, then blend on high for few minutes, until the mixture is in small uniform bits as pictured above. Mixture will be 'doughy'.
Add the maple syrup and blend for 10 seconds until it is evenly mixed.
Take some of the dough in your hand. If it firmly sticks together, proceed with the rest of the recipe. If it is crumbly, add another tablespoon of maple syrup and blend again.
Add the toasted quinoa and pulse it few times to mix it through.
Remove it in a bowl . make whatever shape you desire .
You can be creative and make them look more attractive by rolling them in cocoa powder, pistachio powder, shredded coconut.. etc.
For more healthy ideas and recipes subscribe to our email or follow us on Facebook to stay updated with all the healthy information we share. Check out our Pinterest boards for all the healthy eating inspiration you'll ever need. For an unending buffet of healthy photographed food, follow us on Instagram