So before you start thinking what in the world is Hariyali Chutney Poha, let me tell you a small fact about me and R1.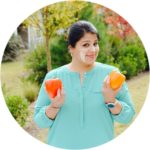 I may have mentioned before that I have spent most of my childhood summers in Poona as my mom is originally from there, and R1 my hubby has spent most of his childhood summers in Indore since his mom has a lot of relatives there. .. Now guess what is one of the most common food in the two cities.. yep you guessed it right.. that is where our love for Poha comes in. Poha/flattened rice or beaten rice is probably the most popular breakfast or quick evening snack dish in Poona & Indore.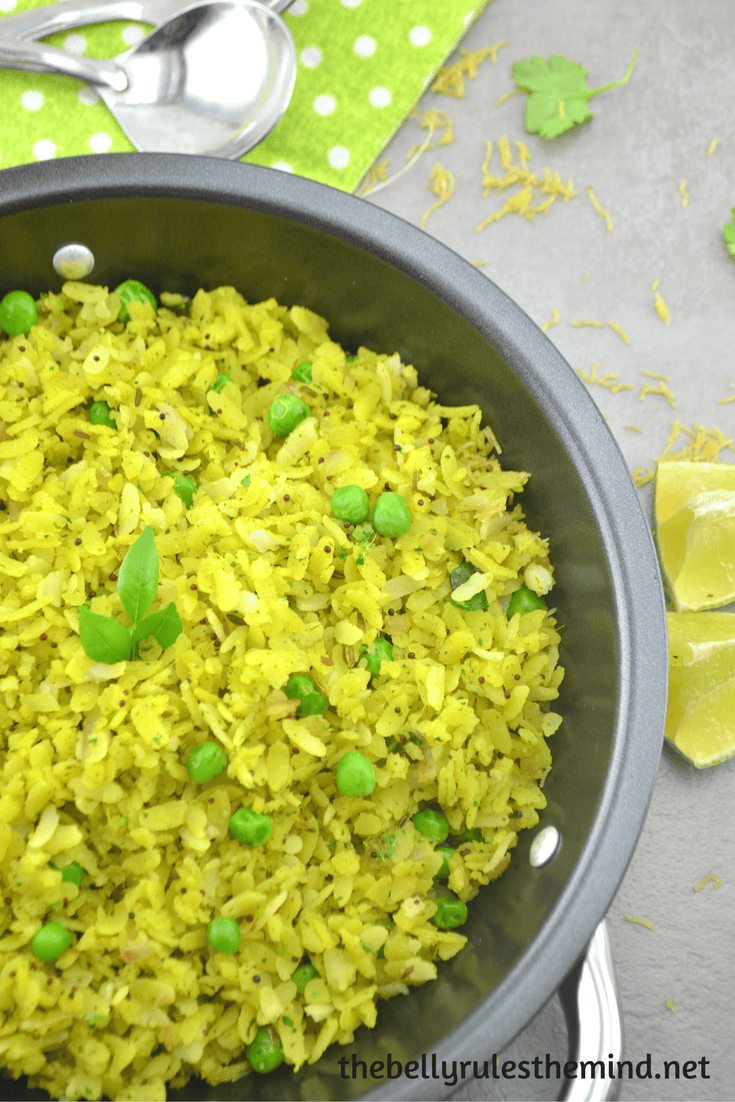 So in Indore it is usually served with spicy sev (ratlami sev) and Jalebi.. now my my mouth is watering :P  and In Poona it is served with raw onions also know as ( Kanda Poha). Poha is a quick , light easy fix recipe. Generally this recipe has plenty of onion and poha used , along with potato and some crunchy peanut.

There are so many recipes of making poha and each family has their own way of making it .. for example my mom and my mother in law. I still cant say which one  i like the most :D Dont wanna get in trouble !!

So today I share a different variation .. this is for my kids they simply love it when ever they see it .. whether it be in breakfast or their lunch boxes . Hope you love Hariyali chutney poha as much as my family loves it .
Check step by step recipe and pictorial  in Yummy.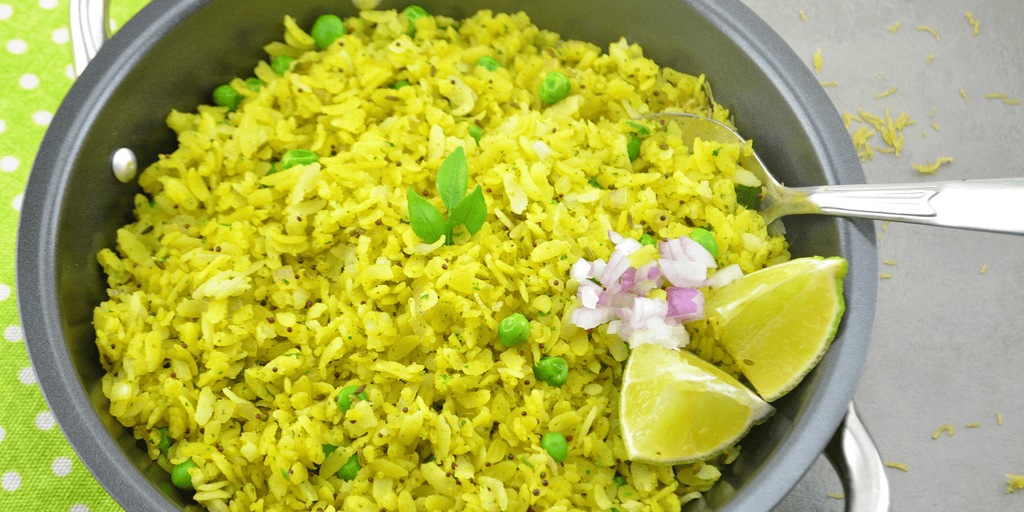 Ingredients
2 cups Poha/ flattened rice or beaten rice
1 Onion /Chopped
1/2 cup organic frozen Peas
1 smal bunch Cilantro leaves
Few curry leaves
Salt To taste
Green Chilli 3
Ginger 1" Piece
1 Lemon juice
Oil 1 teaspoon
1/2 tsp Mustard seeds/Rai
1 tsp Fennel seeds
Instructions
Take the Flatten rice(Poha) in a bowl and wash it thoroughly . Add salt to taste , sugar and lemon juice and set that aside
Take green chili,Cilantro &Ginger in a mixer jar and grind it to a nice paste.
Keep a sauce pan in flame. Heat 1 tablespoon of oil. Add mustard seeds and fennel seeds and allow it to crackle. Then add the chopped onions .
when the onions are transparent add in the green peas.
Add chutney paste and poha mix gently.
Garnish with coriander leaves and mix once and switch off the flame
Yummy Hariyal chutney poha ready to serve!
https://thebellyrulesthemind.net/hariyali-chutney-poha/
For more healthy ideas and recipes subscribe to our email or follow us on Facebook to stay updated with all the healthy information  we share. Check out our Pinterest boards for all the healthy eating inspiration you'll ever need. For an unending buffet of healthy photographed food, follow us on Instagram