Homemade Instant Khaman Dhokla, a warm soft and spongy savory gram flour snack cake tempered with spices. Ready in 20 minutes this cake makes a perfect breakfast, tea time snack or party appetizer. These delicious vegan and gluten-free bites can be steamed, baked or even cooked in microwaved. Simply yum!!! Video Recipe. This post is sponsored by the WonderMill Grain Mill but all opinions expressed in my post are my own.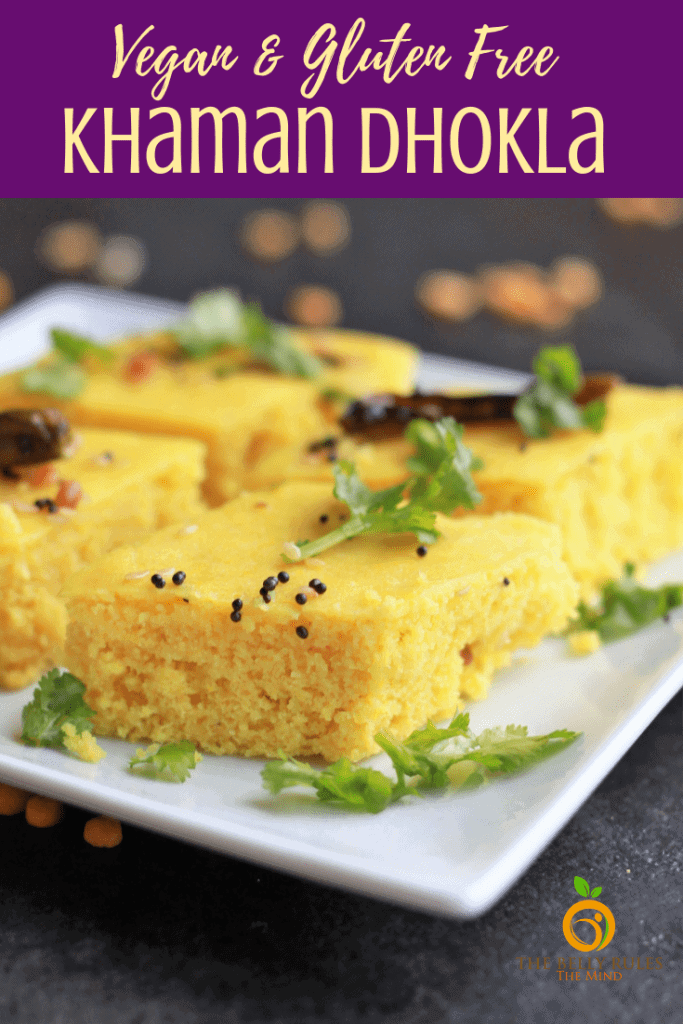 What is Khaman Dhokla?
Khaman Dhokla is a popular Gujrati snack from India. Made with besan which is typically gram flour or channa dal flour. This flour is soaked in water and then steamed to make a spongy savory cake. Flavored with lemon juice and ginger, these bites are garnished with tempered mustard seeds, curry leaves and green chillies. Sprinkle some cilantro and / or coconut shreds and serve it with Cilantro Chutney.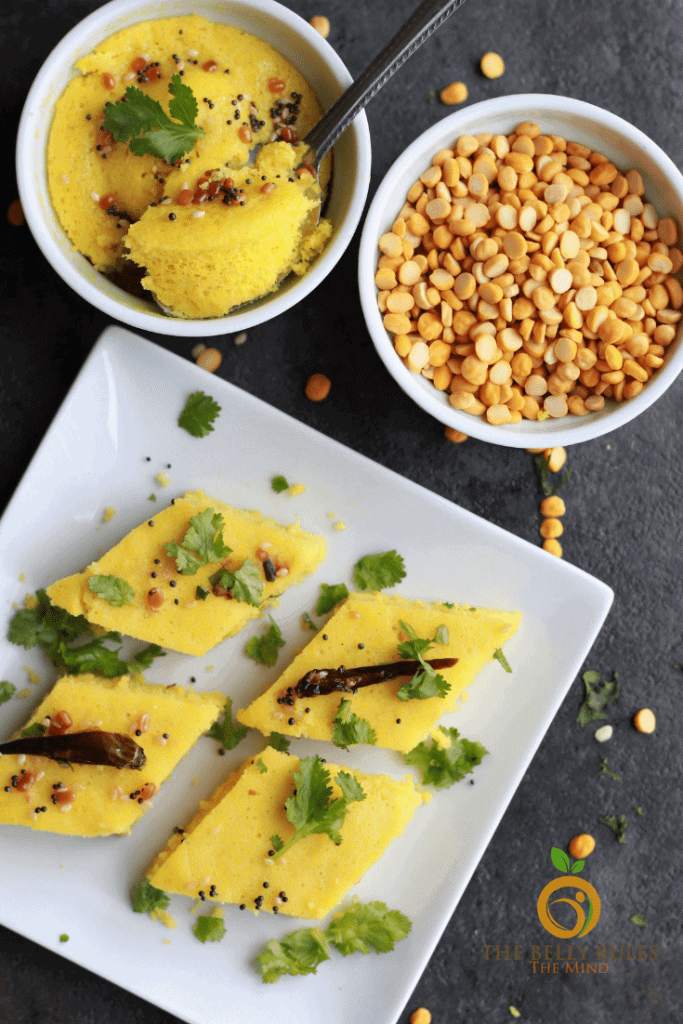 It's not just consumed as a snack, but makes a perfect warm breakfast too. Lately because of the ease of making a large batch that can be made ahead of time, it's become a popular party appetizer too. It also makes an awesome lunchbox option.
Traditionally the batter is fermented and steamed in a cooker. However what I love about this snack is that it when your crunched on time this comes together quickly, because it can be made in a microwave or a large batch in the oven. It's a perfect medley of flavors – savory, mildly sweet and tangy. It's got just the right consistency between a cake and a bread. Yum yum!!!
Freshly milled Gram Flour
Gram flour is nothing but flour from channa dal or split yellow gram. It is also commonly known as chickpea flour or besan. Gram flour is one of the main ingredients to make these savory Khaman Dhokla cakes. Gram flour has a lot of health benefits
Excellent source of dietary fiber
Helps improve heart health
Helps stabilize blood sugar levels
Great for digestion as it's gluten-free
Helps counteract acidity
Low calorie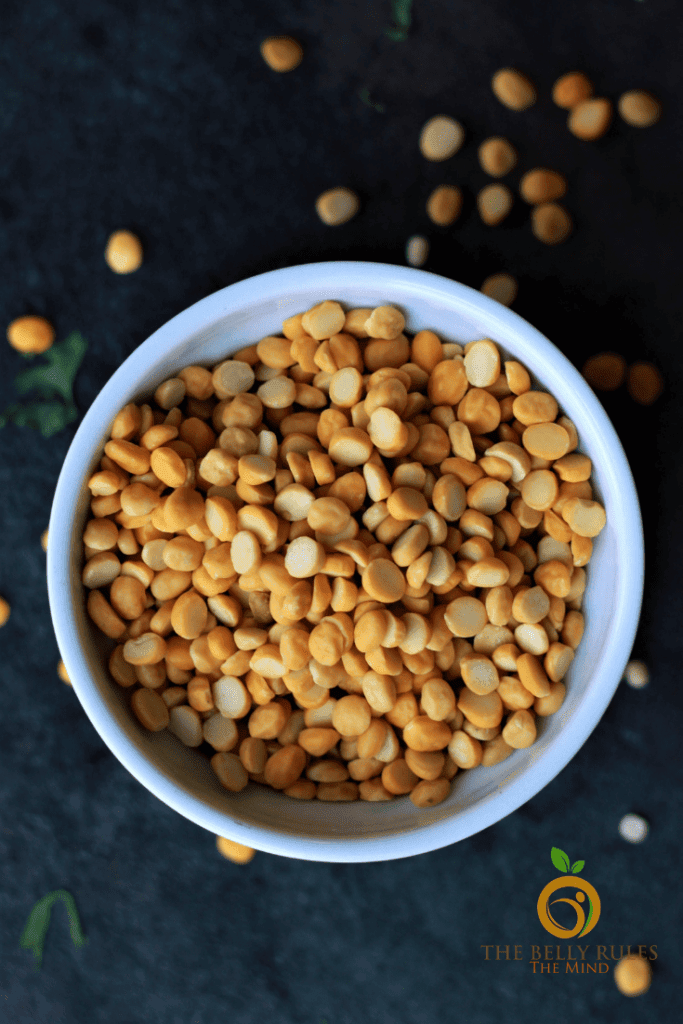 If you have been following The Belly Rules The Mind for a while, you will know that both Soniya and myself have been hooked onto milling our own flours. Ever since we got our WonderMill Grain Mills, we have stopped buying flour to the extent possible. If you are wondering why, check out our guide on how and why we should mill our own grains, here. Once you start milling your own grains, there is no going back because you realize how good the taste and texture of any food is when cooked with fresh flour.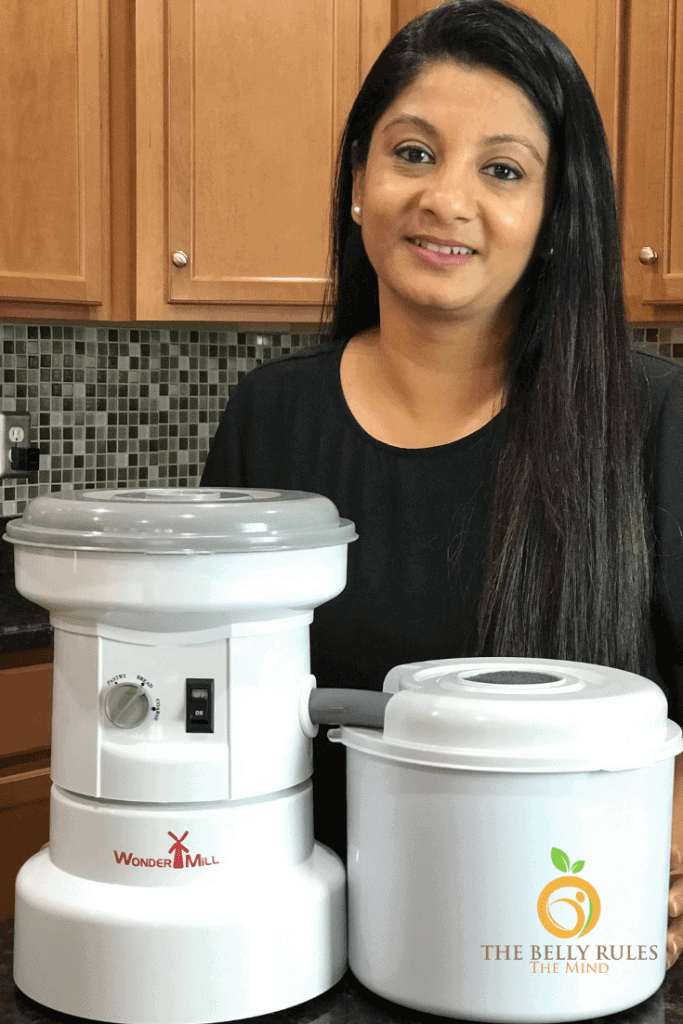 Besan is a staple found in every Indian household, we use it in a lot of our recipes, like Eggfree Frittata, Punjabi Kadhi, Chickpea Snack Sticks, Guilt-Free Fritters, pancakes etc and more. So I often make a batch for a week or two using my WonderMill Grain Mill and store it. It's definitely been a great addition to my kitchen because it makes life so much easier. I don't have to worry about running to the store when my flours are over. I just stock the grains in bulk now and mill the grains when my flour batch is over.
Homemade Khaman Dhokla Recipe using Gram Flour
There are three way you can make this savory snack. Steam it in a pressure cooker. Bake it in muffin molds or trays. Microwave it in cups. Irrespective of the method you choose, the process to make the batter remains the same. You could make single portions or bigger batches in a tray, only the temperature and time settings vary.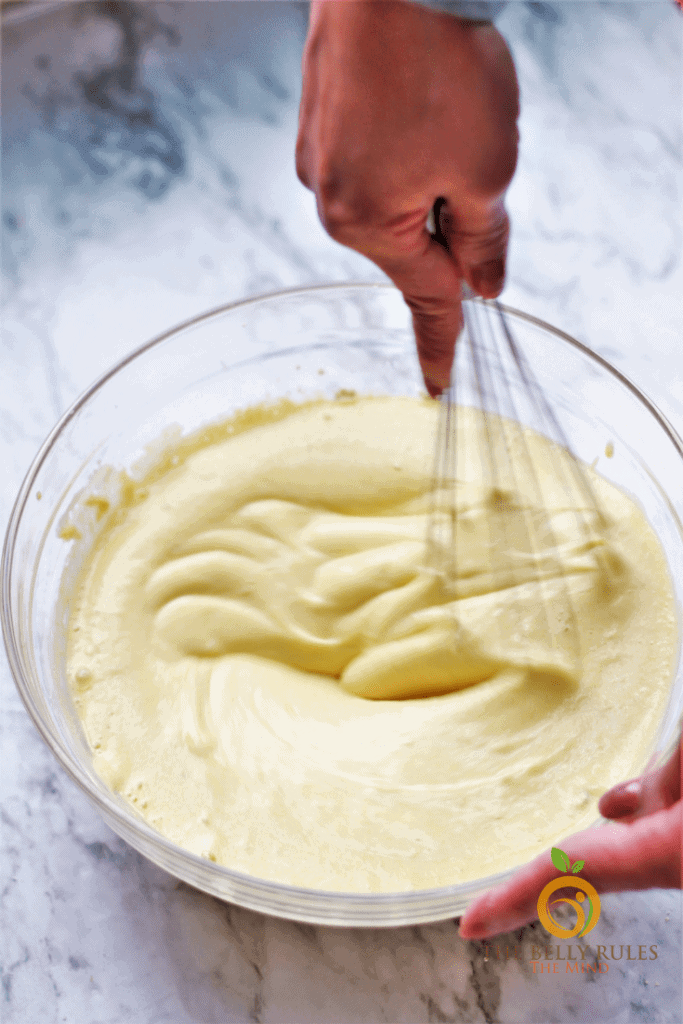 Step 1: First mill your grains in the WonderMill Grain Mill to make the flour.
Step 2: In a mixing bowl add the flour, lemon juice, ginger, green chillies, oil, salt, sugar and water to make a smooth batter. Once the batter is smooth add fruit salt or baking soda to quickly ferment the batter.
Step 3: Now grease the container you are using like, springfoam pan, muffins molds, baking tray or cups and pour the batter. Cook it choosing one of the methods below. Once the cake is cooked, you temper it with flavored oil, garnish with cilantro and serve. Allow it to cool for about 10 minutes before removing from the mold or cutting pieces.
Instant Pot Khaman Dhokla Recipe
If you are using a pressure cooker to make Khaman Dhokla then pour the batter into a greased springfoam pan or eggbites mold. I used a steel container that I already had.
STEAM
15 minutes high pressure
10 minutes natural pressure release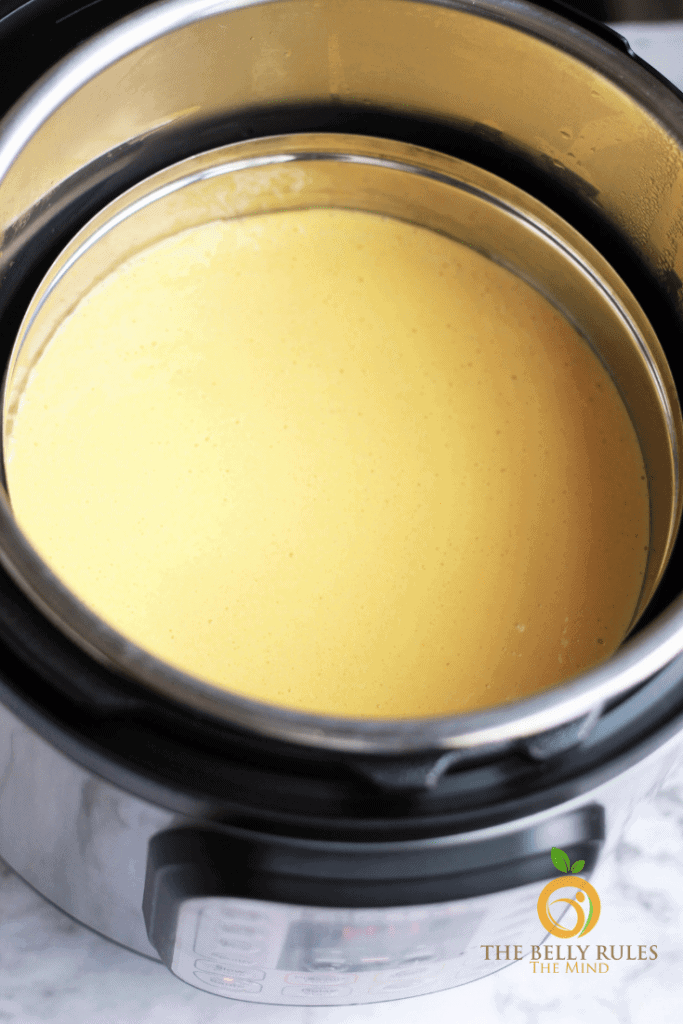 NEW TO INSTANT POT ?
If you are a newbie to Instant Pot or an electric pressure cooker, here is how to Master your Electric Pressure Cooker with just 3 buttons. If you trying to dodge the Burn notification here is everything you need to know about Instant Pot says Burn Message. What is it, what it means, why you get it and how to avoid it?
Microwaved Khaman Dhokla Recipe
If you want to make individual portions in cups or muffins molds or even in a pyrex tray,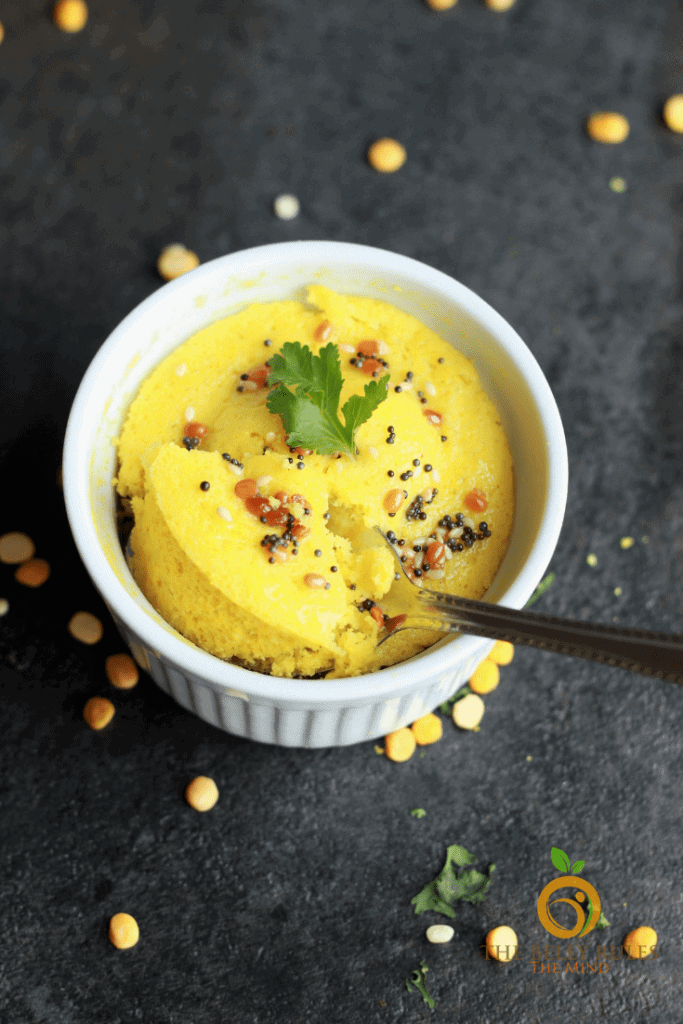 Baked Khaman Dhokla Recipe
If you'd like to bake this in a ramekin cup, cake pan, bundt pan or even a muffin tray,
425 degrees F / 220ºcelcius
15 mins.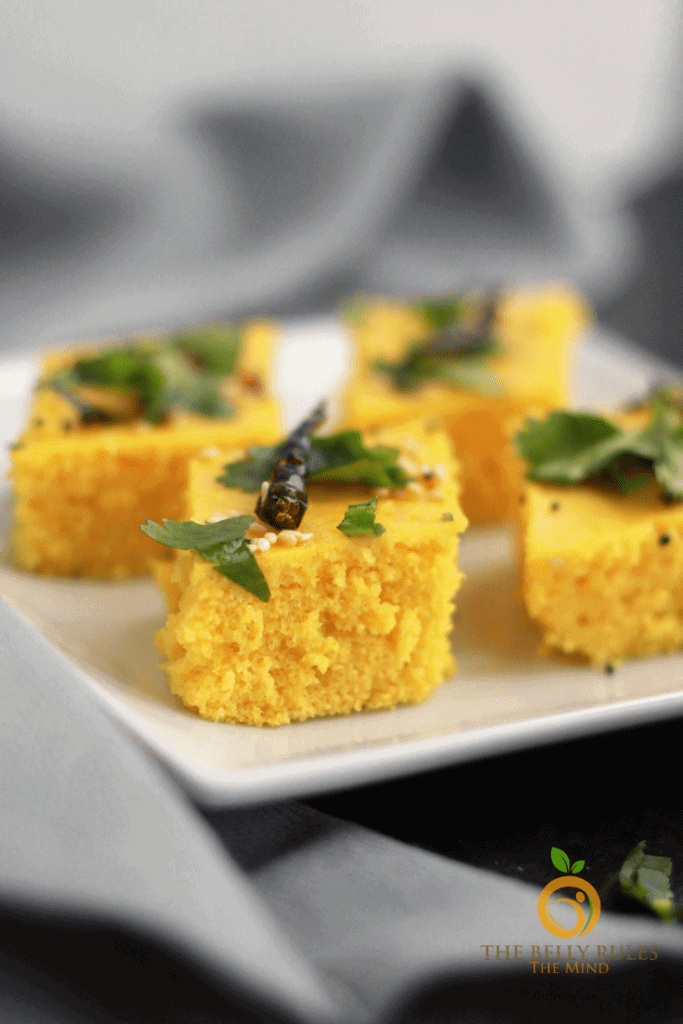 There are no words to express how soft and tender these bites are. I hope you consider trying these. For more Dhokla / Savory Cake recipes click
here
.
If you try the recipe and liked it, don't forget rate the recipe and leave us a comment. Thanks.
Homemade Instant Khaman Dhokla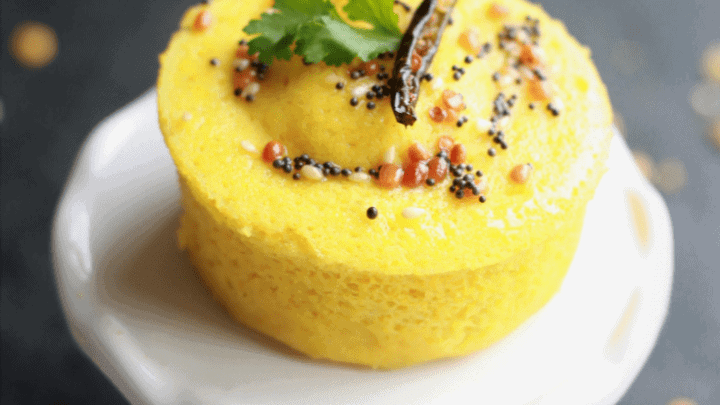 A warm soft and spongy savory chickpea flour snack cake tempered with spices. Ready in 20 minutes this cake make a perfect breakfast, snack or party appetizer. These delicious vegan and gluten-free bites can be steamed, baked or even cooked in microwaved. Simply yum!!!
Ingredients
Milling your own flour
Khaman Dhokla Batter
1 tbsp lemon juice, freshly squeezed
1/2 tsp ginger, grated
1 tsp green chillies, chopped (optional)
1 tsp fruit salt / baking soda
turmeric
1 cup water
Tempering
1 tsp urad dal
2 chillies , halved (optional)
8 curry leaves
Garnishing
1 tbsp grated coconut (optional)
cilantro, chopped
Instructions
Milling your own flour
Connect and switch on the Wondermill Grain Mill to Pastry mode, before pouring the grains into the mill.
Making the batter
Add all batter ingredients into a bowl except for baking soda or fruit salt. Whisk to make a smooth batter, the consistency of a pancake.
Add the baking soda or fruit salt and whisk again until the batter gets bubbly.
Grease the pan/ tray/ mold or cup with oil.
Pour the batter into the mold.
Instant Pot / Pressure Cooker Method
Use a springfoam pan, a steel plate like mine or eggbites mold.
Add 2 cups of water to the inner pot of the Instant Pot.
Place the trivet and turn on the Instant pot on Saute mode.
Once the steam starts coming place the container on the trivet.
Close and lock the lid.
Set the IP on Steam for 15 minutes on High Pressure.
Once the timer goes off, allow pressure to naturally release for about 10 mins.
Manually release the rest of the steam. Run a toothpick test to make sure it comes clean.
Using a pot holder remove the container and allow it to cool for tempering. You could cut the cake into squares or diamonds either before or after tempering.
Baking
Preheat oven to 425 degrees F / 220ºcelcius.
Place container in over and bake for 15 minutes.
Run a toothpick test to make sure it comes clean before tempering
Microwave
Place individual container in the microwave.
Set cook time to 8 minutes at power level 6
Tempering
Heat oil in a pot and add the tempering mix to it. Once you hear the crackling, pour it over the container.
Garnishing
You could garnish it coconut shreds or cilantro.
Serving
It's best served warm with Cilantro Chutney.